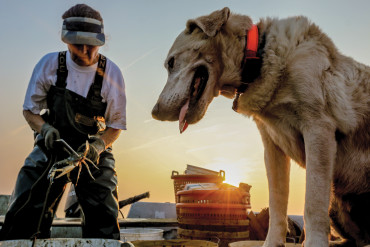 Ida Hall '72 grew up in Danville, Va., but spent most summers and many vacations at her family's farm on the Chesapeake Bay near Kilmarnock, Va. Her childhood was full of adventures on the water and it was through them that she discovered her calling.
"Uncle Ben instilled in me his deep love and respect for the land and water, taught me how to operate a boat, and respect for other boaters," says Hall.
Ida first experienced a waterman's routine in the summer of 1964 when she went out with her cousin Hal to watch him fish pound nets. From that first sunrise trip, "I was awestruck by the seemingly infinite, untainted, wild beauty of the Bay and surrounding undeveloped land, and amazed that people made a living working so close to nature," says Hall. "I marveled at the bounty, diversity and constantly changing life that Hal and his two-man crew brought up in the nets."
"I knew it was what I wanted to do for the rest of my life," says Hall. "But even as I thought that, I knew it was a foolish dream. The only other women on the water were waterman's wives and even if it was an acceptable occupation for a girl, I simply did not have the size or strength to put out or fish a pound net. That was that. I would enjoy myself and get on with my life."
But by the late 1960s, monofilament gillnets would make gillnetting commercially competitive with and easier than pound net fishing.
"I did not like seeing fish captured by their gills, struggling to escape," says Hall. "It wasn't the same as seeing the fish caught and kept alive in the pound net. I swore I would never fish a gillnet!"
When Ida became a member of the Tribe, she followed another family tradition. Her uncle Ben and many cousins had graduated from William & Mary. Her father, one or two great-uncles, and several cousins also graduated Phi Beta Kappa.
Although Hall excelled in and loved biology in high school, and considered marine science as a profession, she never took a college biology class. Instead, she followed her academic advisor's advice to major in psychology.
When she attended the first Earth Day celebration at Lake Matoaka on April 22, 1970, she found herself gravitating towards other interests such as protecting the environment. During her senior year, she signed up for a Biology Club camping trip to Shenandoah National Park.
"It turned out to be one of the best things I did at William & Mary," says Hall. "The friendships and experiences on the initial and subsequent trips have endured for a lifetime."
After graduation, Hall returned to the family farm on the Chesapeake Bay for two weeks before looking for a job. With friends still nearby at William & Mary and her brother James giving her his slightly used gillnet, the weeks quickly melted into months.
"The first time I successfully set a gillnet, I caught $54 worth of striped bass!" says Hall. "I was hooked! Making money gillnetting put it into a different perspective by providing necessary income for me to remain on the farm longer."
Ida rekindled her connection to William & Mary in 1986 when she enrolled in the archaeological field school conducted at VIMS and took additional archaeology classes in 1987 and 1988. She was eager to learn more about the Native American and English artifacts that she, her brothers and cousins found on the farm. She learned much from the professors and younger students, and shared with them about her life working on the water, even showing them how to fish a gillnet, catch crabs and tong oysters.
Educating others about what she does is something that Hall has become well-versed in. In 2013, she participated in Virginia's first Waterman's Heritage Ecotourism program which provides additional opportunities for working watermen to earn a living by taking others out to experience first-hand what watermen do.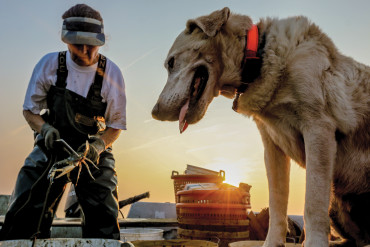 CO-CAPTAINS: Since Ida Hall '72 began working on the water, dogs have played a big part in sharing the waterman's experience on her boat.
Photo by Skip Rowland '83
Last year, Gov. Terry McAuliffe HON '14 reappointed Ida to her fourth consecutive term on the Potomac River Fisheries Commission, a bi-state (Maryland and Virginia) governmental organization that works to conserve and improve the fishery resources in the main stem of the Potomac River. In 2014, National Fisherman magazine, the country's largest publication for commercial fishing, named Ida a "Highliner," an award that recognizes commercial watermen who "display a passion for fishing and advocate for the sustainability of fish and fishermen."
Hall serves as secretary for the Virginia Waterman's Association and for the Northumberland Association for Progressive Stewardship, an environmental organization focused on preserving the local environmental heritage through education of sound land-use practices and water-quality initiatives. She is also a member of the Virginia Blue Crab Industry Panel, an organization that works to sustain the population and harvesting of the species, and has served on Congressman Rob Wittman's Environmental Advisory Panel since 2008. She also works part time at Rappahannock Hang-Ups and Gallery in Kilmarnock.
Since 1973, seven dogs have accompanied Ida on the water. Currently, beagle Ruby and yellow lab Toby Grace are often seen in her boat as she continues to follow her passion and preserve a family heritage and culture of working on the water. In 2005, Ida and her two brothers placed a conservation easement on the family farm to preserve in perpetuity their family and environmental heritage.
"William & Mary's curricula, professors and students motivated within me a desire for lifelong learning and provided the incentive to further my education in and out of the classroom," she says.