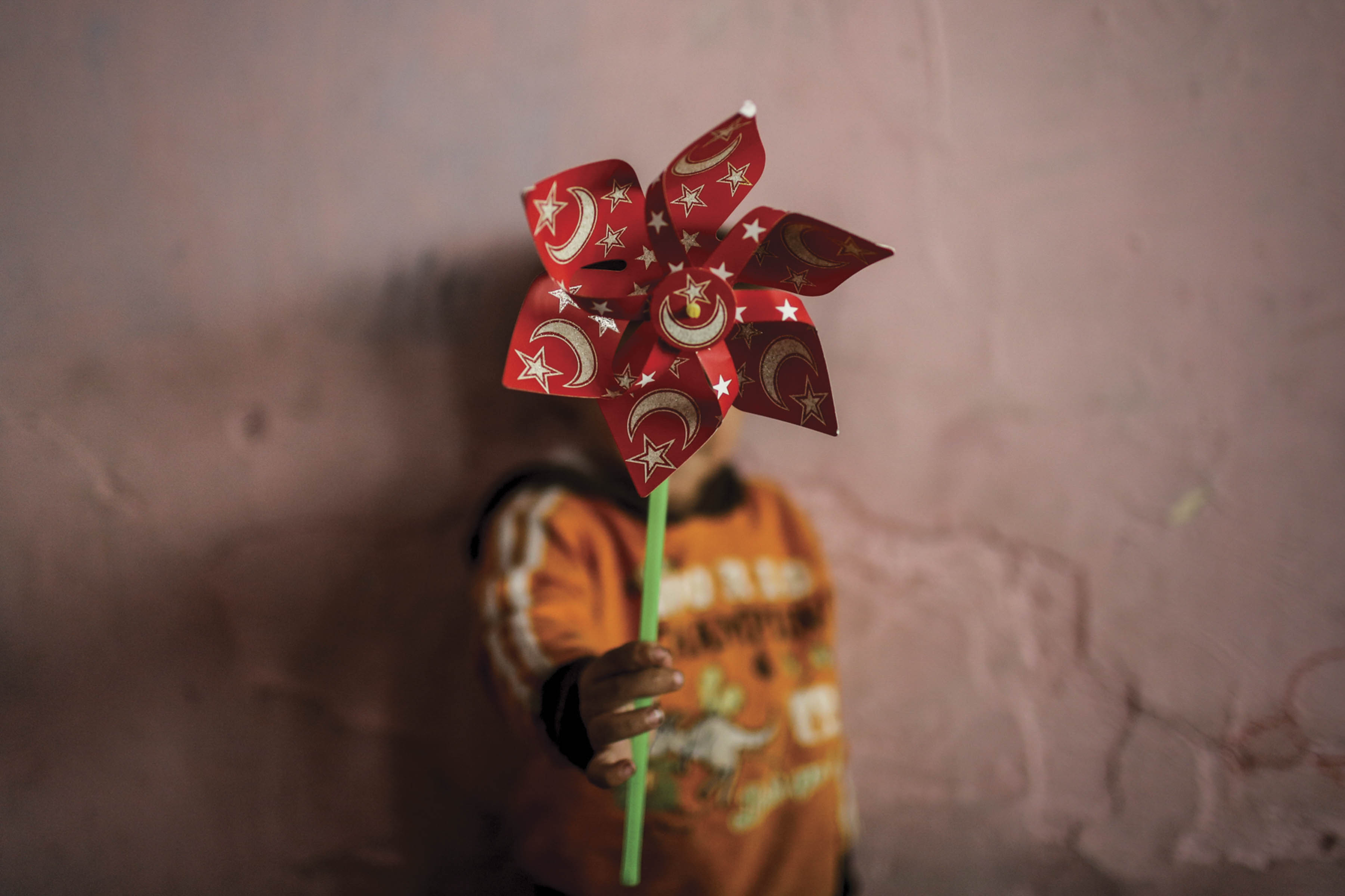 Half of Syria has fled the country in the wake of ongoing civil war. They land, by the hundreds of thousands, in neighboring countries like Lebanon, Jordan and even Iraq. But Syria's northern neighbor, Turkey, is now home to nearly three million Syrians. You can see them on the news: clustered in dusty tents or converted shipping containers, families marching in long lines through the arid landscape, wondering if this is the best they can hope for.
But Teymour Ashkan '14 wants you to know that this isn't the most complete picture of Syrian migrants in Turkey. The refugee camps account for only a few hundred thousand people, while more than two million Syrians are trying to get by in Turkish society outside the camps and away from the cameras.
In Istanbul alone, more than 300,000 Syrians have joined other marginalized groups from all over the Middle East and Asia in an overwhelmingly Turkish city, during a year of terrorism and political upheaval. The atmosphere is tense. But Ashkan and his group, Istanbul&I, are committed: with an infusion of youthful energy and volunteer culture, they hope to humanize and integrate these groups. Together, they believe they can bring this city along the channel between East and West just a little bit closer together.
In mid-August, members of Istanbul&I finished volunteering at a morning children's program and began criss-crossing Istanbul to expand its network of affiliated non-governmental organizations (NGOs). The group brings marginalized migrant groups together with allied Turks and expatriates to provide volunteer services, youth enrichment and job training for disadvantaged communities living in Istanbul. Its growing membership continually brings new connections to Istanbul&I to help extend its reach, but local government groups have been less forthcoming.
"We went to a meeting with the municipality and they just stonewalled us," Ashkan says. "They said, 'we don't know you, we don't know what political party you're affiliated with' — even though we're not affiliated with a political party, we're just independents. In Turkey, 'independent' doesn't really mean independent: everyone has some sort of political leaning. So they're not used to a group that doesn't have any."
Later meetings on the same day yielded little else. A youth council had no need for support; an education office couldn't act until the school year began. Ashkan didn't return home until late evening. But he's not discouraged.
"I've always been interested in volunteerism," he says. "I think William & Mary really instilled that. While I was there, I felt that volunteering was something that you needed to do; it would help you open up to different backgrounds and different experiences."
After graduating from William & Mary with a senior thesis on Afghan refugees and a degree in Asian and Middle Eastern studies, he enrolled at the London School of Economics and SOAS University of London to pursue a master's in migration studies.
When he arrived in London, though, his passion for helping others wasn't quite as well-understood. His flatmates wondered why he was hunting for volunteer opportunities before he bothered finding a paying job.
"I didn't know how to answer them," he says. "I said, 'Oh, it isn't expected that we should volunteer? We have the time to do it, so why not do it?'" He ended up volunteering for an NGO focused on the Afghan community in the United Kingdom.
When his coursework was over, he came to Istanbul for an internship with the United Nations High Commissioner on Refugees (UNHCR). This was September of 2015, just before the number of Syrians seeking refuge in Turkey spiked. But in Istanbul, the same volunteer opportunities just weren't there.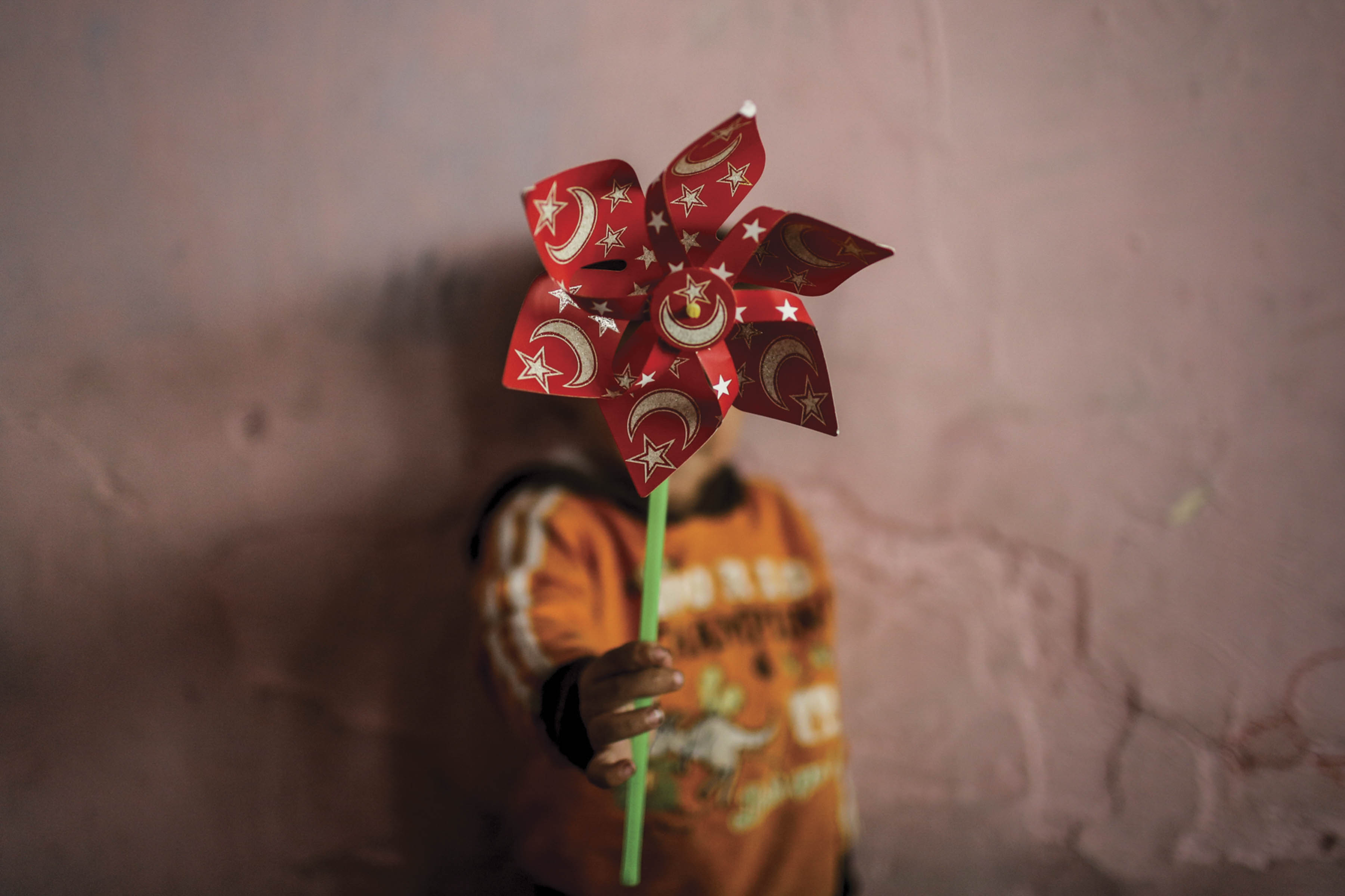 SPINNING: The Turkish flag takes the shape of a pinwheel. 2016 has been a particularly turbulent year for the country.
"I have an internship, I have a job; my spare time should be going to volunteer," he thought at the time. "Just like I did back at William & Mary. But I didn't find anything."
The organizations he found were not looking for additional help, he says, and he wasn't alone. Other young people in Istanbul were having the same problems. Whether they came from the United States like Ashkan, or from western Europe or sub-Saharan Africa, the volunteer culture they had taken for granted was mostly absent in Turkey.
Even the NGOs he worked with suffered from an imbalance. All around him, Ashkan was seeing the struggles native Turks had in accepting and understanding the Syrians newly in their midst. He studied the NGOs in Istanbul serving Syrian refugees, and discovered 232 volunteers working for seven organizations. Only seven of them were Turks.
"The rest of them were foreigners from Europe, Western countries or North America, Syrian people themselves or people with an Arab background," Ashkan says.
As the flow of migrants into Turkey continues to rise, a question came up: why weren't more Turkish people helping Syrians in need?
"A lot of Turkish people feel threatened by Syrians," says Ashkan. "Not necessarily because they're just a drain, but because [Syrians] speak Arabic, English and Turkish — whereas Turkish people mostly just speak Turkish." The refugees, he says, bring many skills to Turkey that its workforce needs.
Assistant Professor of History Ayfer Karakaya-Stump spent summer 2016 in Turkey, and saw a shift in public attitudes. The refugee crisis began in a more optimistic place, she says, describing the attitude of the public as "amazing."
I've always been interested in volunteerism. I think William & Mary really instilled that while I was there."
"At the beginning of the conflict, Turkey had an open border policy and was extremely welcoming," says Karakaya-Stump. "The assumption was that the conflict would be over soon. They did not really expect to have millions and millions of Syrians."
But five years into the Syrian conflict, she saw the streets of Istanbul full of peddlers and beggars. The crisis is not over, and she feels public opinion may be starting to sour.
"More and more people are feeling less and less welcoming of the Syrians," she says. "According to recent polls, about 70 percent of the people think that the Syrians are not benefiting Turkey, or are a security threat, or are damaging the economy.
"It looks like it's becoming less and less likely every day that the vast majority of these Syrians will return back to Syria."
Friction between migrants and their host country was nothing new to Ashkan. On a family trip to Tehran at age 15 — his parents came to the United States from Iran — he saw how similarly changing attitudes shifted Iran's treatment of its Afghan refugees.
"I was always taught that Iranians had a really hospitable society, and they were not even being very hospitable to their neighboring country," he remembers. "When I came back, I was focusing more on these displaced communities, not just in Iran but in other places."
Tehran had two groups speaking the same language, with the same religion and similar culture, and still the host country didn't always provide the support the refugees needed. But there is a language barrier for Syrians in Turkey, and the current political climate only heightens the tension between the majority and the refugees that the government calls "guests."
So in response to that tension, Ashkan and some friends had an idea.
"This was at the time when there were thousands of Syrians leaving Turkey on boats to Greece," he says, "and a lot of those stories are about Syrians who are just running away from home and didn't have any sort of skill.
"We wanted to try and react to that narrative by sharing stories of not necessarily just 'successful' people but just giving a complexity to the type of people that we're spotlighting."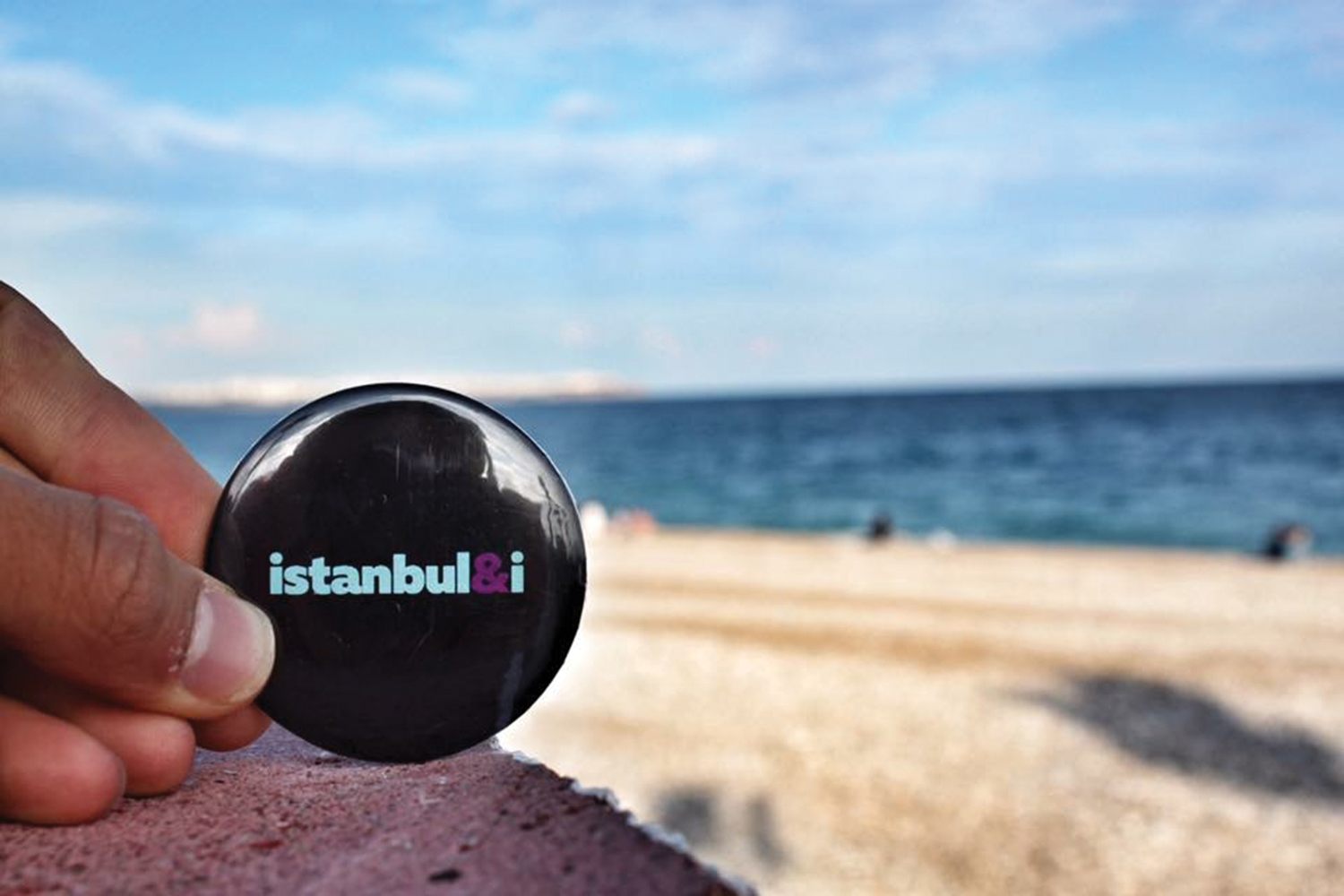 Istanbul&I was born in February 2016 originally as a 10-member storytelling platform. From the outset, the group's goal was to share stories of marginalized communities without any bias or agenda. The founding principle is that everyone is equal: Istanbul&I does not discriminate based on national background, gender identity, race, sexual orientation or religion. If a member is hostile to anyone based on that person's background, they are suspended from the group. That doesn't mean there isn't confusion.
"I was coming from a country that closed its borders to refugees, started to have xenophobic politics and was unliked by millions in Europe and the Middle East as well," writes Tamas Sajo, a Hungarian who attended the initial Istanbul&I meeting. "It could have happened, but not in Istanbul&I. These people cared only about my mind, human value and thoughts. … We were all different but had one thing in common: our home, Istanbul." Sajo titled his blog post "Istanbul&I, community that made me believe in borderless humanity."
Another member, Farah Hallaba, put the group's work with Syrian refugees this way: "I saw different races, faiths and ethnicities that work with all their heart. In Istanbul&I, I saw how international spiritual solidarity could look and how impactful it could be."
This has been a tragic year for Istanbul. Terrorist attacks in January, March and June put the city on high alert, and the failed attempt to overthrow president Recep Tayyip Erdogan in mid-July made an already-tense country even more politically sensitive.
There are nearly 80 million people in Turkey, and 70 to 75 percent of them are ethnically Turkish. Kurds make up an additional 10 to 12 percent, primarily in the country's southeastern corner near Syria and Iraq. In 2012, 99.8 percent of the country identified as Muslim, most of them Sunni. Most of the rest of Turkey's Muslims are Alevis, also clustered in small communities in the southeast. Ayfer Karakaya-Stump is one of the few scholars in the United States studying this group, and she warns that as large groups of Syrians are settled near tiny Alevi towns, huge demographic shifts will result, with further political consequences.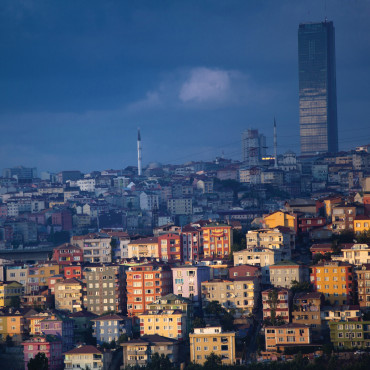 THE CITY: Istanbul stretches up hills and aside coves along the Bosporus Strait
It can be easy — and politically expedient — to blame the "other" already within a country's borders. In July, a gay Syrian was mutilated and beheaded in Istanbul's Yenikapi district, on the south shore along the Sea of Marmara. Some of Ashkan's friends are having their residence permits revoked and have been threatened by authorities to leave the country.
To make matters worse, many refugees are shut out of the official routes to employment within Turkey and turn elsewhere. "You have this huge population of people who aren't going to get the minimum wage protections and are going to be at the mercy of employers who might take advantage of them," says William & Mary law professor Evan Criddle. "They're going to be pushed into the underground economy. When you look around the world at protracted refugee crises, this is often what happens."
And if Syrians are planning to move on into Europe from Turkey, things aren't getting any easier. The European Union, facing challenges of its own, agreed to pay 3 billion euro (about $3.3 billion dollars) to the Turkish government to help run refugee camps and assimilation efforts. Starting in March, any Syrian refugees arriving in Greece were sent back to Turkey.
"The way Syrians describe their life here is like an open-air prison," Ashkan says. "They feel like they can never leave Turkey, or that no one wants them. No one is accepting them even though they have all these talents and can bring a lot."
One of Istanbul&I's first challenges was to set the terms of the conversation. A huge problem is with the word "refugee." It implies, Ashkan says, a sort of vulnerability and weakness that doesn't fit his understanding of migrant groups. It ignores the value these migrants have, far beyond mere political chess pieces.
"I have lots of baggage with talking about the word 'refugee,'" Ashkan says. "A lot of these people that are Syrian, or Iraqi or Yemeni, came from war-torn countries. They are not a drain on society."
Turkey has also resisted labeling Syrian migrants as refugees. When the international community was expanding its definition of refugees beyond those displaced by World War II, Turkey did not join the agreement. Nonetheless, Criddle observes that "international law prohibits Turkey from removing the 2.7 million Syrians within its borders without determining on a case-by-case basis whether they qualify as refugees based on a well-founded fear of persecution."
To avoid the legal implications of refugee status, Turkey opted initially to characterize Syrians simply as "guests." Later, some were reclassified as a "protected population." There are some Turks who think this confers unfair advantages upon the Syrians.
"Since we focus a lot on Syrians, they [Turks] tend to get tired of it," says Ashkan. "Because of the culture of what's going on in Turkey right now, they're feeling that the Syrians are the reason for all these problems they're having."
Despite the tense climate, Istanbul&I is still growing, and their network continues to expand throughout the city.
"Young people are resourceful and creative," Ashkan says. "We don't really need a lot of money to make a high impact and make a difference. This is a really strong message that we have in the group: we can still have impact. We can still make change without needing millions of dollars. It's not reserved for wealthy people to be able to do this."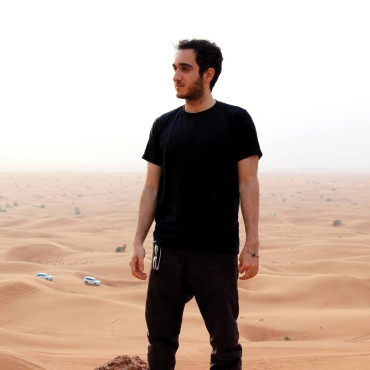 Istanbul&I's Teymour Ashkan '14 on a trip to Dubai, United Arab Emirates.
"This morning, we went to an NGO that works with Syrian and Kurdish children," he says. There were 30 to 40 between the ages of 4 and 15. "We organized another design sustainability course with a one-hour talk on recycling and environmental sustainability." The kids learned how to divide waste paper from food composting and plastic recycling, then spent an hour repurposing cardboard into little dragons for an art project.
"We'll put them in an exhibition and then we'll do a fundraiser in the exhibition for those children," says Ashkan. It's one of the modules Istanbul&I brings to its NGO partners all over the city. "We're also doing a tech course where we teach young Syrians from 13 to 20 how to design their own mobile game application."
The group now has over 120 members, primarily from Syria, Palestine, Yemen, the U.S. and Turkey. They've moved on from small storytelling nights to sophisticated volunteer outreach, aimed at bringing marginalized groups out of the headlines and into Turkish schools, community centers and the tech sector. Ashkan now describes Istanbul&I as "a cross between an NGO and a tech startup."
Newcomers to Istanbul will soon have the opportunity to download Istanbul&I's smartphone app, which connects a willing volunteer with the nearest group member. You can send a request and Istanbul&I will meet you within two days, and connect you with one of the growing number of NGOs who make use of the group's volunteer muscle. The group is already looking to expand its model to Berlin, and has applied for technology accelerator programs there as well as in California. In March, the group won a programming challenge (or "hackathon") in Istanbul, amidst a startup community that is primarily Turkish.
Things are looking up for Istanbul&I, even in uncertain times for Turkey and its neighboring countries. Ashkan and his friends, growing in number as well as diversity, are tirelessly hitting the streets. During a time of fear and upheaval, they're bringing Istanbul's most vulnerable people out of the shadows — based upon a stirring example of the power of volunteerism.