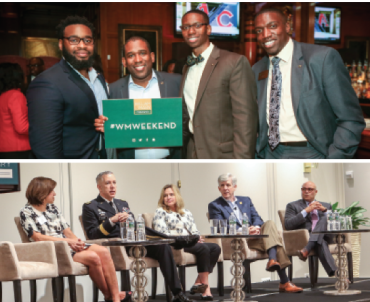 The inaugural William & Mary Weekend in Washington, D.C., was filled with intellectual, cultural, professional and social events that drew more than 1,300 attendees. The Weekend offered an opportunity for alumni, students, parents and friends to connect, discover and celebrate like never before.
Events such as the Raft Debate and private tours of the Supreme Court, National Archives, Library of Congress and National Gallery of Art Sculpture Garden were very popular and a big hit among attendees. The Weekend also included an enlightening conversation led by William & Mary Provost Michael Halleran about new initiatives at the university and a leadership luncheon, featuring a panel of distinguished alumni who talked about what it takes to successfully lead in the public and private sectors.
The signature event of the Weekend was the discussion with FBI Director James Comey Jr. '82, LL.D. '08 and internationally acclaimed journalist Charlie Rose at the Newseum. Many people in the audience sat on the edge of their seats as Comey spoke about several current events ranging from the Apple iPhone encryption battle to terrorism and race relations.
The Weekend culminated with the annual Alumni Auction and Gala, and a brunch and tour at Mount Vernon featuring author and veteran Washington Post reporter Steve Vogel '82.
At the conclusion of the fun-filled Weekend, guests said they are already excited to attend next year's William & Mary Weekend in New York City, which will take place on May 18-21.

Comey interview Comey discussed the constant tug of war between privacy and security among authorities and civilians. His priority as leader of the nation's top intelligence agency is finding the right balance between the two. It was a tough question borne out of the topic of Apple refusing to grant the FBI access to an iPhone following the 2015 San Bernardino shooting. Comey also discussed race relations between police and the community, saying that both groups need to understand how life is experienced through the eyes of each other before progress can be made.
For Comey, it is important for FBI agents to gain an understanding of the past in hopes of never repeating it. He requires new agents to visit the U.S. Holocaust Memorial Museum and the Dr. Martin Luther King Jr. Memorial to remind them of the dangers of abuse of power.
"It's designed not to tell them what to think, but to make them think, which was one of the things William & Mary did so well for all of us," Comey says.
Supreme Court tour Attendees on the Supreme Court tour were honored with a special hourlong visit from Justice Anthony Kennedy. William & Mary law professor James Y. Stern, who clerked for Kennedy for a year, was the host of the tour. The justice explained how the Court works and the thought process that goes into hearing and deciding cases.
Nancy Gofus '75, chair of the College of William & Mary Foundation board of trustees, spoke about the behind-the-scenes tour. "It was something you couldn't get as an average tourist here in Washington. To have a Supreme Court justice talk to you about the rule of law and to have that William & Mary connection with one of our law professors who was his clerk - it was a really unique William & Mary experience."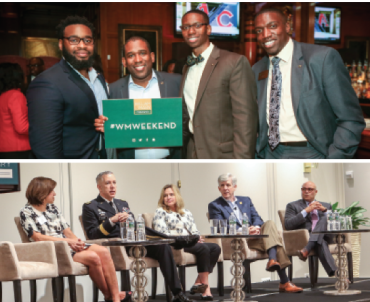 Leadership luncheon Preparing students to lead in their personal and professional lives was a topic addressed by a panel of distinguished alumni during the luncheon. The panelists shared personal experiences to inspire and motivate attendees to blaze their own paths.
"William & Mary produces an extraordinary cohort of contemporary leaders," said President Taylor Reveley. "I think we're beginning to think more and more about how to do a better job at preparing students to lead."
The panelists included: Diane Murray '82, principal with Deloitte Consulting LLP; Michael K. Powell '85, D.P.S. '02, president and CEO of the National Cable & Telecommunications Association; Lieutenant General Thomas W. Spoehr '80, director, Office of Business Transformation, U.S. Army; Ellen Stofan '83, D.Sc. '16, chief scientist of NASA; and Todd Stottlemyer '85, rector of W&M and CEO of the Inova Center for Personalized Health.
To read more about William & Mary Weekend and to view a video featuring the various events, visit The Gale alumni blog here.
Photos by Skip Rowland '83