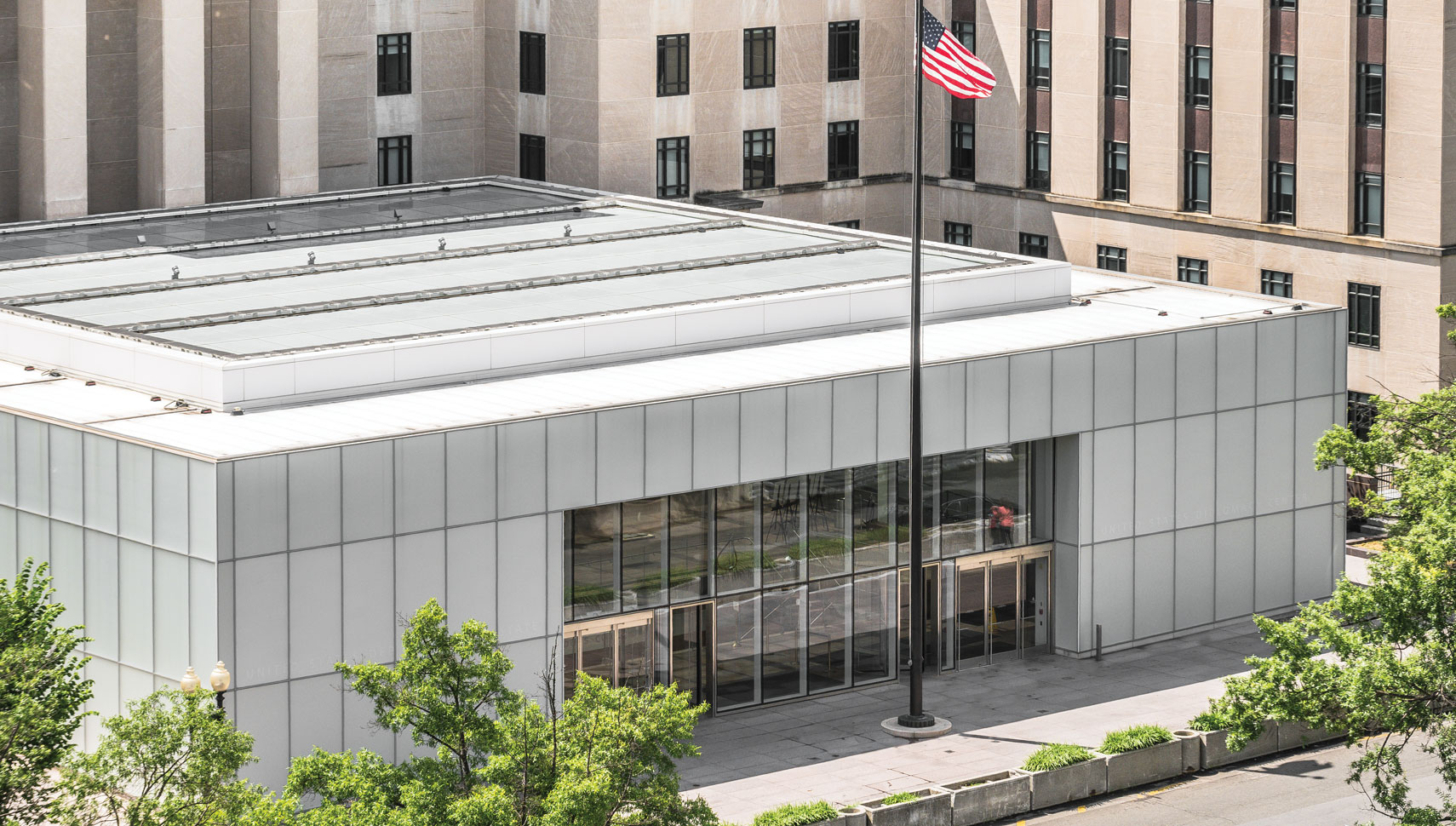 The green wool suit with black buttons and collar was appropriately elegant for U.S. Ambassador Prudence Bushnell's meeting with Kenya's commerce minister on the morning of Aug. 7, 1998.
Now part of the U.S. Department of State's collection, the suit is among more than 9,000 artifacts that Jane Carpenter-Rock '92 and Sarah Chacon '13 are combing through as they build content and design exhibitions for the new National Museum of American Diplomacy.
Like many of the artifacts, this suit has a story to tell. On close inspection, blood is still visible — the blood of Bushnell and others who were injured when windows shattered from the blast of a bomb targeting the American embassy in Nairobi, just across a parking lot from the building where her meeting took place. That attack and another carried out by al-Qaida the same day at the U.S. embassy in Dar es Salaam, Tanzania, killed 224 people and injured more than 4,500.
"It shows that diplomacy can often put you in harm's way," says Carpenter-Rock, the museum's deputy director. "We don't go in with guns and armor. We're just there in normal clothes, trying to forge relationships."
Through artifacts and personal stories, the museum will explain what diplomacy is, how it's conducted and why it matters.
"In America's embassies overseas, we do a good job of explaining our foreign policy and culture to international audiences, but we don't do as well at explaining American diplomacy to domestic audiences," Carpenter-Rock says. "The point is to develop relationships that will help to build American security and prosperity."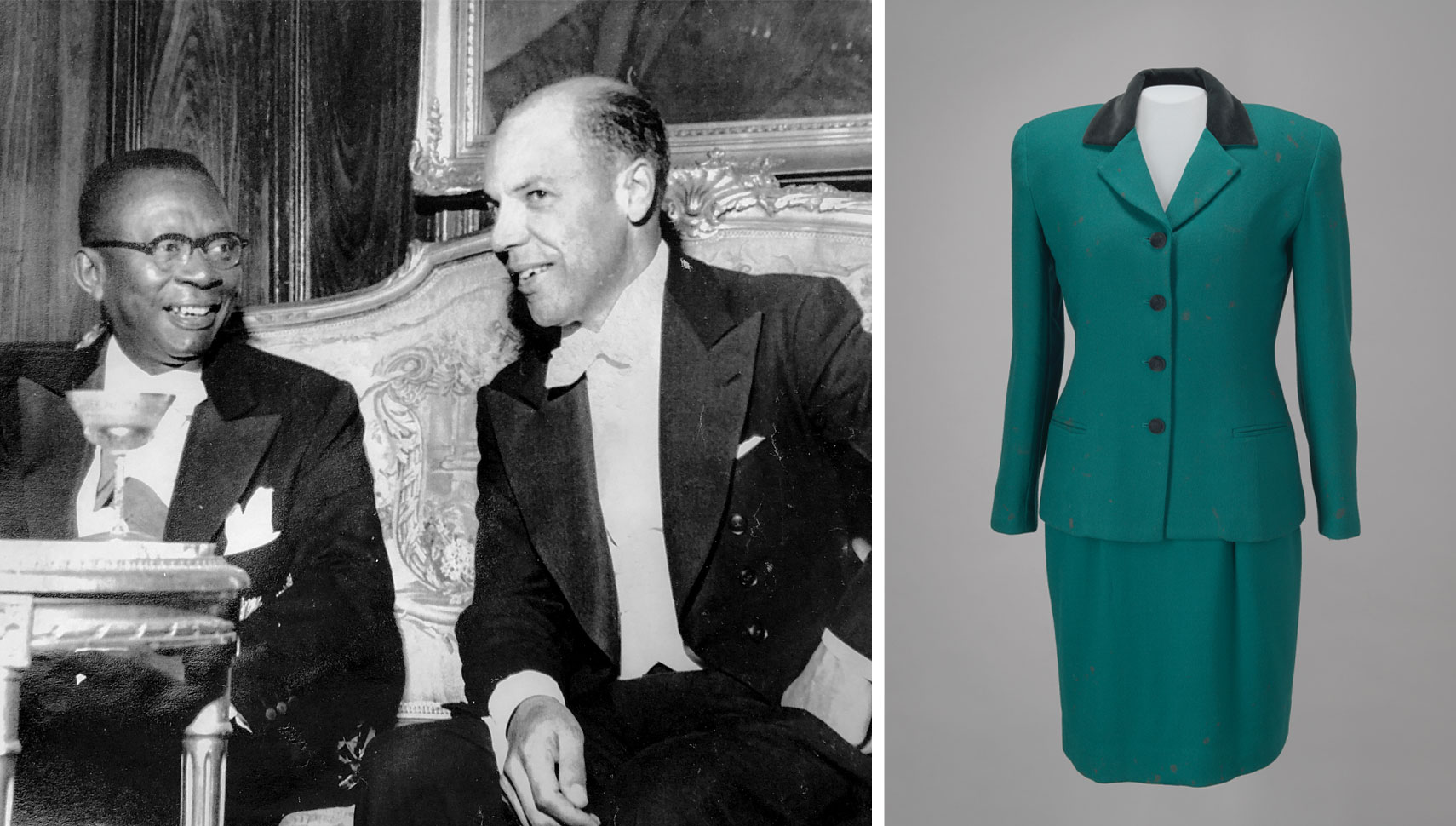 The museum's completed first phase comprises a $50-million, 20,000-square-foot entrance pavilion containing a preview exhibition, "Diplomacy Is Our Mission." Until it temporarily closed in March in the wake of the coronavirus pandemic, the free exhibition was open to the public for two hours every Friday afternoon.
A $35-million fundraising campaign is under way through the State Department's nonprofit partner, the Diplomacy Center Foundation, to cover the remaining costs of construction and exhibition design, building and installation. The museum is scheduled for completion in 2022.
"We think the best way to talk about diplomacy is through the eyes and through the words of the diplomats," Carpenter-Rock says. "We like to say we focus on the people, the places and the practice."
As part of a core group of five people, she and Chacon, a museum associate and project manager, are drawing on objects, photographs and oral histories to develop content.
"There's a lot of historical research involved," Chacon says. "We're constantly working on programs as well."

The preview exhibition includes a display on how a public affairs officer at the U.S. embassy in Guinea, West Africa, worked with local artists and radio journalists on a health education campaign several years ago to avoid spreading the Ebola virus — just as embassy officials in 2020 have been engaged in efforts to combat the coronavirus.
Along with the preview exhibition, museum visitors can see a 13-foot-high, 3-ton section of the Berlin Wall, taken down in 1989 after almost three decades as a symbol of the Cold War. The section of wall is signed by 27 world leaders who played a part in German reunification.
When the museum is completed, it will feature a timeline tracing diplomacy back to the nation's origins, when Benjamin Franklin formed an alliance with France as America sought independence from Great Britain. The fact that Thomas Jefferson, the first secretary of state, was a William & Mary graduate is a point of pride for alumni at the State Department. The timeline will continue through 9/11 or the 2012 attack in Benghazi, Libya, Carpenter-Rock says.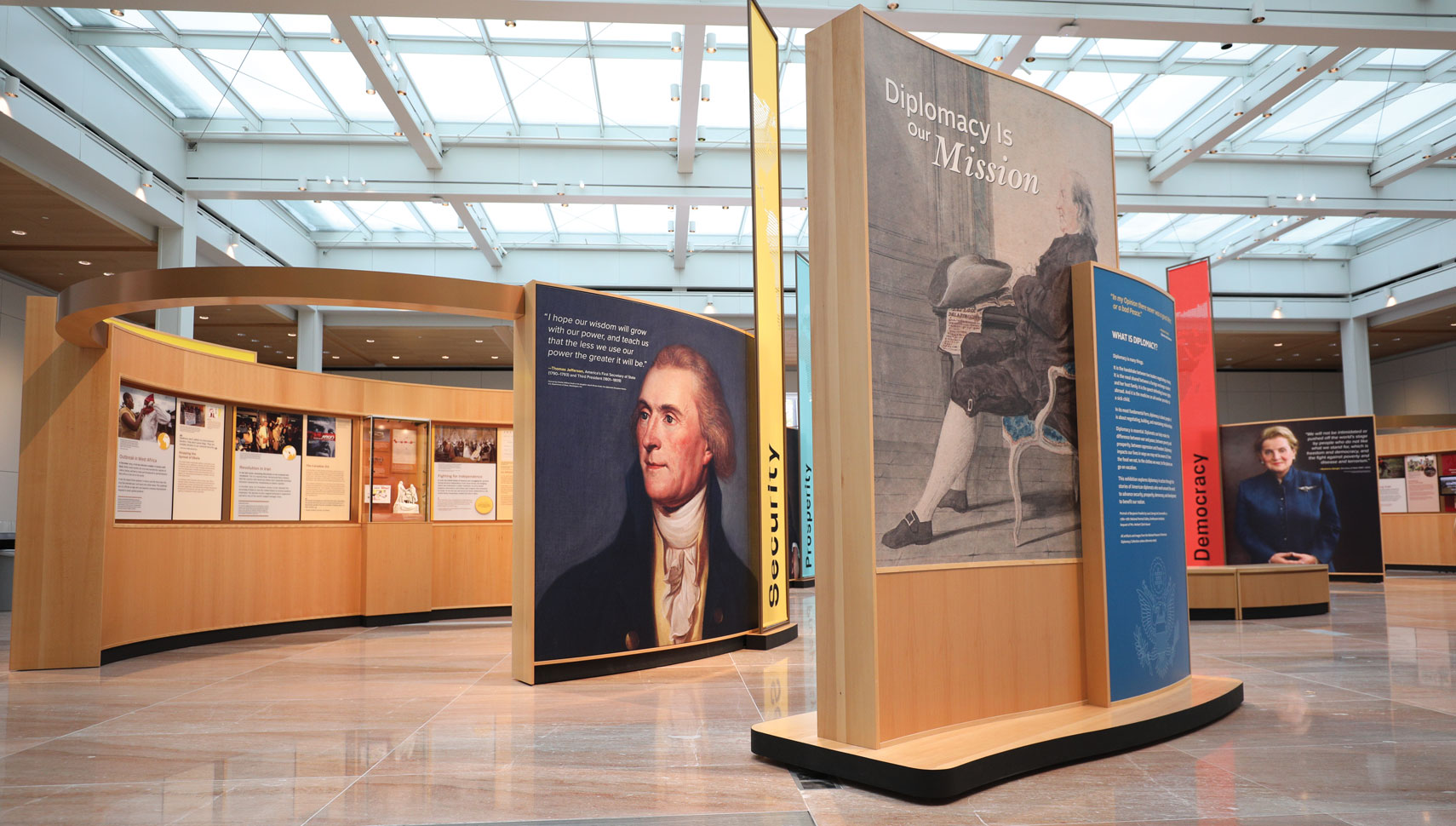 "We have to deal with not only having an objective distance from history, but we also have issues in terms of what's still classified information," she says.
Public interest in recent news coverage about the United States' involvement in Ukraine demonstrated a hunger to understand diplomacy, Carpenter-Rock says.
"There's perceived secrecy or glamor in how diplomats are depicted in movies or TV shows," she says. "In reality, it runs the gamut. There are glamorous days when there are receptions or exhibit openings," she says. "Most of the time, it's getting out and meeting people and making connections."
After graduating from William & Mary with a bachelor's degree in English, Carpenter-Rock earned a master's from Howard University and a doctorate from the University of Michigan, both degrees in art history, criticism and conservation. She thought she would pursue a career in museums, but she also wanted to travel internationally. Then, Carpenter-Rock met a woman at the State Department who organized exhibits of American artwork and sent them around the world.
"I said that's exactly what I want to do. I could expose the rest of the world to the talent and culture of American art," she says.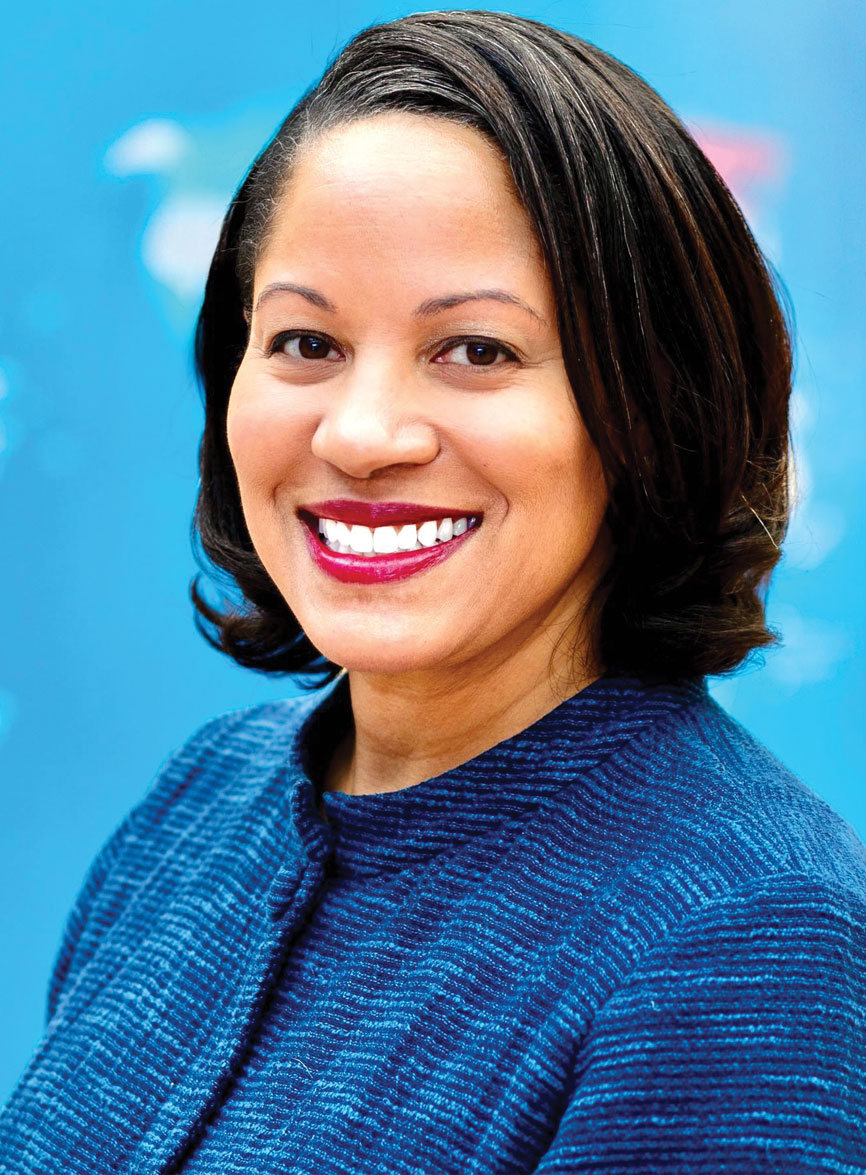 But soon after Carpenter-Rock joined the State Department in 2002, that office closed. Instead, she received postings as a foreign service officer in South Africa and Colombia, where she developed relationships with museums, journalists and media outlets to introduce American culture and explain U.S. policy.
When she heard about the development of the new museum in Washington, she saw a chance to explain the value of diplomacy to American and foreign visitors — and to return to the type of work for which she had prepared.
The daughter of a foreign service officer, Chacon was born in Chile and lived with her family in Ecuador, Peru, Guatemala, Italy and Spain. Her father, Ambassador Arnold Chacon, is now a senior vice president at the National Defense University in Washington. In 2017 and 2018, while serving as a Diplomat in Residence at Duke University, he frequently visited William & Mary to recruit students into public service for the State Department.
"He always wanted me to be a foreign service officer," Sarah Chacon says.
She decided to pursue other interests, and after graduating from William & Mary with a degree in English and Hispanic Studies, she moved to Guatemala for an internship with an indigenous clothing museum. There, she worked on conservation projects and a graphic design book for pieces in the collection.
That experience led her to enroll in a master's program in arts management at George Mason University, while working part-time in consular affairs at the State Department. Like Carpenter-Rock, she learned about the diplomacy museum project and was intrigued. This summer will mark her fifth year at the agency.
Chacon's father, not surprisingly, is pleased with where her career has taken her. "He thinks the museum is very important to help explain the role of the State Department to the public in an engaging way," she says.
Carpenter-Rock and Chacon say they hope that more William & Mary graduates will find their way to foreign service work. In January, a group from the Cohen Career Center visited the State Department, heard from a panel of alumni and toured the preview exhibition.
"I thought it was a phenomenal opportunity for students to engage with alumni that are in the fields they are interested in pursuing," says Sam Nussbaum '18, M. Ed. '20, a graduate assistant who was among the group's facilitators.
Carpenter-Rock told the students that her liberal arts education at William & Mary helped her to understand her role as a foreign service officer.
"A lot of these students are already thinking globally," she says. "William & Mary students are quite in tune with how our government was formulated and how government is carried out today."