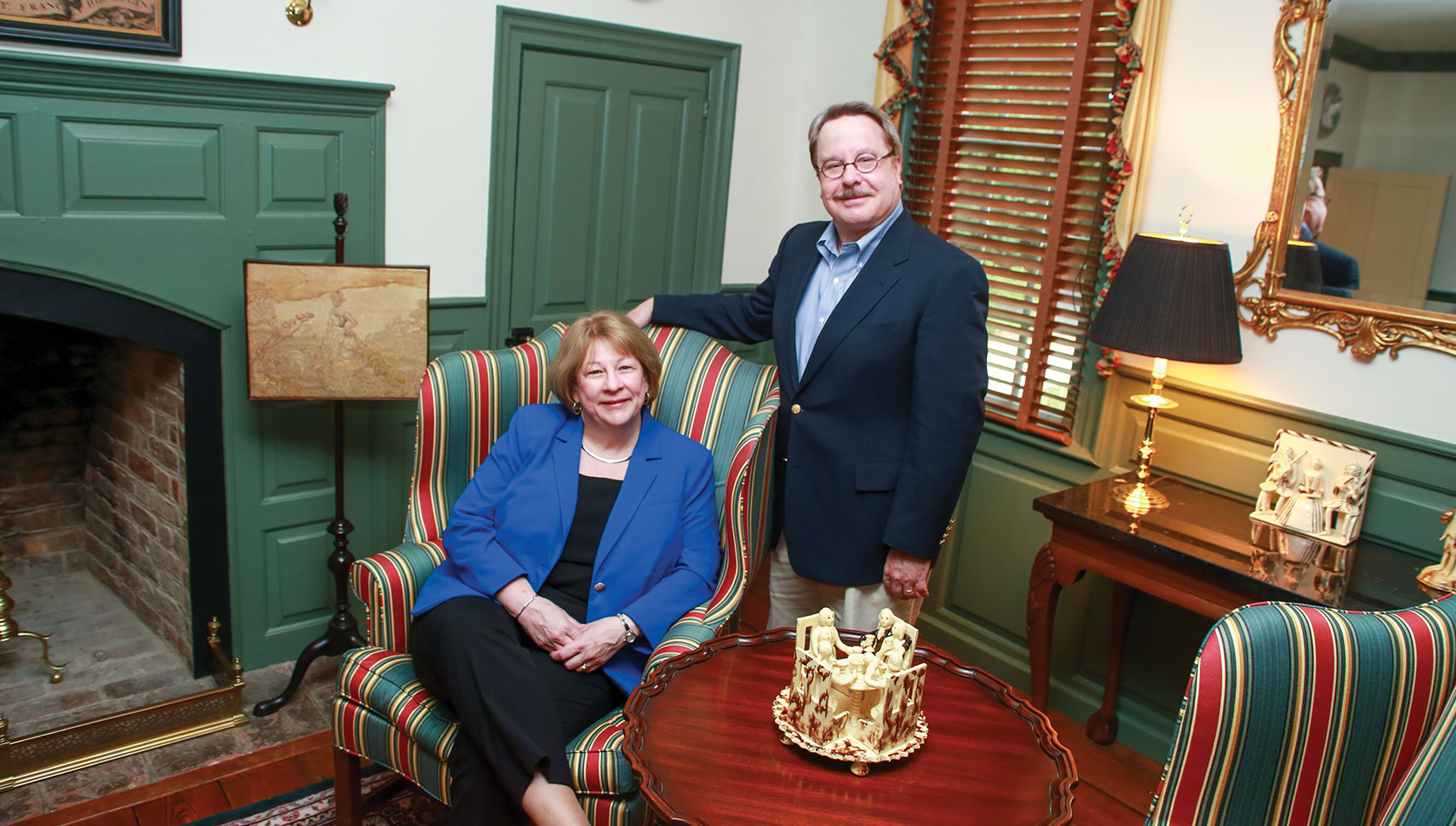 James D. Penny J.D. '83 and Pamela Jordan Penny '77, HON J.D. '16 may not have known it at the time, but by purchasing a house close to William & Mary's campus for their retirement over a decade ago, they were helping to establish a pattern.
The idea seems to be gaining momentum among alumni for many of the same reasons it appealed to the Pennys: the opportunity to return to a familiar setting filled with treasured memories from the dawning of adulthood; to enjoy the cultural, recreational and intellectual benefits of living close to a university; and to strengthen bonds with others in the W&M community. Added attractions include a temperate climate, proximity to Colonial Williamsburg and other historic sites, convenient access to Virginia's coastal areas and small-town ambiance with urban amenities not far away.
According to the Williamsburg Community Action Plan on Aging, the greater Williamsburg area (including James City and York counties) has become a retirement destination, with residents 60 and older making up over 20% of the population. By 2030, that demographic is expected to rise to 30%. College towns also show up frequently on "best places to retire" lists such as the one published by Forbes.
For some alumni, the switch to remote working during the pandemic has enabled them to move to their eventual retirement home sooner than they expected. 
"These close-in neighborhoods are fantastic for people who love William & Mary and want to enjoy Williamsburg," Jim Penny says. "There's a lot to offer."
A conversation between Penny and a fellow W&M Law School Foundation board member started the couple on the path to purchasing an 18th-century home on Burns Lane that once belonged to William & Mary fine arts professor Thomas Thorne. The fellow board member had bought property through the Colonial Williamsburg Foundation and the Pennys, who were living in Houston at the time, looked into what else might be available.
While attending Colonial Williamsburg's Grand Illumination during a 2007 visit, they learned through another William & Mary connection, Ceramics in America editor and antiques dealer Robert Hunter M.A. '87, that the former Thorne home was on the market. Originally known as Bel-Mede, the house was built by Quakers Thomas and Mary Pretlow in 1770.
The late Thorne, who taught at William & Mary from 1940 to 1975, had moved the house from Southampton County to Williamsburg in 1947. Thorne's wife, Lelia, was a former president of both the Williamsburg Garden Club and the Garden Club of Virginia, and the house had been featured in Historic Garden Week tours in the early 1950s.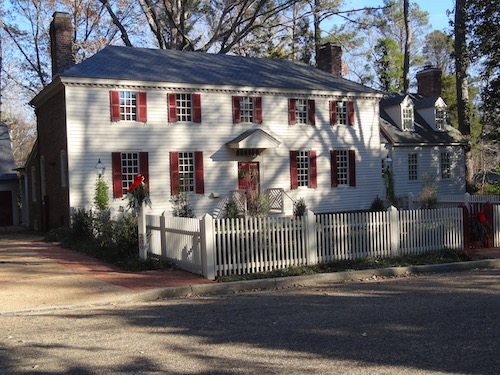 The Pennys closed the sale in April 2008 and began a five-year effort to restore the house and gardens, with assistance from architectural historian Mark Wenger. After receiving a certificate of occupancy in 2014, the Pennys began staying in the house during visits to Williamsburg. By 2016, both had retired from their jobs — Jim as a tax attorney at Vinson & Elkins LLP and Pam as executive vice president and chief accounting officer of HCC Insurance Holdings, Inc. — and they decided to make the move for good. Within a month of moving in, they opened the house for Historic Garden Week tours in April 2016.
Other W&M alumni also have felt the pull of the 'Burg. Jeff Nelms '86, P '13 and Mary Guzzo Nelms '86, P '13 bought a 1942 Dutch Colonial house just off Jamestown Road in 2018, even though they weren't yet ready for retirement.
"We met during our freshman year in 1982 and dated all through college and got married in the Wren Chapel," Mary Nelms says. "We'd spent all four years together at William & Mary, so when we were thinking about where to retire, this was a natural selection because it was very much like going home. We are so comfortable here."
Both computer science majors, they moved to Northern Virginia after graduation. Jeff, who also majored in economics, is now a principal engineer with Solution Street computer software company and Mary works with the Fairfax County Department of Public Works and Environmental Services Information Technology Office as an internet architect, developing and maintaining the agency's web presence.
They are interested in the arts and their son Taylor Nelms '13 was a theater and computer science double major. As they worked on home renovations during the weekends and gradually moved more of their belongings to Williamsburg, they looked forward to being full-time residents in a few years and attending football games, art exhibitions and lectures at William & Mary.
Because both are doing all their work remotely now, they've decided to make their move sooner than they had planned. They recently sold their house in Northern Virginia and expected to make Williamsburg their permanent home as of the end of October.
"When we were having to go to the office, we didn't see the option of living here while still working up there," Mary says, adding that they will consider renting an apartment in Northern Virginia to use when they need to be in their respective offices.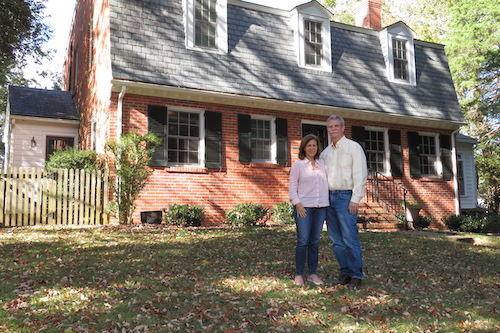 "We love to walk," she says. "Being able to walk to things on campus and walk to Colonial Williamsburg was probably the number one criteria in what we chose to buy."
A favorite discovery at their new home was a newspaper clipping under the stairs from 1942, the year the house was built, that referenced the sinking of the German battleship Bismarck and President Franklin D. Roosevelt's Fireside Chats.
"Everybody we talk to about moving to Williamsburg says, 'Oh we've been thinking about that,'" Mary says. "People are definitely talking about moving back to their colleges, and this college in particular. It's on a lot of people's short list."
For the Nelmses, there is another benefit to living near William & Mary. One of Jeff's Sigma Chi fraternity friends, Ron Andrews '84, P '20, and his wife, Elizabeth Armistead Andrews '84, P '20, already had moved back to Williamsburg from Richmond in late 2015. They, too, found a way to live near their alma mater before retiring.
Ron, as head of global fraud operations for CitiBank, is able to work from home when he's not traveling. Elizabeth initially commuted to her job as water policy manager with the Virginia Department of Environmental Quality, but soon transitioned to William & Mary Law School, where she is a professor of the practice of law and director of the Virginia Coastal Policy Center.
Since settling in at a 1925 home off Jamestown Road, the Andrewses have welcomed two sets of friends who moved in nearby, and their house serves as a gathering spot for friends whose children are attending William & Mary.
"We have absolutely been happy living here," Elizabeth says. "I tell this to prospective law students — there's such great access to nature, between the Virginia Capital Trail and the parks that are nearby, the ability to go kayaking on the York River, and it's not far from the beach."
When friends and family visit, there's always plenty to do, she adds.
"On New Year's Day, my family said, 'Let's go for a walk,' and there was a race happening," she says. "There's always something fun going on in Colonial Williamsburg or something associated with William & Mary or at the farmers market."
Kiplinger, a Washington-based publisher of business forecasts and financial advice, describes Williamsburg as a great place to retire, noting, "The university offers plenty of entertainment and cultural options. Those age 60 and older can audit classes free." Merchants Square, it says, "is ideal for people-watching while you sit at one of the outdoor restaurants or sip wine outside the Williamsburg Winery."
The Osher Lifelong Learning Institute at William & Mary also offers a wide variety of classes geared toward people 50 and older, but open to anyone, and scholarships are available to offset the cost of membership.
After moving to Williamsburg, the Pennys increased their involvement with William & Mary and the surrounding community. Pam serves as a trustee for the W&M Foundation and as a Steering Committee member for the Society of 1918, and Jim is continuing his relationship with the law school, where he has held multiple leadership roles.
In addition, both Pennys serve on the Jamestown Rediscovery Foundation Board, Pam has been on the board of Child Development Resources and Jim is on the Colonial Williamsburg museums board. A gallery in the Abby Aldrich Rockefeller Folk Art Museum bears their names.
"We've tried to be very much involved in the community and love being here," Jim says. He hopes more alumni will follow their example.
"I think it would be great to see more alumni purchase homes close to campus," he says. "To me it's a win-win situation for alumni and for the university."