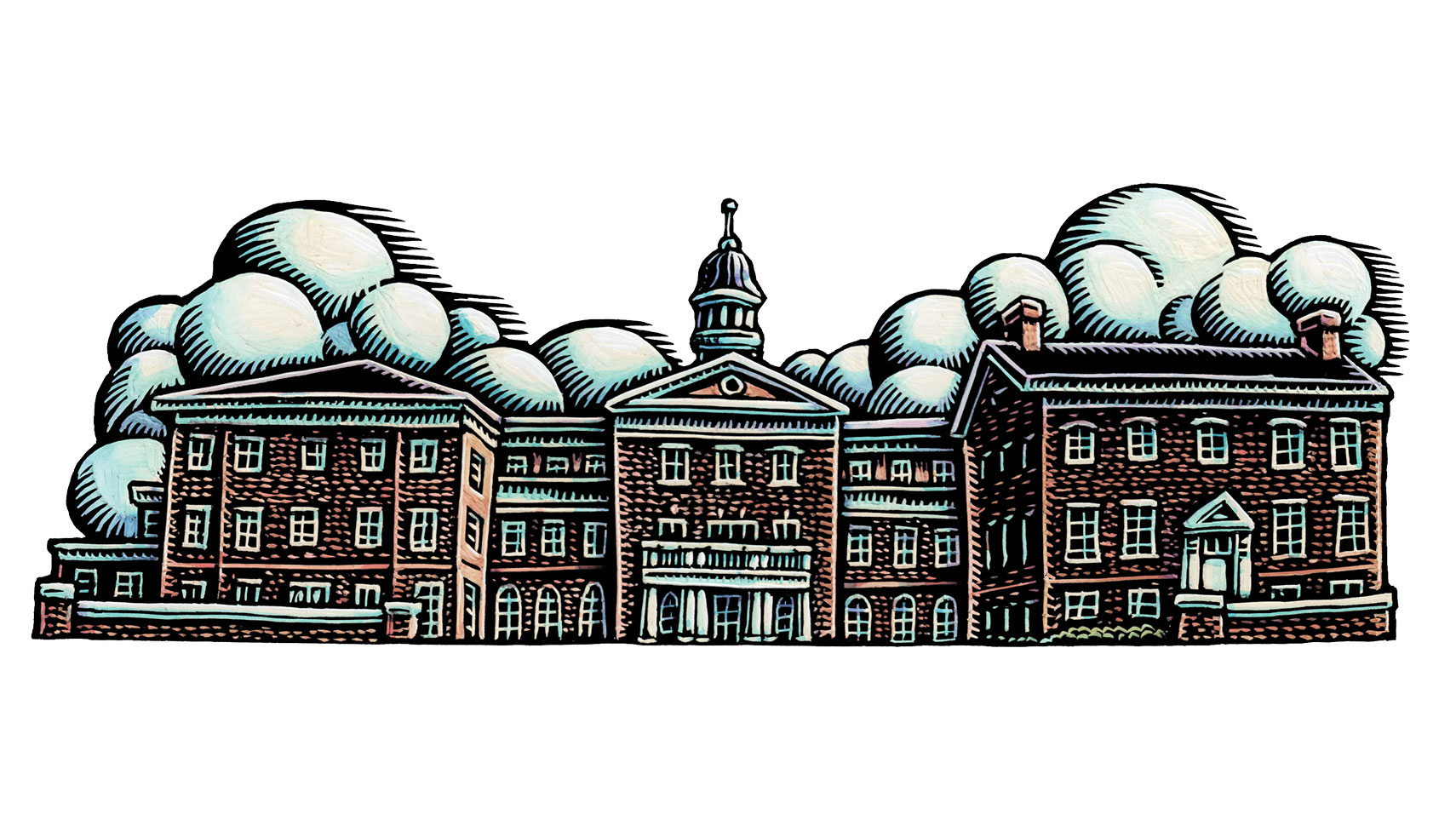 There's been so much in the news lately about the value of a college degree — especially with a liberal arts focus — in today's world. Between my service on the W&M Alumni Association (WMAA) board, my daily work at an independent school in Richmond, Virginia, and my current status as the mother of juniors in high school, college outcomes are something I think about a lot.
When I first stepped foot on campus as a freshman, I had no idea what the future might hold. I came to William & Mary in part because I wanted more than just a degree at the end of my experience. I wanted a broad set of skills that would help me tackle whatever life threw at me and prepare me for the challenges of the future. I wanted a community and a network that I could call on throughout my life and that would enable me to assist those who came after me. And I wanted to be part of something much larger than me, contributing to a body of knowledge we were creating together. I found all these through William & Mary and the WMAA, and these benefits continue to have a positive impact on my life. I have heard from so many of you who have told me you had a similar experience.
That's partly why the university's new strategic plan, Vision 2026, is so exciting — it builds on W&M's strengths in these areas to continue to add value to our degrees, long after we graduate. The plan will be unveiled over Charter Day Weekend, but you can view the initial framework at wm.edu/vision2026.
The three key elements — expand W&M's reach, educate for impact and evolve to excel — align perfectly with the work of the WMAA, which serves not only our alumni but also strengthens the university as a whole. As a board, we have been diligently planning our goals inside this framework to ensure we provide the best support and resources to you, our alumni and friends.
Expand global reach: We believe everyone should know about William & Mary and the exceptional students, faculty and scholarship we produce! The more W&M shines worldwide and its reputation for excellence grows, the more valuable all of our degrees become. Our 100,000+ alumni worldwide are ambassadors for William & Mary, and the WMAA helps keep us connected with each other and our alma mater — creating lifelong relationships, sharing the latest news from campus and celebrating our alumni's successes. This goal also includes enhancing community service and civic engagement. We provide a wide range of service events throughout the year, and commitment to civic engagement is a key component of our Alumni Medallion awards, the highest honor given to alumni by the WMAA.
Educate for impact: A key facet of this goal is creating meaningful career pathways for students and alumni, so we are prepared for not only our first jobs but our entire careers — and for professions that don't even exist yet. Through our suite of One Tribe, One Network resources, the Career Design Fellowship, and events like Professionals Week and Online Networking Hours, the WMAA helps our community build skills and make connections for fulfilling professional lives. Beyond these services, our professional, cultural, social and intellectual programming connects our global community, opening doors to new opportunities for all and allowing each of us to share our expertise with others.
Evolve to excel: We are committed to an inclusive culture of engagement and philanthropy, where every member of our community feels they are a welcome and vital part of our W&M family. This includes our affinity and identity programming as well as increased efforts to improve representation on boards. Through our Alumni Admissions Network, we strive to reach bright students from all backgrounds and regions to encourage them to apply to W&M.
Each of these goals helps strengthen the ways W&M and the WMAA enhance the value of your William & Mary education beyond a degree, so you benefit from being part of the W&M family for life.
We often talk about our culture of engagement & philanthropy, and in true William & Mary fashion, that "and" in the middle — that ampersand between engagement & philanthropy — is crucial. None of this is possible without your support, and we are grateful to everyone who chooses to contribute to the W&M Alumni Association Fund to support the work of the WMAA.
Together, we are creating a bright future for our students and alumni — for wherever life's journey takes us after graduation — and our alma mater for all times coming.