The Senior Class Gift is a longstanding tradition of student philanthropy at William & Mary that offers the senior class an early taste of giving back to their alma mater. Rather than being one collective gift, the Senior Class Gift is composed of many gifts from seniors, who direct their donations to an area of William & Mary of their choice. With philanthropy rattled nationwide in recent years by the pandemic, the six members of the 2023 Senior Class Gift committee faced the challenge of steering participation rates back to pre-pandemic numbers.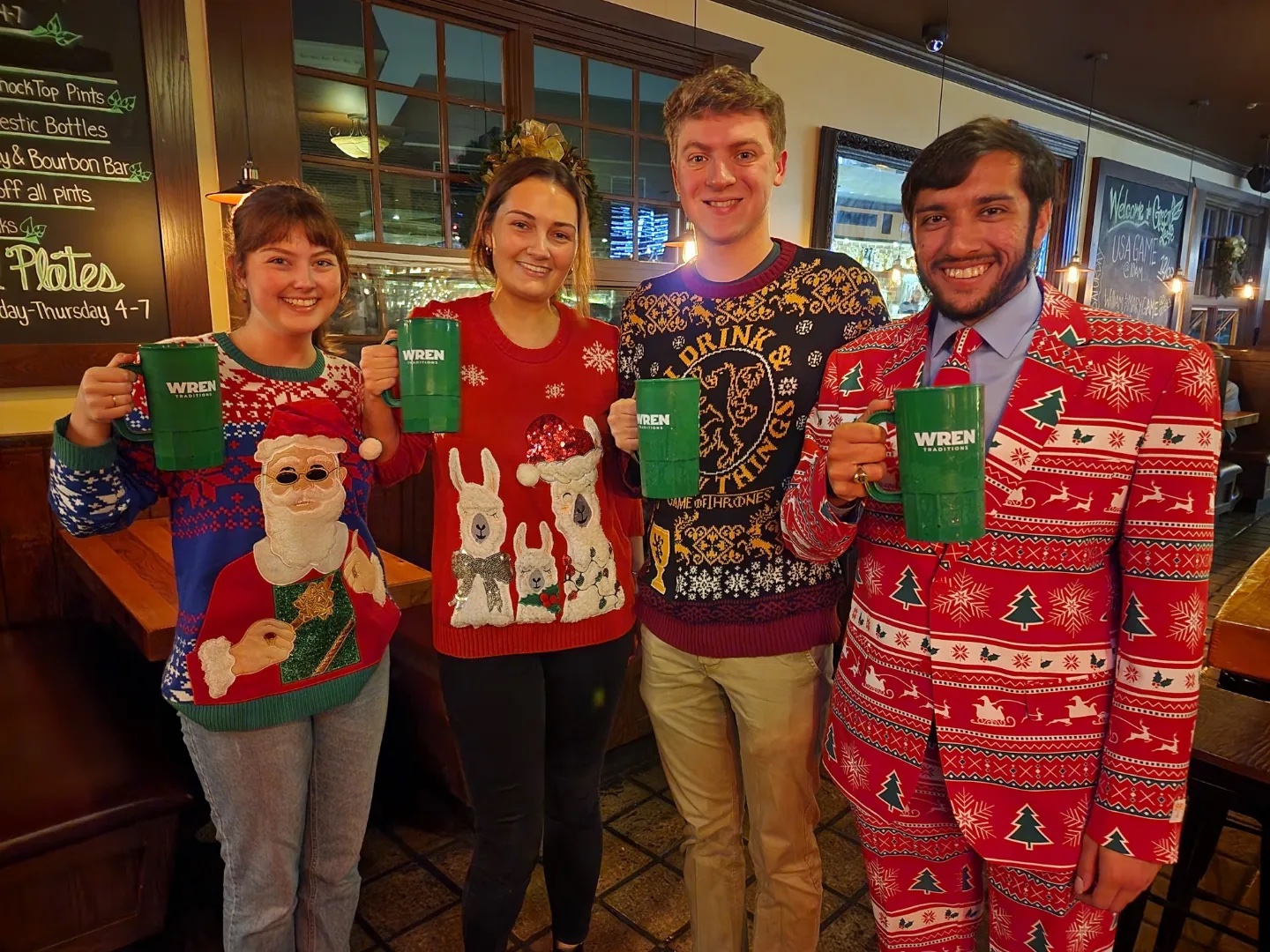 Not only were the committee members — co-chair Pietro Marino '23, co-chair Maeve Marsh '23, Aanchal Goenka '23, Joe O'Brien '23, Will Hamlett '23 and Tara Vasanth '23 — successful in reaching their ambitious goals of 60% participation and raising over $35,000 for programs across the university, but they also implemented new and diverse approaches to reach students and foster a stronger sense of community in the Class of 2023.
The age-old question asked by students nationwide is "Why should I give to a school if I'm already paying to be there?", noted Marino and Marsh. For the 2023 Senior Class Gift committee, it was all about shifting perspective. In interactions with fellow seniors, Marsh regularly emphasized the importance of reflection, posing the question, "What did William & Mary give you? That's going to be lasting in your life. And how do you think you can give that back?"
The main opportunity for soliciting student giving to the Senior Class Gift is Mug Night. For a donation matching their class year (in this case, $20.23) to any area of William & Mary, seniors receive a 32-ounce mug, which can be used at Green Leafe Cafe, Virginia Beer Co. and other local establishments for deals on drinks. For Marino, mug deals were a chance to diversify students' options. "When we became co-chairs, one of the first things I wanted to change or expand was what you could do with the mug."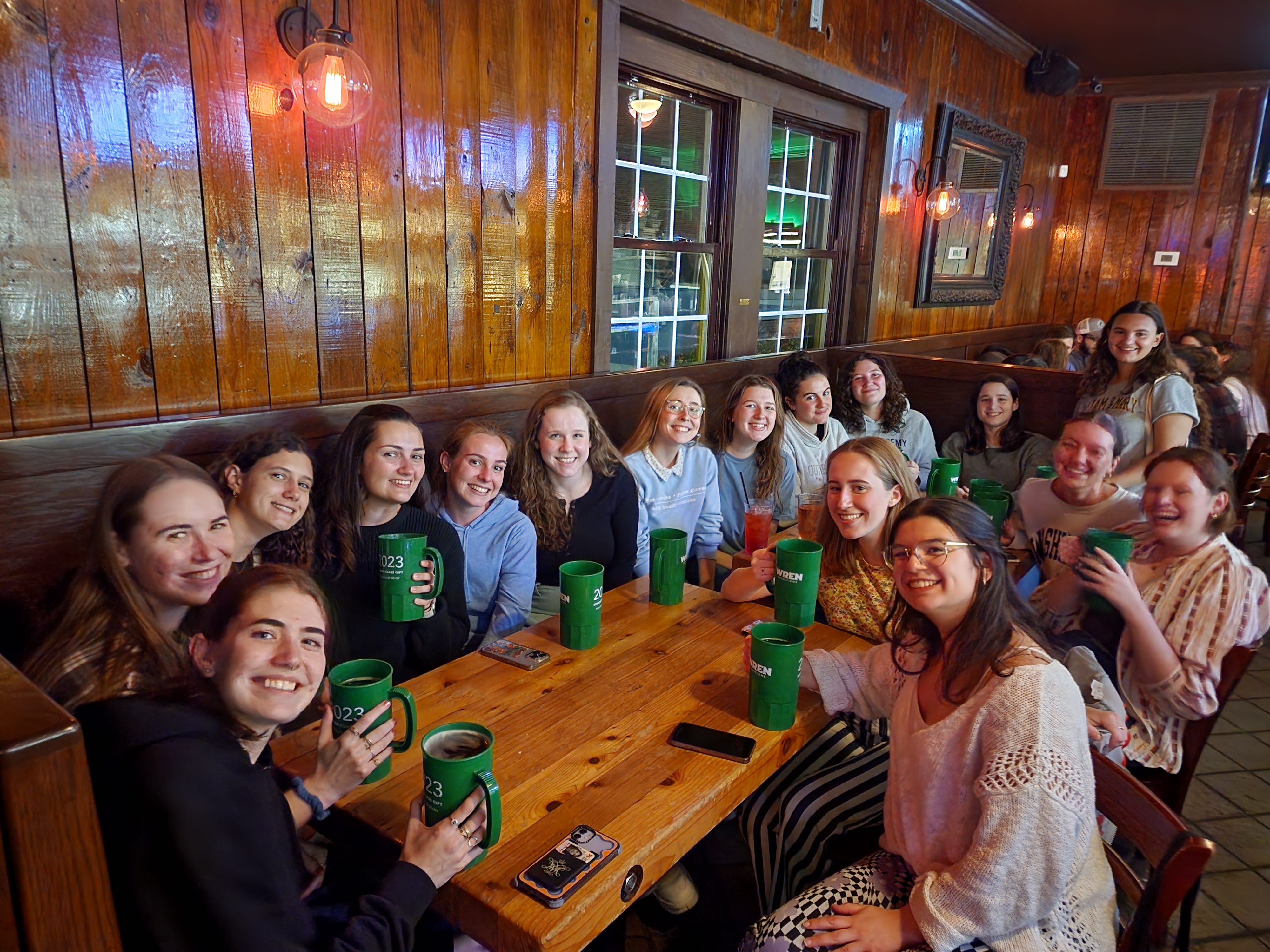 Transforming themselves into salespeople, the committee members searched for local businesses interested in sponsoring mug deals. "The response from the community was incredible," Marino says. A wide variety of local businesses participated, including Rick's Cheesesteak Shop, which offered a french fry deal in the mugs; The Meadows Original Frozen Custard and Sno-To-Go, which provided ice cream and frozen custard deals; as well as Culture Café and alumni-owned Column 15 for coffee deals.
The committee prioritized establishing reciprocal relationships with local businesses. "Usually, the business would choose a day of the week that maybe wasn't as busy for them," Marino says. Establishing mug deals with local businesses ultimately "sets a good tone in the community," Marsh adds. "William & Mary students are part of the community. We live here. We spend money here. This is where we hang out with our friends."
News about the deals spread quickly on social media. Marino recalls, "I loved when I saw in my Instagram feed when people were posting about it. Those mug deals really made it more inclusive, more diverse of an offering for people that made it so much easier for us to say, 'Hey, even if you don't drink alcohol, maybe you like ice cream.'"
Expanding mug deal options was always about creating a lasting impact on the Senior Class Gift. "We wanted to have [this] in place for not just our year, but for years in the future," Marino says. "I'm just really amazed and grateful for the businesses that did participate. We had some great events held at these establishments."
The committee also demonstrated where donations to the Senior Class Gift could go by partnering with student organizations for Mug Nights, with 100% of the proceeds going directly to the student organization. Multiple organizations responded, from the Wind Ensemble to Women's Rugby, and the events that resulted were overwhelmingly successful. Marino notes, "We were able to collect around $200 for them in two hours."
Marino theorizes, "I think a lot of students feel like that their donation wouldn't matter or it's a drop in the bucket." However, partnering with student organizations "really changes how seniors view not only fundraising, but what they can do with fundraising," helping seniors understand that they have complete control over where their donations to the Senior Class Gift go and that those donations make a real impact for the programs they choose to support.
The committee's innovative approach to increasing student philanthropy garnered attention from other Virginia colleges and universities also actively brainstorming ways to get students excited about giving back. In visits and conversations with schools such as Virginia Tech and the University of Virginia, the William & Mary Senior Class Gift committee was able to "exchange some really great ideas," notes Marino, from mug deals to student-designed class rings.
The 2023 W&M Senior Class Gift received national recognition with the Silver in the Council for Advancement and Support of Education (CASE)'s Circle of Excellence Award under the "Student-led Initiatives" category. The CASE judges noted, "Not only is [the W&M Senior Class Gift] a nice memento of their time spent at William & Mary, but it also builds a culture of future philanthropic giving and encourages the community to think about how giving a gift, irrespective of size, can have a positive impact on the overall student experience." 
In early June, after a strong final push post-graduation, the Senior Class Gift hit its participation goal, paving a new path for future Senior Class Gift committees to follow — literally, as the Class of 2023 paver will be added to the Senior Class Gift walk in front of Tucker Hall. "2023 is another step in the right direction. So hopefully the Class of 2024 is even higher," observes Marino. Perhaps most importantly, the Class of 2023 will move forward into their lives as alumni with a better understanding of what it means to give back to William & Mary.
"A piece of you stays at that university even after you leave," explains Marsh. "At the end of the day, that's really what matters most. It's about giving a piece of you back to the school and instilling that sense of pride."