"What do you do for fun?" That sounds like a simple question, but it stumped Megan Shisler Sumrell '95. The topic came up one day 10 years ago, while she was at the park with her daughter, chatting with another mom.  
"It floored me because I didn't have an answer," Sumrell recalls. She went home that night and started brainstorming how to recenter her life around her happiness. Now, as founder of her own company, she is on a mission to help others improve the quality of their lives. 
Sumrell had worked in the software industry for years, focusing on development testing and process optimization. When her daughter was born, she started juggling her work and her home life, leaving her feeling exhausted at the end of each day and with no time to herself. The question in the park that day made her rethink whether she was on the right track.  
Using skills she'd garnered over the years studying and working with math and software processes, Sumrell created a unique time management strategy and started her company, The Pink Bee, in 2018. Her expertise recently gained national attention — in December 2022, an article she wrote was featured on NBC's "Today" show website, and Real Simple magazine sought her advice for a story on "The 20 Best Planners of 2023 for Every Use." In a Q&A interview, NBC affiliate WRAL in Raleigh, North Carolina, referred to her as the "Marie Kondo of time management."  
Sumrell hadn't planned to attend William & Mary. As a younger sibling, she was insistent on not going to the same school as her older sister, Lara Shisler '89. She toured practically every college in Virginia but found herself drawn most strongly to William & Mary and applied Early Decision. As she puts it, she ended up following her heart. She cites the beauty of the campus as what initially appealed to her but discovered through her education that what W&M could offer was more than she had ever imagined. In her words, "I chose wisely." 
She graduated with a degree in operations research in the math department that then launched her into a career in consulting and software development. She made her home in North Carolina, but Williamsburg remained a big part of her life. Sumrell was married in the Wren Chapel, and to this day, she stays connected to her alma mater by visiting Williamsburg every year for the Grand Illumination with her sister and best friend, who are also alumni.  
Sumrell's approach to time management at The Pink Bee draws on her experience with process optimization and the critical thinking and problem-solving skills she honed at W&M. She threw out the planners and tricks she had and started from scratch.  
"I took myself on as a client," she says, "and I completely rebuilt, from the ground up, how I manage my life." This process allowed her to create the framework that eventually became the basis for her company. 
It wasn't until months later, when she was speaking with a working women's networking group, that Sumrell realized that the time management system she'd come up with could be universalized and used by other people. She was approached by three women who ultimately became her first clients. From that moment on, she knew that she'd come up with something truly special. Now, she manages a team of three part-time employees and only works 20 hours a week herself. 
"We operate a massive business in very small pockets of time, because we practice what we preach here at the company as well," she says.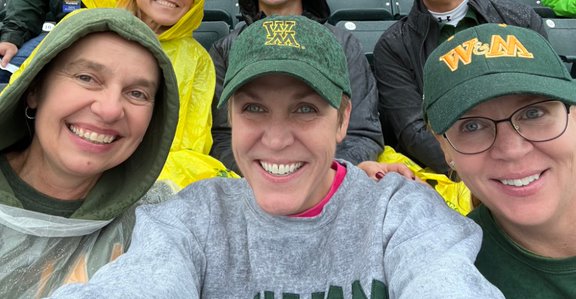 Though starting a company from scratch was immensely difficult, Sumrell had the support of her husband, Jeffrey, and other family members. She says her biggest challenge now is wanting to work more because she cares so much about what she does. Sumrell's clients usually find her through her podcast, word of mouth or social media and start by attending one of her live workshops or a free training session before purchasing her course. The course includes monthly coaching calls and lifetime access to the course materials. 
"My ultimate mission is to bring work-life harmony to women around the world," she says, "so when I receive messages like 'I've never been happier, I feel like I have my life back.'... That's what it's all about."  
What is work-life harmony, exactly? For Sumrell, it's a counterpoint to the work-life balance message that is often pushed in the corporate sphere. Rather than multitasking to get everything done, it emphasizes the three P's: present, proactive and purposeful.  
"It means being fully present in whatever you're doing at any given time," she says, whether that be work, hobbies or time with family. Work-life harmony allows for flexibility in the different seasons. Sumrell works less in the summer because in order for her life to be harmonious, she wants to spend more time with family. "I want it to be a pleasing arrangement of parts, and that is this perfectly balanced equality of time throughout the day."  
Though it can seem like a daunting task to establish this harmony in your own life, Sumrell offered some tips that can help you get started:  
Turn off all notifications on your phone, with the exception of emergency calls from whomever you specify. Set a designated time where you check your phone, but don't touch it otherwise.

Know your time budget — that is, know how much time you truly have during the day. Once you have that, it makes decisions about timing and planning your day easier. (This goes for college students, too!)

Create a morning routine that works for you. It should be things that you enjoy, that make you feel centered and energized and that are only focused on you.
For Sumrell now, her day-to-day life makes her happy. She has a morning routine that starts her off on the right foot. She enjoys her work and has plenty of time to spend with family or by herself. And, yes, she has an answer to the question "What do you do for fun?"   
It's completing jigsaw puzzles, playing the cello and spending time outside.