Five former William & Mary Women's Gymnastics team members have established the first endowment to support the W&M Varsity Women's Gymnastics program. Michelle Bolter Avery '98, Megan Hess Powers '02, Alison Tyler Spivey '93, Kiya Winston Tomlin '96 and Christina Colabella Wilds '00 came together to create the Thrive Endowment to ensure the team that had such an impact on their lives would flourish for all time coming. 
"William & Mary afforded me and my teammates the opportunity to participate in something we loved while also getting a world-class education," said Wilds, who led the effort to establish the new endowment. "We want that opportunity afforded to all the women that follow, who deserve that same experience to thrive at W&M and who deserve to know that they are valued and belong to the Tribe community." 
Funds from the Thrive Endowment will help cover costs for the team to participate at a national level and provide competitive funding for coaching positions and scholarships for student-athletes.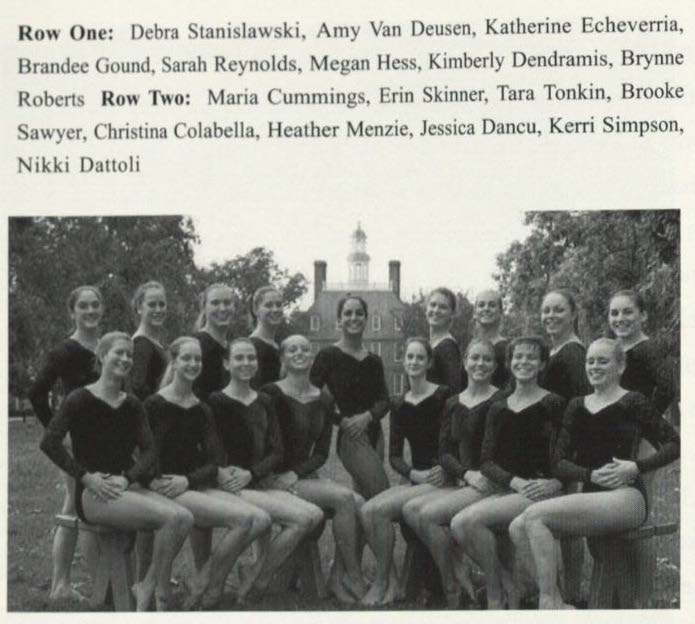 "This is huge for our program," said W&M Women's Gymnastics Head Coach Kelsey Hinton. "We have never had an endowment set up for the team, and this level of sustainability and faith in what we do will have a tangible impact on our athletes and the entirety of women's gymnastics. This puts us back on the map." 
While most people think of gymnastics in conjunction with the Olympics every four years, the amount of work and effort that is required of a gymnast at every level is immense. Hinton noted that most gymnasts begin their athletic careers at a very young age, and it is a significant accomplishment to make it to the collegiate level. Many either specialize in one or some of the four apparatuses — bars, beam, floor or vault — or become an "all-arounder" and compete at all four events. 
"As a member of the team at William & Mary," Wilds said, "I was able to develop vital skills I use today — balancing multiple demands, driving toward a common goal, taking the more challenging path."  
Not only is the sport physically intense and demanding, Hinton said it can also support brain health and develop mental discipline. She reported that the team's cumulative GPA is consistently above 3.5 and that for the fall 2022 academic semester, women's gymnastics led all of Tribe sports in academic rankings. Gymnasts, she said, are some of the best examples of what it means to be a William & Mary student-athlete. 
Hinton hopes that with the funds from the Thrive Endowment and ongoing giving support, they can continue to build the program with high-level athletes, meet their annual fundraising goals and build lasting relationships in the greater Williamsburg community. 
"This is about a bond being established across different generations and even across different sports," Wilds said. "We are proud of getting to this point — we can now look to the future and ask ourselves, 'How do we keep thriving for years to come?' This endowment will prove to every gymnast who is interested in joining our team that they should choose William & Mary because our community chose them." 
W&M Athletics Director Brian Mann noted that the wide-reaching impact of these five alumnae's landmark generosity goes beyond ensuring athletes have a Division 1 experience on the team.  
Mann said, "It demonstrates to our entire Tribe family that this is the sort of powerful impact that can come from motivated engagement and tireless support. I am grateful for the generosity of our alumnae and all those who have supported the women's gymnastics program. Their visionary passion will uplift the next generation of women gymnasts at William & Mary."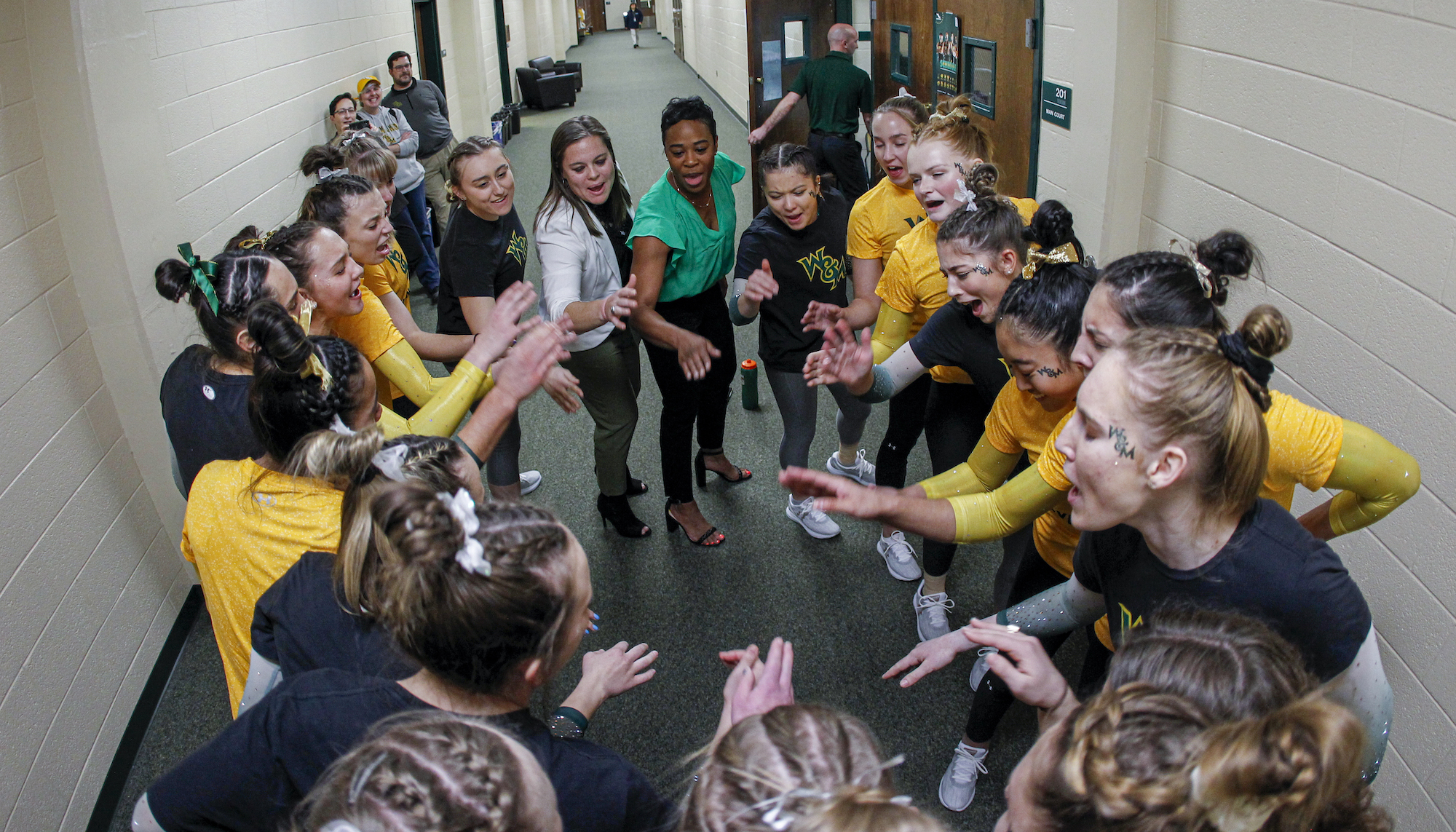 In 2021, the $55-million All In campaign for William & Mary Athletics was launched. Tomlin, one of the five alumnae who established the Thrive Endowment, also serves as an honorary co-chair of All In. To date in All In, women's gymnastics has raised over $325,000 of their $376,750 campaign goal.  
"I cannot thank our alumnae enough," said Hinton, "for believing in our athletes and our program. Now we can thrive. We need more people to get behind us, to help us continue to grow and to elevate women's gymnastics at W&M to new heights." 
Wilds said the endowment is a commitment to the future, and she encourages alumni, team members, parents, fans and the W&M community to continue supporting the team through annual giving but also consider the endowment when making estate plans or contemplating larger gifts. She hopes the impact will be felt across the university. 
"This is just the beginning," Wilds said. "Our hope is for others to feel the draw to 'pay it forward' so the endowment can grow and follow in the footsteps of the men's gymnastics program, making gymnastics a financially self-sustaining sport.  
"Being a Tribe athlete shaped my success and the success of so many people like me across W&M Athletics. That's why it is our responsibility to support the generations that come after us, to keep that momentum moving forward and make it even better for the next student-athlete who joins our Tribe."