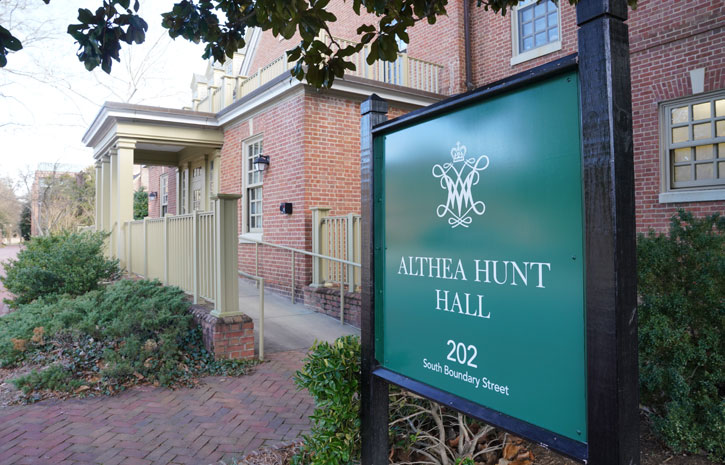 Photo by Stephen Salpukas 
A small change is making a big difference in the visibility of the identities of women who have contributed to the history of William & Mary.
Sparked by the committee in charge of W&M's 100 years of coeducation commemoration spanning 2018-2019, new signs bearing the full names of five buildings and an athletic field named in honor of women were placed on campus over winter break. The response has been overwhelmingly positive, according to Committee Co-Chair Jayne Barnard, James Cutler Professor of Law Emerita.
The proof is in the numbers on the William & Mary Women Facebook page.
"We have found that if we put up a picture or say anything about Glenn Close, we get 200 likes," Barnard said. "If we put up anything about President Rowe, we get 400 likes. We posted one photograph of the new signs, and we got 900 likes. People shared it like mad."
Committee Co-Chair and Senior Director of Engagement and Inclusion Initiatives Val Cushman likes to highlight the stat that the post reached 35,000 people through sharing and re-posting, Barnard said.
"It's the single biggest post we've had during the whole year," she added.
The idea to add full names to the building signs came about as the committee started exploring which buildings were named for women and realized that newer facilities — such as the Lettie Pate Whitehead Evans Graduate Complex and the Millie West Tennis Facility — were designated with full names, while some of the older buildings were not. The seed was planted. 
Around that same time last year, a letter arrived from the grandson of Mary-Cooke Branch Munford, who served as the first female member of the W&M Board of Visitors from 1920 to 1924. The letter stated that the Munford family felt the out-of-service Munford Hall at the Dillard Complex that was named after her no longer honored her memory as well as it once did.
Searching for a new way to honor Munford coincided with the effort to increase the visibility of facilities named for women on campus, Barnard said. So the projects went together.
The new Mary-Cooke Branch Munford Plaza, which will be dedicated in an April 25 ceremony, is located in the area between Swem Library and Andrews Hall on the new campus.
Board of Visitors Secretary Sue Gerdelman '76 shepherded the board's approval of the new signage and the Munford Plaza proposal, and the signs were completed quickly by Facilities Management, Barnard said. This allowed the commemoration committee to raise the visibility level of these historic figures going forward.
"It's a simple reminder, and it's a constant reminder," Barnard said. "Those names will never be missing again."
For more on this story visit W&M News.