A RESEARCH UNIVERSITY: Approximately 70 percent of William & Mary's undergraduates participate in research-oriented classes. Many also co-author articles and present at conferences.
Photo by Stephen Allen
Last fall, when Julia Zuercher '17 began working in chemistry professor Lisa Landino's laboratory, she was initially tasked with purifying a compound needed for the lab's research — studying the biochemical foundations of neurodegenerative diseases such as Alzheimer's and Parkinson's.
Zuercher and her labmate Molly McMahan '15 tried one method, and then another. And yet another.
"Nothing went like it was supposed to," says Zuercher. "Just when we thought we had it, it didn't work. It took us an entire semester to figure out the compound, but we got it. Now we have an official protocol."
"I tell my students there are two goals always: the first is to learn, and the second is to get stuff done," Landino says (revealing that she sometimes substitutes a more colorful word for "stuff"). As Landino's undergraduate researchers have discovered, there is as much to be learned through failure as there is through success.
Zuercher, who plans to practice veterinary medicine, saw the results first-hand this summer while working for an equine vet. "The constant problem-solving skills I learned in the lab really helped. There would be four or five opinions of what might be wrong — the horses can't tell you. You had to rule them out systematically."
Approximately 70 percent of William & Mary's undergraduates participate in research-oriented classes or are guided by faculty mentors such as Landino, who holds the Garrett-Robb-Guy Professorship in Chemistry. "Here an undergraduate can knock on a professor's door and is highly likely to get a conversation with that person pretty quickly. You are rapidly absorbed into the research process," says Dennis Manos, CSX Professor and vice provost for research. "I've studied our peers a lot and I've looked hard for a place where I could say, 'This is more or less identical to William & Mary.' I haven't found it."
Manos notes that W&M undergraduates co-author journal articles, present at conferences, and gain expertise in skills ranging from the interpretation of original historical documents to the use of sophisticated lab equipment.
The intangible benefits are equally — if not more — significant. "There is a thumping, glorious, visceral rush that comes from being the only person who knows something nobody else knows, and that you are the steward of this piece of know-how for some brief period of time," Manos says. "It's a feeling that's very difficult to achieve any other way — it's like climbing to a mountaintop."
As a faculty member, Landino is on a path of discovery along with her undergraduates, constantly refining and rethinking her research. As Manos noted, "Our faculty are students as well — they never stop learning, they never stop striving. That's what we try to transmit to the next generation."
Landino has received university funding through both a Plumeri Award for Faculty Excellence, named for donor Joseph J. Plumeri '66, D.P.S. '11, and her five-year appointment to the Garrett-Robb-Guy Professorship. "It gives you the opportunity to think in a new direction," Landino says. "I'm talking about making connections in my head that other people might not think of as related. I was on the review committee for the new College Curriculum, and this is what we're trying to encourage students to do. It's what keeps you energized."
Landino's work on neurodegenerative diseases began when she was a graduate student at the University of Virginia.
TEACHER'S HELPERS: Chemistry professor Lisa Landino's research focuses on neurodegenerative diseases, such as Alzheimer's. Her undergraduate students have made vital contributions to her work.
Photo by Stephen Allen
"I was working on a connection between Alzheimer's and aluminum," she says. "The more I read about Alzheimer's, the more intrigued I was. I also saw my great-uncle Art develop the disease, even though my grandfather and their other siblings did not. I was interested in the diet/lifestyle/disease connections."
"My post-doctoral work at Vanderbilt medical school was more about reactive oxygen species — those molecules produced on the path between oxygen and water," Landino continues. "Essentially I combined work from both labs into what I do now."
At a basic level, Landino investigates oxidative damage to a protein called tubulin, which acts as a kind of scaffolding within neurons — the cells that are the core components of our brain and central nervous system. When we breathe in oxygen, our bodies transform most of it into water. But some of that oxygen is transformed into so-called "free radicals" that are reactive, essentially stealing electrons from proteins in our cells.
"With Alzheimer's, where my research might play a role is in understanding how and why neurons first start to die. Are they starving?" Landino says. "That is, they can't metabolize glucose properly because the interactions between the enzymes that process glucose and the microtubules made of tubulin are not functioning properly. Not much is known about this, although it is clear that tau, a protein that normally binds to microtubules, forms neurofibrillary tangles inside cells that we see in Alzheimer's."
Landino has received more than $850,000 in grant funding from the National Institutes of Health, enabling her to employ three or four undergraduate researchers full time in the summer. During the academic year, she has had up to 10 undergraduates working in her lab, from freshmen to seniors, each focusing on a crucial piece of research.
"Working in any kind of lab is great for teaching you the value of teamwork," says Soni Patolia '17, a double major in chemistry and film and media studies. "Everyone is working on a different thing, but ultimately everyone wants the entire lab to succeed." Patolia's work involves growing yeast and extracting tubulins from the cells. "Dr. Landino took a whole day to guide me through the steps and then said, "OK, now you're on your own."
As Zuercher adds: "To have that kind of trust from a professor to be on your own, even though we're undergrads, helps with confidence in all your classes."
Undergraduates have made vital contributions to Landino's recent work on reversing oxidative stress. "We've started studying how one protein can have some damage, but other proteins can repair it through what we call the redox reaction — oxidation reduction. They exchange electrons," Landino says. "We've published a paper on this using two purified enzymes. The positive/negative interactions had been studied, but now we've identified this redox reaction, and so that's new."
Landino's students have found that they've learned life skills of value beyond the classroom, including time management. "She also taught us the importance of taking breaks," Patolia says.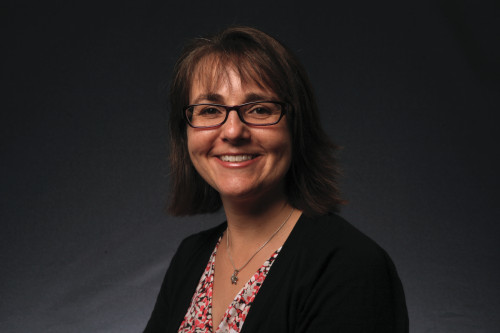 Professor Lisa Landino
Photo by Stephen Salpukas
"When the clock strikes 4 or 5, she says, 'OK, you guys need to get out of here.'" And in a field where the gender gap is still very apparent, Landino serves as an important role model for her female students.
For Elizabeth Johnson '16, her work in the lab has elevated her to the role of teacher. Johnson, who is pursuing degrees in chemistry and biology, spent the summer in Landino's lab conducting full-time research on fluorescent molecules and how they attach to proteins. The lab had just acquired a new fluorescence instrument, which Johnson learned how to master. "She knows how to use it better than I do," Landino says. "Now I look at her as a teacher for the other students, not only with this particular instrument, but with her other work."
As Johnson discovered, teaching requires a different set of skills that complement her research, especially breaking down a process into steps. "Things become intuitive, so I'll find myself going, 'Oh wait, I have to teach that' — it's not a habit for them the way it is for me."
Like her labmates, Johnson is usually focused on the day-to-day problem-solving involved with her research. As Landino noted: "We're chemists — what most of us get excited about is understanding interactions at a really fundamental level." But the bigger picture is always in view.
"Sometimes I'll start reading a paper to look at a method, and I'll think about the context. I'll stop and realize that I'm working on something that could potentially lead to helping people, and that's awesome," Johnson says. "It's definitely a big reason why I want to do science."
"For our undergrads, it's very important that they engage, which means to throw yourself into it, heart, mind, spirit, all of it, and do something as a consequence of being educated," Dennis Manos says.
"And the best of all possible worlds for undergrads exposes them to that continuum of individual curiosity up though and including working in multidisciplinary teams, in order to solve the pressing problems that the world agrees we need to get after now."