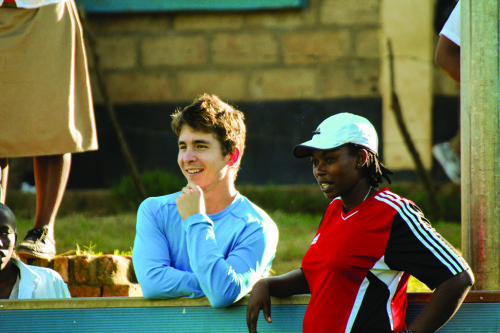 When Will Smith '14 began conducting research in Liberia's fishing communities for his honors thesis at William & Mary, community leaders distrusted him. Smith could barely speak the same language and they had very little in common. One day, he decided to go back to what he knew best: soccer. After asking a child dribbling a soccer ball to pass it to him, Smith did a trick, and everyone around him started to smile. "Suddenly, we had found something in common and it transformed our relationship," Smith said. "I did the same thing in each fishing community and I saw the same outcome. In a matter of a few days, I had made a bunch of new friends. That is the power of soccer."
Although this was over two years ago, Smith, a former two-year captain for the Tribe who was named CAA Defensive Player of the Year his senior season, is still using the power of soccer in communities around the globe. After finishing a master's in African Studies at the University of Oxford this past spring, Smith is now working on starting up the Monrovia Football Academy (MFA), which aims to provide a quality education for Liberia's youth in the nation's capital. This education is supplemented with formal football coaching, enabling young Liberians to access opportunities they would not otherwise have — on and off the field.
Smith's passion for African development began at William & Mary. The combination of the College's academic reputation and the soccer team's annual top-25 Division I ranking made it an attractive option when Smith was considering schools. William & Mary also gave him the opportunity to pursue diverse interests. He played two varsity sports (soccer and golf) and started a band, Will & Tanner. He also joined the William & Mary chapter of Building Tomorrow, a nonprofit organization founded by George Srour '05 that raises funds to build schools and provide a quality primary education for kids in Uganda. (Smith has since started Building Tomorrow's first chapter in the United Kingdom at Oxford.) "Each of those experiences helped me develop as a person," Smith said. "Most importantly, they helped me see my life and the lives of those around me from a variety of different angles. That's what learning is all about."
During his junior year, Smith received funding to conduct his honors thesis research through the Charles Center Honors Fellowship. He spent three months in Monrovia, Liberia, conducting a randomized control trial that examined the impact of the Liberian Energy Network's (LEN) solar lights on the welfare and productivity of Monrovia's artisanal fishermen. LEN lacked evidence to support their work and were operating in an industry dominated by a state-owned monopoly, so Smith got involved. While doing research, Smith completed an eight-week State Department internship at U.S. Embassy Monrovia, working in the political/economic section.
Smith also got involved in Monrovia's soccer scene in order to prepare for his senior season with the Tribe. He started playing in pick-up games that included players from Liberia's professional divisions and a few national team players. One of those players was Sekou "Georgie" Manubah.
After Smith and Manubah had played a few games together, Manubah asked for Smith's number so that he could contact him for other playing opportunities. A few days later, he called Smith at the embassy and asked him if he wanted to play with George Weah's team against the current Liberian national team. "I nearly dropped the phone," Smith said. Weah is a soccer legend, the only African player to be named the FIFA World Player of the Year and someone Smith grew up watching. The connection led to Smith playing in front of 35,000 people at the Liberian Peace and Reconciliation match, a soccer game Weah organized in his role as Liberia's Peace Ambassador.
His experience in Liberia left Smith wanting more. He knew he wanted to return to the country following graduation, but he was not confident that he knew enough about Liberia to justify starting a a nonprofit organization there. "I also wanted to learn more about post-conflict transitions in countries across the continent, as I figured that would give me a broader understanding of the challenges facing fragile states," Smith said.
Will Smith '14 stands with community leads from Monrovia, Liberia, who helped him collect data for this honors thesis.
Photo courtesy of Will Smith '14
Oxford's African Studies Centre gave Smith the opportunity to learn more, studying under Jonny Steinberg, an award-winning scholar from South Africa whose book Little Liberia is one of Smith's favorites, and Andrea Purdekova, a scholar who has done most of her research in Rwanda. Although Smith's focus has always been on Liberia, he had an interest in Rwanda and its rebuilding process since he covered it in Professor Phil Roessler's Politics in Africa class at W&M.
This past spring, Smith spent six weeks in Rwanda, where he conducted research for his master's dissertation. His investigation examined the effect of soccer on Rwanda's peace building process. In the 21 years since the genocide, Rwanda has made strides across nearly every indicator, from political stability to economic growth to infrastructure development. Smith claims that it is as clean as any other country he has visited and is incredibly secure, recently named the safest country in Africa.
That's a lot of progress. But Smith said questions remain about the country's reconciliation process. The Rwandan state is extremely powerful and some have argued its decision to ban ethnicity from public discourse has actually deepened the country's social divide. "My research was assessing whether the soccer field could create an open space for discussion and debate in what is otherwise a closed society," Smith said. He spent most of his time at Esperance, a Rwandan NGO that runs the FIFA-sponsored Football for Hope Center in Kigali.
"I conducted interviews with staff from Esperance, members of Rwanda's parliament, the president of the Rwandan Olympic Committee and many others. Every single interviewee explained that, when soccer is used to bring people together and teach ideas about conflict resolution, gender equality and unity, it has the potential to promote peace. In a way, those interviews helped validate all of the work I am doing on MFA."
With his master's under his belt, Smith can now focus on developing the MFA. When Smith first met Manubah, Manubah revealed a dream he has always had: to start the first football school in Liberia. It sounded like a great idea, but given their respective plans at the time, it was not going to be possible for at least a couple of years.
In the aftermath of the Ebola crisis, the two became more determined to contribute to the rebuilding process and give Liberia's youth access to better opportunities. In August 2013, nearly 25,000 high school graduates took the University of Liberia's national entrance exam. Every single one of them failed. Education reforms were implemented in 2011, but many schools lack basic educational materials and teachers are poorly qualified. The Ebola epidemic has made matters worse, as schools were closed from June 2014 to February 2015.
To address this issue, Smith and Manubah created the MFA, which also includes David Dennis, MFA's Liberian head of faculty, and Roshan Patel '14, MFA's design officer and Smith's former co-captain.
"MFA will create new opportunities," Smith said. "By combining a quality education, formal soccer coaching and life skills lessons such as conflict resolution, gender equality and respect, MFA will enable its students to go deeper in their learning."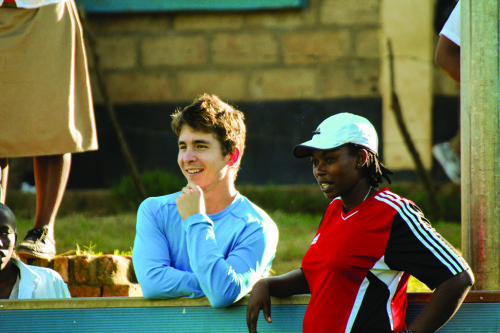 Smith with the head coach of the women's national team in Rwanda, Grace Nyinawumuntu, the first female coach in the country's history.
Photo courtesy of Will Smith '14
In December, MFA will begin conducting a nine-month trial of its program at an existing school and football pitch. For half of a typical school day, the children will attend classes. For the other half, the children will receive formal football coaching and life skills lessons from Smith and Manubah. Throughout the nine-month trial, Smith will be assessing the effectiveness and popularity of the program. If the trial proves successful, MFA will work with its partners in the government of Liberia and U.S. Embassy Monrovia to find a suitable location for a new school and football pitch. MFA will then pursue a second round of fundraising in hopes of building new facilities and opening them in September 2017.
Smith is also forming partnerships with high schools and universities across the world so MFA graduates can continue their education at equally strong institutions. He has also reached out to college soccer coaches and professional teams so that talented players can continue their careers.
It won't be an easy path, but Smith is ready for the challenge. "Football has taught us many lessons, and one of those is perseverance," he said. "We know that at times, it will be tough. But to overcome adversity, one must persevere. And to persevere is to give everything one has. We promise to do just that."
For more information on MFA, visit http://www.monroviafa.com.