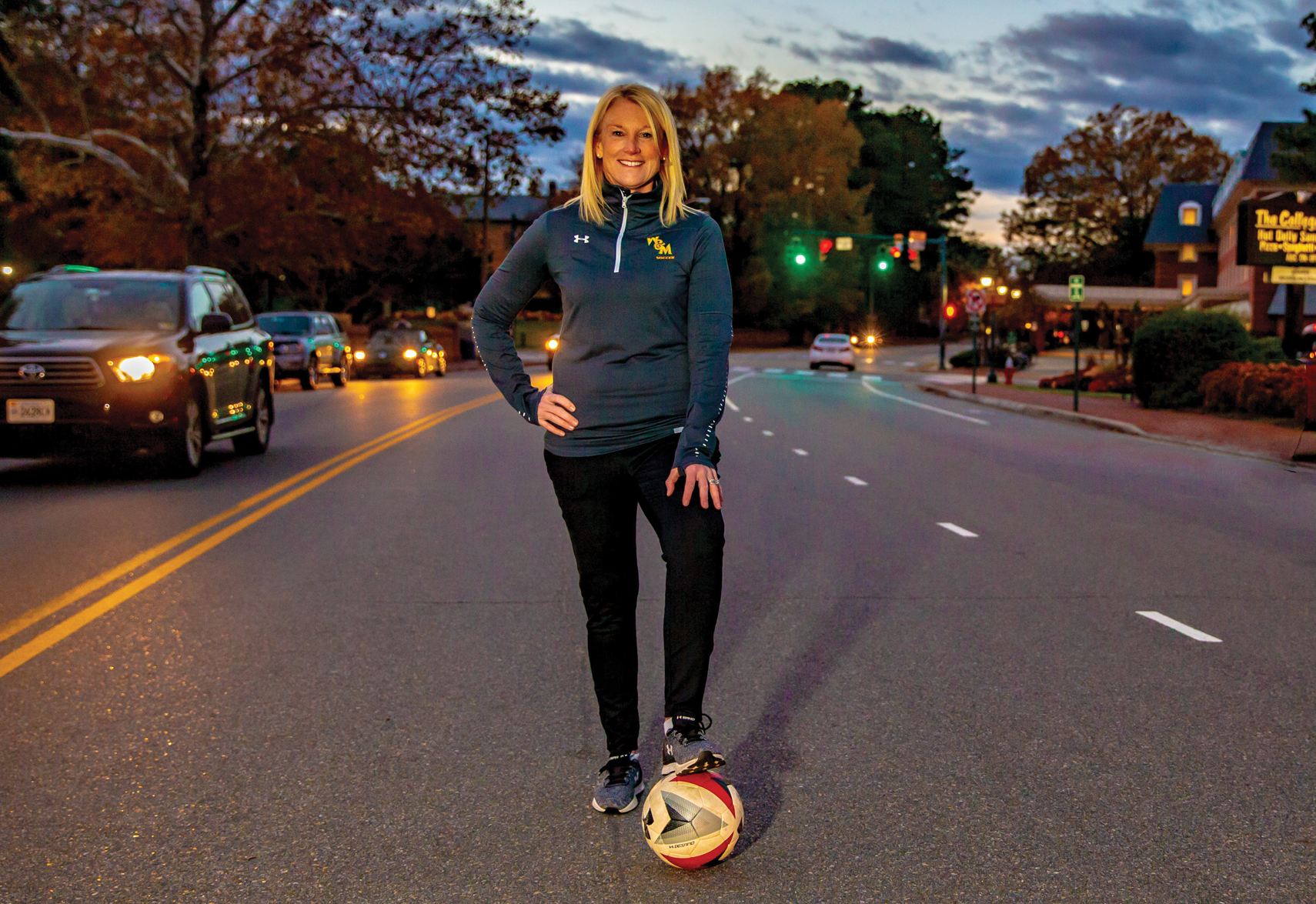 Julie Shackford '88 radiates energy. When discussing the W&M women's soccer team and her new role as head coach, she can't sit still and she starts to talk with her hands. It's an energy that the players on her team find infectious — the woman they affectionately refer to as "Shacks" has clearly transformed them with her can-do spirit.
"There's Tribe Pride, and then there's her," says Stephanie Arens '20, a junior center midfielder. "Shacks has completely changed our expectations about what we can accomplish and we can all feel the difference."
Given her boundless enthusiasm for this team and its potential, it is hard to believe that just a few years ago, Shackford decided she was done with coaching forever. When she left Princeton in early 2015 after a 20-year stint, she thought she was done. Then, in 2017, the Tribe came calling.
"Samantha Huge contacted me and told me about this opportunity, and there was no way I could say no to this program that has given me so much," recalls Shackford. "I have a husband, three kids and a whole life in Northern Virginia, but we all just knew that we had to make it happen."
With this triumphant return, Shackford finds herself coming full circle in a life that has always somehow oriented to William & Mary. She doesn't really remember the first time she came to campus — she was always coming to sporting events to cheer on family members playing for various Tribe teams. However, she can pinpoint the moment she fell in love.
"Al Albert's '69, M. Ed. '71 soccer camp, in the 1970s, was it for me," she says. "I was one of his first girl campers and it was the first time I had an experience here that was my own, and there was something about the aura of the place — the smell, the feeling — it's a magic that stuck with me, even as a young kid." Having planted that seed, Shackford says that by the time she was ready to start thinking about college, there was only one choice. Despite being recruited by the likes of Harvard, she applied early-decision to William & Mary and never looked back. She played on the varsity women's soccer team, which was still in its relative infancy, and graduated in 1988 with a degree in government. From there, she fell into coaching.
"I never thought I'd be a coach — I wanted to be a sports agent or an athletic director!" says Shackford, who still shakes her head in wonder at how life turned out. "I was offered a coaching job at Carnegie Mellon University that had an administrative component, and that's why I took that job — not because I wanted to coach."
Five years later, she had created a women's soccer program for Carnegie Mellon from scratch, racking up a 42-21-3 record in the process. From there, it was on to Princeton, where she made eight NCAA tournament bids and became the winningest coach, male or female, in the school's entire history.
After a two-year break, Shackford's return to William & Mary finds her feeling recharged; a more relaxed and introspective version of herself. She has set a goal to promote the merits of William & Mary all over the country and, over the next few years, make the women's soccer team a Top 25 program. Her students are feeling empowered and think they're already on their way to accomplishing that goal.
"She came in and we immediately had to up our game — she has completely proven that we have what it takes to be a Top 25 team," says Lauren Kelly '20, a center defender who transferred from the University of Florida to be part of the W&M soccer program. "More strength training, more endurance training — she is always changing it up, teaching us to expect the unexpected. It's all about pushing our bodies to their limits, and it's working."
Shackford agrees that she has incredibly high expectations for her athletes, but acknowledges that her students have a lot on their plates and that they face challenges that she didn't at their age. It's important to her that she develops relationships with these women and gets to know them as people, not just as players.
"There are so many teachers who influenced me and never got to see how I turned out and I wish I could go back and thank them," she says. "As a coach, I am teaching players teamwork and citizenship, and after watching them grow for four years, I get to be in their lives. It's pretty powerful."
After all, her connection with these players doesn't end at graduation. Shackford speaks fondly of the alumni network that she has with her fellow women's soccer alumnae, and her students already look forward to joining "a sisterhood like you can't even imagine."
"Shacks always says that she's gonna be calling on us five, 10, 20 years after graduation," says Arens. "We're going to see each other forever — this is our Tribe for life."