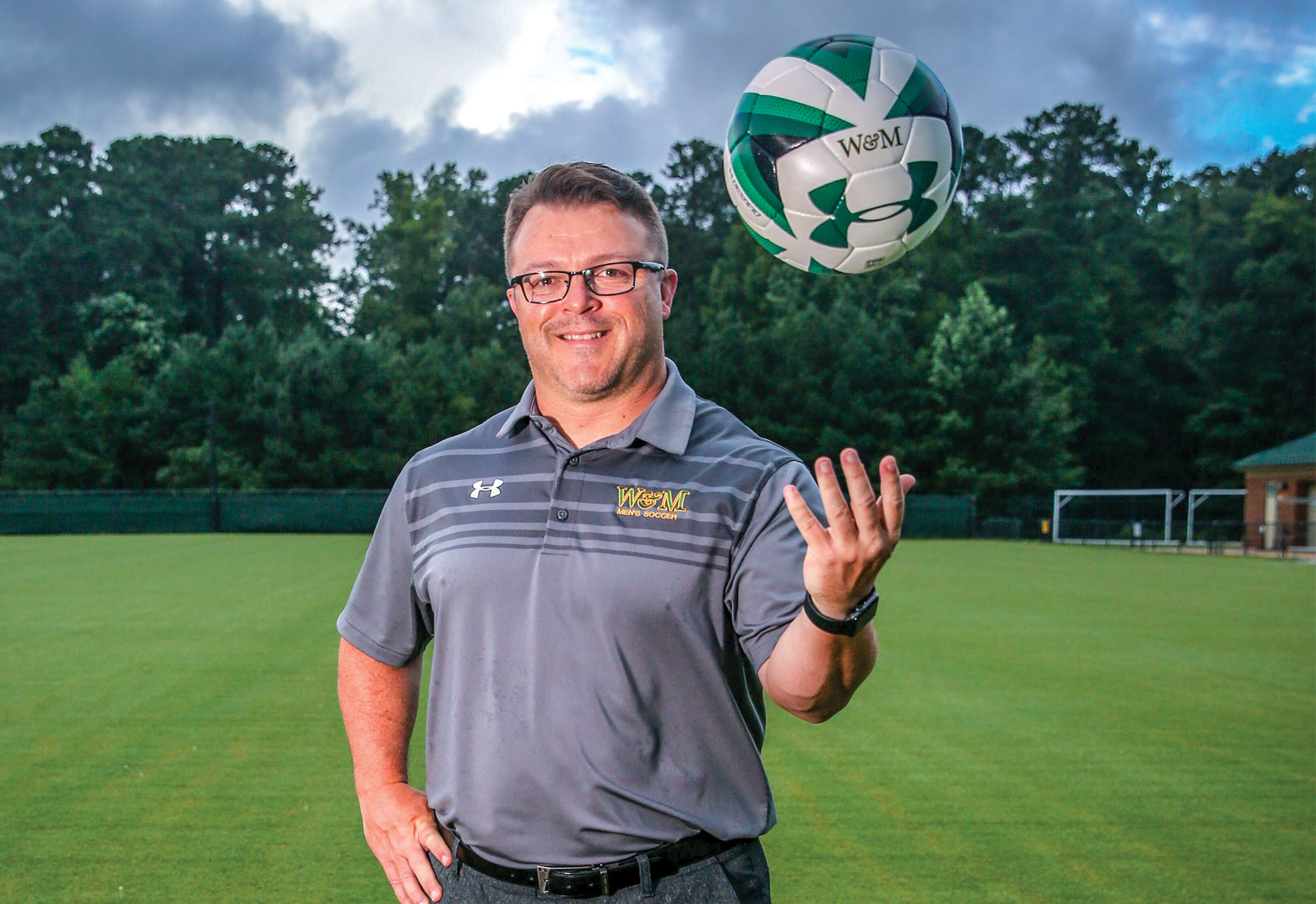 Chris Norris '95 was already kicking around the idea of a soccer coaching career when he arrived on campus as a freshman in 1991. Fate and good fortune intervened. Now in his 14th season as the head coach of William & Mary's men's soccer team, he and his team have scored another major goal.
Last November, in an exciting final game, the men's soccer team rallied from a halftime deficit with four second-half goals to win the Colonial Athletic Association (CAA) Championship. It was the team's first title win since 2010 and the program's eighth CAA crown since its 1967 inception.
"Our success comes from the team's continued focus and drive to improve," says Norris. "We are fortunate to be able to recruit high-level players who are both technically skilled and passionately committed to the sport."
Among this year's exceptional players, Antonio Bustamante '19 was named the Most Outstanding Performer of the CAA Championship, scoring seven goals over the three games. Riley Spain '18, Remi Frost '19 and Ryder Bell '19 were named to the CAA All-Tournament Team.
In his 27 years in the men's soccer program, Norris has also been a part of 13 NCAA tournament appearances and an NCAA quarterfinal. He was named CAA Coach of the Year and NSCAA South Atlantic Region Coach of the Year in 2010. This year he was honored as the 2018 William & Mary Alumni Association Coach of the Year.
"I was humbled to be recognized among my colleagues who do so much for their respective sports both on the field and off," says Norris. "I appreciate the acknowledgement of what the team was able to accomplish this past year. It was the culmination of a lot of hard work by the players, coaches and many others besides myself."
Norris' long history with the Tribe started from 1991 to 1994 as a player on the men's team. In 1995 he returned to campus to serve as an assistant soccer coach. In 2004, the legendary Al Albert '69, who had been the men's head coach since 1970, passed the ball to Norris.
"It is a unique situation in that Al and I have coached 47 of the program's 51 years which gives us a lot of continuity," says Norris. "What really keeps it fun and exciting for me is being part of a special university that attracts amazing young people and then using the vehicle of sport to bring some of those young people together in pursuit of personal growth and common goals."
Norris believes that adhering to the ideal of the true student-athlete is what makes William & Mary Athletics special.
"Over time, every athletics program here has achieved periods of excellence," says Norris. "I think it boils down to William & Mary's ability to strike the right balance between academics and athletics. Most of the students here are able to excel at both. Students here are committed to growth in all aspects of their lives. They see setbacks as opportunities. They find different ways to tackle a tough problem or win a challenging game."
Norris is also grateful for alumni support of the team.
"This year was our best ever in terms of receiving private financial support," says Norris whose coaching position is fully endowed. "More than 60 percent of all men's soccer alumni gave back to the program. In addition, we received the highest total of unrestricted dollars in the program's history. This support is critical. It not only allows us to meet budgetary needs, but also enables us to pursue new ways to improve the student-athlete experience."
Moving forward, Norris will focus on not letting past success get in the way of future growth.
"We have an opportunity to have another great year," says Norris. "We have a tough schedule but if we continue to focus on becoming the best version of ourselves, it can hopefully result in another run at a conference championship and the NCAA tournament."