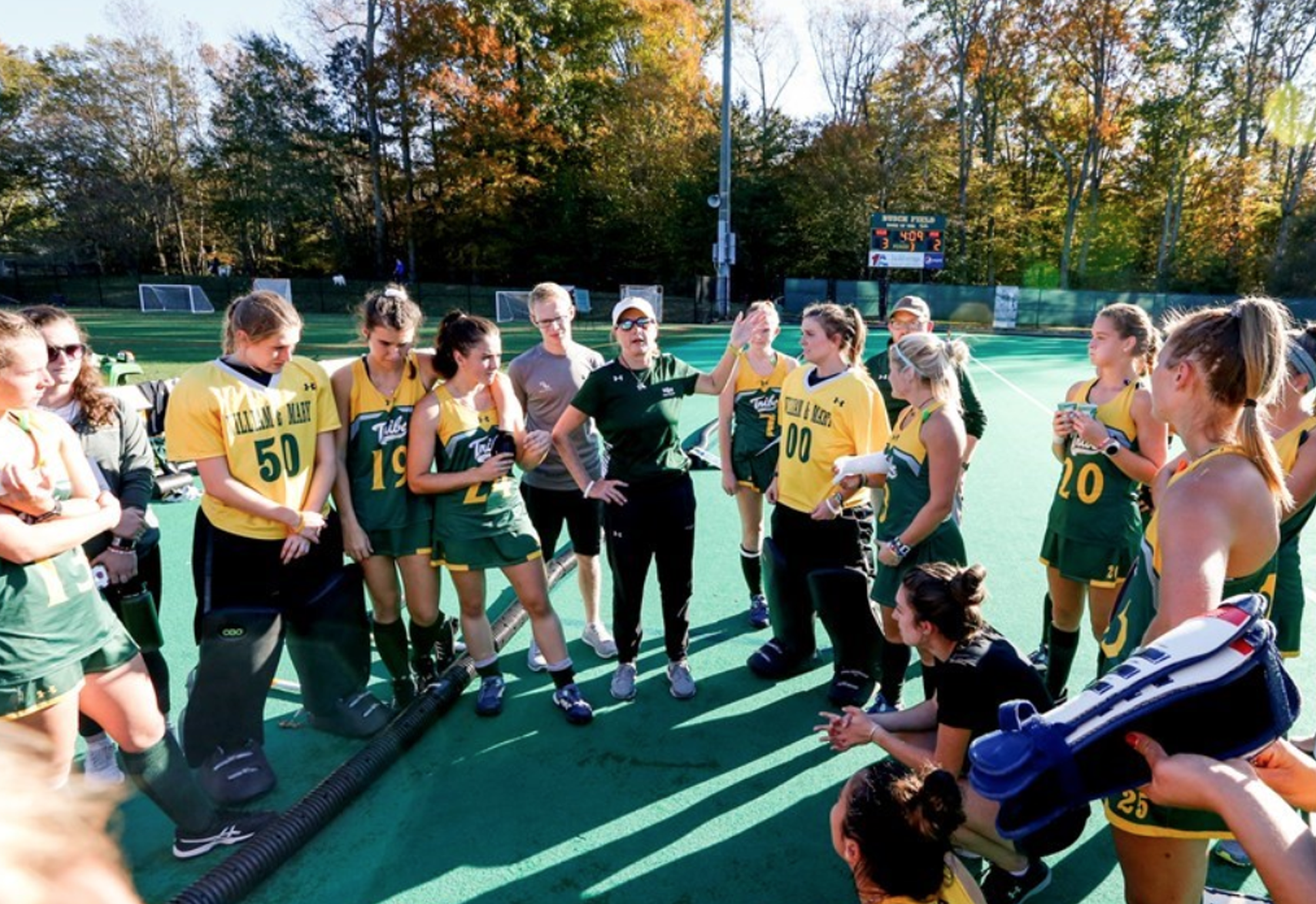 In the seven seasons since Therese "Tess" Ellis took the reins as head coach for William & Mary's field hockey team, her focus has remained on building the core values essential to personal and athletic success.
"More than anything, I want the women to believe in themselves both on and off the field," says Ellis. "I strive to develop a culture where it doesn't matter what color or logo is on the competitors' jersey; we come to the field and give our best. We only need to be comfortable with our own style and have confidence in ourselves as a team."
Building that can-do attitude certainly paid off this year when the field hockey team won their first ever Colonial Athletic Association (CAA) Championship. Ellis credits the passionate support and commitment of everyone in the field hockey program for both the team's success and her recent honor as the 2019 William & Mary Alumni Association Coach of the Year.
"I've got a smile on my face, but it's not about me, it's about the players, coaches and staff," says Ellis. "It is nice to have the recognition for all the hard work that takes place, but it wouldn't be possible without the uncompromising integrity of the whole team."
Raised in New South Wales, Australia, Ellis started playing field hockey at age five. As a young adult, various field hockey opportunities took her around the world, and it was a summer camp coach position that brought her to Williamsburg for the first time.
"I immediately felt connected to the beauty and our shared colonial history, coming from a commonwealth country," says Ellis. "It is amazing that William & Mary is older than the country I grew up in. I'm from a small town and I love the sense of community and support between the university and Williamsburg residents."
Prior to her current role as head coach, Ellis served William & Mary as assistant coach from 1993 to 2000. Ellis was the head coach of the U.S. Field Hockey Association's Under-21 and Under-23 National teams from 2000 to 2003, as well as the U.S. coach in the 2001 Junior World Cup and an assistant coach for the National Senior team.
In 2003, Ellis returned to William & Mary as a volunteer assistant coach and eventually moved to assistant coach in 2010, then head coach in 2013. Her high standards for student development and performance aligned well with the university's focus on building a strong and healthy student experience.
"I think one of the things William & Mary does really well is encourage students to pursue their passions," says Ellis. "The university teaches students to ask tough questions and look at a situation from different perspectives."
Yet, she is quick to point out that on game day, the team needs to turn off this questioning mindset and just have faith in each other to do their best.
"I tell the women it's like working in corporate America. When you step on the field, we need to work together and respect each other, then you can go home and do your own thing," says Ellis. "It's amazing to see how these women become like a family and continue to support each other long after they leave campus."
Ellis believes that it is this same sense of William & Mary comradery and commitment that helped make the new Tribe Field Hockey Center possible. As part of the commemoration of 100 years of coeducation and 100 years of women's athletics at William & Mary, a team of donors contributed $2.4 million to build the center, which is designed to enhance the experience of women student-athletes and the caliber of William & Mary's facilities. The center is scheduled to open this fall at Busch Field.
"I am so thankful for all the support and I am excited to see that support carry through to the next generation of William & Mary athletes," said Ellis. "The more people who reach in to help, the more successful the future will be."
Ellis hopes the new facility will generate pride for the entire William & Mary community.
"If we are going to be a first-rate school and recruit top students, we need to offer top facilities across the board, both for academic and athletics," says Ellis. "It is ok to be proud of who we are. If we want to see William & Mary Athletics thrive, we need to look into the future, and our future is to boldly pursue excellence in all we do."