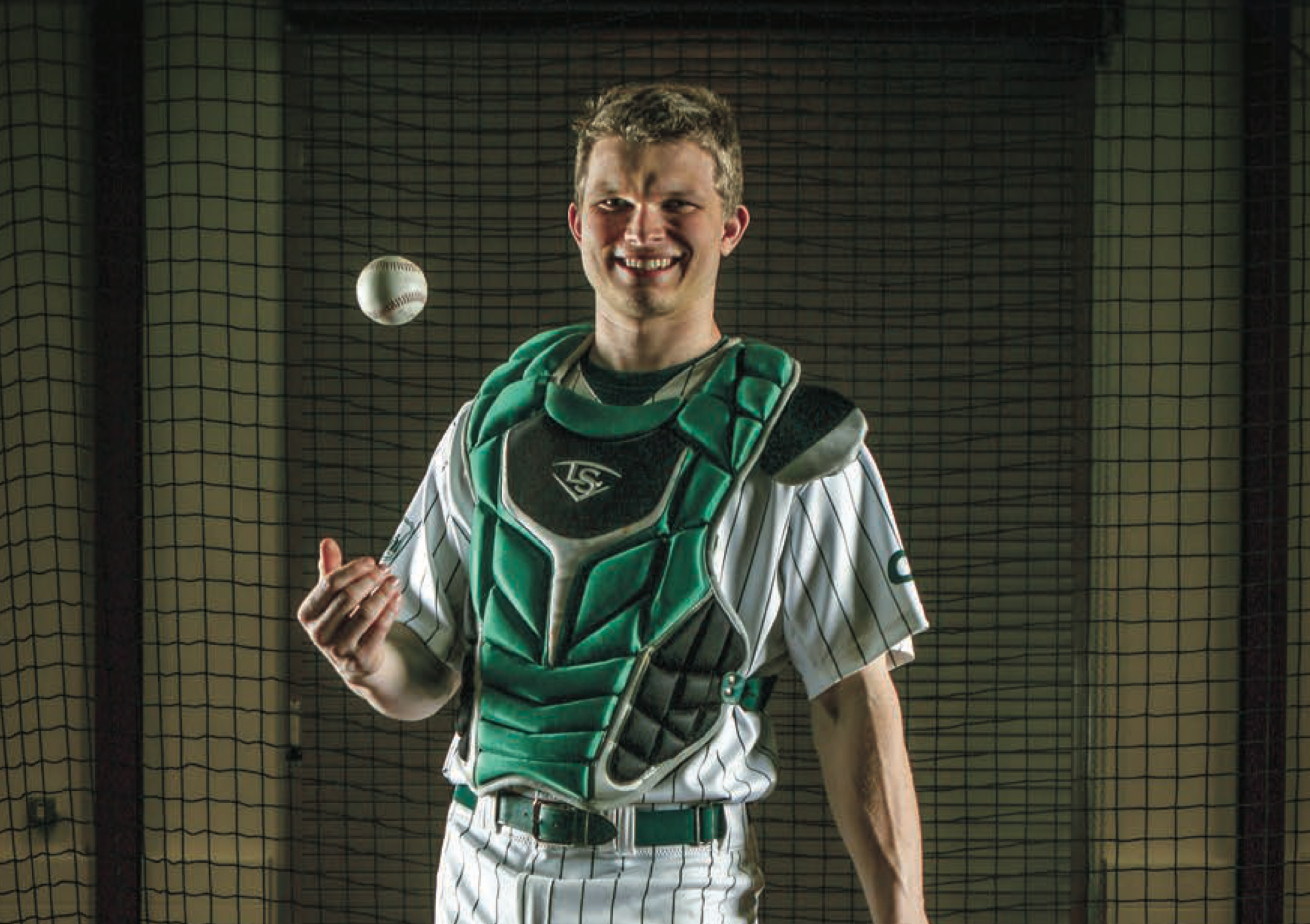 When Tribe baseball player Charley Gould '16 was growing up in Lake Forest, Ill., there was a giant tree next to his house. Gould would take a bat and spend his days swiping at the acorns that fell from the tree, occasionally hitting his neighbor's house across the street. That was his home run.
Gould has come a long way since smashing acorns. Now a first baseman and catcher for the Tribe, he finished last season with 38 runs, 66 hits, 15 doubles, 13 homers, 52 RBIs and a .388 batting average (which led the Tribe and the Colonial Athletic Association). Back in January, Gould was named the 2016 CAA Preseason Player of the Year.
The econ major says his decision to attend William & Mary was a no-brainer. "I wanted to go somewhere that had good baseball and academics," he says. "Getting out of the Chicago cold was good, too. I've always loved the East Coast. And when I came out, I just fell in love with campus."
For Gould, his experiences with Tribe baseball have been about growing up. "Fun fact: my first-ever college game, I flew out to end the game against Clemson, and I punched the ground," Gould says. He ended up breaking his hand and didn't play much his freshman year. "So that was my psycho moment. That was definitely a huge learning experience."
Gould didn't play much at the start of his sophomore year, either. "But I listened to a lot of the older guys who told me to just keep working at it," Gould says. When William & Mary's catcher, Ryan Hissey '16, went out with an injury, Gould stepped in and finished the season hitting .333 with 50 hits and 42 RBIs. Eleven of those RBIs came during one game against Iona, a school record. He went on to earn first-team All-CAA honors his sophomore and junior year.
"The biggest thing that has helped me is realizing that baseball has its fair share of ups and downs," Gould says. "I get way too emotional and lose confidence easily. But I've watched a lot of the older guys, and I've seen how they handle themselves. Over the past few years, there's been the development of my baseball skills, but I think my perspective on things has matured. I also think that's had a significant impact on me outside of baseball, too, as far as putting things into perspective and trying to stay level-headed and not getting too up or down."
For head coach Brian Murphy, Gould is the guy who has big forearms and the guy that runs a mile very slowly. "We measure it in days instead of minutes," Murphy says.
But Murphy goes on to say that Gould is also the guy who's a complete offensive player. "Ever since he's been here, he's been a really good hitter. He's developed over time, but he's always had the ability to do things that come pretty naturally to him and are tough skills to learn for other guys, like strike zone discipline."
For Gould, Murphy and the rest of the Tribe baseball team, the goal for the 2016 season is to get back on top of the conference after finishing 10-14 in league play last year. "My freshman year, we went to the NCAA Tournament, and when I was a sophomore, we won the regular season title in the CAA, so last year was a step backwards," Gould says. "This could be my last year of baseball, and it's definitely my last in a Tribe uniform. I feel like I have an obligation to the coaches."
A big part of the Tribe's success this year will be the Joe Plumeri Indoor Practice Facility, which has provided the program with over 5,700 square feet of all-weather practice space, allowing the team to get in crucial training time during the early winter months of the season. Previously, the team had no comparable facility to use for practice during inclement weather.
"We would go to a random indoor facility at 9 p.m., or try to fit something under the cage and it would be pouring rain," Gould says. "This new facility saves us so much time and a lot of wet clothing."
Gould doesn't feel any added pressure from being named the conference's preseason player of the year; in fact it gives him more confidence. "Seeing the progress I've made, I've come a long way from my freshman to senior year. It's that pursuit of progression that motivates me. And this is my last chance to contribute to Tribe baseball."
"He's a really hard worker," Murphy says. "A lot of hitting is a self-made skill. It's a lot of understanding your own swing and putting the work in, and from the time Charley got here, he's been a really good worker. We're excited for him to have another good season. The future is really bright for him."