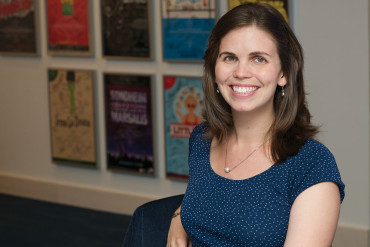 On June 11 in Radio City Music Hall, Caitlin Clements '11 heard the words that would change her life. She sat in the audience of the 2017 Tony Awards with bated breath while Lin-Manuel Miranda, writer, producer and star of "Hamilton," opened the envelope that held the name of this year's Best Musical winner. He paused.
"Dear Evan Hansen!" The producers, cast and creative team of "Dear Evan Hansen" crowded excitedly on the stage. A number of names came up on the television screens of the national viewing audience, including Caitlin Clements, co-producer.
"I couldn't believe it and it's all sort of a blur," she says. "I'm glad there's video that exists of that moment and those words being spoken because it all didn't really register while it was happening."
"Dear Evan Hansen" came away that night with nine nominations and six awards: Best Musical, Best Book of a Musical, Best Score, Best Performance by a Leading Actor in a Musical, Best Performance by a Featured Actress in a Musical and Best Orchestrations.
The Tony wins were almost two years to the day after rehearsals started for the "Dear Evan Hansen" world premiere production at Arena Stage in Washington, D.C., and Clements was there from the very first table reads. In 2011, Clements moved to New York City to pursue a graduate degree in film from New York University. She interviewed for a producing internship and was surprised to discover her interviewer was also a William & Mary alumna, Jennifer Isaacson '06. While they had not been in Williamsburg at the same time, they bonded over shared experiences, and Clements got the job. Several years and theatrical opportunities later, she was then introduced to producer Stacey Mindich, who was developing with two young composers an untitled musical which would become "Dear Evan Hansen." Clements accepted an assistant producer position in Mindich's office, and the rest is history.
"I still can't get over the fact that we're working and collaborating with the director of "Rent" [Michael Greif], when on multiple William & Mary breaks I was going up from Virginia to New York with college friends and hallmates to see "Rent" multiple times in a weekend," she says. "Getting to watch this creative team work, being there to assist and support their development process as they were nurturing this piece and figuring out what it was going to become, was really incredible."
"Dear Evan Hansen" tells the story of Evan, a socially awkward and mostly friendless high schooler. When a classmate he barely knows commits suicide, a misunderstanding leads everyone to assume he and Evan were good friends. The lie continues to grow, and Evan benefits from his newfound stature, but struggles with his conscience as the lie blooms out of control. The set incorporates social media posts to track the effect of the tragedy, and Evan's lie, on the school population. The storyline and songs are original to the musical. "It was amazing to get to be in the room and watch these writers work on this piece that was totally original and not adapted from a preexisting book, movie, TV show or well-known song catalog," Clements says. "It was something that they were totally building from scratch — from the ground up."
Clements liaised between the cast, crew and production team, traveling with the show to Washington, D.C., for their successful off-Broadway run, where she was delighted to introduce a new generation of William & Mary students to the musical. Two dozen 1693 Scholars — members of the distinguished scholarship program who design their own course of study and work with faculty mentors — came to see the musical and meet with the cast in 2015.
"It was the most weird and wonderful experience of worlds colliding," Clements says. "So many William & Mary friends were able to come see the show there in D.C. during its earliest days." And yet even in New York City, Clements finds she is surrounded by supportive William & Mary alumni, and she counts fellow alumni as some of her closest friends.
Clements credits her experience at William & Mary as a 1693 Scholar for shaping who she is today. "Everyone is so incredibly passionate about and dedicated to their area of interest, but with such an open mind and curiosity to all the other facets around them," she says. "That experience set up the perfect mindset for what it takes to now be in this collaborative world of theater."
She also participated in Alma Mater Productions and the William & Mary Global Film Festival all four years at the university. While she moved to New York City fully expecting to continue with film, she realized her experiences at William & Mary had fostered a love of storytelling above all else and an appreciation for live, in-the-moment events. Theater was a perfect fit.
What's next for Clements? "Dear Evan Hansen" is going on tour, and she will continue to work on the show as it premieres in new cities for a wider audience. She is most excited about giving the show's fans who might not have been able to travel to New York City a chance to see the show. "Dear Evan Hansen" has resonated with fans nationwide, even if they have not yet seen the show, through the release of the Broadway recording, teaser videos, and fan-created viral "mashup" videos, in which fans sing "Dear Evan Hansen" songs mixed with other Broadway songs or top hits. Clements feels the message of the show has universal appeal.
"Evan is longing to belong," she says. "At our core, we're longing to belong in whatever circles and environment we're in."
With the cast and crew of "Dear Evan Hansen," Clements says she has found this sense of belonging. "Even at the Tony Awards, which was such a surreal experience, the best part was just being there with the dozens and dozens of people who made the "Dear Evan Hansen" experience. It was just incredible to all be there together."