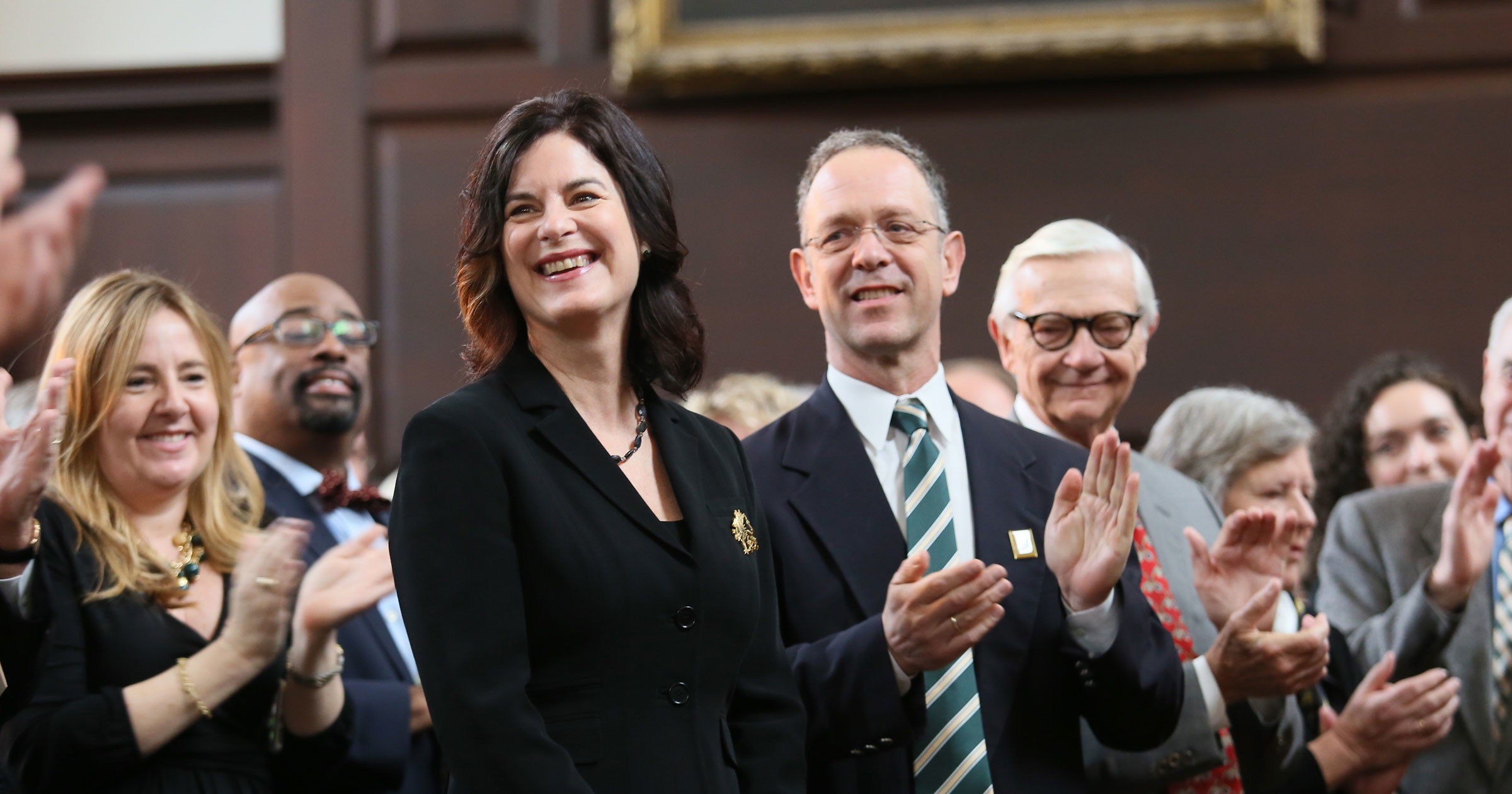 As Katherine A. Rowe made history at William & Mary, she vowed to take care of the university while leading it ever forward.
"To be entrusted with the next chapter of an institution so rich in tradition and so exceptional now — this is a trust I embrace with excitement and humility," she said.
Rowe was sworn in as William & Mary's 28th president by Virginia Gov. Ralph Northam during a July 2 ceremony in the Wren Building. She is the first woman to hold the role at the 325-year-old institution — a university, she said, that has and will continue to shape the character of the nation.
"Our students will, and must, be the intellectual pioneers and moral anchors of our democracy," Rowe said. "William & Mary is the proving ground they need."
Faculty, staff, students, alumni and community members joined Rowe's family — her husband, Bruce, and children, Beah and Danny — in filling the Great Hall to capacity. John E. Littel P '22, who became Rector of W&M's Board of Visitors July 1, welcomed those gathered for the ceremony along with many more who watched the event online. He also thanked former President Taylor Reveley LL.D. '18, HON '18 and his wife, Helen HON '18, for their service to the university over the past two decades.
"You will quickly discover this is truly a family — a very close-knit one, and we are very glad to welcome you to it," Littel told Rowe.
Northam, the parent of a 2010 alumnus, welcomed Rowe on behalf of the Commonwealth of Virginia.
"I know you are going to do a wonderful job and be an advocate for a university that is just a sign of progression, innovation and inclusivity," he said. "We look forward to wonderful things under your hand, and so we welcome you here."
After being sworn in, Rowe received a standing ovation and said she will spend her first three months on the job "listening and learning" from the William & Mary community, a process she had already started.