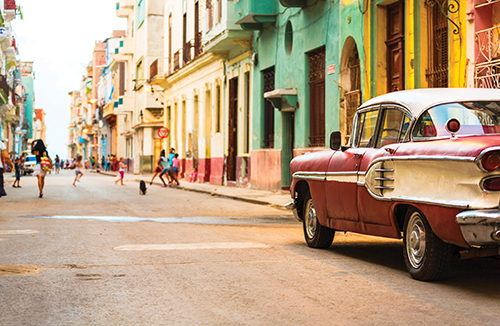 Kicking back: Jay Nickel '63 and Ann Marie Stock in the historic Hotel Casa Grande in Santiago.
"How many times have I been to Cuba?" This question is a familiar one to me — and so is the look of disbelief when I share my answer. "At least 60. I stopped counting a few years ago." I have been traveling back and forth between the U.S. and Cuba for nearly three decades now — for my research on Cuba's cinema, to consult with nonprofit organizations and the media, and to teach William & Mary students of all ages about the island's culture.
My most recent visit, as host for a W&M Alumni Journeys trip, was extra special. It marked a series of firsts for me — including my first experience aboard a cruise ship, the first time I arrived on the island by docking rather than landing, and the first time I glimpsed Havana's breathtaking skyline from the sea.
For one week in December, 29 W&M alumni and friends explored together this island that is, as the vintage travel posters note, "so near and yet so foreign." Our adventure began in Miami, where we converged on the M/S Insignia. As we cruised toward Cuba, we got to know one another at a welcome reception and at a series of shipboard events. I was pleased to present a couple of shipboard lectures, showcasing some of the ways W&M is connected to Cuban culture.
Our first port of call, Havana, welcomed us with its majestic architecture, rich history and attentive inhabitants. We dispersed according to our interests — some to walk through the restored colonial sector, others to cross the bay for a tour of the massive El Morro fortress that protected the harbor from buccaneers, and still others to explore galleries and art studios or take in the highlights — while riding in a classic convertible.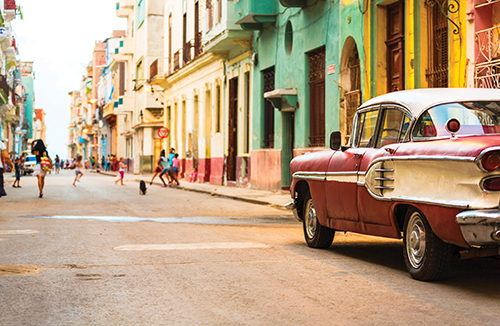 Havana on my mind: The first port of call was Havana, where alumni and friends explored the restored colonial sector.
Back aboard ship, we then headed west and south around the island. Our entry into our second port awoke us gently. In Cienfuegos, pastel-toned walls lining narrow streets led us to the picturesque main square. From there, we ventured forth to shop for handcrafts, sample some of the island's iconic flavors (rum and cigars) and take in a flute concert. Others opted to travel by motorcoach to the colonial city of Trinidad, another of Cuba's renowned UNESCO World Heritage Sites.
Our pilot then followed Cuba's southern coast, maneuvering close enough for us to track the changing topography and exclaim at the emerald-hued Sierra Maestra mountains. It wasn't hard to understand why Cuba's poet laureate, Nicolás Guillén, described his beloved island as "el largo lagarto verde," "the long green lizard." We docked in the provincial capital of Santiago, home of hillsides and cobblestoned stair-streets, musicians and dancers. There we visited the Plaza Central, strolled leisurely through the open-air markets and ventured forth to the shrine to Cuba's patron saint, the Caridad de Cobre.
Evenings on board the ship found members of the Tribe gathering in groups, reminiscing about the W&M of old, comparing notes on our daily sojourns and identifying shared interests to forge friendships for the future. On our last evening, we gathered for a group photo and farewell dinner; a toast was proposed, and we raised our glasses to the institution that brought us all together — William & Mary.
With the academic year drawing to a close, I'm asked another question: "Would I host a future Alumni Journeys trip to Cuba?" My answer: "Absolutely!" In fact, I've agreed to do so in October 2018. Visit wmalumni.com/travel to learn more and see all the exciting trips offered.
Meeting Tribe alumni, supporters and friends has left me looking forward to another island adventure. Nos vemos!