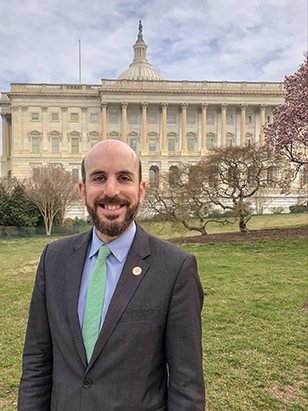 Michael Steelman loves meeting new people. It's obvious from the first time you see him in action — he has the enviable talent of being able to work a room, shaking hands and making introductions, while still being genuinely interested in the stories of each and every person.
It's an ideal personality for the director of alumni career management and professional networks. Steelman's job, after all, is to help alumni advance their careers through connections to other alumni and to William & Mary programs and services.
"William & Mary has such a strong alumni network, and I help alumni leverage those connections into career development," says Steelman. "Everyone, whether you're in the Class of 1950 and retired or the Class of 2017 and just getting started, has something to share."
Steelman studied opera at the University of Michigan, but quickly discovered what he liked best was bringing people together through the arts. He worked for the University of Michigan after graduation doing just that, falling in love with higher education in the process. He accepted a position at George Washington University in 2008 as their alumni volunteer coordinator, building their program from the ground up. The economic downturn at that time meant many alumni sought programming on career development, and Steelman created programming to meet their needs.
It was perfect preparation for joining William & Mary's Washington, D.C., office in 2015, spearheading a new initiative through the William & Mary Alumni Association: One Tribe. One Network.
"Whether you are job searching or looking to hire, you can use the William & Mary community and the resources we offer to meet your professional needs," Steelman says.
These resources include in-person events, online events, online tools, one-on-one coaching and more, for alumni at all stages of their careers. More information and registration can be found at
wmalumni.com/onenetwork.
Breakfast and Business Cards are industry-based networking events featuring discussions with leading experts. Recent events have focused on alumni in politics on Capitol Hill and alumni in law in New York City. Get involved: Attend one in your area, volunteer to host one at your workplace, or share your expertise as the featured speaker.
Webinars are online professional development presentations and Q&A sessions; for example, "Mastering the Art of the Interview" with Raelene Wagoner '87, P '20, director, human resources and adminstration at Customer Value Partners. Get involved: Watch live or archived discussions, volunteer to be a speaker, or let Michael know what topics you would like to see covered next.
Online Networking Hours are speed-networking text chats with fellow members of the William & Mary community, themed by industry or region. Get involved: These are often hosted at lunchtime for those in Eastern or Central time zones, so it's easy to attend for as little or as long as you like.
Tribe at Work brings together W&M alumni working in the same organization. Get involved: Volunteer to host one at your workplace!
William & Mary Switchboard can be described as a fusion of LinkedIn and Craigslist: alumni ask for what they need and offer what they have to give. Get involved: Check out the latest career advice and job opportunities from fellow W&M alumni around the world, and fill out your profile on the site so you'll be notified when something relevant to you comes up.
Since November 2015, W&M career and networking programs have had 6,000 registrations for more than 80 events.
"Quantity of attendees is certainly nice, but more important is the quality of the connections they make and how they provide value to the participants," says Steelman. "How many people did we bring together that now know somebody new? Each connection strengthens the alumni community."
The popular social media platform LinkedIn is another tool Steelman uses to both connect alumni and spread the word about his programs.
"Roughly 60,000 LinkedIn members are William & Mary educated. If we can connect those people together, think of how many industries, professions and locations that represents — and how many career opportunities," says Steelman.
If you're new to William & Mary's career networking, Steelman says the most important thing to remember is to keep an open mind — you never know who knows who.
"It's often the people you least expect who open doors for you and who you can help," he says. "I can't tell you how many conversations I have with alumni and it turns out we know the same people, or they know people I want to know."
Already using W&M career and professional resources? Steelman suggests trying an event outside of your industry or area, or responding to
a Switchboard or LinkedIn post online from some-one new.
"You may talk to someone who can't help you now but will be a great connection for you in the future," he says. "Diversify your networks by getting in touch with people in other communities at William & Mary."
In the future, Steelman hopes to continue to diversify his program offerings and encourage alumni of all ages, career stages and backgrounds to participate.
"I'd like to expand our reach online so anyone, whether they live in remote parts of Africa or a city in Asia, can participate. We've had some incredible international participation, but there's still room for more. We've built the foundation, now, for these programs, but we can keep building."
Ultimately, he says, he is just the facilitator for alumni to connect with and help each other.
"Everything I'm doing, I'm just providing room for alumni to do what they're great at, which is opening new doors for each other and being innovators," says Steelman. "I try to design programs that are inclusive to all but that provide the specialized expertise our alumni are asking for."
Success Stories
"As a small business owner and solopreneurer, trust and relationships drive my business, and building a network of W&M alumni is essential to my business development."
— Arthur L. Cone III '75
Investment Advisor Representative, Transamerica Financial Advisors
"Following my career as a Naval officer, the networking resources the Alumni Association offered me were essential in making my transition from the military into the private sector seamless. My competitive advantage was having attended William & Mary and benefiting from the access its alumni network offered."
— John M. Esposito M.B.A. '03
Senior Manager, Aegis and Surface Radars, Lockheed Martin Government Affairs
"W&M alumni have consistently been top performers and leaders in organizations. I have used the W&M Switchboard and Breakfast and Business Cards events to hire and network with W&M alumni in the past year and am thrilled with the results. Give it a try!"
— Raelene Wagoner '87, P '20
Director, Human Resources and Administration, Customer Value Partners
"In my role as a career coach, I have worked with the W&M team to plan and present several career webinars for alumni. Expanding and cultivating a professional network is such an important part of your career, and I encourage all alumni, whether they are currently in career transition or not, to take advantage of the great resources W&M offers!"
— Erin Ewart '00
Consultant, Careers for Social Impact