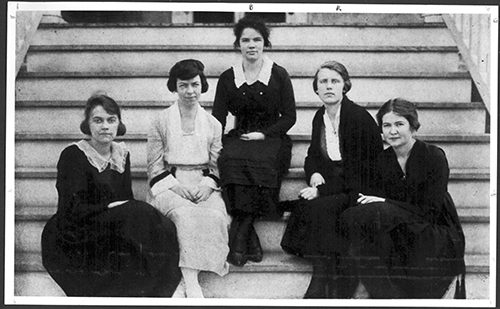 William & Mary was the first public university in Virginia to admit women. In 1918, the first women students walked through the doors of the Wren Building and made history.
Since 1918, women unmistakably have become vital to the mission, success and survival of the university and its future.
The university's newest giving society, the Society of 1918, was named in honor of the women who made history that year. It aims to grow women's engagement, leadership and philanthropy and celebrate and honor William & Mary women.
"William & Mary's wonderful, talented women are underutilized," says Fran Engoron '70, chair of the Society of 1918. "Our challenge is to find ways to meaningfully engage alumnae — increase engagement and philanthropy for women through empowering and renewing experiences."
The society supports the Alumnae Initiatives Endowment, which will enrich programming and enhance opportunities for women across the W&M community.
Today there are more than 225 charter members. The society plans to continue growing the endowment after meeting the $1.918 million goal.
"There's been such an energy and enthusiasm around the Society of 1918, and it's encouraging that so many have already answered the call," says Elizabeth Cabell Jennings '85, P '17, who chaired the Women & Philanthropy Task Force and is a charter member of the society. "We hope the society will continue to grow and increase the visibility and impact of women's giving."
The Society of 1918 is the outcome of the Women & Philanthropy Task Force, which was created in 2012 at the behest of the William & Mary Foundation. They studied existing research and best practices, conducted surveys and created strategies to fully engage women as leaders, donors and advocates of William & Mary.
The task force became a leadership circle, which with the help of Director of Alumnae Initiatives Val Cushman created the Society of 1918.
"Our vision for the society has three parts: celebrate the past contributions of William & Mary w omen, increase opportunities for women to be involved in William & Mary's present, and pay it forward to future generations," said Brooke Trible Weinmann '79, P '17, a charter member of the society and a member of the Women & Philanthropy Task Force. "In doing so, we improve our alma mater for everyone — students, faculty, administration, alumni and alumnae."
Women make up 58 percent of the Class of 2018 and 53 percent of William & Mary alumni. Research shows women approach giving differently than men. For example, women generally want to be asked, to feel engaged in the organizations they support through time and relationships and are more deliberate in their philanthropy.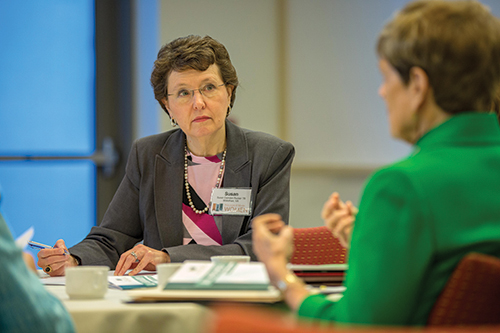 "The society is an idea whose time has come," said Weinmann. "It's tapped into a pent-up demand among alumnae, students and faculty. William & Mary women are looking for an inclusive, comprehensive approach to more significantly understanding and appreciating women, meeting women where they are, and helping women to become further engaged, appropriately and substantially, with William & Mary."
The Alumnae Initiatives Endowment is unique in that it is funded almost exclusively by and for women. It will enrich W&M women's engagement opportunities throughout the country, provide exclusive programming for members of the Society of 1918 and help launch the new William & Mary Women's Weekend for all W&M women, Sept. 21-23, 2018, added Cushman.
"We are just beginning our journey," said Cushman. "The society will grow and evolve as we gain new members and hear from William & Mary about their needs and interests."
Meg Pratt Carter '89, P '15, a charter member, said the Society of 1918 is helping her stay engaged with William & Mary long after graduation. "Women sometimes get lost in other things, between careers and family. But the society keeps me connected. It's really a new group of friends — positive, intelligent and interesting women. I love to be around them and I feel like I'm better for it."
She hopes that the society will inspire women throughout the William & Mary community to also pay it forward and to give a gift of any size.
"I'd love to see the society be a very inclusive place for women to reflect on their wonderful experiences at William & Mary and for them to share and network," said Carter. "For young graduates it could become a pathway to a lifetime of engagement and philanthropy."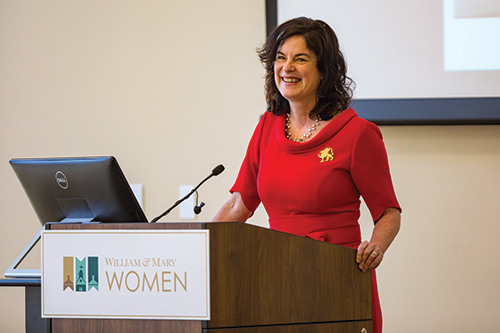 Join the Society of 1918
Charter membership in the Society of 1918 is offered to all women who commit $10,000 or more to the Alumnae Initiatives Endowment by June 30, 2018. Payments of $2,000 annually may be made over a five-year period.
If you are interested in joining a vibrant group of women committed to shaping William & Mary's future, please contact Val Cushman at vjcushman@wm.edu or (757) 221-1622.
Visit wmalumni.com/societyof1918 for more information, and follow #wmwomen on social media to see more William & Mary Women initiatives.