The 236 homing pigeons stranded at New York's John F. Kennedy International Airport had a race to get to.
Their owner, John Nelson, had packed them into five crates and driven nearly 11 hours from Michigan to New York to catch a flight bound for Zimbabwe. Nelson had mostly driven through the night while the pigeons were asleep. After the long road trip, their travel plans were halted. Mechanical problems had grounded their plane.
The next day there was another delay. A new plane was ready to go, but it had reached weight capacity shortly before takeoff. Most of the passengers were allowed to fly, but the birds remained on the runway, nearly 8,000 miles from their final destination — The Victoria Falls World Challenge Pigeon Race.
While at the airport, the pigeons checked into a state-of-the-art luxury animal hotel of sorts — The ARK at JFK, where they were given fresh water, food and a warm place to stay while they awaited a new aircraft.
"The pigeons made it to Africa," says Elizabeth A. Schuette '80, managing director at The ARK. "They had their race and everything went well."
Schuette and her husband, co-founder John J. Cuticelli Jr. P '98, opened The ARK last year. Billed as the world's first privately owned, 24/7 animal terminal and airport quarantine center, it sits on 14.4 acres. The ARK aims to create a safer travel experience for horses, birds, livestock, dogs, cats and exotic animals. For international imports, that experience may begin at the aircraft, cargo warehouse or passenger terminal and end at The ARK facility, which is equipped with a quarantine center and veterinary clinic.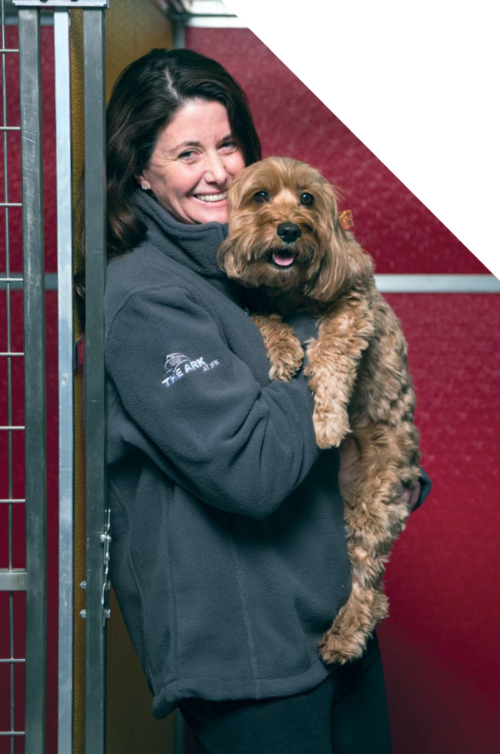 "We are hoping to make a significant impact on the industry as a whole by showing how animals should be treated in travel," Schuette says.
The concept
The ARK sits a few miles from JFK's main passenger terminals. It's a modern 178,000 square-foot chevron-shaped building located in a cargo building of JFK. Once guests are buzzed into the facility they are led to a check-in counter that resembles one carefully crafted for a high-end hotel.
"JFK was looking for areas that it needed to improve," Schuette says. "It is one of the biggest cargo hubs, import hubs and one of three main points of entry for live animal cargo in the country."
Cuticelli was brought in by a Cornell-educated veterinarian. While both Cuticelli and Schuette had business savvy from years of working in the banking and real-estate industries, the care of animals in travel was new territory. They needed to do research and somehow get a front-row seat to how the industry worked.
"John looked around the world," Schuette says. "He went to Frankfurt, Germany, Heathrow Airport, Miami and Amsterdam. He asked himself, 'What is missing here at JFK, what could we do better?' This is something that has never been done before, so what's the closest operation that is analogous to this?"
The answer was to offer a one-stop shop that combined aspects of all the airports he visited. They also partnered with Cornell University's College of Veterinary Medicine to implement the correct health, safety, bio-security procedures and protocols for handling the animals and operating the facility.
"We developed The ARK concept to address the unmet needs for the import and export of companion, sporting and agricultural animals," Schuette says. "Transporting live cargo by plane can be a complex and stressful process for owners and animals alike. Our goal is to create a more efficient and safe process by reducing the need for additional travel and offering trained animal care staff immediately pre- and post-flight."
Airline passengers who don't want their pet to stay in a crate for extended periods of time before, after or between flights, can bring their pets to The ARK, which offers 63 kennels for dogs and cats at a starting rate of $125 per pet at the Pet Oasis.
"Pets can board here for longer times," Schuette says. "We have a veterinary facility that is capable of addressing any need, from certifications to actually providing care for a pet that is in distress. That's really important. A lot of what we do is transportation because we have to transport animals to the cargo facilities or back and forth to the aircraft."
William and Deni McChesney heard about The ARK shortly after it opened in early 2017. The couple enjoys traveling and goes to England several times a year with their West Highland white terrier, Birdie.
"If you love animals and pets as much as we do and travel as much we do, The ARK is our salvation," says William McChesney, a two-time customer.
William McChesney says that since there is no guarantee that Birdie will be on the same flight as he and his wife, using The ARK assures them that she is being treated well if a flight delay occurs.
"Going to England, The ARK waits to board our dog until the last minute, before placing her in a crate to go on a plane as cargo," he says. "For IAG cargo, which we have used in the past, we must deliver our dog to a busy cargo office two to three hours before the scheduled flight, find the person who handles shipping of animals and then leave her in a crate in a place that is not equipped to handle dogs."
While the commercial flight animal care segment of the business is the most popular, the capability to provide animal quarantine services at the facility makes The ARK an anomaly in the industry.
"What's unique about having the quarantine right here is that horses can come directly to us off the aircraft," Schuette says. "They are required to have a three-day quarantine. Previously they had to wait two hours and go up to a separate facility in Newburgh, N.Y."
The U.S. Department of Agriculture visits The ARK frequently to examine the animals and to make sure their health certificates are accurate and that they are fit to fly. If they do not meet the standards of the USDA, they must stay longer at the facility or are treated at the onsite animal hospital. Livestock that fly are required to rest two hours before boarding a plane under USDA rules. Incoming birds must be quarantined for 30 days.
Liberal arts
Schuette transferred to William & Mary from the University of Iowa the second semester of her freshman year when her family moved to Virginia. She was a pre-med major, but switched to economics her sophomore year.
"W&M had an extremely rigorous academic program and the honor code was strictly enforced," Schuette says. "While my experience at W&M was academically challenging, it was also academically rewarding because the classes were smaller and the accessibility of professors was unique."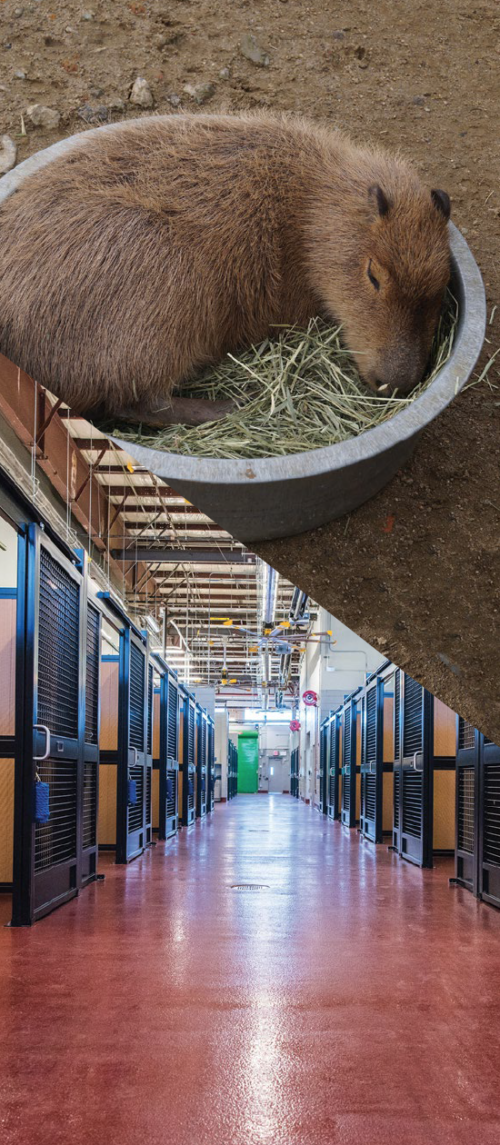 Interestingly, the couple's daughter, Dr. Elena Cuticelli Garrett '98, followed in Schuette's original path at William & Mary by majoring in pre-med. She is now an emergency room doctor in Newport News, Va., and resides in Toano.
After graduation Schuette worked for Booz Allen Hamilton as a consultant to the Navy and attended graduate school at George Washington University. She spent 11 years working in the banking industry before joining her husband as a real estate broker.
Though her career has varied from banking to real estate, it never touched the world of animals until The ARK. She says that flexibility comes from her W&M education.
"Basically if you have a reasonable level of intelligence, can read and write, and accumulate knowledge, you can pretty much do anything you want to do," Schuette says. "That is one of my arguments for a liberal arts education. I think if you really have a strong liberal arts background, you can take that and really utilize that in many areas. It exposes you to so many different things that you can build on … my economics background is coming in handy at The ARK, but it's more like micro-economics."
The guests
While dogs, cats and horses are the most common guests at The ARK, exotic animals are also welcome — although there are times when even Schuette and Cuticelli are surprised by the animal guests who come through their door.
"We had an overnight shipment that we needed to pick up from an airplane," Schuette says. "The airway bill comes in and it says, 'small mammals.' I'm thinking what kind of 'small mammals'?"
A man on the phone attempted to give her more clarity. He said the animals were being transported from a South American zoo to a zoo in China. He described them as 10 large rats.
"Then we look at the airway bill again and it has the weight on it — holy cow," she says. "These are not normal rats. Some weigh 100 pounds."
They were not rats at all. They were capybaras, a large rodent that is native to South America.
"Apparently they are water-based animals, but we didn't realize this initially," Schuette says. "Our first instinct was to make sure they had fresh water. But, because they are water-based animals, they were using their own drinking water as a toilet — what a mess."
Making the animal guests comfortable is a top priority for the couple, even if it means turning on some music.
In order to make horses feel at home during their boarding period, their stalls have plush padding, shavings and other materials. Pavarotti or other opera singers are often heard in the background as they rest.
"Music has been shown to calm animals," says Schuette, who says that some horses even lie down in their stalls.
Most of The ARK horses are traveling to Amsterdam or Belgium. Some are headed to Korea or other parts of Asia. The competitive horses compete in the equine jumping events or other sporting events around the world.
The majority of the birds, which include macaws, parrots and more exotic types, come from South America or Africa and are usually en route to Europe or China, Schuette says.
Schuette says there are different factors to consider when transferring animals compared to non-living cargo such as household goods and retail shipments.
"When you are moving pets and something goes wrong, even something as simple as a weather delay or an aircraft has a breakdown, it's a big deal. An aircraft breakdown may result in the use of a replacement aircraft that can't carry the same type of cargo," she says. "Some animals have temperature restrictions. Lobsters require cold temperatures, but dogs require warm temperatures. So you can't put dogs and lobsters on the same cargo plane."
Animals in the sky
In the U.S., 2 million pets and other live animals travel by air every year, according to the U.S. Department of Transportation. While most arrive safely, there are some rare instances where animals do not make it to their destinations unscathed due to loss, injury or death. The U.S. Department of Transportation tracks and publishes this data monthly in Air Travel Consumer Reports.
From January to August 2017, the most recent data released, 15 animals died, eight were injured and one was lost during a flight. During the same period in 2016, 15 animals died and 15 were injured while aboard an aircraft. There were no reports of animals being lost during this period.
Sometimes there are no signs that a pet may not make it to their destination, even when they have been examined by a veterinarian prior to being loaded onto the airplane. This was true for an Australian shepherd in August.
"An Aussie shepherd puppy was accepted for transport in Kansas City, destined for Providence, with a transfer in Detroit. The puppy was accepted in apparent good health with all documentation and kenneling requirements met," the airline animal incident report reads. "The puppy was loaded on the originating flight with no irregularities … Upon arrival in Detroit, the puppy was unloaded and noticed unresponsive."
A necropsy determined that the puppy died from a heart attack.
The monthly U.S. Department of Transportation reports are forwarded to the USDA, which is responsible for enforcing the federal Animal Welfare Act that was put in place to protect animals.
According to Schuette, The ARK seeks to mitigate these instances by providing a calm, safe environment with food, water and relief pre- and post-flight. The care animals receive at these critical times can improve the experience and make flying less stressful.
A safe space
The ARK is an animal pit stop in a way. Sometimes they are headed to a big race, getting ready to board an airplane, en route to meet their owners for the first time or just resting their wings before a flight. Each day animals check in and check out of The ARK. Many will only travel a few miles once they leave, while others are bound for distant destinations — time zones away from JFK airport. But just like in an airport where thousands of people cross paths briefly, for a moment The ARK connects them.
Inside The ARK's Pet Oasis the guests' names are written on a small whiteboard: Bira, Bak and Toni. They are three German shepherds, whose jobs are to sniff out bombs and locate humans for the military. Three puppies sit in their kennels nearby. Two are French bulldogs and the other is a black Yorkshire terrier without a name.
The black terrier arrived in a carry-on crate with another puppy in early October from Ukraine. His companion died during the flight to the airport. The kennel they were stored in was too small to carry them both. At only a few weeks old, they were also too young to travel on the long flight, Schuette said.
The surviving black terrier was near death when he came to The ARK.
In order to properly care for him and ensure the safety of others, the tiny black terrier was placed in the quarantine area to make sure he didn't have rabies or other diseases. The puppy was nameless and homeless.
Inside The ARK he had found a safe space — a space where there were plenty of willing arms to hold and care for him. He eventually left The ARK. A family in his home country of Ukraine adopted him.
He had arrived in New York without a name and dehydrated, but he left healthy and with a new identity.
He is no longer just an abandoned black Yorkshire terrier.
His name is Jameson.