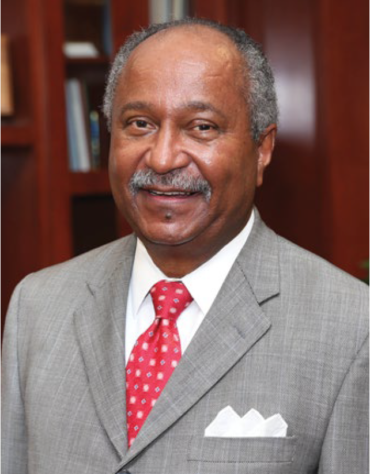 Presiding over Hampton's 8th Circuit Court, Judge Wilford Taylor Jr. J.D. '78 has seen everything. From minor traffic offenses to drug cases and murder trials, Taylor has seen the worst, and the best, of humanity from the bench. In his willful optimism, he perceives those most difficult cases as his biggest opportunities to be an agent of change.
"My philosophy on the bench has always been to look at the person, and look at the law, and be as fair as I can," he says. "I always try to consider how I can best get through to the person standing in front of me, within the law."
That even-handed approach will be sorely missed. Judge Taylor stepped down on Nov. 30, 2017, after 32 years on the bench. The first full-time African-American judge in the Hampton court system, he initially served as a district court judge for 10 years before moving to the circuit court. Members of his staff and the community alike say his approach on the bench is unparalleled.
"He displays an empathy toward plaintiffs that is exemplary," says Gloria Oduyoye, a William & Mary law student currently serving an externship under Taylor's direction. "He really looks at each person and tries to put himself in their shoes."
Taylor's empathy was clearly shaped by his surroundings. A native of the Hampton, Va., area, he was raised by his father, Wilford Sr., a mail carrier and chef, and his mother, Zenobia, a Hampton Institute (now Hampton University) graduate and school teacher, alongside three siblings. He describes his parents as expecting the best and wanting the best for their children.
In those days, despite the 1954 Brown v. Board of Education decision handed down by the U.S. Supreme Court, Hampton was heavily segregated. Taylor remembers a childhood marked by separate entrances, public accommodations and water fountains. In 1965, however, the Taylors had enough and decided that if young Wilford was going to get the best, he could only do it at predominantly white Hampton High School. That year, he became one of the first of a group of African-American students to integrate that institution. Although he initially preferred to remain at all-black Phenix High School with his friends, he still says he enjoyed his time
at Hampton.
"I was on the football team, and we were winning games, so my experience at Hampton High School was a good one," Taylor says. "There were some white students who didn't want us there, but for the most part, I was treated well."
Taylor then attended Hampton Institute on an ROTC scholarship, which required him to serve three years in the military. After graduating in 1972, he went on active duty that September, mere months after President Richard Nixon signed an order halting further troops from going to Vietnam. Instead of going to war, Taylor spent his three years of service at Fort Lee, simultaneously earning a master's degree from the University of Richmond. He had a finance job in the military and loved it. He was prepared to spend his life in the service, all set to go to a new assignment in Korea, when fate intervened.
"I fell in love with my wife, Linda," he says. "Needless to say, I wasn't going to Korea."
Taylor left active duty and went into active reserves. He went straight into law school at William & Mary, where he developed a love of trial law that remains with him to this day. He started Scott and Taylor with Bobby Scott, who went on to serve in Congress, and developed a reputation as a successful trial lawyer. Within a few years, Taylor's name was circulated as a possibility for the Hampton District Court. The Virginia General Assembly appointed him to the bench in 1985 — he was a precocious 35 years old. The average age of a new judge is 60.
"I was very young, but that didn't mean I wasn't qualified," he says. "I had a good record and I had experience. The powers that be saw that."
Indeed, Judge Taylor's record has been stellar, with the vast majority of his decisions affirmed on appeal. He considers surviving as a judge for 32 years and being re-appointed his greatest achievement. One of his biggest concrete accomplishments was helping to institute the so-called "Drug Court." Created in 2001, this program offers people convicted of drug-related offenses an alternative path to jail by focusing on rehabilitation instead of punishment.
"Those people are only resorting to criminal activity because of their underlying addictions," Taylor says. "If we eliminate the addiction, we eliminate the source of the criminality. And it works!"
Indeed, Taylor says that the overwhelming majority of participants do not return to his courtroom. The program has been so successful that Hampton also instituted a veteran's court, designed to deal with offenders from a military background. The drug court concept has since caught on all over Virginia, and is now a mainstay of the commonwealth's legal system.
With this legacy in place, Taylor steps down serene in the knowledge that he has done his best and helped as many as he could. Even in retirement, though, he intends to stay as busy as ever. He plans to continue as a substitute judge for the Hampton Circuit Court, in addition to teaching classes at William & Mary Law School and Hampton University. He has also joined a mediation firm, where he will help settle civil disputes on a part-time basis. Additionally, he plans to attend seminary and culinary school.
Most importantly, he wants to dedicate more time to his family, especially his 3-year-old grandson, Carter.
"I want to go to his soccer games and anything else he has going on," he says fondly. "For so many years, I had to say no because of work. I never want to say no to my family again."