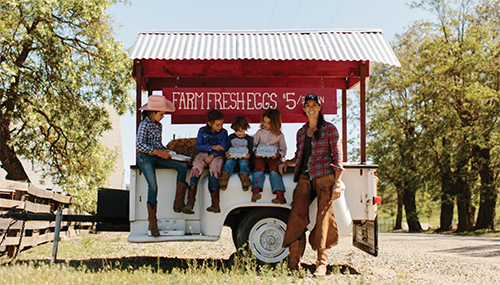 The roosters are crowing and Mary, Mary, Mary, Mary and Mary are starting their day on their family's ranch. Husband and father Brian "Heff" Heffernan is already out in the fields. Mary Simonson Heffernan '00 gathers her four daughters, all named Mary (named according to Catholic tradition, and who go by nicknames), and they head out to begin the morning's chores. Work on an 1,800-acre ranch is never done.
And yet, it's rewarding, Heffernan says. "Good things take time, but it's worth it."
Heffernan, her husband and her daughters (now ages 10, 8, 6 and 5) moved out to Fort Jones, Calif., three years ago to run Five Marys Farms full time. They raise Black Angus cattle, as well as Navajo-Churro sheep, Gloucester Old Spot pigs, Red Bourbon turkeys and a wide variety of laying hens.
The family packs their meat products by hand and sells them through their website all over the country through the mail. Many of their meats are dry-aged and all are antibiotic and hormone-free.
Prior to becoming full-time farmers, Heffernan and her husband, an attorney, ran two family-friendly restaurants in Silicon Valley focused on providing healthy, organic food. They found, however, that they couldn't source the meats they wanted from local small farms in the quantities they needed.
"So we naively decided we should do it ourselves," Heffernan says. "We bought this ranch and were driving six hours each way with our four kids in the car — we realized we had to do this full time."
They also realized they wanted to live the rural lifestyle and raise their daughters in that environment. Heff sold his law practice and their lives at Five Marys Farms began.
Sharps Gulch Ranch, the home of Five Marys Farms, is beautiful — pastures as far as the eye can see, backing up to tall mountains under a bright blue sky. It has a long history of family farming, as it was owned by descendants of William and Augusta Sharp and their 10 children from 1857 to the 1970s. It was then owned by the Hansen family until the Heffernans bought it
in 2013.
While Heff comes from an agricultural background — his father was a farmer — Heffernan has been learning as she goes. Her family was farming generations ago, and she feels like she is getting back to her roots.
History is also what drew Mary Heffernan to William & Mary back in 1996.
"I'm a sixth-generation Californian, and I knew I wanted to live here," she says. "I wanted to experience the East Coast while I could, and William & Mary was a great, small school strongly rooted in the East Coast."
While at William & Mary, Heffernan was heavily involved in the Alan Bukzin Memorial Bone Marrow Drive, which she credits with developing her leadership skills and ability to market and raise money for a cause in which she believes.
Heffernan's marketing skills are used every day as she updates Five Marys Farms' Instagram feed, blog and YouTube channel. The interesting challenge of being far away from the hustle and bustle of the city while still staying connected and in the public eye was explored in a commercial that Five Marys Farms made with Verizon in 2016.
Being connected to the internet despite being in a remote location is important to Heffernan as she builds their business. Every minute is documented — scroll through Five Marys Farms' social media and you can almost feel the crisp wind blowing from the mountains over the grassy pastures, the sun rising into a clear blue sky, the dirt roads underfoot as you cross through wide-open spaces.
"I'm really thankful we're doing it in this day and age. We wouldn't have the business that we do if it weren't for social media," Heffernan says. "You have to be willing to share a lot, but it's worth it to build these relationships with people all over the country who really feel like they can know their farmer."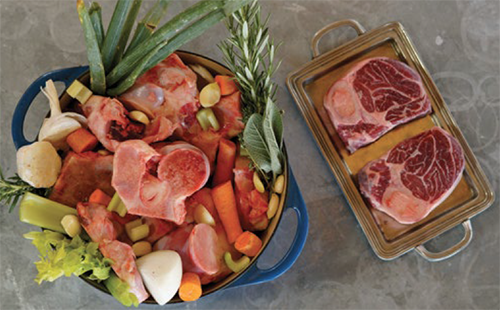 Five Marys Farms is selling more than just meat; they are selling a personal relationship with the farmer — in this case the family of farmers — who raises the meat you eat. They are creating a sense of trust with their customers that the meat they order is raised ethically.
"It's important that we all care for the animals, that they have a great life until their one bad day," Heffernan says. "It's not just about having a good story, but also a good product."
Heffernan and her daughters ship meat nationwide on dry ice weekly, but they also sell branded merchandise and books. In addition to her cookbooks, Heffernan is writing "They Can Do It: What I Learned about Raising Kids by Moving to the Country," which explores how self-reliant children can be when adults let them be, she says.
Her children are involved in every aspect of life on the ranch: feeding the animals, moving them in and out of pastures, assisting with the animals' daily care, and taking care of each other, even cooking dinner in the evenings. They attend the local school but also learn through their practical experiences each day on the farm.
Their family is front and center in everything the Heffernans do; while they thought they might build a new, larger house at the ranch, they found they enjoy living in close quarters in the 780-square-foot ranch house on the property. The children are featured in posts and videos about the farm, and drawings from the younger Marys are even on the shipping boxes. It's all about creating a "family" of Five Marys Farms customers who connect with each other and the farm.
"The idea of shopping local is huge but it's not always feasible. There aren't always small farms in close proximity to a lot of people, so the ability to feel like they're a part of what we do is huge," Heffernan says.
William & Mary alumni are part of this family as well.
"Even living remotely, thanks to social media, I've become more in contact with so many alumni all the way across the country that are now our customers," she says.
Heffernan hopes to return to William & Mary next year with her family for Homecoming & Reunion Weekend to introduce them to the university that was so formative for her.
In the meantime, though, alumni are welcome to come explore the ranching lifestyle for themselves. Retreats for women, mothers and daughters, and on themes like "cooking and cocktails" — described as "glamping meets the Food Network" — allow the family to share their rural paradise with others.
It's all about sharing that real story behind your food, Heffernan says. For the five Marys at Five Marys Farms, that story is lived and shared every day.