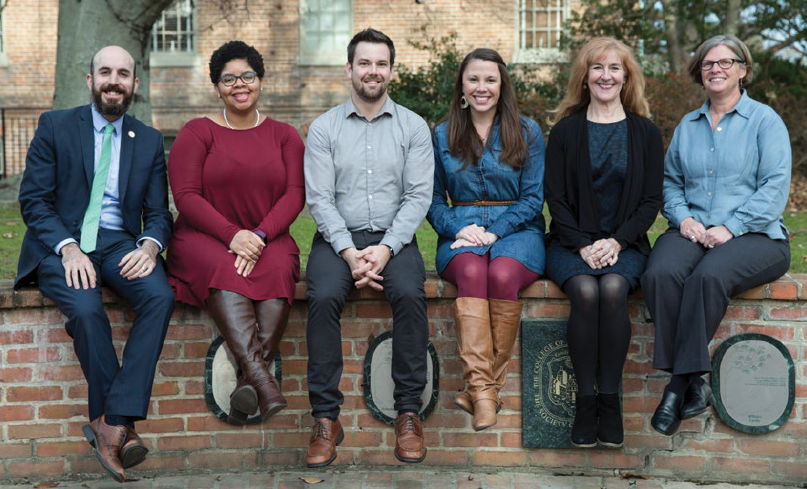 Katie Lowe
Did you attend Homecoming & Reunion Weekend this year? Katie Lowe was working hard behind the scenes to ensure an enjoyable experience for everyone. As director of alumni programming and special events, Lowe organizes and executes engagement opportunities for alumni, family and friends by coordinating events and activities on and off campus. She comes to William & Mary from positions at the University of Maryland and the CAA Conference.
"I grew up in this area, so being able to be home and work with alumni who are so passionate makes executing events a joy: from Homecoming & Reunion Weekend for over 5,000 people to a council meeting for 20," she says. "Every event is as important as Homecoming, and we have a great staff here at William & Mary that allows us to put on high-quality events time and time again."
Valerie Wilkins M.Ed. '08
Have a son or daughter in high school? Valerie Wilkins M.Ed. '08 can help you through the admissions process as your child prepares for college. As the alumni admissions associate, she runs programs such as William & Mary Admission Volunteer Network, which brings together alumni and parents to help prospective students and families learn more about W&M. Her hybrid role between the Office of Undergraduate Admission and the Alumni Association allows her to work closely with families and connect interested students to alumni both near and far. Wilkins also uses Alumni Admissions Webinars to reach families virtually and assist with the admissions process.
"My favorite event of the year is Alumni Admission Weekend," she says. "It's great to see parents and students alike engaged in learning more about what can be a daunting process. When I see their sighs of relief, I know I've done a great job. That's what it's all about, adding value to the lives of our alumni at every stage of life."
Want to volunteer to recruit brilliant, talented students to William & Mary? Sign up at the Volunteer Portal, wmalumni.com/volunteer.
Scott Hale
As assistant director of volunteer management, Scott Hale is your go-to guy for volunteering with William & Mary. On the Volunteer Portal (wmalumni.com/volunteer) there are dozens of opportunities available on campus, nationwide and online. Browse by area of impact (student affairs, fundraising, Arts & Sciences, etc.) or search based on your area and availability. Hale will help you match your talents to the needs of the Tribe.
His mission is to connect alumni to ways they can help others and stay engaged with the university.
"I've never had alumni say they don't want to help out with something. Everyone wants to give back in some way," Hale says.
Through his work placing volunteers, Hale has met many interesting alumni, collaborated with experts in their fields, and learned from professors, students, and alumni alike.
"I like working with all different types of people and seeing the whole gamut of William & Mary experiences," Hale says. "I've helped alumni do everything from speaking on a panel to wearing waders and cleaning up Crim Dell."
Michael Steelman
Based in William & Mary's D.C. Metro office, Steelman helps alumni across the globe network, share and learn through an evolving web of opportunities, connections and events. As director of alumni career management and professional networks, Steelman helps alumni with individual career needs and has hosted more than 70 professional development events in the past two years. A number of these events are free and online, such as the very popular Online Networking Hours and live webinars featuring alumni speakers on a variety of career management topics, including career transitions, innovation, landing a dream job and more.
Want to get involved? Consider setting up a Tribe @ Work network to connect you with fellow alumni at your workplace. Help host or lead a discussion at a future Breakfast & Business Cards event in your region to bring together alumni for industry-focused networking and discussion. Looking to hire, find a job yourself, or share your expertise with fellow alumni? Check out Steelman's latest initiative, the W&M Switchboard. All of these programs and more can be found at wmalumni.com/onenetwork.
"I love connecting people to help strengthen our W&M community and enhance the professional needs of alumni," Steelman says. "Connecting alumni with alumni and watching partnerships form and new doors be opened, is why I do what I do."
Donna Coggins
As assistant director of business development, Donna Coggins helps alumni and members of the William & Mary community connect with each other and the world in new and exciting ways. Coggins arranges Alumni Journeys adventures, including cruises, walking tours, safaris and more. Recent trips have explored Southeast Asia, the Peruvian Amazon, and the Mediterranean. In 2018, alumni and friends will explore India, Costa Rica, Iceland, Cuba and even Antarctica! More than 3,000 people have participated in Alumni Journeys since the program began. Coggins enjoys matching people with travel opportunities and hearing the amazing stories alumni bring home.
Back at the Alumni House, Coggins also helps arrange events including weddings, parties and conferences.
"It's an amazing bond you make with people on the most important day of their life," she says. "You work with them sometimes for over a year to make their dream come true. And then to have a bride look over at you during the reception and smile, so happy that everything is the way she wanted, it is so meaningful," she says.
She is looking forward to making more magical events come to life in the renovated and expanded Alumni House, to be completed in fall 2019.
Val Cushman
In 2018-19, William & Mary is commemorating the 100-year anniversary of coeducation. As director of Alumnae Initiatives, Val Cushman is tasked with inspiring, encouraging and empowering alumnae to give time, talent and treasure in support of faculty and students at William & Mary. To do so, she plans programming and communications that help connect William & Mary women with their alma mater and each other.
One of the programs Cushman is spearheading is the upcoming William & Mary Women's Weekend, Sept. 21-23, 2018. Alumnae, students, faculty, family and friends will fill campus and participate in activities and programs focusing on personal, professional and interpersonal growth.
"Meeting and getting to know the many accomplished women graduates of W&M is inspiring," Cushman says. This milestone and the W&M Women's Weekend are providing a great opportunity to amplify the network and voice of women from different backgrounds to come together to celebrate one another."
Alumni Engagement Contact Information
Katie Lowe
kflowe@wm.edu
Valerie Wilkins M.Ed. '08
vtbrow@wm.edu
Scott Hale
shale@wm.edu
Michael Steelman
masteelman@wm.edu
Donna Coggins
dcoggins@wm.edu
Val Cushman
vjcushman@wm.edu