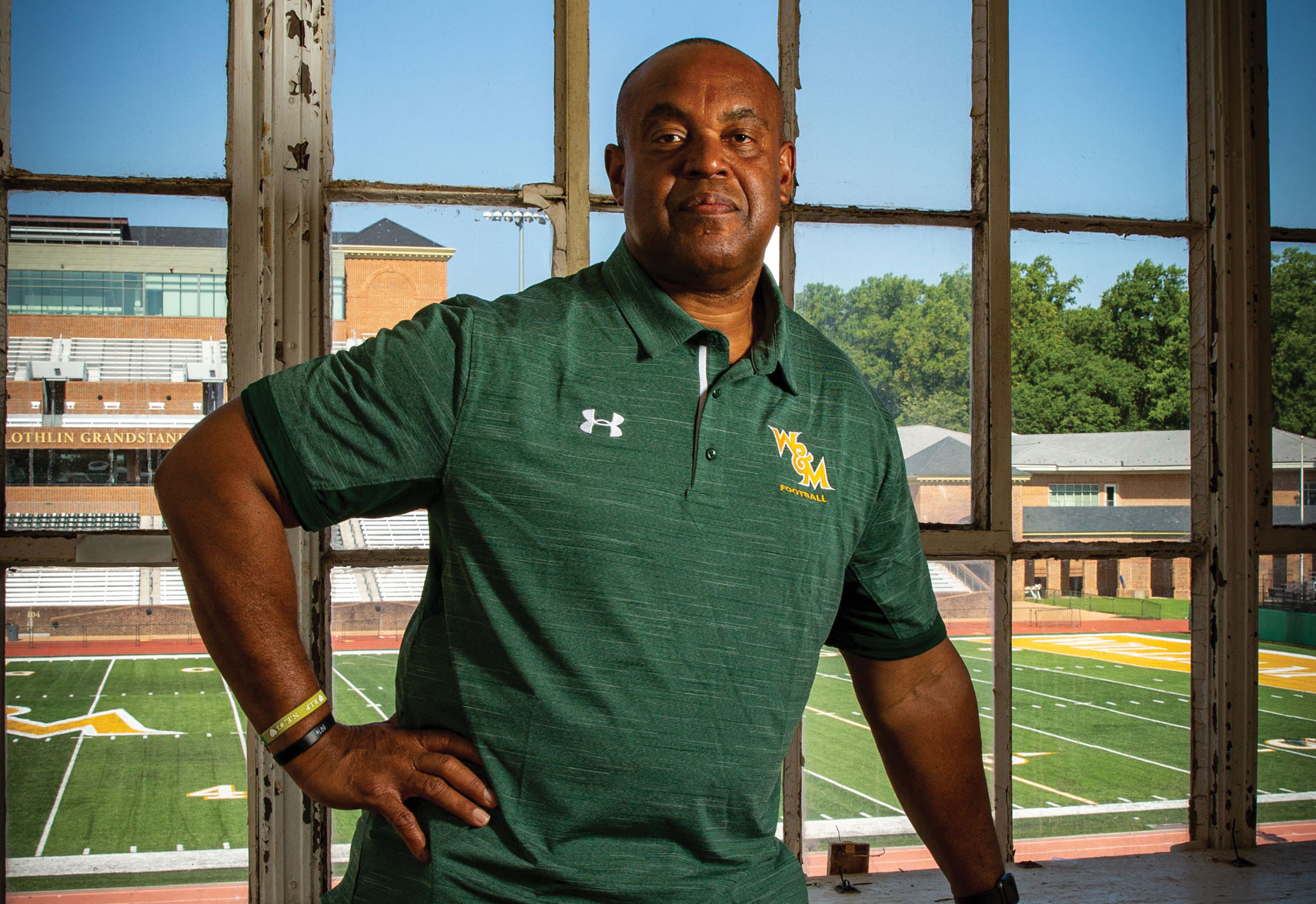 On a steamy, mid-June afternoon, in his office in the Laycock Center, Mike London talks about providence. Or at the very least, about good fortune that he can barely fathom.
William & Mary's head football coach cites the fortuitous confluence of good fortune that his new position brings: half-hour from where he grew up; aging parents nearby; wife's mother close as well; return to the school where he held his first full-time position; world-class university; administrative support; friends and former colleagues dotting the league and area landscape.
Kind of surreal, he says, to return to the place where his coaching career began.
"I've been blessed, I've been really, really blessed," London says. "To leave and go do your thing, and to have people think enough of you to bring you back and give you the opportunity to be a head coach, that's a humbling thing."
For the first time in four decades, William & Mary Football will be led by someone other than Jimmye Laycock '70, P '14. Laycock built a mountainous legacy, with conference championships, NCAA playoff appearances, stellar graduation rates and hundreds of successful student-athletes who are now alumni.
When Director of Athletics Samantha K. Huge searched for Laycock's replacement, she quickly settled on London, who is W&M's first African-American head coach of a men's sport. He was just completing his second season as head coach at Howard University, his third head coaching position after stints at the University of Virginia and his alma mater, the University of Richmond.
"From afar I always admired him," Huge says. "I always thought he was a really calm leader." She says she thought he had the right demeanor and the right philosophy — the development of young people — to be a coach.
"It has been confirmed since his arrival," Huge says. "He's a man who cares very deeply for the people in his charge and he's going to do all that he can to help them develop, both on and off the field."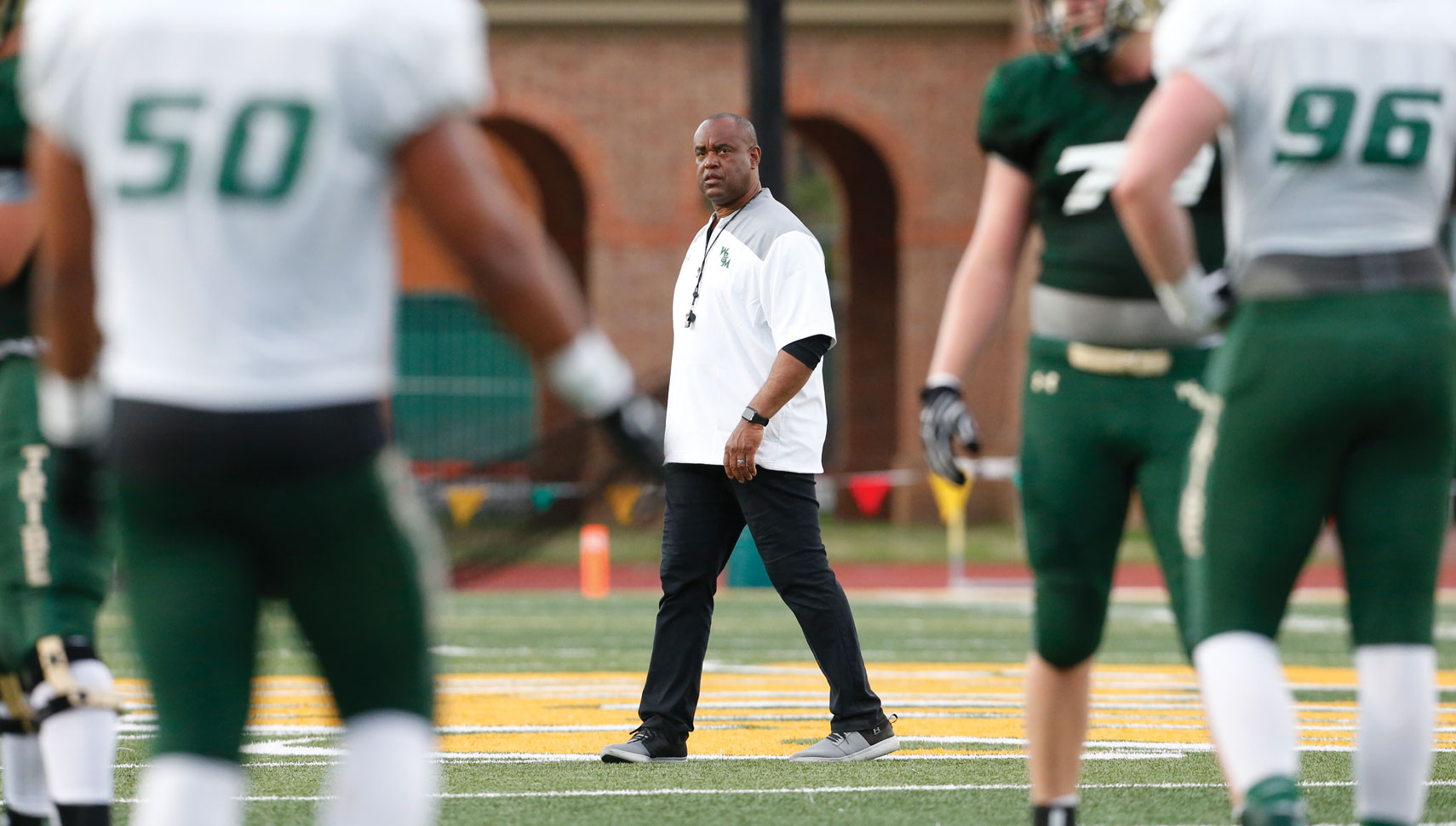 The William & Mary job interested London for many reasons, which only grew after meeting Huge. London has a gregarious, passionate presence and he saw those qualities in the athletics director.
"When you meet somebody similar in terms of aspiration and energy, it's very attractive," he says. "I saw something. It just seemed like a fit."
London turns 59 in October, but projects the vibe of a younger man. He wears his heart on his sleeve and lives by the credo of faith, family and football. For years, his mantra to players has been, "Go to class, show class, treat people with dignity and respect."
London routinely engages with not just players and coaches, but with everyone. It's not uncommon for a chance passing in a hallway to turn into a five-minute conversation about someone's family or a player's class load or general interests. He appreciates the kindnesses and opportunities both large and small he received from the people for whom he worked through the years and is determined to pay it forward.
"To leave and go do your thing, and to have people think enough of you to bring you back and give you the opportunity to be a head coach, that's a humbling thing."
London is eternally grateful to Laycock, who gave him his first full-time position when he was a volunteer assistant at Richmond. He hopes to extend and expand upon Laycock's foundation. William & Mary's emphasis on academic achievement and student-athlete engagement within the college community, while pursuing athletics excellence, meshes with his own view.
"When it all fits and it can work together," London says, "you can boldly claim that a school like this can be successful, not only in the classroom, but on the field. To claim that and pursue that excellence, that's what I'm all in on trying to do."
London's leadership was tested long before his first game at William & Mary. Only months into the job, sophomore running back Nate Evans was gunned down last March in Norfolk. Suddenly, London had to shepherd players and coaches, indeed, the athletics department and community, through a tragedy.
"He was empathetic, he was transparent in showing his own emotions to the student-athletes," Huge says. "He grieved with them, he supported them in their grief. You hope to never have to go through a situation like that, but I was really thankful that he was our coach. Any number of our coaches would do the same, but it was clear his heart was so pure during that process, not only in support of our student-athletes but of Nate's family and our whole community."
London considers himself an optimist, a glass half-full person. He has experienced adversity, but maintains that the highs far outweigh the lows. His tenure at Virginia ended after four consecutive losing seasons, but Huge says that his record there didn't give her pause. She sees a man who won a national championship at Richmond, was an ACC Coach of the Year, engineered a rapid turnaround at Howard and possesses qualities consistent with the type of person and leader that William & Mary should seek.
"The intent of what I try to do," London says, "is educate young men, be a role model and mentor, and engage them on the field knowing that their identity is not tied to just being a football player. The whole faith, family, football [creed] needs to be demonstrated by what you say and what you do. The players should see it and hear it. When you're passionate, they should see it. When you're emotional, they should see it. Football is only part of it."
For more information about the game-day experience visit ourstateourtribe.wm.edu (enter code ALUMNI for 15% off football tickets) and wmalumni.com/events/tailgate.