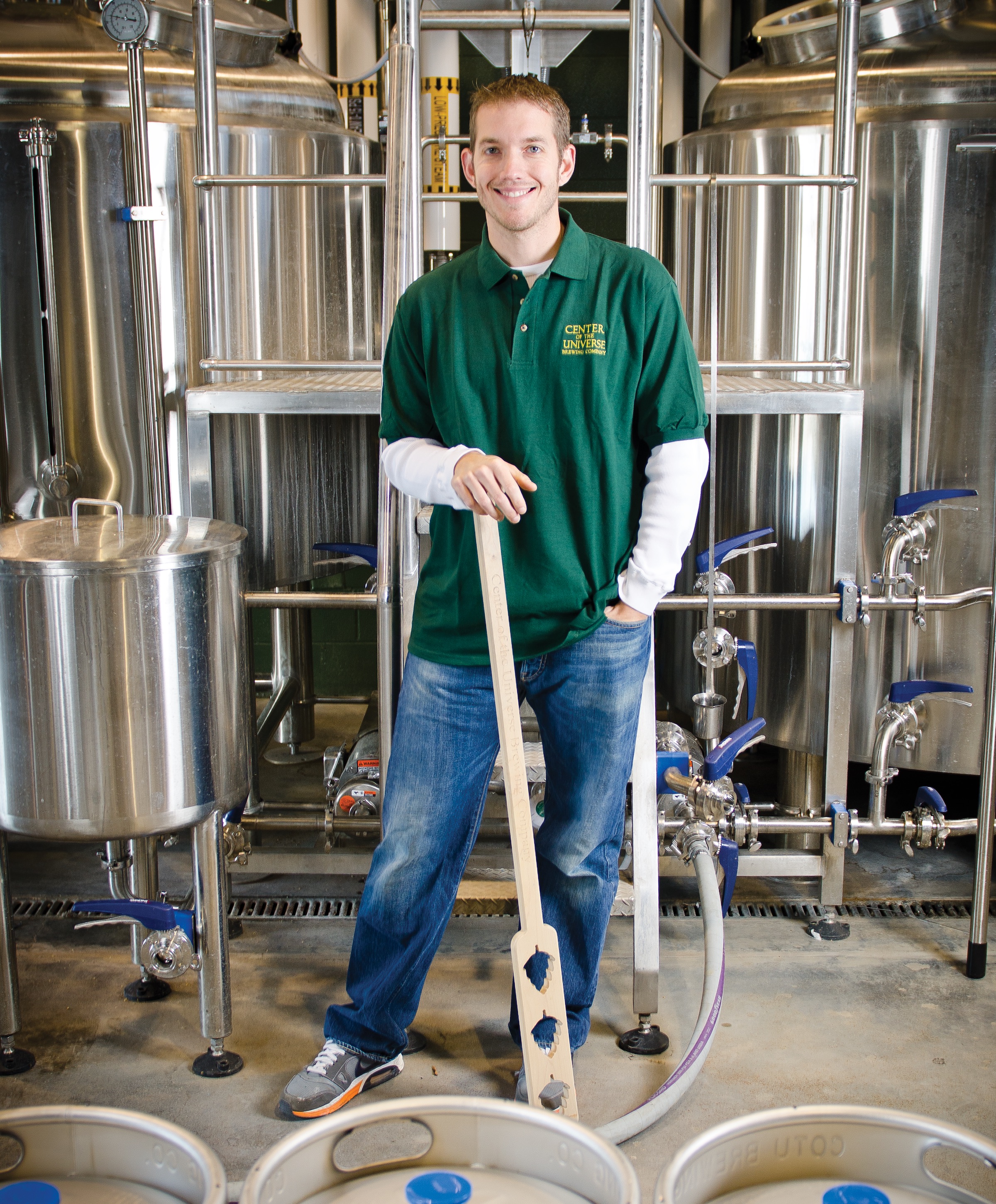 Editor's Note: This article originally appeared in the Winter 2012 issue of the magazine.

Some may describe the first time Chris Ray '03 saw his roommate brew his own beer as love at first sight.
For the former Tribe ace pitcher-turned-Major Leaguer, brewing was an elusive creative outlet outside of the baseball world, a passion which could consume his off-days. And though he never played for Milwaukee, Ray couldn't resist wanting to be a brewer.
"Having a love of brewing is just like having a love for cooking," said Ray, who has been brewing his own beer for more than four years.
"You get to come up with all of these different recipes based on the amount and types of hops, grains and yeast that you use."
However, rather than just brew as a hobby, Ray had a much bigger vision. In fact, this past fall he, and his older brother, Phil, opened their own Ashland, Va.-based brewery called Center of the Universe.
Ray and his brother plan to offer four types of beer, including a West Coast–style IPA and a Kölsch. Once winter rolls around, one of those four beers will be dropped from the rotation to make way for a holiday-style brew rich with spices.
At their brewery — a 12,000-square-foot former newspaper building — the Ray brothers use a 15-barrel system, with four fermenters, a hot liquid and brite tank and a boiler. Currently, Center of the Universe has signed up with Richmond-based Brown Distributing. Their beer will be available at local grocery and convenience stores, as well as various bars and restaurants.
According to Ray, the plan is to take things slowly at first and make sure they sustain their business. Then they want to begin growing the brand.
When Ray was pitching with the Texas Rangers and the Seattle Mariners, he brewed beers for his teammates. In fact, while he was in Seattle, Ray teamed up with a local brewery to create Homefront IPA, a charity beer that went to support Operation Homefront, an organization that assists troops and their families.
His passion evolved during his time in Seattle, as brewing was something Ray would do on the few off days that he had during the season.
His teammates began developing a passion for Ray's brewing.
"I'm happy to say that I converted a lot of guys over to craft beer," said Ray, who last played for the Mariners in 2011.
When it comes to brewing beer, Ray says the biggest challenge boils down to one critical thing: being able to brew the same beer time after time. Major issues can arise by creating barrels of beer that don't taste like their forebearers.
Frankly, it's what makes or breaks a brewer, he says.
"Consistency is the biggest thing and you want to maintain the same product from batch to batch," said Ray, who plans to allow tours at the brewery and on-site sampling. "And when you're dealing with things like yeast, which is a living organism, you need to make sure that it is healthy. That's why we have a lab in our brewery where our head brewer looks at these kinds of things."
In fact, though creativity and passion are necessary aspects for successful brewing, Ray says that basic science is responsible for a truly good batch of beer.
"When it comes to the end product, 10 percent of it relates to brewing and 90 percent comes down to making sure everything is clean and intact."
Every day Ray says he counts his blessings. For one, he was able to have a professional career playing the sport he grew up loving. And now he gets to start a second professional career with his greatest passion outside of the diamond.
But as Ray will tell you, there is a huge difference between simple home brewing and actually running a brewery. Instead of just making beer in his basement, Ray is swamped with a myriad of tasks that are constantly changing.
"Everything is a little different week to week," said Ray of his day-to-day responsibilities at Center of the Universe. "Some weeks we are meeting with distributors and other times we are working on fine-tuning our recipes or doing work regarding our licensing. There are many aspects that go into running a brewery."
Ray says that the brewing industry is a part of the business world unlike any other. For starters, he says that brewers are more like brothers, trying to help each other out rather than getting caught up with competition.
"I fell in love with the camaraderie of the brewing world," said Ray. "Everyone is close-knit and you aren't competing for market share. There are a lot of brewers that helped us out as we prepared to open the brewery. There was no way that we could have done it without them."
For Ray, perhaps the most special aspect of starting his own brewery is working with family. Natives of Florida, Ray and his brother have lived in separate states since his William & Mary days. Starting a brewery was a natural fit for the pair since Phil is also a home brewer in addition to being a mechanical and nuclear engineer. So joining forces with his brother wasn't completely unexpected.
"It's amazing to work with my brother because we've always been really close," said Ray.
Phil recently moved to the Ashland area to begin work on the brewery. To make things even sweeter for Ray, his father-inlaw and brother-in-law have also been involved with getting the brewery going.
Ultimately, for Ray, he's in the best position he could imagine right now.
"My brother and I have the same vision and the same passion. If I could have one person that I get to work with, it would be him."