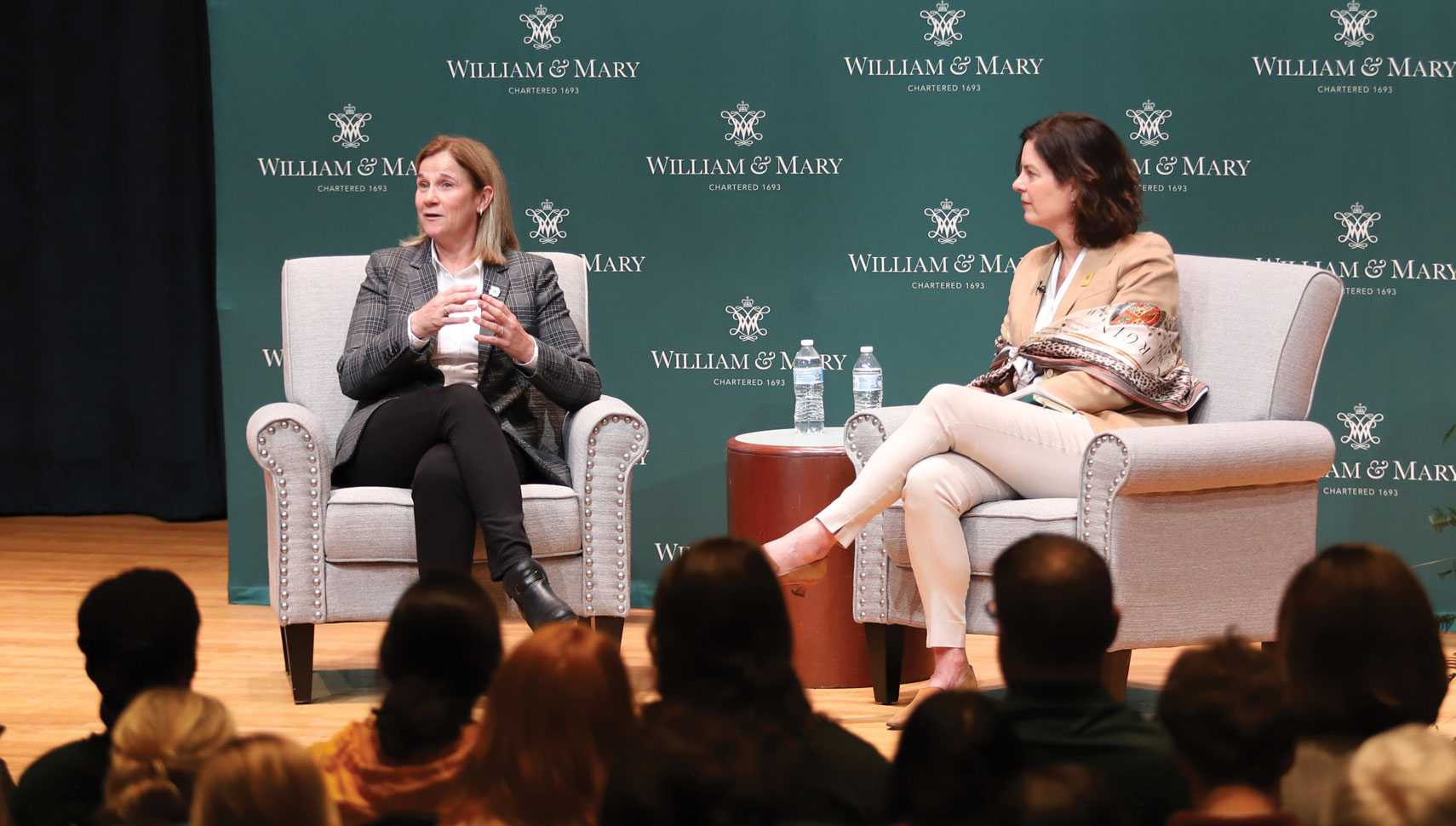 During Homecoming & Reunion Weekend 2019 this October, President Katherine A. Rowe hosted a conversation with Jill Ellis '88, L.H.D. '16, former head coach of the U.S. Wom- en's National Soccer Team. They discussed the bold moments that led to the team's victories in the 2015 and 2019 FIFA World Cups, Ellis's continuing relationship with W&M and what it takes to lead in high-pressure situations.
More than 600 members of the William & Mary and Williamsburg community attended the conversation or watched the livestream of the event. A recording of the event is available at magazine.wm.edu/ellis-livestream.
Ellis says among the key lessons she learned from her World Cup victories was that it took all 23 players and their diverse personalities to win. For example, she made a point to list her non-starters as "game changers" rather than reserves when posting the starting lineup the night before games. Post-game video reviews always started with a shot of players celebrating on the bench to indicate that everybody was a part of each effort.
Emphasizing the urgency of constantly evolving and improving, she acknowledged the responsibil- ity of leaders to build on past successes.
"As a leader, if I'm the same leader today that I was two years ago, I'm failing," Ellis says.
As soccer in the U.S. moves forward, Ellis says it's necessary to expand the possibilities for those coming next. At the end of her victory tour last fall, she stepped down as head coach and is currently serving as an ambassador for U.S. Soccer.
"I want my daughter to do what she aspires to do," she says. "We have to create the environment we want to be in. We have to have more women in leadership positions."
She also emphasized the importance of being the recipient of an athletics scholarship.
"I was a child of immigrants ... we struggled to make it, and so I benefited from the scholarship," Ellis says. "There are so many brilliant people out there that don't have the benefit of a high-level income to afford certain things. So our ability to pay it forward, our ability to create opportunity for others, is probably one of the greatest gifts. And this school sets you up for success, so giving back is part of our responsibility.
"I recognize that now. That's why I come back. It's important for me to stay connected to my alma mater because it was a platform for me to achieve the things I have. Scholarships are a remarkable and incredibly valuable gift if you can do it."