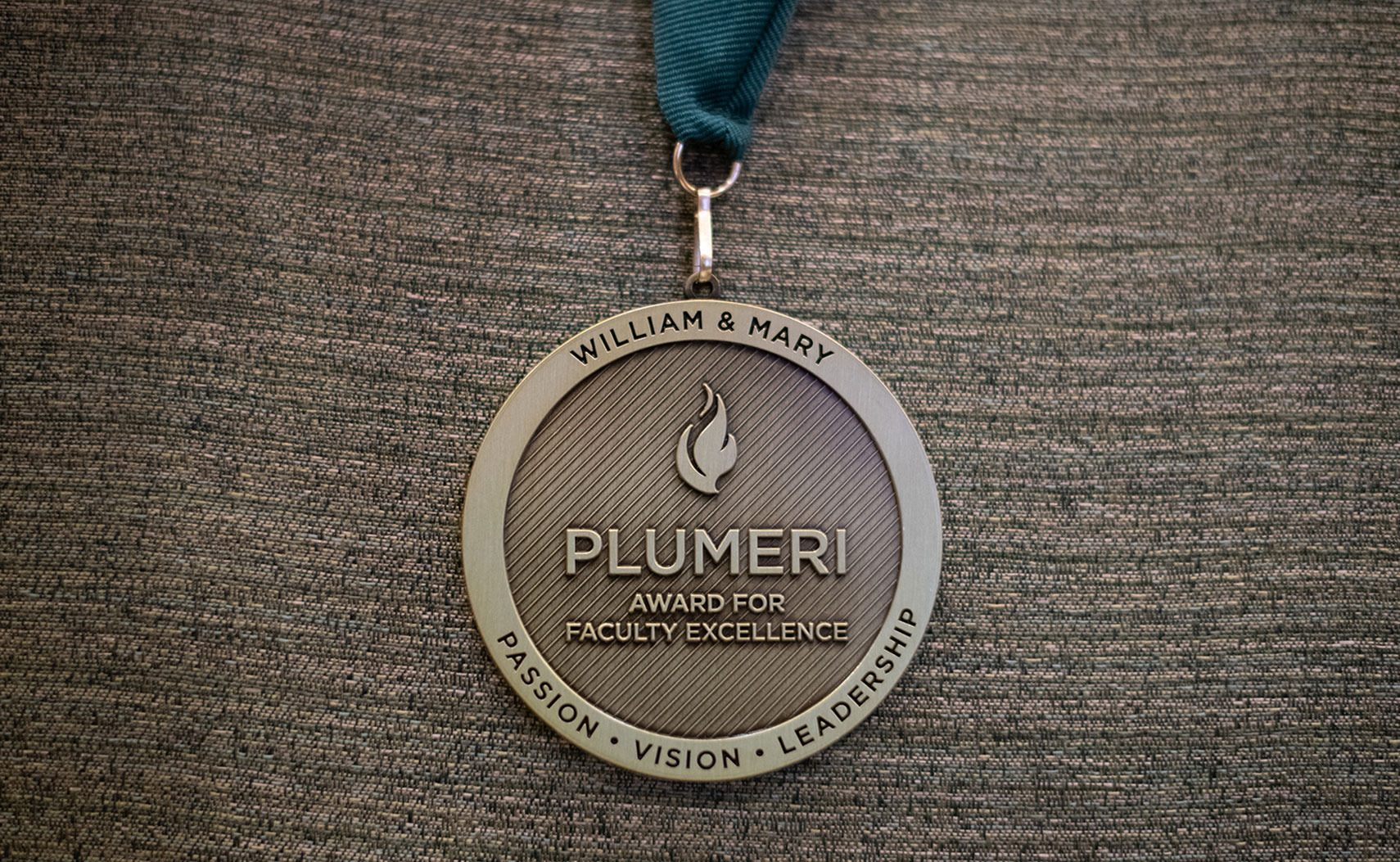 Life histories of sea urchins, the value of face-to-face diplomacy between global leaders, effects of gentrification on urban religious communities, how to make music using electrical sparks — these are some of the topics explored by recipients of this year's Plumeri Awards recognizing excellence in faculty and athletics leadership at William & Mary.
Joseph J. Plumeri '66, D.P.S. '11 established the award in 2009 to help outstanding professors enhance their teaching and scholarship.
"These academic and athletics leaders dream big and they encourage their students to do the same," Plumeri says. "They reach across disciplines. They form partnerships outside William & Mary to bring about real change in their community and around the world. They also remind us that learning can be exciting. It can be fun. And once in a while, if you have the right spirit and determination, it can be groundbreaking."
Recipients of the prestigious Plumeri Awards undergo a highly competitive selection process and are chosen based on their accomplishments in the areas of discovery, scholarship, teaching and athletics.
More than 200 faculty members have benefited from Plumeri's generosity during the past 13 years. Each of the current 10 honorees will receive an award of $20,000. Here are the 2021 recipients:
Alan F. Albert '69, M.Ed. '71, P '03
Associate Director of Athletic Development
Jonathan D. Allen
Associate Professor of Biology and Co-director, Undergraduate Program in Marine Science
Annie L. Blazer
Associate Professor of Religious Studies
Joshua Erlich
Professor of Physics and Physics, Undergraduate Program Director
Vivian E. Hamilton
Professor of Law and Founding Director, W&M Center for Racial & Social Justice
Marcus C. Holmes
Associate Professor of Government and Academic Director, William & Mary-St Andrews Joint Degree Programme
Meredith W. Kier
Associate Professor of Education and Chair, Curriculum & Instruction; Director of Secondary Science Education
Neil L. Norman
Associate Professor of Anthropology
Silvia R. Tandeciarz
Chancellor Professor of Modern Languages and Literatures
Kristin L. Wustholz
Associate Professor of Chemistry and Class of 1964 Distinguished Associate Professor