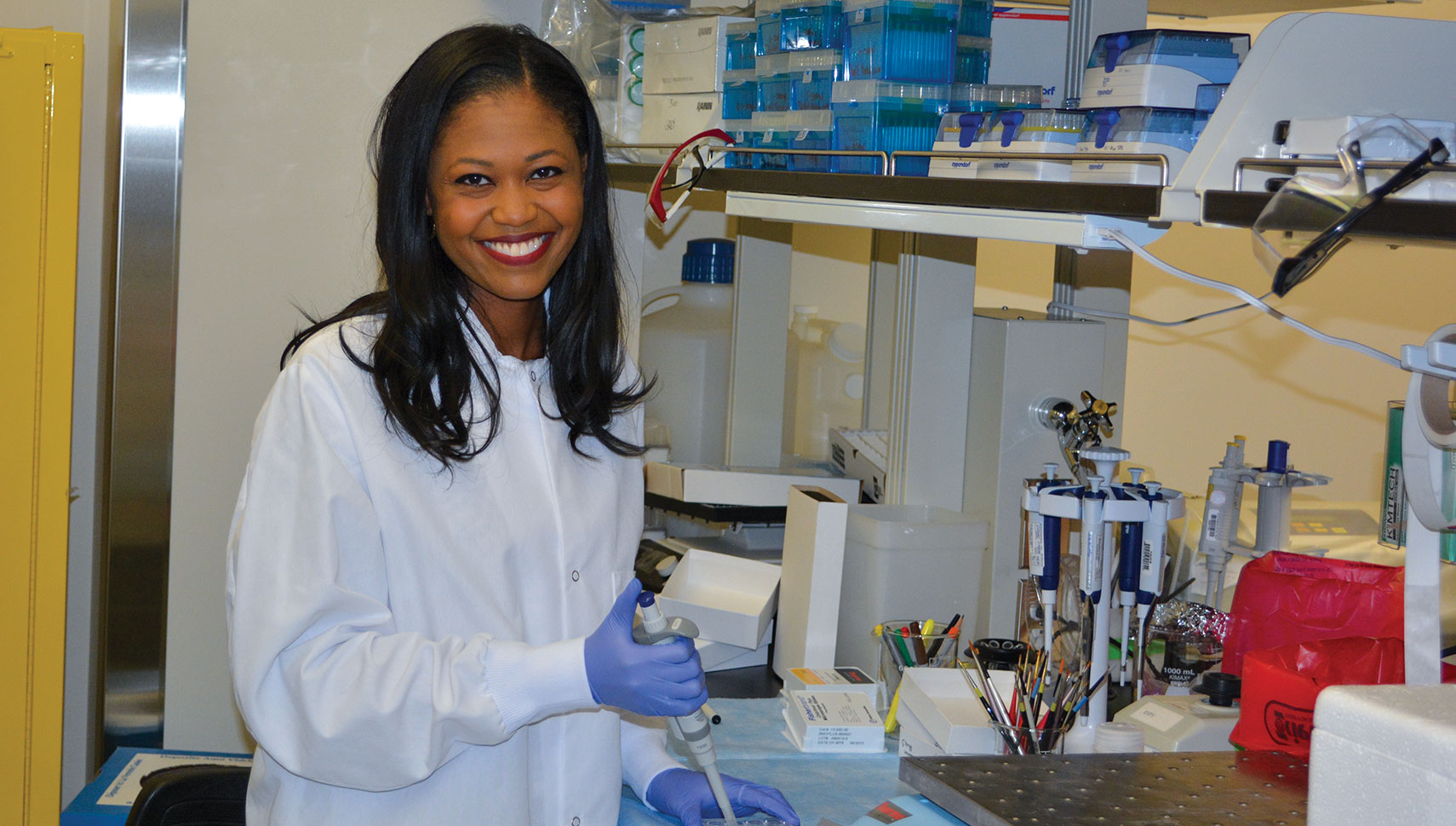 The daughter of a retired Air Force colonel and granddaughter of a Korean War veteran, Candice Hatcher-Solis '07 feels a personal connection to research that could improve military service members' ability to carry out their missions.
As a scientist in the Air Force Research Laboratory's 711th Human Performance Wing on Wright-Patterson Air Force Base near Dayton, Ohio, she directs experiments on how noninvasive brain stimulation can improve learning, alertness and memory and counter the effects of stress, fatigue, fear and pain.
"I'm passionate about doing whatever I can to help our airmen that are defending our country," says Hatcher-Solis, who was born at Robins Air Force Base in Georgia. She grew up living on military bases and has two uncles who served in the Navy.
"We are interested in optimizing cognitive performance," she says. "We want to determine if these technologies are effective in enhancing their ability to gather intelligence and conduct surveillance and aerial reconnaissance. The end goal is to transition this out to the field in an operational environment."
Hatcher-Solis leads the Air Force Research Laboratory's Neurobiology of Cognitive Performance team, which is investigating the effects of transcranial direct current stimulation through electrodes that target specific areas of the brain.
Her work "stands to have far-reaching implications for the warfighter," according to an Air Force announcement in June of her recognition with the 2020 Women of Color STEM Technical Innovation in Government award. Presented by Women of Color Magazine, the award recognizes Hatcher-Solis' accomplishments in the area of science, technology, engineering and math, as well as her spirit of innovation and commitment to mentoring other young scientists.
"Growing up, I didn't see a lot of women of color in STEM fields that I had access to, and I believe that representation is important," she says. "It's important for students to see someone who is similar to themselves to understand that this is something they can achieve."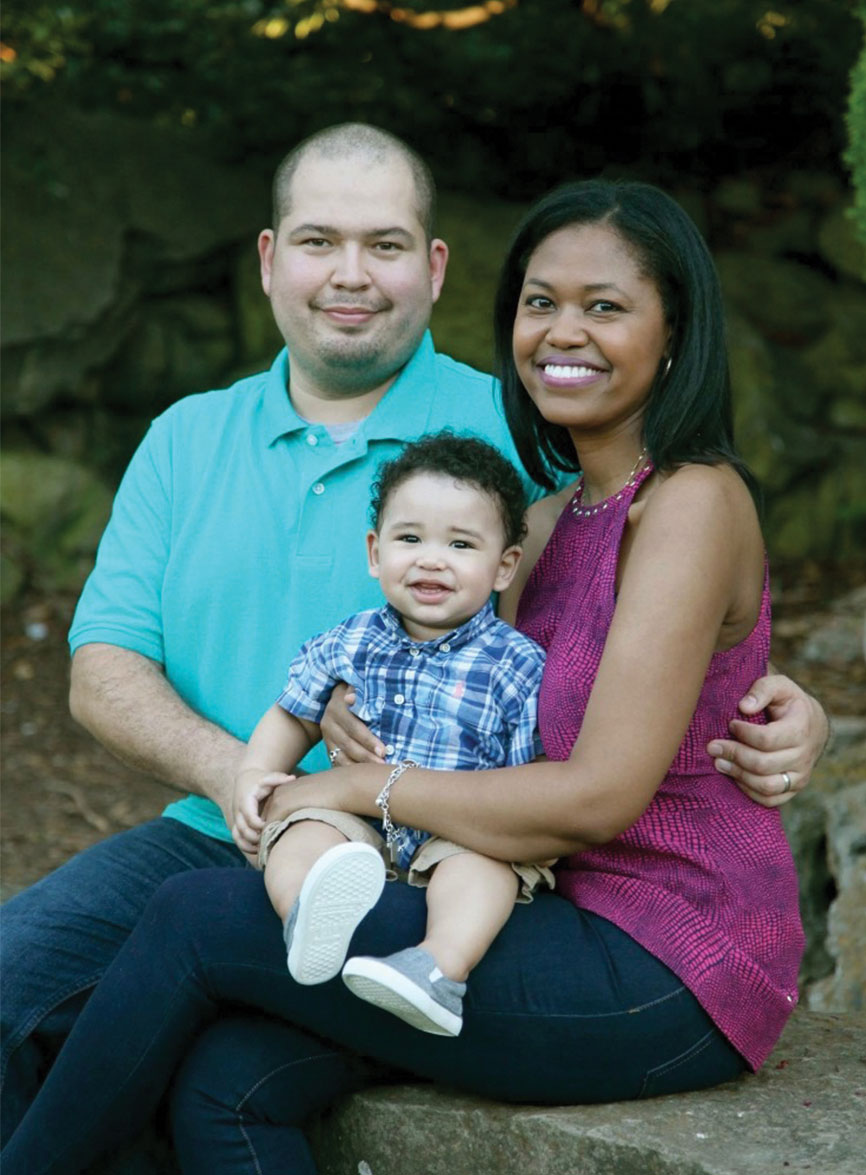 The Air Force announcement describes Hatcher-Solis as an up-and-coming scientist who was named the Air Force Research Laboratory Scientist of the Quarter in June. She is the vice chair for Air Force Women in Science and Engineering, and she supports the Leadership Experience Growing Apprenticeships Committed to Youth program, an outreach initiative to encourage students who are underrepresented in STEM fields.
None of that surprises her father, A.G. Hatcher Jr., who says she was always smart, inquisitive, resilient, hard-working and goal-oriented — not just in her schoolwork, but also as a cheerleader and softball and volleyball player.
Candice's father and her late mother, Dorothy, were both born in Alabama and attended college in their home state. The first in their families to pursue higher education, they emphasized the importance of a college degree to Candice and her younger sister, Lela.
"It wasn't so much that we were pressuring her to excel," he says. "She pushed herself."
He recalls a time when he was driving Candice to Bishop O'Connell High School in Arlington County, Virginia, during exam week, and she called her teacher to check on the schedule.
"The teacher said, 'You don't have to take the exam at all. You have a B-plus,'" he says. "I'm thinking I can go back home and have an easy day. I don't have to drive to Arlington." But Candice wasn't deterred. "She said, 'Dad, I want to take the exam. I want to make an A in the class.'" He reminded her that her grade could also fall as a result of the exam. "I said, 'Are you sure?' She said, 'Yes.' And she got an A in that class. That's how driven she is."
Sometimes the family's frequent moves for her father's military career worked against Candice, who attended three different high schools in four years. When the Hatchers moved to Las Vegas for her senior year, she had been in the top 10% of her class at Bishop O'Connell, a prestigious private school, and at Grafton High School in York County, Virginia, but her grade point average dropped because not all of her credits transferred. Still, Candice received a merit scholarship to attend William & Mary, based on her academic performance.
"William & Mary has the right combination of feeling like a small institution, but having the academic rigor of a university," she says.
A history major, she also took pre-med science courses, including an organic chemistry class with Chancellor Professor Christopher Abelt that sparked her interest in research.
"In addition to talking to me about lecture material, he took me to his lab and he was really the first to do that," she says. "That opened my mind to some of the research that goes behind the concepts I was learning in class."
Hatcher-Solis joined William & Mary's Nu Chi Chapter of Alpha Kappa Alpha sorority, where she began her mentoring efforts as part of her community service work. A sorority sister, Dr. Kiila Tollerson Johnson '05, became a mentor and guided her toward a post-baccalaureate program at Virginia Commonwealth University.
It was there that Hatcher-Solis earned her doctorate in physiology and biophysics. She also met her husband, Ernesto Solis Jr., when the advisor for his doctoral program in neuroscience moved from Vanderbilt University to VCU. After completing her doctorate in 2016, Hatcher-Solis spent a year as a fellow at the National Institutes of Health's National Institute on Drug Abuse in Baltimore before starting her position at the Air Force Research Laboratory. Now that her father has retired, she's carrying on a part of the family's government and military legacy.
"She gets to research how airmen deal with stress, pain and anxiety," A.G. Hatcher says. "She is so excited about her work because it's going to help our Air Force equip airmen with the kinds of things they need when they go into battle — and not just airmen, it could also help soldiers, sailors and Marines. And some of these things can end up saving lives."