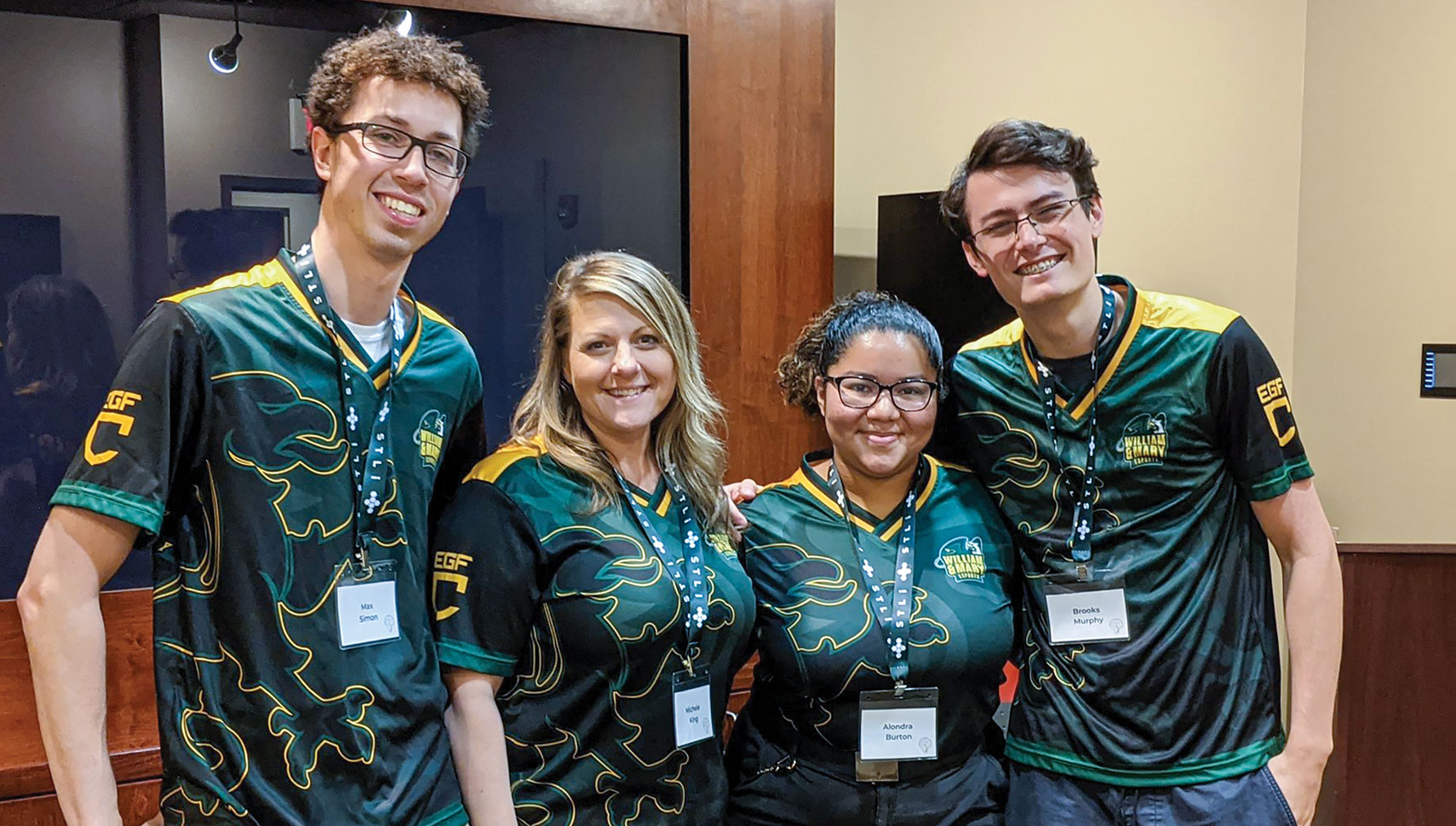 In a dark room, screens glow. The audience waits with bated breath. With the flick of a wrist, a called out command, a coordinated attack — a team goes to victory! These are varsity athletes. Their sports: the video games Apex Legends, Chess, FIFA, League of Legends, Overwatch 2, Rocket League, Splatoon 3, Super Smash Bros. Ultimate and Valorant. Welcome to the world of esports.
In the fall of 2020, traditional sports were canceled and students faced limitations on group gatherings that made socializing more difficult. The William & Mary Academic & Applied Esports program, founded that fall, helped students come together during a time of physical distancing and gave them an outlet for collaboration, team building and competition.
The idea came out of the University Teaching & Learning Project, where faculty can propose ideas for new projects and initiatives. Pitched by Michelle King, now esports director, along with Karen Conner Ph.D. '19, Terry Trojak and John Drummond, who became Esports Advisory
Board members, the W&M Esports program was created in 2019.
Discussing the program at the university's Esports Community Day in 2021, Provost Peggy Agouris said it "combines the spirit of what it is to be a William & Mary student — the excellence, the creativity and the competitive drive to excel."
Today, the W&M Esports program includes 80 varsity players who compete in nine different games. Students learn and develop new skills through practice and direction of head coaches in the Esports Training and Research Center and compete against other schools. W&M is a member of the Electronic Gaming Federation, the governing body for D1 schools with an esports program, which organizes these competitions.
Once thought of as casual entertainment, esports has grown into a recognized academic and applied learning initiative. Esports at W&M is a center for collaboration, with courses exploring the intersections of gaming, learning theory, psychology, computer science, music, event planning, marketing, sports analytics and hospitality.
"The esports program is interdisciplinary in nature and meets students where they are. It puts an esports lens on their knowledge, skills and abilities, and offers experiential opportunities for students to apply esports concepts to real-world experiences," says King, a William & Mary faculty member for over two decades.
Students develop leadership and research skills by contributing to published articles and presenting their findings at conferences where they also network with people in the esports industry, which is estimated to generate revenues of up to $25 billion annually.
Alondra Burton '22, who was a neuroscience and biochemistry major and Overwatch team captain, attended an international research conference in 2022 hosted in Sweden by the Esports Research Network through the W&M Esports program.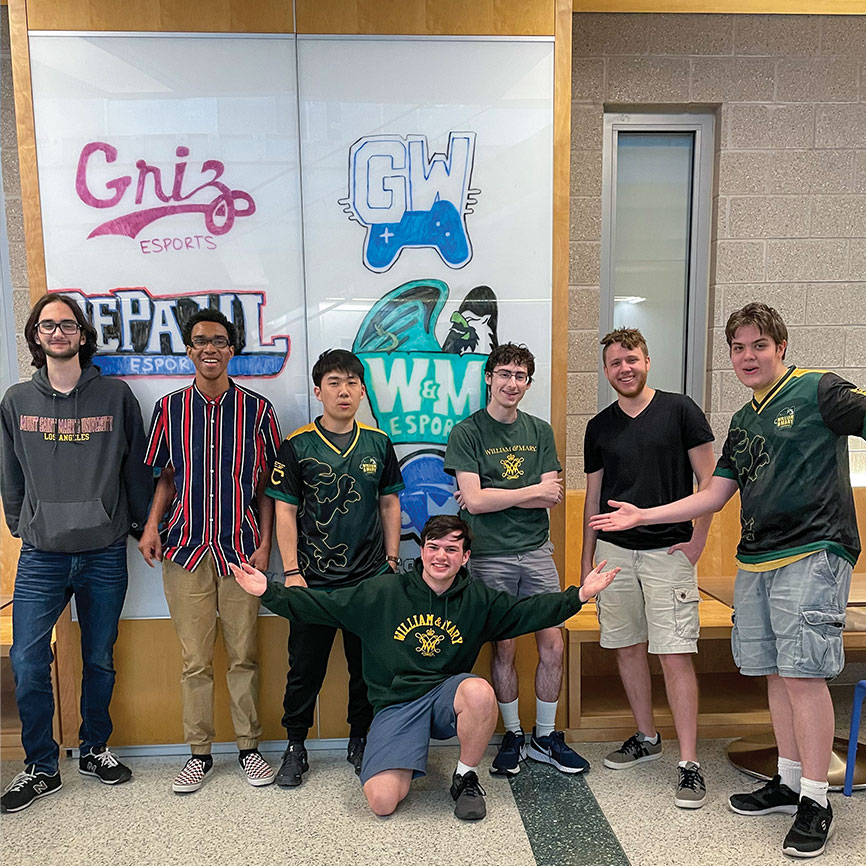 "We explored topics such as esports psychology, leadership and sustainability, which was interesting to me because I've always wanted to create a socially sustainable, safe environment for players, which I believe is critical for competitive success," Burton explains.
Now, she works as a contractor with the Department of Homeland Security's BioWatch Program, which provides early detection of bioterrorism events and helps communities prepare a response. She says her esports leadership experience gave her an advantage in her job interview.
Burton is not alone in finding professional opportunities through the Esports Program. Hannah Smith '21, former varsity captain of FIFA, currently works at Epic Games, a video game company, as the employee engagement coordinator after interning as a diversity, equity and inclusion intern the summer prior to graduating from W&M. Caleb Rivers '22, who was an esports pioneer and a head coach for the Super Smash Bros. Ultimate team while at W&M, is the esports coordinator for Bates Technical College in Tacoma, Washington.
King created the Esports Pioneer program for students looking to be involved in esports beyond competing. Esports pioneers manage the program's social media presence, connect W&M Esports with sponsors and conduct research to bring new ideas, strategies and skills to the teams. Wellness advocates are students from a variety of disciplines who work with the esports teams to encourage healthy habits, assist in mediating conflict and provide help with other issues participants may be facing.
Marissa Chai Hibbert '22, M.S.B.A. '23 was an esports pioneer, a varsity player and a head coach. She explains that "a good part of my development as not only a student, but also as a gamer and a businesswoman, came from my work as a social media manager, outreach specialist and coach on the W&M Esports team." After graduating from the Raymond A. Mason School of Business this spring, Hibbert plans to pursue a career in the gaming industry as an analyst.
While members of the W&M Esports program work to learn new skills, win more titles and improve the program, the Esports Faculty Task Force is designing a proposed esports minor, which will allow more students to learn through competitive gaming.
In addition to academics, research opportunities and professional engagement, the W&M Esports program has created a community of students who bond over a shared passion. Sam Wilson '24 immediately noticed this when he transferred to W&M after a semester abroad in London with the Verto program.
"The first thing that struck me when I joined the W&M Esports program was how welcoming everyone was, and the general drive and forward thinking that was present from the top down," he says. "Everyone had this drive to make the program better every day."