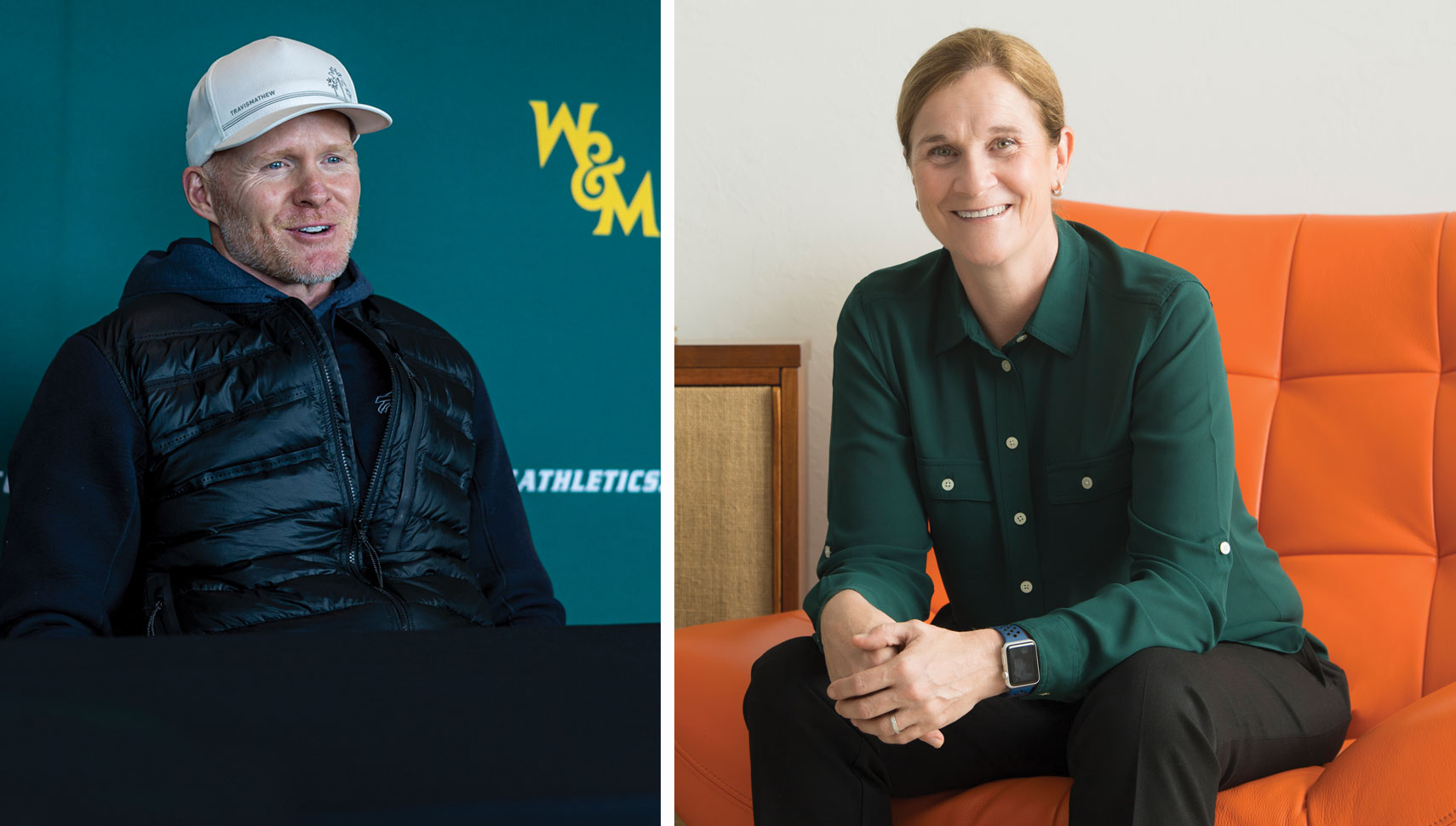 As athletes at William & Mary, Sean McDermott '98 and Jill Ellis '88, L.H.D. '16 were the ultimate competitors. Each took that approach into the coaching profession, which would result in far more wins than losses and a slew of honors.
McDermott, a former Tribe football player and current head coach of the Buffalo Bills, returned to Williamsburg in March to be inducted into the W&M Athletics Hall of Fame. Among his achievements: being the first coach since the early '90s to lead the Bills to three consecutive AFC East championships. While meeting the William & Mary team, he helped head coach Mike London inform long-snapper Nick Levy '26 that he has received a scholarship.
Two months later, it was Ellis' turn. A former Tribe soccer player and head coach of the U.S. Women's National Team (USWNT), Ellis was inducted into the National Soccer Hall of Fame on May 6 in Frisco, Texas. Among her achievements: coaching the USWNT to FIFA World Cup championships in 2015 and 2019.
During their induction speeches, both touched on those who paved their way.
"It's special to be here, special to be around so many great people," McDermott said. "I think that's what makes William & Mary special — the people. "In Buffalo, we get credited a lot with building a culture ... and I think it's no secret to how we've done that. It's because of the people. [That's] no different than what happens here on campus
every year."
Ellis was joined in Frisco by W&M President Katherine A. Rowe and former teammates Julie Cunningham Shackford '88, P '23, Nancy Reinisch O'Toole '88, P '23 and Marsha Fishburne Lycan '87. She thanked all who nudged her along, both at William & Mary and beyond.
"I remember a quote I heard a couple of years ago that beautifully captures the gratitude that I feel today," she said in her induction speech. "'I am simply a mosaic of the people that I've met and the things that they have carried.' I am so damn lucky to have had crossed paths with so many extraordinary people.
"To my family and friends, teammates, former players and colleagues, I thank you for having such broad shoulders. You have shared your wisdom, showed me love, offered me feedback. ... Today does certainly not happen without the intersection of our lives."