Alisha Graves '99 and Kathleen Mogelgaard '95 have been working for the past 15 years on opposite coasts for a cause thousands of miles away from both of them: health and rights for women and girls in the Sahel region of West Africa. With Graves working to implement programs in the region and Mogelgaard advocating for policy change, the pair are seeking to promote girls' and women's decision-making power.
In 2012, Graves' mentor Malcolm Potts, a human reproductive scientist and professor of public health at University of California, Berkeley, was studying the demographics of the Sahel region in correlation with climate change when he discovered a frightening trend. By midcentury, the temperature in the Sahel is expected to get about 3.5 degrees hotter — and at the same time, the population is expected to grow by two and a half times. With this in mind, he decided to hold a conference to examine links between population, climate change and women's rights and development in the Sahel. Potts invited Graves to moderate the conference, which was attended by professionals from around the world. Out of this event grew the OASIS Initiative: Organizing to Advance Solutions in the Sahel.
At this point in her life, Graves was a new mother. After learning that many women in the Sahel worry about feeding their children, she realized "I didn't want my children growing up in a world where other children are living in extreme poverty. I decided then I would not just let this conference be an academic endeavor. I wanted to find a way to dedicate my career to girls' education and voluntary family planning in the Sahel." Shortly after the conference, Graves and Potts launched the OASIS Initiative.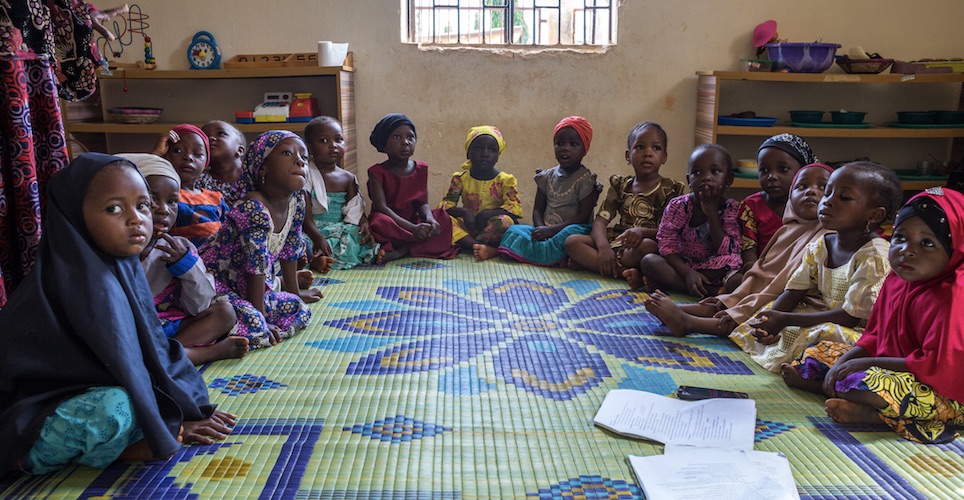 Graves explains that it is extremely difficult to make progress toward sustainable development goals in the context of rapid population growth. For example, if the region's population doubles every 20 years, governments not only have to close the existing gap in health workers, hospitals, teachers and schools, but they must also keep up with the pace of that growth.
OASIS works with local partners to help keep girls in school and encourage young women to become leaders. These efforts benefit girls and women directly, but also contribute to slowing population growth in the region, which in turn, makes sustainable development more possible. With local partners, OASIS offers Safe Spaces for girls. Safe Spaces are mentored groups that encourage teenage girls to stay in school by fostering peer-to-peer connections, teaching critical life skills and offering academic support. Over 50,000 girls across seven states in northern Nigeria and Niger are part of Safe Spaces. They are 20 times more likely than other girls in the region to graduate from secondary school and they marry an average of 2.5 years later.
While OASIS conducts programmatic work directly in the Sahel region, Kathleen Mogelgaard amplifies and shares that work with policy audiences in Washington, D.C., to guide lawmakers toward advancing OASIS' vision. Mogelgaard is director of the Population Institute, a research and advocacy organization. Graves and Mogelgaard originally connected through a global coalition of organizations that share interests in policy and programs regarding population, health and the environment, but it wasn't until they met in person as panelists at a Project Drawdown conference in 2019 that the Population Institute partnered with OASIS.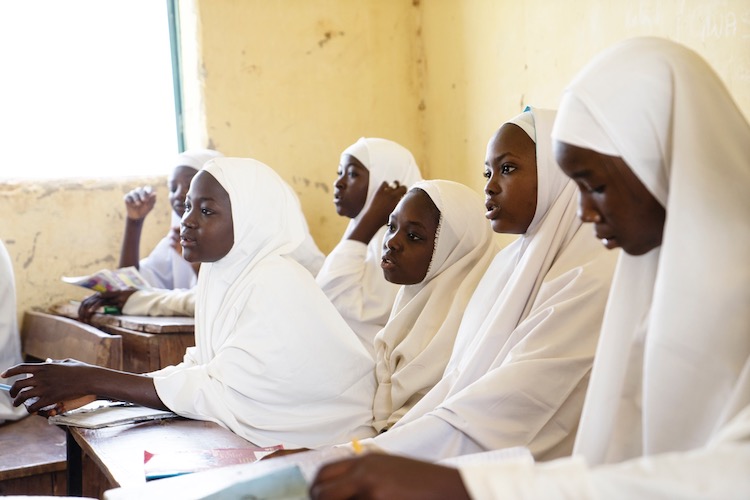 Graves' work with OASIS and Mogelgaard's work with the Population Institute are assisted further by Brooke Russell, who works for W&M's AidData international development research lab. Although AidData is not formally involved with OASIS, Russell independently leads a funding analysis for the organization. (AidData's center on Scotland Street was formerly known as the "hippie house" where Graves lived her junior year.)
After Graves reached out to her, Russell jumped at the opportunity to get involved. "23%-26% of married women in the Sahel are in need of modern contraceptives," Russell explains. "So, our goal was to find out what funding was necessary to meet all women's needs for family planning."
Incorporating the methodology used by the Guttmacher Institute investigating similar questions on a global scale, Russell was able to determine what is financially necessary to create change in the region: An additional $1.3 billion annually could close the education and family planning gap in the Sahel.
With Graves' on-the-ground insights and Russell's financial data, Mogelgaard presents the group's findings to policymakers in D.C. to help advance their vision of a world where women and girls have gender equality, reproductive autonomy and access to education. Mogelgaard explains that being able to convey the human story behind all the data and information is what pushes Congress and the president's administration to extend funding for foreign assistance.
A former environmental science major and sociology minor, Mogelgaard attributes her career trajectory to her time at W&M. She describes how the interdisciplinary pairing of environmental science with sociology created new modes of thinking about global issues: "I was asking questions like, 'What causes climate change?' and 'How are we going to tackle this issue?' while I was also learning about population issues and ongoing population growth in certain parts of the world. A lot of that growth was driven because women didn't have reproductive autonomy, and I realized that the achievement of gender equity could have implications for our ability to tackle global environmental challenges.
"The seeds with my current work were very much planted at W&M," Mogelgaard says.
After graduating, she worked in the environmental sector as well as in reproductive rights. "I see the work that I do now as a nice marriage of those two things, looking at larger systems and how they connect to one another and how we can develop solutions to some of the world's thorniest problems by investing in the health and rights of women and girls," she says.
While Mogelgaard graduated from W&M the same year that Graves arrived, the two didn't cross paths until years later. But both have fond memories of their alma mater. "I went to visit Williamsburg for the first time and just fell in love with the campus," Mogelgaard recalled. "It's so beautiful."
"I just fell in love," Graves agreed. "I hadn't been in the South before, so when I got there, and the trees were buzzing with insects, and it was so hot that there was this heat mirage over the roads … I miss it."
After graduating from W&M, Graves worked with Teach for America in Washington, D.C. There, two mothers of students in her classes confided in her that they'd had unintended pregnancies, which caused her to think more about the importance of family planning. With this prompting, Graves enrolled at UC Berkeley and received her master of public health degree. There she met Potts, the professor who eventually became her mentor as well as co-founder of OASIS.  
Mogelgaard advises students take time to reflect in order to discover what they're truly passionate about. Graves, on the same note, advises getting outside to clear your head whenever possible. "William & Mary is a beautiful, rich environment. Take advantage of it."
To learn more about OASIS and the work they do in the Sahel, visit oasissahel.org.