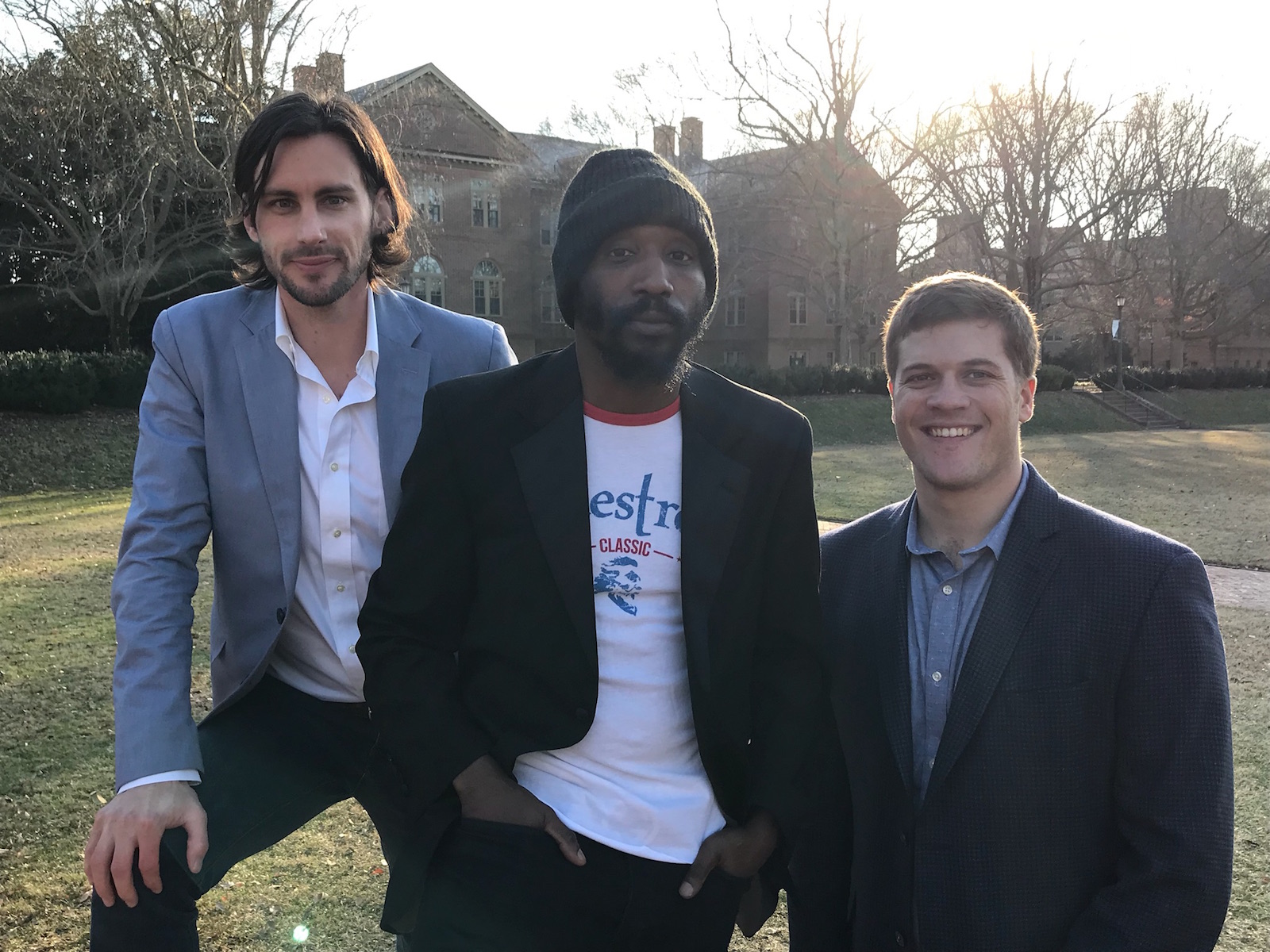 In Philadelphia's Strawberry Mansion neighborhood, heroes don't wear capes. They wear boxing gloves.
In his first outing, film producer Bradford Downs '13, along with director Timothy Blackwood has created "The Conqueror," a short film centered on Jerome Conquest, a Philadelphia maintenance worker and professional boxer struggling to make a better life for his family in one of the roughest neighborhoods in America. Downs and Blackwood have been showing the film at festivals all over the country, including William & Mary's own Global Film Festival, which held a showing earlier this month. Conquest and his family traveled from Philadelphia to attend the screening.
Documentary film production was not in the plan that Downs initially saw for himself. Born and raised in Portsmouth, Virginia he graduated from William & Mary with self-designed major in marine ecology. After graduation, he wanted to do something adventurous and meaningful, so he joined a tour company in Corolla, North Carolina, where he would lead tourists into the wild, regaling them with stories and local history. It was through this job that he had chance meeting with Blackwood, a seasoned film director moonlighting as a tour guide between film gigs. The two hit it off and decided to make a film about an American underdog.
"I always loved storytelling, but learned about the mechanics of filmmaking and producing on the fly," said Downs. "It was a true indie project, made with blood, sweat and tears."
They traveled around the country looking for a good story, relying on friends for room and board as they headed to Washington, D.C., and Baltimore before striking gold in Philadelphia, the quintessential American boxing city. It was at Joe Hands Boxing Gym that Downs and Blackwood met Jerome Conquest, a charismatic boxer with an incredible story. Conquest allowed Downs and Blackwood to spend weeks following him through his Strawberry Mansion neighborhood, interviewing family and friends to learn what made him tick.
"Jerome's best friend was murdered when they were still children, and that trauma made him decide that he wanted to transcend life in the streets and achieve something better," recalls Downs. "He was so gracious, allowing us to come into his world. He chooses, every day, to be the best that he possible can be."
The film was a labor of love on the part of Downs and Blackwood, who continued to moonlight as summer tour guides in order to self-finance the film, which took three years to complete. Along the way, Downs decided to enroll in the William & Mary MBA Program so that he could apply the lessons to his work as a producer. As he graduates this year, Downs looks forward to using all that he has learned about marketing, entrepreneurship and finance as he considers his next film project.
As for "The Conqueror," Downs and Blackwood are now traveling the international film festival circuit, where the film has won "Best Documentary Short" at the Oxford Film Festival, "Best Global Short- A Sporting Chance" at the SCAD Savannah Film Festival and "Best of the Fest" at the PA Indie Shorts Film Festival.
"I still have everything to learn, but I have found my true north in storytelling," Downs says jubilantly. "This is it for me."
If you would like to arrange a screening of "The Conqueror," please contact Bradford Downs at bwdowns@email.wm.edu.