Jamar Jenkins M.B.A. '18, M.S.B.A. '20 served in the U.S. Army as a company commander stationed at Fort Eustis in Newport News, Virginia. While serving our nation on active duty, he was drawn to William & Mary both because of the university's academic reputation and its long-standing tradition of supporting veterans and military members. And, he says, its reputation for getting results.
"I am only three years out of William & Mary," says Jenkins, "with no corporate experience before coming to W&M — thanks to the support I received as a student and the experience of a William & Mary education, I'm now in an incredible job at an international firm. That wouldn't have been possible if it weren't for W&M's commitment to ensuring veterans and military members thrive."
William & Mary has a long history of supporting both veterans and active-duty members of the United States' armed forces. In the last five years, the university's capacity for providing resources, programs and network connections to the thousands of veterans in the W&M community has increased drastically thanks to philanthropic involvement, community engagement and motivated university administrators.
"Every year approximately 158,000 veterans transition out of the service — and 15,000, almost 10%, do so within a 60-minute drive of William & Mary," says Jonathan "JD" Due, executive director of the Center for Military Transition at the Raymond A. Mason School of Business. "Geographically and culturally, William & Mary is uniquely positioned to be a national leader to connect our veteran and military students with resources that will allow them to have untold positive impact in our communities."
While they are here, it is vital that student veterans should feel fully a part of the W&M family and fully supported, says Charlie Foster M.Ed. '17, director of the Office of Student Veteran Engagement. "There are a lot of fates out there that can be avoided by increased community engagement, listening and support," he says. "There is a broadening gap between those who have served in the military and those who haven't — it's important for people to know individuals who have served and hear their stories for the health of our whole community. We have to bridge those divides." 
Community Connections
William & Mary lies at the center of a national security hub — from Hampton Roads to Washington, D.C., the region is home to major military commands from all service branches, including nearly 100,000 active-duty and more than 500,000 veteran personnel, the highest concentration on the East Coast.
To better serve these populations, in fall 2019 William & Mary's Office of Student Veteran Engagement (OSVE) opened as a two-year pilot program thanks to the generous support of the Jessie Ball duPont Fund. Then in 2020, the university established a cutting-edge Veteran-to-Executive Transition program (VET) to support W&M's veteran and active-duty students and to help those who serve our country transition successfully into the civilian workforce. W&M VET includes the Center for Military Transition, the Whole of Government Center of Excellence, and the OSVE, all of which became a reality through the generosity of an anonymous alumna. 
Veterans and military service members account for approximately 250 of the 900 students in graduate business degree programs, and more than 350 veterans and active-duty service members attend the university. Hundreds of other veterans and active-duty service members are enrolled in various certificate courses offered through the VET program. 
"William & Mary is leading the way forward in the higher education sphere in supporting these populations," says Kay Floyd '05, director of W&M's Whole of Government Center of Excellence (WGCE). Floyd received her undergraduate degree in government from W&M. 
With a pioneering whole-of-university approach, she says, W&M is able to leverage resources across the university, its interdisciplinary strengths, online certificate and degree offerings and its expanding array of programs to support the men and women who have served our nation and who go on to lead in their communities. 
For example, W&M's Raymond A. Mason School of Business and the Center for Mindfulness and Authentic Excellence offered a June 2022 pilot certificate program, "Flourishing in Life Transitions." The program hosted 20 transitioning service members and, according to Due, feedback was extremely positive. 
Now, Floyd says, as the university aims to expand W&M's reach, evolve to excel and educate for impact as part of the new strategic Vision 2026 plan, "With the help of increased philanthropic support, William & Mary is poised to achieve even more in the years to come."
Floyd explains the university-wide focus of these programs through the lens of the WGCE, which works across the university to assist with training, education and research related to national security. "That could be the education of a lieutenant colonel seeking to complete one of our certificates in strategic broadening," she says. "It could be the undergraduate wanting to undertake research in government or it could be the student veteran wanting to pursue an internship that could completely change their career."
Additionally, the WGCE acts as a vital hub for all things W&M and national security: career partners, the military and federal agencies, military alliances, undergraduate internships and organizations that provide grants to the university.
The VET program seeks to augment additional offerings and services throughout W&M's schools and departments. Other W&M programs and assets include the Army War College Fellows Program in cooperation with the Public Policy Program; Military and Veterans Counseling Specialization and Troops to Teachers program at the W&M School of Education; mindfulness and wellness programs at the McLeod Tyler Wellness Center; Major General James M. Wright Fellows Program at the Business School; Puller Veterans Benefits Clinic at the W&M School of Law; the Military Science Department and United States Army's Reserve Officers Training Corps; United States Coast Guard Auxiliary University Program, Unit William & Mary; and information on using veteran's education benefits through the Office of the University Registrar.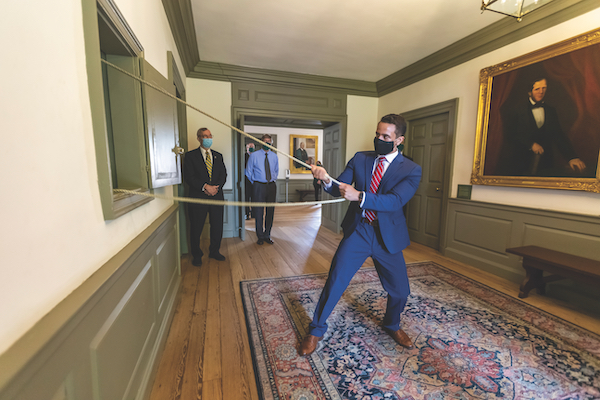 Another critical organization in the network of programs and resources for veterans and military is the alumni-led Association of 1775 (Ao75), an affinity group for William & Mary alumni who have previously served or are actively serving across the U.S. government. In addition to events such as the popular Ao75 breakfast during Homecoming & Reunion Weekend, Ao75 is a critical way the university and the W&M Alumni Association engage with the broader community of active-duty service members, civil servants and alumni veterans.
As a special note, Ao75 will be hosting a Veteran's Day reception at the National Museum of the U.S. Army in Fort Belvoir, Virginia, Nov. 10. More information will be available soon, and veterans in the area are encouraged to attend.
Additionally, the ringing of the Wren Bell has become a Veterans Day tradition at William & Mary. On the 11th hour of the 11th day of the 11th month, a William & Mary student veteran will ring the Wren Bell slowly to commemorate Armistice Day, the original inspiration for Veterans Day. Attendees are encouraged to gather in the Wren Yard to observe the ringing of the bell as all around the nation, bells toll in unison
Transitions, Traditions & Transformations
Originally from Houston, Texas, Due graduated from the U.S. Military Academy at West Point and went on to serve over 20 years on active duty as an armored cavalry officer, with several deployments to Iraq and an assignment teaching history on the faculty of the U.S. Military Academy. Due was drawn to lead the Center for Military Transition thanks in part to his own experience transitioning out of the military.
"When I retired from the Army, one of the challenges I faced was envisioning what was going to come next in my life," Due says. "I discovered that I was actually asking myself the wrong question. It's not 'What do I want to do?' — it's 'Who do I want to be?'"
As he entered a new career of service outside the uniform, Due quickly discovered he wanted to help others answer that question. He says his work at W&M and the programs across the university are about empowering people to flourish and to belong. By combining their experience in the military with the educational opportunities afforded at William & Mary, the individuals who come through these programs are uniquely positioned to become transformational leaders in communities across the commonwealth, our country and the world. 
"A unique military lived experience, when augmented with a world-class education, can create boundless new opportunities," says Due. "That is what makes this program so important, the impact beyond W&M."
Foster is also a veteran. He joined the U.S. Marine Corps in 2002 and served as a combat correspondent for the Armed Forces Network. After separating from the Corps, he went on to earn his master's degree in higher education administration from William & Mary, focusing on student veterans' transition from the military into academia. His master's thesis examined the history of military members stationed at William & Mary during World War II, as well as veterans who attended immediately after the war.
"One of the highest honors of my career has been expanding on that history," Foster says, "building new partnerships and supplementing programs across the university to support this community on campus."
 A Storied History, A Brighter Future
"Our primary operating verbs are 'to develop' and 'to empower' our student veterans and the active-duty personnel that we have here at William & Mary," says Due. "As we do so, we have the power to go from where we are now, an extremely veteran-inclusive and veteran-friendly university, and expand our impact to become a veteran-empowering community."
Foster hopes that the OSVE can broaden support for student veterans to provide child care and engage their spouses as well. He would like to expand partnerships, focus on research, bring in interns, build his team to include an assistant director and maybe even secure an OSVE vehicle to help student veterans run errands, make appointments and get to campus. 
Due reflects, "We are positioned to take advantage of the opportunity we have to empower a significant source of talent. With increased support, we can make this not just a transition experience, but a truly transformative experience for everyone in our community." 
If you are interested in learning more about or supporting any of the offices, funds or programs mentioned in this article, please contact Suzie Armstrong '93, assistant vice president for development and campus initiatives, at 757-221-7647 or smarmstrong@wm.edu.
SAVE THE DATE!
Mark your calendar to join fellow veteran and active-duty alumni
and students at the following events in November 2022:
Nov. 7 — Basketball Home Opener Double header vs. Navy
Nov. 10 — Veterans Day Reception, National Museum of the U.S. Army
Nov. 11 — Tolling of the Wren Bell, Veterans Day observances
Nov. 12 — W&M Football vs. Villanova, Military Appreciation Day
Nov. 12 — Military Appreciation Tailgate at the W&M Alumni House
Nov. 19 — Men's Basketball vs. Army
Nov. 27 — Women's Basketball vs. Army
For more information, visit events.wm.edu.