All

Online Exclusives
Recognizing a Legacy of Service
Former FCC Chairman Michael K. Powell '85, D.P.S. '02, who served as William & Mary rector, is one of two alumni inducted into the 2022 U.S. Army ROTC Hall of Fame
October 13, 2022
By Tina Eshleman

William & Mary celebrated the induction of retired 1st Lt. Michael K. Powell '85, D.P.S. '02 into the 2022 U.S. Army ROTC Hall of Fame at a halftime ceremony at the Oct. 8 football game during Homecoming & Reunion Weekend.
President Katherine A. Rowe presented Powell with a commemorative Yorktown Battle Streamer, which was awarded to the university in 1981 as part of a bicentennial commemoration of America's defeat of the British at the Siege of Yorktown, in which members of the William & Mary Company assisted the militia and regulars of the Continental Army.
"Michael Powell's service to our country and dedication to William & Mary inspire all of us," Rowe said. "We were honored to recognize him during Homecoming & Reunion Weekend, to share this proud moment with so many alumni."
Powell, a former commissioner and chairman of the Federal Communications Commission, served on William & Mary's Board of Visitors from 2001-2009, and was the university's first Black rector.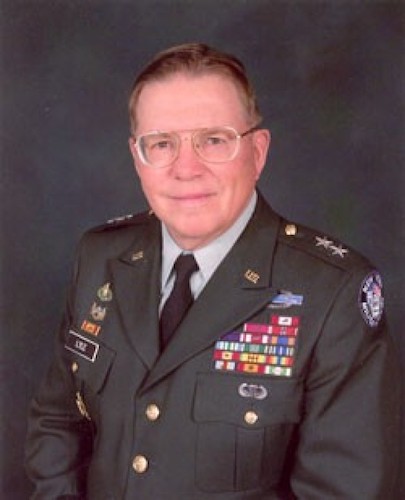 He and retired Maj. Gen. James M. Lyle '62 (shown at right) were among 33 ROTC Hall of Fame inductees nationally to be recognized in Washington, D.C., on Oct. 10 during the Association of the United States Army's Annual Meeting and Exposition.
Lyle, who retired in 1996, served in the Army for 33 years and held leadership roles at a variety of posts, including the U.S. Military Assistance Command in Vietnam, the U.S.. Army Armor School at Fort Knox, Kentucky; the 3rd Armored Cavalry Regiment at Fort Bliss, Texas; the Third United States Army at Fort McPherson, Georgia; and the U.S. Army Cadet Command at Fort Monroe, Virginia. His military awards and honors include the Distinguished Service Medal (with Oak Leaf Cluster), Legion of Merit (with Oak Leaf Cluster), Bronze Star Medal (with Oak Leaf Cluster), Purple Heart, Meritorious Service Medal (with two Oak Leaf Clusters), Air Medal Joint Service Commendation, Medal Army Commendation Medal, Army Achievement Medal, Combat Infantryman Badge, Parachutist Badge and the Army Staff Identification Badge.
While enrolled at W&M in the ROTC program, Lyle played football, served on the Dorm Council and Interfraternity Council and was a resident advisor, a member of the Queen's Guard and a member of Sigma Pi. He received a bachelor's degree in physical education.
The induction of Powell and Lyle follow last year's recognition of 1st Lt. Todd W. Weaver '08, who was killed in action while serving in Afghanistan in 2010. The Army ROTC Hall of Fame was established in 2016, as part of the centennial celebration of the Army Reserve Officers' Training Corps, with the induction of 326 former cadets who distinguished themselves in their military or civilian career. 
Powell's wife, Jane Knott Powell '85, joined him for the ceremony on the field at Zable Stadium. Also participating were W&M Director of Athletics Brian Mann; retired Col. Charles Bowery '92,  executive director of the U.S. Army Center for Military History and president of the Association of 1775, William & Mary's alumni group for military, veterans and government workers; Cadet Remy Benner '23, commander of the W&M Queen's Guard; and Maj. Tammi Summers, assistant professor of military science and executive officer for the W&M ROTC Program.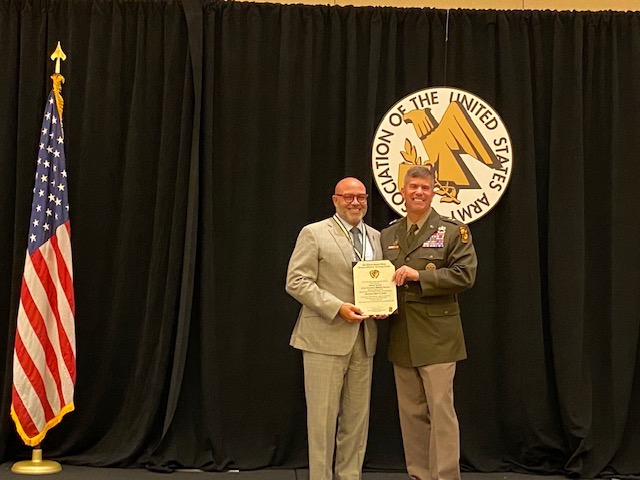 Along with Michael and Jane Powell, a contingent from William & Mary also attended the ceremony in Washington: President Rowe, Vice President for University Advancement Matthew T. Lambert '99; Drew Stelljes, associate vice president of student affairs, executive associate professor of education and W&M Washington Center faculty in residence; JD Due,  executive director of the Center for Military Transition; Charlie Foster, director of the office of Student Veteran Engagement; and Lt. Col. Jason C. Finch, professor and chair of the W&M Department of Military Science and a professor at Christopher Newport University.
Finch said William & Mary ROTC leaders will continue to nominate Hall of Fame candidates as they review the accomplishments of cadets who graduated from the university's program since it was established in 1947.
"This is a very small way for us to recognize somebody who came from William & Mary and did great things for the nation, whether that's in private industry, government service or military service," Finch said. "Michael Powell's service to the nation certainly left an incredible legacy. For example, his leadership of the Federal Communications Commission during the late 1990s and early 2000s set the stage for a lot of how we do our communications today."
Honoring exemplary ROTC alumni such as Powell and Lyle provides current and prospective cadets with an example of what they may be able to achieve and shows how William & Mary continues to cultivate national and international leaders, Finch said.
It also demonstrates William & Mary's commitment to supporting active-duty military service members and veterans through comprehensive programs that are coordinated across the university under the recently established W&M Veteran-to-Executive Transition program, including the Office of Student Veteran Engagement, the Center for Military Transition and the Whole of Government Center for Excellence. With significant philanthropic investment, W&M has leveraged its interdisciplinary strengths over the past few years to significantly expand resources, certificate and degree offerings, career training and networking, and wellness services in a holistic approach to veterans education.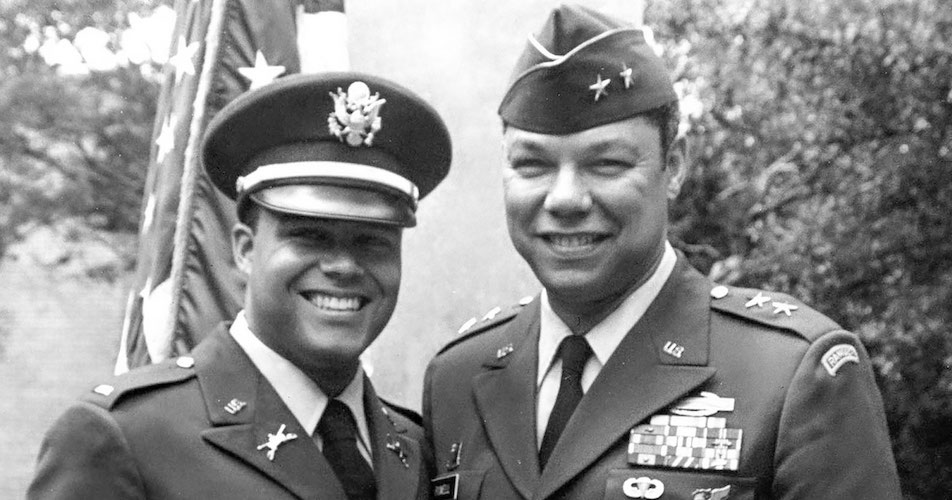 The son of the late Gen. Colin L. Powell D.P.S. '88, P '85, P '87, P '92, Michael Powell attended W&M on an ROTC scholarship and became the first Black commander of the Corps of Cadets during his senior year. The new Colin Powell Global Engagement Scholarship was established to honor the leadership of both Gen. Powell and Michael Powell by providing opportunities for outstanding William Mary students to study abroad.
Michael Powell, who graduated from William & Mary with a degree in government, was commissioned as an officer into the U.S. Army and served in the 2nd Armored Cavalry Regiment in Amberg, Germany, as a cavalry platoon leader and troop executive officer. He has credited his time at W&M with encouraging him to develop his talents as a leader.
"I loved the ROTC program there. It's also the place that really made me think I was capable of leadership," Powell said during an oral history interview with The History Makers, a nonprofit research and educational institution committed to preserving and sharing personal stories of both well-known and unsung African Americans.
In addition to his participation in ROTC , Powell was a member of the men's gymnastics team at William & Mary, worked as a president's aide and was part of the Omicron Delta Kappa honor society. He served as president of his fraternity, Theta Delta Chi, during his senior year.
After a life-altering accident cut short his promising military career, Powell turned to civilian work, drawing on his undergraduate government studies to serve as a policy advisor to U.S. Secretary of Defense Dick Cheney.
He attended Georgetown University's Law Center, clerked for the U.S. Court of Appeals in Washington, D.C., and eventually became chief of staff for the U.S. Justice Department's Antitrust Division. In 1997, then-President Clinton appointed Powell to serve as commissioner for the FCC, and when President George W. Bush later appointed him chairman, he was the youngest person and only the second African American to hold the position. In that role, Powell oversaw a transition into the digital age with widespread internet use, smartphones, wireless technology and satellite radio. He was responsible for the Commission's National Security Emergency Preparedness function, including the 9/11 national crisis. Powell left the FCC in 2005 and now leads the largest trade association in D.C. as the President and CEO of NCTA — The Internet and Television Association.  
In addition to his terms on the Board of Visitors, Powell has served as a board member and chair of the W&M Foundation, for which he oversaw a restructuring several years ago to position William & Mary for future fundraising success, and as a member of the Reves Center for International Studies Advisory Board. He is a frequent speaker at W&M events and a regular participant in programs at the university's Washington Center, where he teaches a course on leadership. For his many contributions to the university, he received the W&M Alumni Medallion in 2011.
Michael and Jane Powell also have been significant benefactors of William & Mary. They provided leadership on the D.C. Regional Committee of the For the Bold capital campaign and they have contributed generously to initiatives such as the Powell Leadership Scholarship Endowment, the Powell DC Summer Institutes Scholarship, the Powell W&M Posse Scholars Program Fund, the Commitment to Service Scholarship in Military Science/ROTC Fund and the Center for Mindfulness and Authentic Excellence Fund.
Powell's military awards and accolades include the John C. Marshall Award, Basic Parachutist and Air Assault Badges, the Draper Award for Tactical Excellence, the Army Achievement Medal and the Secretary of Defense Outstanding Service Award. He has also been named an ROTC Distinguished Military Graduate and OBC Distinguished Military Graduate.
Throughout his career, Powell has served nonprofit and public boards, including the Aspen Institute, the National Archives Foundation Board and the boards of Cisco, AOL and Rand Corp. He is currently chairman of the Mayo Clinic Board of Trustees and vice chairman of America's Promise Alliance. He holds honorary doctorate degrees from W&M, Pepperdine University and the Mayo Clinic Alix School of Medicine. 
Responding to a question during his interview with The History Makers about what he wants to be remembered for, Powell said a legacy is something that has to be earned over time: "I've tried to worry about getting the job done, doing it as well as I can, learning from failures and hopefully, if I did it right, with the passage of time and reflection, someone will say, 'You left something in this world.'"