This story originally appeared on tribeathletics.com
Nine years ago, William & Mary's gymnastics team flew to Las Vegas to see a water-themed production called Le Rêve. The draw was Josh Fried '10, a program alum whose skills included acrobatics, aerial apparatuses and high dives.

Neal Courter '17, a sophomore at the time, still remembers what he saw — and how it made him feel.

"I was completely floored," he said. "I wanted to use a part of my life to spread the inspiration I experienced that day from him as well as the entire cast and crew who made such a production come to life."

In 2018, a year after graduating with degrees in chemistry and French, Courter came to Vegas to perform in Le Rêve. After the show closed in 2020 because of the pandemic, he joined Cirque du Soleil's Michael Jackson ONE.
He's now performing in Cirque's ECHO, which combines performing arts and acrobatics. The show's current run began Sept. 6 and goes through Oct. 22 in Tysons Corner, Va.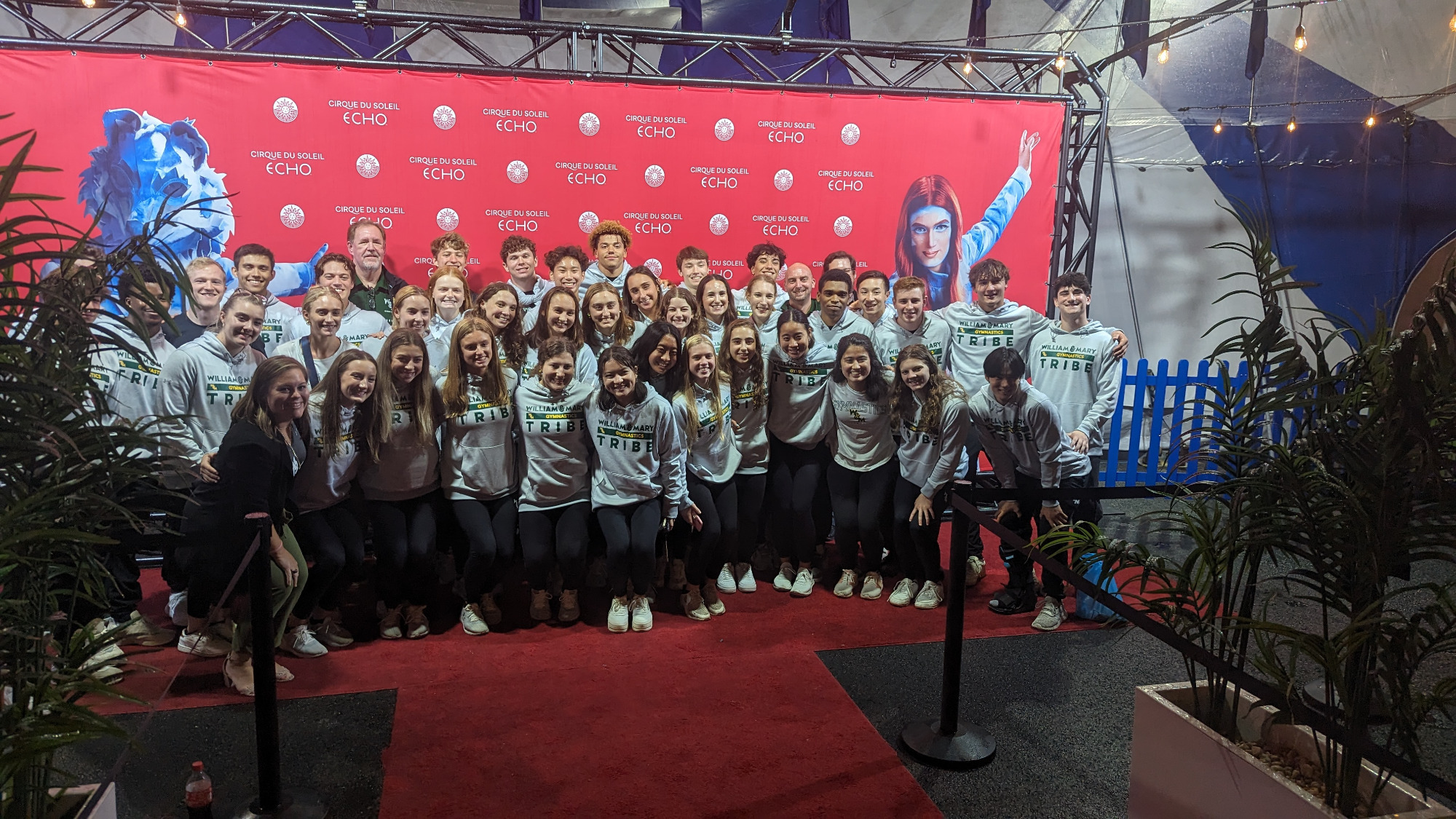 And in a case of coming full circle, his alma mater's gymnastics teams caught Sunday's show on what was designated William & Mary Day. Approximately 175 of the audience members were somehow related to the university. Afterward, they all moved to the front for a Q&A with Courter.
"It was such an overwhelming and heartwarming experience," Courter said. "I could pick out a few familiar faces from the stage, but I never imagined such a large outpouring of support.

"It was a really amazing experience for me to be on the other side of that. I remember the awe and inspiration I felt when I watched (Le Rêve) in 2014."

ECHO's theme, according to a glowing review in DC Theater Arts earlier this month, is "a symbiotic bond between humans and the animal kingdom." Yet although Cirque du Soleil translates to Circus of the Sun in French, ECHO is not your grandparents' circus.

There are no animals, only humans in costumes. Some remain on stage, others hover above it on apparatuses. There is music, both calming and up-tempo.

Courter performs in two of the dozen or so main acrobatic numbers. 

The first involves a 30x30x30-foot cube — the program compares the size to a two-story apartment building — that functions as a narrative device, projection screen and acrobatic surface. He is one of six harnessed acrobats performing perpendicular to the surface.

In the second, Courter did acrobatics in various sequences on suspended poles that fly up to 30 feet above the stage.
Words alone can't describe it.

"I'm still trying to absorb it all," W&M director of gymnastics Mike Powell said on the bus ride back from Tysons Corner. "As coaches, we watch these elite athletic performances and we break them down. But to see what these performers are doing and wrap our heads around it was mind blowing.

"One of the most fun things for me was having the (Tribe gymnasts) there. Their reaction was almost as fun as the show itself. They can relate a lot to the movements and how unbelievably difficult they are."

Junior Zachary Patrick can relate, but only to a degree.

"We have a different type of routine structure, but there's was a performance," he said. "It was choreography, it was dance, it was acrobatics, and it was super cool the whole time.

"Everything was so connected and so amazing. I remember sitting there and having a feeling of complete awe."

Doing what he does, Courter understands the dangers. A bad fall could result in a lengthy hospital stay, maybe even worse. But safety precautions are a priority with Cirque du Soleil.
"Sometimes it seems almost to a fault," Courter said. "Sometimes we ask ourselves, 'Is this really necessary?' But it is. Above a certain height, it's Cirque policy that there's some sort of harness in place or your body is attached to the apparatus several different places.
"There's always open communication when we're on stage. If something seems iffy, it's not a problem to stop the show for an artist who notices something is wrong and communicates that to the stage managers."

After the show's run in Tysons Corner ends, the ECHO cast and crew will be off to Atlanta from Nov. 5 through Jan. 21. There are at least seven and sometimes eight shows a week.

A natural question is whether Courter still considers himself an athlete or simply an artist.

"I think it's a hybrid," he said. "Of course, we communicate art through movement and storytelling, so it's different than being an athlete. At the core, you're an artist and an athlete. The show is a combination of all those things."

Another parallel is the shorter shelf life. Courter is only 30, but he's prepared.

"I envision myself doing this a few more years," he said. "I'm still enjoying it and I'm in shape. But I do plan to eventually move in a different direction.

"I'm interested in the technical elements of the stagecraft. There's so much that goes into a huge production like this. I also hope to be able to pursue my interest in language and see where that takes me."

But for now, the show goes on.