The pandemic was a challenging part of W&M's history and a formative part of its story. Now, it will also be part of its art. 
The President's Office commissioned internationally renowned ceramicist Michelle Erickson '82 to create an artwork that commemorates the university's response to the worldwide COVID-19 pandemic. Erickson is working with staff at the Muscarelle Museum of Art at William & Mary on the project, and the final piece, called "Unity," will be part of the President's Collection of Art. It will be displayed on campus starting this fall.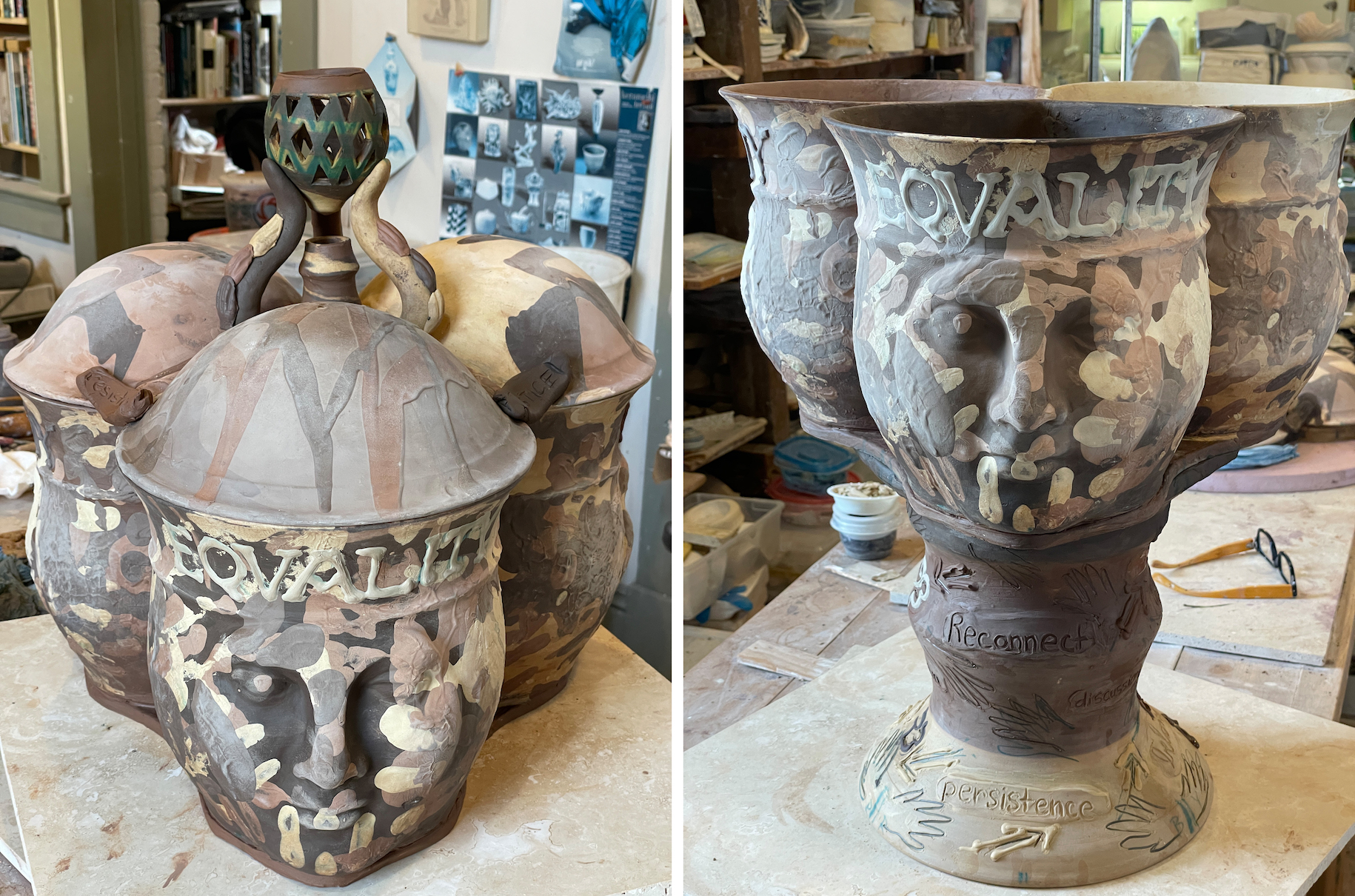 Erickson's work uses colonial-era ceramic techniques to tell modern social, political and environmental stories. Her solo exhibition "Recasting Colonialism" at the Baltimore Museum of Art opened May 7 and runs through Oct. 1 and pairs historic pieces in their collections with her contemporary work. Her art is represented in museums from the Seattle Art Museum to the Victoria and Albert Museum, and her techniques and art have been widely published.
"What fascinates me, and what I like to explore creatively, is how the legacy of colonialism is reaching into our present moment, and how that can be illuminating to where we are and why we're here," she says. "My work is drawing on both ghosts and ancestors — some of the past that we want to forget, and some of the things that make us who we are."
James D. "Jim" Penny J.D. '83 and Pamela J. "Pam" Penny '77, HON J.D. '16 are longtime collectors of Erickson's work and provided a gift to support the commission.
"When President Katherine Rowe came to us with the idea of a project to commemorate the hardships and triumphs related to COVID, we immediately thought of Michelle and the pieces she created for the 9/11 Memorial & Museum," says Jim Penny. "She is an extraordinarily talented ceramic artist and alumna."
For Erickson, the university's response to the pandemic was very much about community — sustaining community when we couldn't physically be together, as well as working together to keep each other healthy. These ideas drew her to study communal drinking vessels from the Colonial period, representative of a shared experience that was unthinkable in the height of the pandemic.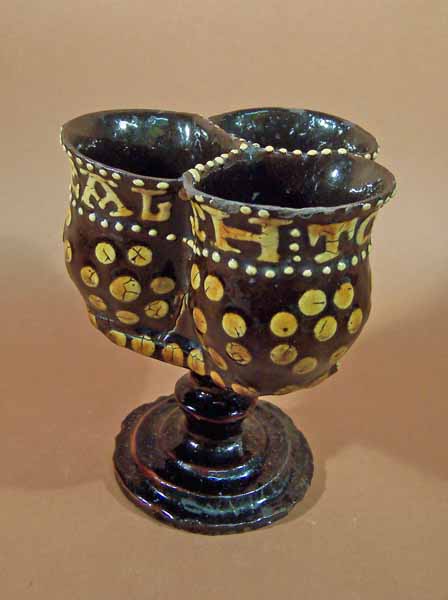 In her research, she discovered an early 1700s "fuddling cup," a vessel made of three connected cups, in the collections of the Manchester Art Gallery. Especially fitting to this project, the cup was inscribed with "HEARE IS A HEALTH TO K W" (K W being King William).
Erickson's version of the piece is significantly larger, but it works the same way. Because the cups are connected, filling one fills all three to the same level. "They're interdependent, just as we were during the pandemic," she says. She also sees it as representative of the way the pandemic was intertwined with other struggles. "The pandemic could have leveled the playing field in some ways, for people of different races, socioeconomic classes and genders who were all going through this together. But in many ways, it exposed the inequities among different groups."
Each of the cups is in the shape of a face and is labelled with a word: HUMANITY, EQUALITY, UNITY. They are covered with the handprints of students, alumni, faculty and staff, who came together for an event in Andrews Hall on April 19 to participate in the project. Jim Penny also attended and added his handprints, representing alumni and supporters of the university. 
"People from all aspects of the university had their hands on this project, just as we all came together to get through the pandemic," says David Brashear HON '07, director of the Muscarelle Museum of Art at William & Mary. "It was important to us to do this before our graduating seniors left, since the pandemic was so much a part of their experience."
At the event, students also inscribed words like "resistance" and "friendship" into pieces of clay. Erickson then used those pieces to create molds and transfer the students' writing onto the base of the piece.
It was important to Erickson that the piece incorporate the university's physical location. "I knew from the beginning that I wanted to use clay from the actual grounds of campus, which hold so much history," she says.
The clay used for ceramics needs to be just the right consistency and balance of materials to withstand firing and hold together over time. First, Erickson and Brashear sourced clay from the construction teams working on campus, but when that clay ended up being too brittle, they decided to go looking for appropriate clay themselves.
It ended up being quite an adventure when Erickson fell completely into the muddy stream beside Compton Drive. Thankfully, neither of them was hurt, they got the clay Erickson needed and they both laugh about the story — "she's such a positive spirit," says Brashear.
Erickson used that clay, mixed with some commercial clays of different colors, to form the piece. Each cup has a lid, which is decorated with a pattern based on the W&M cypher. The three lids are topped with a small additional cup and a crown, the pattern of which is inspired by 17th-century Native American pottery from Virginia.
"Being made of ceramic gives it a permanence that other kinds of art may not have had," says Pam Penny. "The piece speaks to the resilience of our community to overcome adversity. The clay is substantial, solid and stronger for having come through the fires of the kiln — just as the university is stronger for having come through the pandemic."
Creating such a complex piece and firing it in the kiln was a physical challenge — the three connected cups must be moved as one piece, as do the three connected lids, and Erickson  needed to flip them over and rotate them to work on all sides. She also had to transport the wet, unfired pieces to campus for the April 17 event and then transport them back to her studio in Hampton, Virginia, without crushing them.
A model of the piece had twisted in the kiln when she did a sample firing, so she was anxious to see if the high temperature of the kiln would cause any damage. Thankfully, it did not.
"I think the struggle of making it also reflected what people were going through in the pandemic, and how the struggle molds who you are," she says. "You don't necessarily need to know the backstory to appreciate the piece, but the process is so much a part of the meaning."
Erickson was a double major in fine and performing arts at William & Mary. Through the encouragement and guidance of Emerita Professor of Art Marlene K. Jack, who passed away this spring, "halfway through college, I focused completely on ceramics, and haven't looked back since," she says.
While working as a teaching assistant at William & Mary after graduation, she had the opportunity to look at Colonial Williamsburg's ceramics collection. The British and European ceramics from the Colonial era fascinated her.  Later, she worked making pottery at Jamestowne Island and was able to delve into their collection of archaeological ceramics from Native Americans and European settlers. These experiences spurred what's now been 30 years of exploration of colonialism through ceramics — letting work from the period inspire contemporary pieces.
"She brought all of her considerable ceramic expertise to bear on the final form, and it's truly an astounding work of art," says Brashear. "It's substantial in terms of size, and it's many layered in terms of meaning and connection to William & Mary, to the graduating class and to the collective experience that we all had through pandemic."