Pineapple leaves, plastic water bottles, old billboards — not the "ingredient list" you usually expect to see for a handbag. Hamilton Perkins M.B.A. '14 and his eponymous collection fuse sustainability, creativity and style to create unique and award-winning bags and accessories.
The Hamilton Perkins Collection's origin story began in 2014. Prior to that, Perkins worked in retail and banking before going back to school and getting his Master of Business Administration degree from William & Mary.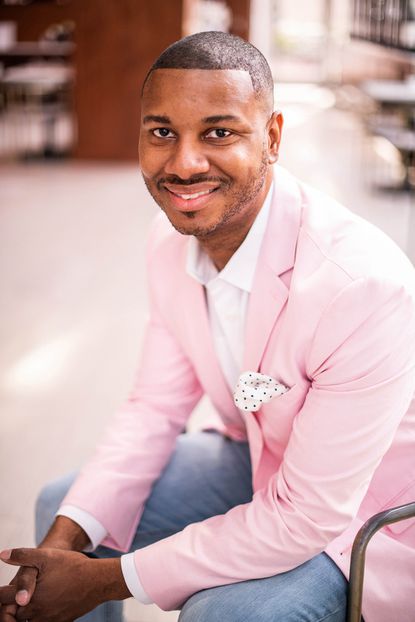 "I was always interested in the [fashion and retail] industry. Fast forward and I started making products for friends and family," Perkins says. "In 2016, we launched with Kickstarter and met our $10,000 goal in six days. We shipped about $25,000 in preorders. We picked up several grants and won a few business plan competitions. Soon after that we launched our first in-person experience at a Bloomingdale's Trunk Show," says Perkins.
At first, finding factories that were used to working with sustainable materials proved challenging.
"We bounced around for a year or two, figuring out how to get factories to work with us and how to get supplies for our products. We started finding partners that would make our vision come to life. It culminated in a trip where we spent a week in Haiti, touring the country's artisan and fashion sector," says Perkins.
Today, the Hamilton Perkins Collection produces its Earth Bags in New York, Los Angeles and Asia. The brand partners with corporations, ad agencies and nonprofits, helping them as a creative recycling partner. The brand transforms waste into bags and accessories.
Perkins got the idea for his collection while he was working full time in a corporate setting.
"When I was in banking, I got a bit overweight. I began trying to drink a lot of water to stay healthy. That's where I started to see how many plastic bottles could pile up over a week," says Perkins. "I started researching what happens to plastic after you recycle it or throw it away. At the same time, I saw that sustainability increasingly mattered to consumers."
Each of the Hamilton Perkins Collection's Earth Bags is made from 17.5 recycled plastic water bottles on average and is lined with billboard vinyl (the printed advertisements that get stretched across the billboard frame) and conference banners, saving them from being tossed into landfills. Each Earth Bag repurposes approximately one square yard of vinyl. Additionally, bags made from pineapple fiber consume 10 pineapple leaves on average. 
"As a child, I was always wondering why more things aren't recycled or repurposed. I never really got an answer to these questions," Perkins says. "Repurposing or upcycling is a way to create positive change. A customer can see the tangible benefits of sustainability with our products while expressing their values wherever their journey takes them."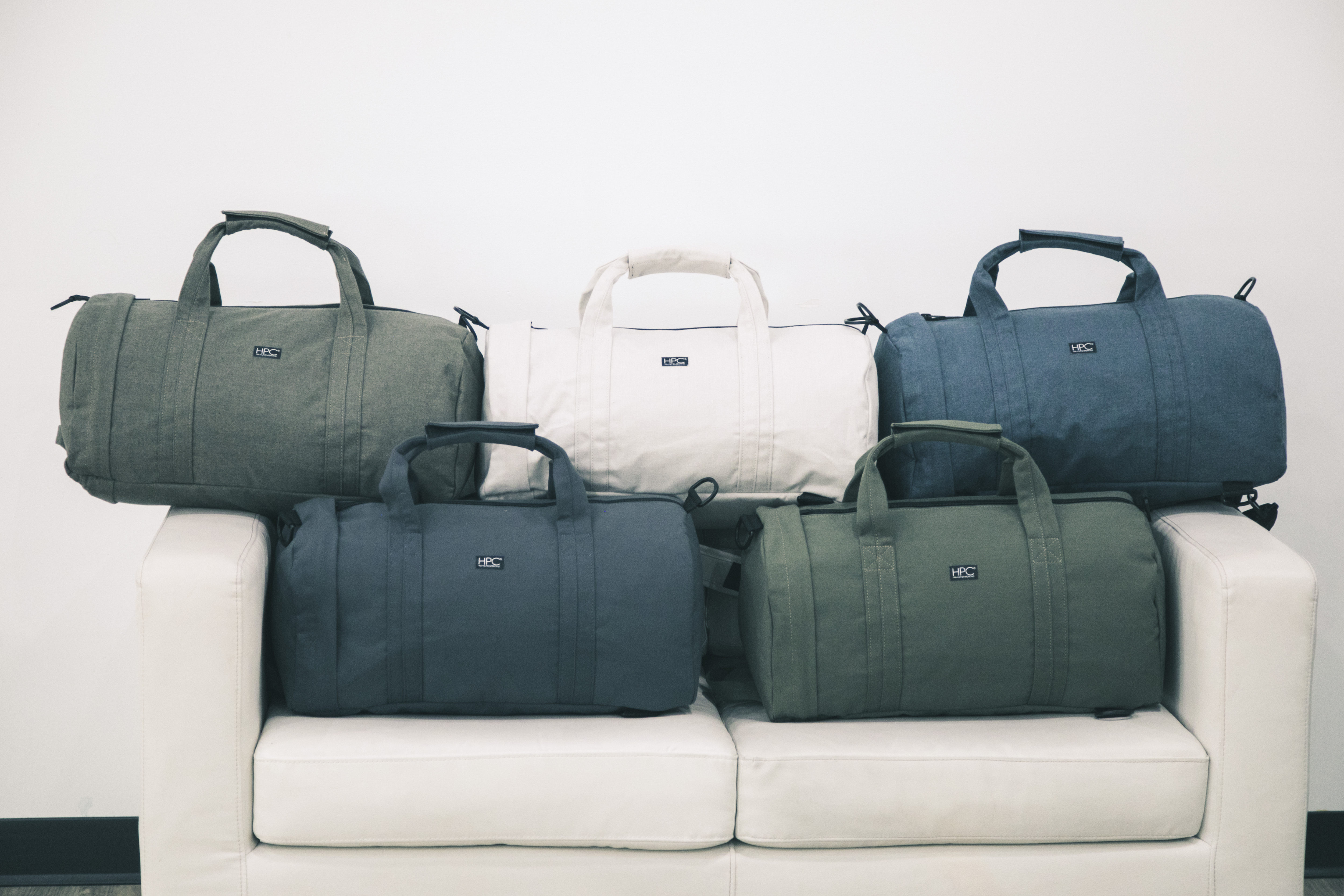 The customer experience is central to Hamilton Perkins Collection, which features travel bags, shoulder bags, backpacks, hip bags and accessories such as wallets and cardholders.
"My favorite part of what I do is seeing or hearing from the customer about the product — getting to meet customers in person and really find out what they're looking for," says Perkins.  
This dedication to the customer shows. The Hamilton Perkins Collection has been featured in Forbes, Fast Company, Money Magazine and The Washington Post, among other publications. In 2019, he was named one of the Virginian-Pilot's 40 under 40 in Inside Business.
The brand is currently offered in nearly 150 leading department stores and specialty stores in the United States, Canada and Europe. 
In addition to the creation of his brand, 2014 held another important life event, Perkins' graduation from William & Mary's Executive MBA program. W&M's Executive MBA is an 18-month program on alternating Fridays and Saturdays designed for focused, driven leaders who are positioned to move into senior executive and C-suite roles.
"My MBA helped me develop and hone my skills in marketing, strategic thinking and leadership. I attended Old Dominion University as an undergraduate with a concentration on Business Marketing. My MBA built on this experience by allowing me to surround myself with executives and entrepreneurs that I could learn from and let their habits for success rub off on me. Being able to be around people like that for 20 months was pivotal," says Perkins. "Not to mention the amazing professors. I was always picking their brains for their opinions on what we [Hamilton Perkins Collection] should do, or could do better."
Perkins gives back to both Old Dominion University and William & Mary. At ODU, he serves on the executive advisory council board at the Strome College of Business. At W&M, he recently spoke to the online MBA program about his experience as an entrepreneur.
"I am always getting together with someone from my master's program. There's a funny concept called the Six Degrees of Kevin Bacon," says Perkins, referring to the game in which players challenge each other to randomly choose an actor and then connect them to another actor via a film that both actors have appeared in together, repeating this process to try and find the shortest path that ultimately leads to Kevin Bacon. "That's how I feel about William & Mary. From investors to customers, it seems like nearly everyone has some connection back to the university."