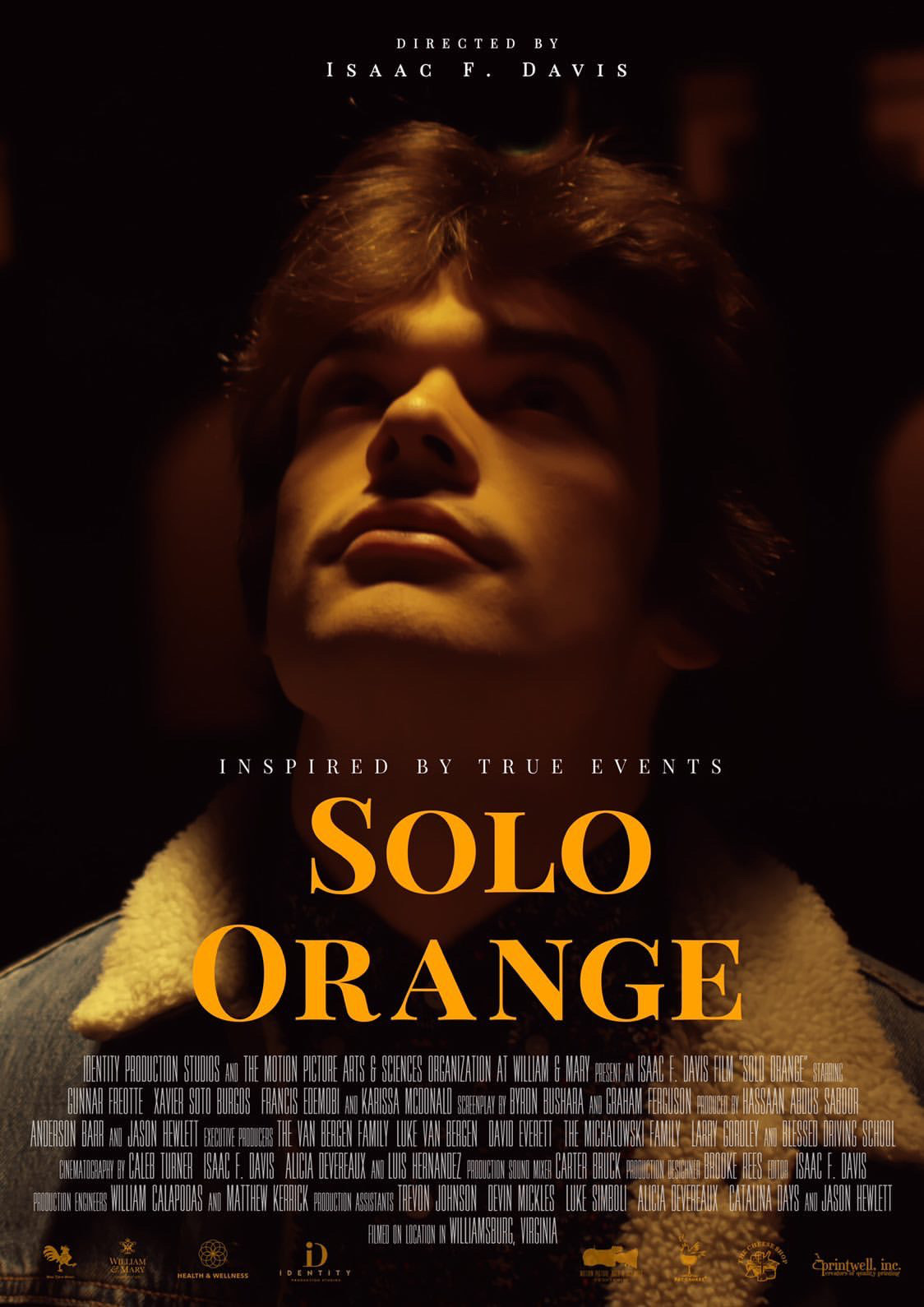 With the William & Mary talent behind "Solo Orange," it's no wonder that the short film is dominating the contest circuit. Written, acted and directed by William & Mary students, "Solo Orange" won Best Student Short Film at the Mindfield Film Festival in Albuquerque, New Mexico, in July and won Best Student Short Film at the New York Cinematography Awards for June of this year. "Solo Orange" also became a finalist at the Short Film Awards in South Orange, New Jersey. 
The film, produced by Isaac Davis '20, had a second Williamsburg premiere at the Kimball Theatre on January 28, 2020, and is touring colleges and universities across the country to raise awareness about mental illness in college students.
With support William & Mary's McLeod Tyler Wellness Center and monetary contributions from local businesses, "Solo Orange" is a short film created to raise awareness about mental health, especially among college students. It tells the story of a normal day in the life of someone suffering with anxiety, depression and suicidal thoughts by giving the audience both an internal and external perspective.
The film is inspired by the life of Virginia Commonwealth University student John Van Bergen, son of William & Mary alumni Jamie Van Bergen '85 and Peter Van Bergen J.D. '86, who committed suicide in January 2018. Entirely filmed on William & Mary's campus, "Solo Orange" was produced by Identity Production Studios LLC, a production company started by Davis, a current William & Mary student and childhood friend of John Van Bergen. 
Davis recently spoke with us about the film.
Why is "Solo Orange" an important story to tell? 
"Solo Orange" is very important for students. The film was made for students by students. The goal is to have Solo Orange be a film that sparks discussion about anxiety and depression. We want people to talk, seek information and pay attention to the people around them. My hope is that Solo Orange inspires people to take a moment and reflect on their lives, but also the lives of others. Friends, family, co-workers and especially for students at colleges all over America, we all need each other. I hope Solo Orange sparks that discussion and initiates support and change.
How did you and other W&M students work together to create "Solo Orange"?
With the help of 19 other William & Mary students, we brought "Solo Orange" from an idea to an award-winning short film. The script for the film was written by Byron Bushara '19, who could write from his own personal perspective as he is someone who lives each day with depression and anxiety, like many other students on campus. 
With such a sensitive topic at the core of the film and a budget almost completely funded by donations, the creation of "Solo Orange" was not without its difficulties. "Solo Orange" was filmed in 4K, on par with movie-theatre-quality films, and there was no hardware or software available to the crew to handle such high-quality files. To solve this problem, Carter Bruck '22 designed and built a system powerful enough to handle the film so it could be viewed and edited. Cast and crew worked long, rigorous hours to bring the short film to the award-winning level it's at now.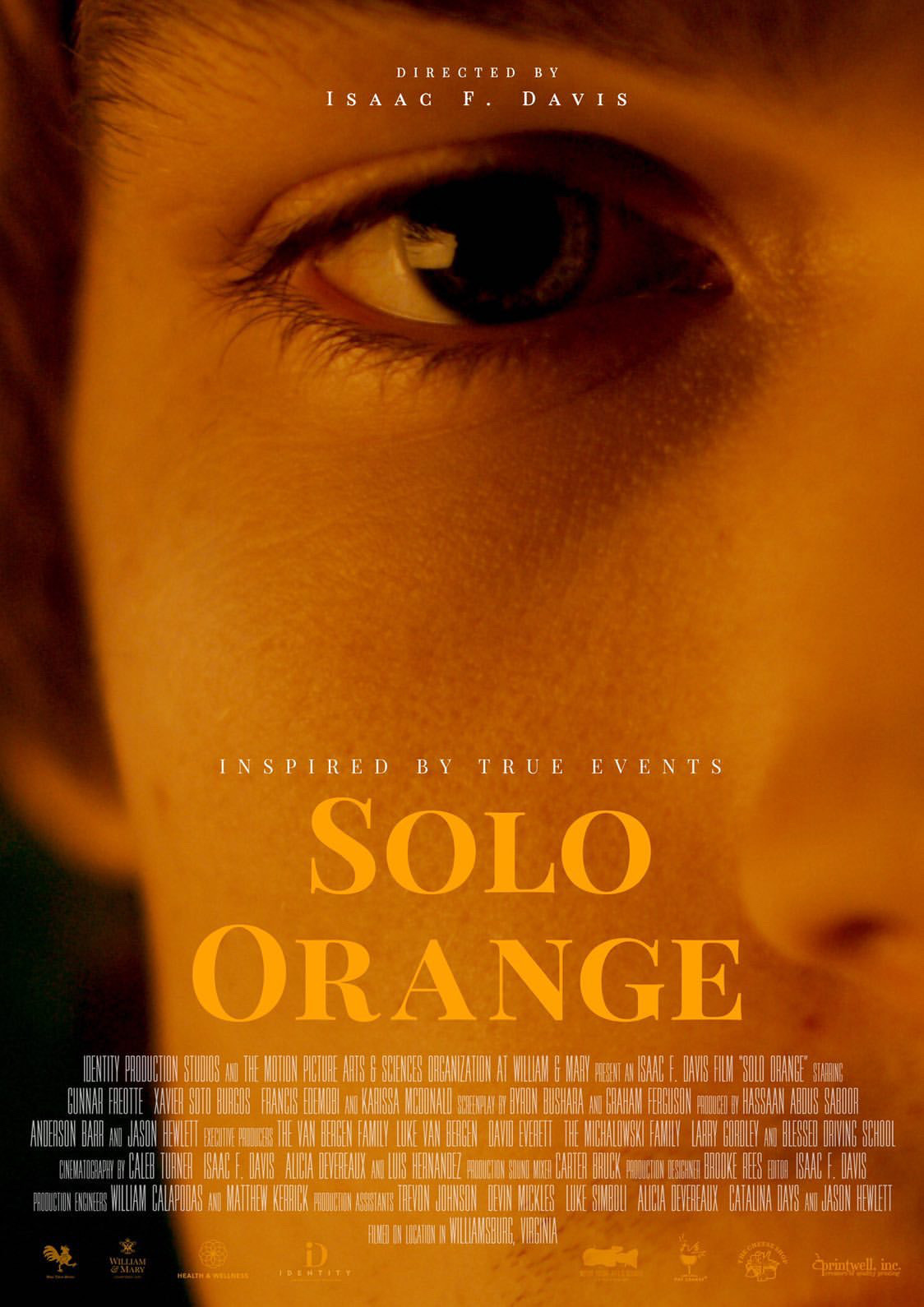 Tell me about your friendship with John.
John and I knew each other since the fifth grade. We both always had an interest in art, specifically cinema. John and I would watch films together a lot. He knew all about indie films. As we grew over the years, John really opened my eyes to the diverse palette indie filmmaking offered its community. I remember seeing the Hateful Eight with him when it first came out. John was a person who loved art, freedom of expression and diversity. He was truly special in that way. We had planned to attend the Academy Awards together when that time came.
What's next for "Solo Orange" and Identity Production Studios?
"Solo Orange" originally premiered in the Sadler Center on William & Mary's campus earlier this year. With the overwhelmingly positive response, Identity Production Studios worked with Dr. Kelly Crace and the McLeod-Tyler Wellness Center at William & Mary (which is a sponsor of the film) to premiere "Solo Orange" for a second time on January 28, 2020, at the Kimball Theatre, where Van Bergen interned during his senior year of high school. 
According to the "Solo Orange" webpage, the short film is the second installment in a four-part series aimed at creating "content that speaks to real life situations and solutions." Identity Production Studios is in pre-production for a new film, as part of the series, focused around the idea of temporary love, with "Solo Orange" supporting actor Francis Edemobi '19 taking on the lead role.