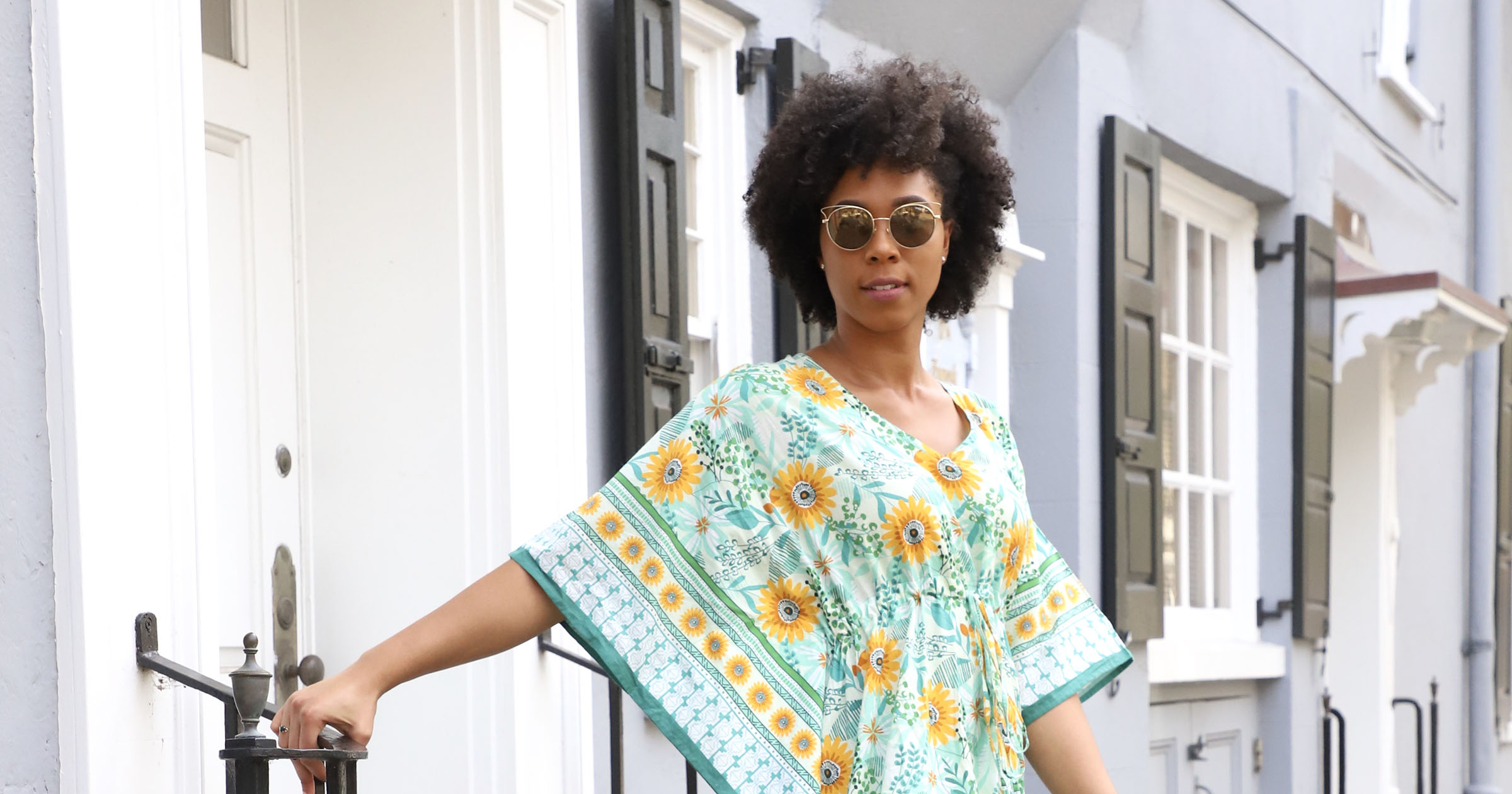 Virginia Newton '10 and Jarryd Hammel '10 are the co-founders of Kaftan Life, a new e-commerce apparel brand specializing in comfortable, conscientious women's clothing. They launched in March 2019 with an exclusive collection of ethically-sourced designer kaftans. They promote ethical production and the idea that fashion can be a source of daily empowerment. Their social mission extends beyond production: they donate a portion of every purchase to Commit2Change, a non-profit helping abandoned and impoverished young women in India pursue higher education and achieve financial independence.
"Our comfortable, conscientious products offer an alternative to the status quo in women's fashion, which is too often flimsy, constricting, wasteful and reliant on exploitative production," Newton said.
They are also sharing the "kaftan life" with women all over the world. The "kaftan life" can mean many things to many people, because the kaftan has been around for over a thousand years. Virginia and Jarryd say their brand's interpretation is about spending your precious leisure time in clothes that make you feel good and with people who make you feel good.
How did the idea for Kaftan Life come about?
Virginia: We were both living in New York City in 2010 after we graduated from William & Mary. My girlfriends and I would often get together on the weekends and after work in our kaftans to hang out and wind down. We all had pretty stressful jobs, so this was our time to touch base and just be there for one another. We would joke at these get-togethers that we were living our best "kaftan lives." When I left NYC to move to Denver, I had trouble finding kaftans, and in general it's hard to find comfortable, well-made clothing for women. We decided to create our own brand specializing in just that, and because the kaftan was such an inspiration for us, we chose kaftans as our launch product.
What is a kaftan?
Jarryd: A kaftan is generally a loose, one-piece garment similar to a tunic or a dress. Many have large flowing sleeves, and some have open fronts, depending on what region they're in. Its purpose ranges from leisurewear to celebration wear. Most people think kaftans originated in the Middle East, then spread across Africa and Asia before finally reaching Europe and America. As they spread, they evolved with each culture they touched.
The biggest influence for Kaftan Life's kaftans is the all-cotton Indian kaftan. We chose it because it's made with premium cotton voile — a soft, breezy material that's easy to care for and perfect for humid environments like the Southeast U.S. Most importantly, we wanted to create a garment that does good for the customer as well as the people making it. In India, we were able to find superior materials and manufacturing partners who had superb ethical production credentials.
How did you decide to partner with Commit2Change?
Jarryd: We wanted to give back in some way to the communities that inspire our products and where our products are made. We were looking for organizations to partner with that were well established, highly transparent in how they worked and had programs specifically benefitting women in the cities and regions where our products are made. Commit2Changewas a perfect fit. They are helping abandoned and impoverished female pre-teens and teens by helping them pursue their education and achieve financial independence.
Virginia: It was important that our nonprofit partner worked with women. A huge motivation behind Kaftan Life is obviously bigger than just fashion, but it's about empowering women.
How do you prioritize ethical production?
Virginia: It was our top priority. When we started conceptualizing Kaftan Life, we knew that unethical production was a huge problem in the fashion industry. If we couldn't make ethical manufacturing a foundation of our business model, we weren't going to start a fashion brand at all.
Jarryd: This was a learning process for us. We worked with a few industry insiders to identify reliable ethical certifications and then spent six months vetting manufacturers to find the right partner. It was a massive undertaking, but it felt like it paid off in December 2018, when our production run was underway and we visited our manufacturing partner in Jaipur, India. There, we got to spend a few days getting to know the women and men making our garments and working alongside them.
How did your time at William & Mary influence Kaftan Life?
Virginia: First of all, William & Mary exposed me to a group of smart, driven, insightful people who were not afraid to challenge my worldview. They're still challenging me to learn and grow today!
Jarryd: William & Mary gave me my first real exposure to ethics in global garment manufacturing. A group of business school students and I took a semester-long deep dive into the garment manufacturing industry in Southeast Asia, including spending three weeks traveling the region meeting with local business leaders. This was an eye-opening experience for me that definitely helped shape the way I think about how what we wear and what we buy impacts people's lives all over the world.
Virginia: I would also say that my college experience pushed me to see what I was capable of achieving. For example, I think I worked on my thesis up until the 11th hour, and I was so nervous about turning it in. But with my advisor's help, I received high honors, and portions of my thesis were published. Having those types of experiences was formative for me because they helped to mediate my fear of not getting something done, or that it won't be good enough. I know I can get a lot done and that with the right help, I can continue to improve the final product. When I start to feel that way in my career, I reflect on that time in my life and the lessons I learned.
What's next for Kaftan Life?
Virginia: In the spirit of putting something out there, then learning from it and making changes, we've got a lot planned! On the product side, we hope to expand the line into other comfortable clothing items. Think slouchy tees and flowy jumpsuits. We're currently working with artist Greg Topscher '09 on new prints to expand our offerings in 2020.
Jarryd: At the same time, we're working on becoming more holistically ethical as a brand. For us, that means identifying more actions we can take throughout the value chain to be both ethical and sustainable, from how we source fabrics and dyes, to production, packaging and shipping. It also includes ways that we can step up our brand and messaging to match our social mission. Between new kaftans, other new products, sustainable and ethical initiatives and brand evolution, we have a lot to be excited about for the future!