On Monday afternoon, the Bee McLeod Recreation Center was dedicated in honor of the late Helen "Bee" Elizabeth McLeod '83, M.B.A. '91, a beloved alumna whose passion for wellness and commitment to her alma mater left an indelible mark at William & Mary.
During a perfectly timed break in the rain, President Katherine Rowe, joined by Executive Director of Health & Wellness and Director of Campus Recreation Linda Knight, McLeod's husband J. Goodenow "Goody" Tyler III, Bryce Early '23, Rector John E. Littel and members of the Board of Visitors, officially dedicated the center before a crowd of students, faculty, staff and friends of the university.
Located on Compton and Brooks Streets, adjacent to Kaplan Arena, the Bee McLeod Recreation Center offers fitness facilities, equipment, classrooms and recreation programs. It was originally built in 1989 and was renovated and expanded in 2006. In 2020, the building was renamed Bee McLeod Recreation Center, but the official dedication was delayed due to the pandemic. 
President Rowe honored the legacy of McLeod, who passed away in December 2019, for her generosity and the impact she had on the health and wellness of students, faculty, staff and the greater university community.
"When I think of Bee, I think of the warm welcome she gave me when I first met her and Goody," said President Rowe in her remarks. "I think of her acumen as a businesswoman and as a leader in many different communities. I think of her drive, her joyful competitiveness, her speed — she moved fast and had the mental agility of an athlete. She was a leader in so many different ways and brought others along in support of her passions. She built community around her and in support of alma mater."
"It is fitting that the student recreation center will be named as a permanent tribute to Bee," Rowe continued. "Her commitment will inspire so many generations of future students. They will know this community is one that takes care of each other and one that seeks to compete with and for each other joyfully."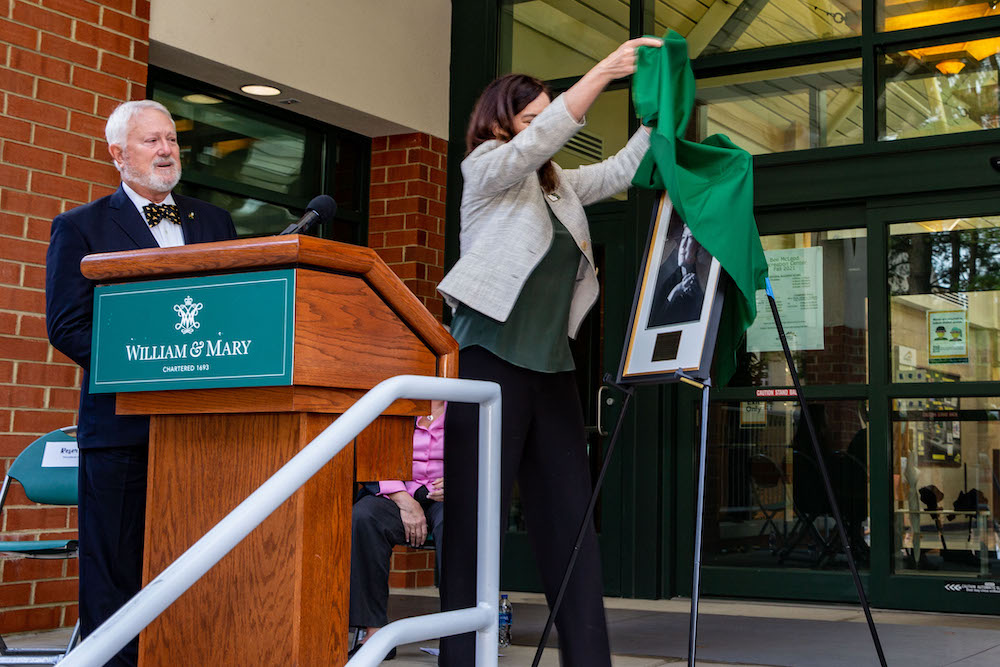 Tyler, McLeod's husband, was presented with a framed resolution from the Board of Visitors marking the occasion and the naming of the center. A portrait of McLeod, which will hang in the entry hall of the McLeod Recreation Center, was also revealed and presented to Tyler.
The plaque beneath the portrait reads: "Bee McLeod was a shining light in the William & Mary community. She was an energetic and passionate force for good. Together with her husband, J. Goodenow "Goody" Tyler III HON '11, Bee extended her generosity to campus recreation and student wellness in all its forms. She leaves an indelible legacy that will enable generations of students, faculty, and alumni to flourish."
In an emotional speech, Tyler shared his reflections on what wellness at William & Mary meant to McLeod. "Bee told me that to help with the stress of class, she would run down Duke of Gloucester Street, play racquetball in Blow Gym and practice Scottish Highland dancing. Exercise was always a big part of her life. Today, students need a productive way to destress from the pressures of student demands. What better place than this beautiful facility?"
During her life, McLeod ran 60 marathons, winning several, competed in the world duathlon in Calais, France, and in the Iron Man at Lake Placid, New York, and went to the gym three times a week. "She never stopped moving," Tyler said.
McLeod was also active in several voluntary capacities at W&M, serving as secretary on the William & Mary Foundation Board, the For the Bold Campaign Steering Committee, the Society of 1918 Steering Committee, the William & Mary Libraries Board of Directors and more.
McLeod and Tyler devoted themselves to increasing access to health and wellness opportunities across William & Mary's campus for all. In June 2017, the university broke ground on the McLeod Tyler Wellness Center at the heart of campus. It opened in fall 2018. The couple also established an endowment to fund free recreation and wellness classes at William & Mary for all times coming. Additionally, McLeod and Tyler named the McLeod Business Library in Miller Hall in honor of McLeod's parents; they also contributed to scholarships, professorships, libraries, Fund for William & Mary, athletics and the arts at W&M.
Two fitness studios within the "Rec," as it is known to students, are also named in McLeod's and Tyler's honor.
"There is a fitting connection between the McLeod Tyler Wellness Center and the McLeod Rec Center. Students will be able to understand that wellness is physical, spiritual, and mental," Tyler said. "I know Bee would have been honored with the naming of the student rec center for her. She is smiling down on us today."
The mission of Campus Recreation at William & Mary is to provide quality recreational opportunities to all members of the William & Mary community to enhance and foster a life-long appreciation for health, wellness and recreation. The value words of Campus Recreation are honesty, integrity, passion, positive attitude, humor, trust, respect and teamwork. 
As Knight said, "Bee had the same mission and those same values. This dedication is to honor the wonderful person she was and is, as she lives on within so many of us. I cannot think of a better person to represent Campus Recreation than Bee McLeod. The entire campus rec team is humbled to come to work every day and walk into the Bee McLeod Recreation Center, and we will do all we can to honor her through our work."
Use of the Bee McLeod Recreation Center is free of charge to all William & Mary students, faculty and staff, and memberships are available to community members. The center includes a gymnasium with three basketball courts, a 25 yard 8-lane pool, sauna, cardio equipment, free weight room, racquetball and squash courts, fitness classes and a popular climbing wall.
In 2019, 7,000 different students used the McLeod Recreation Center facility in the year, making 284,913 visits. Around 1,600 people use the facility on the busiest days. Approximately 85% of W&M students participate in Campus Recreation programming, from using the McLeod Recreation Center to attending virtual classes to playing club sports on the outside fields.
Students could be seen exercising in the center during the dedication. The sound of student athletes at the nearby tennis courts and practice fields was a fitting backdrop to the ceremony.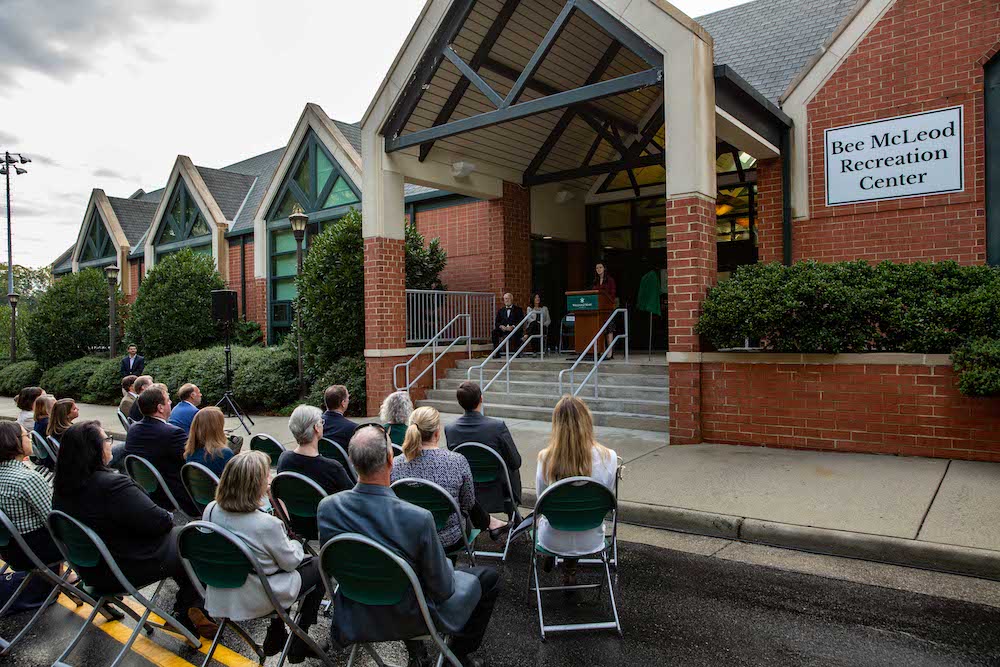 W&M junior Bryce Earley, like many students, has benefitted from McLeod's legacy and follows in her footsteps through her own passion for athletics and recreation while at school.
"Students recognize that the Rec is unique," Earley said. "It's a place for people to feel comfortable and take a break from academic stress, to find a relief, where people feel welcome. Students love the Rec because of its environment."
Earley concluded, "Campus Recreation is more than a workout class, a training session or a hiking trip. Campus Recreation is a home to many. Whether that home is an escape, a break or a challenge, it is a place where all belong."