Tribe Pride was everywhere at William & Mary Night at Nationals Park! More than 2,200 William & Mary alumni, family, students and friends attended this year's event on July 26. The Nationals played the L.A. Dodgers to a sold-out stadium of 37,400, with two sections filled with Tribe fans in their green and gold. It was an evening of fun, food, and of course, baseball!
Everyone who bought their ticket through William & Mary's event received an exclusive Nationals and William & Mary branded New Era baseball hat featuring the Nationals' spring training logo. This is the second year the William & Mary Alumni Association has hosted this event in partnership with the Washington Nationals.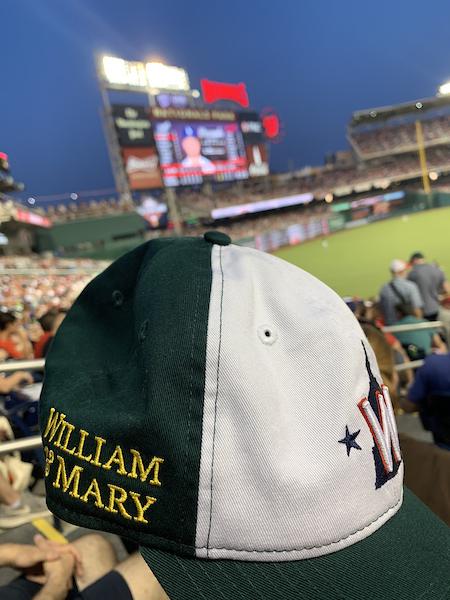 Before the game, the D.C. Metro Alumni Chapter, Washington Center and Washington Area Alumni Business Alliance (WAABA) hosted a tailgate at Mission Navy Yard, a bar and restaurant across from Nationals Park. Almost 400 William & Mary alumni, family and friends from all over the country gathered for food, drinks and conversation.
Scott Wilkinson '94, M.B.A. '99 of the Washington Center Advisory Board welcomed everyone to the tailgate and encouraged everyone to get involved with opportunities for students and alumni in Washington, D.C.
"Washington D.C. has the most William & Mary alumni of any city, and it's important to both William & Mary and the nation," said Wilkinson. "The Washington Center, though its Study in DC programs, gives William & Mary students an opportunity to live and work in Washington D.C., where they learn how to make life better for all Americans by seeing firsthand how the government works." 
Brendan Harris '02, who played for W&M Baseball before going on to play infield for the Nationals, stopped by the tailgate to greet the crowd before heading over to the field to throw the ceremonial first pitch. 
"There are so many William & Mary connections in this game," said Harris. "Not only did myself and fellow W&M Baseball player Bill Bray '15 used to play for the Nationals, but Todd Boehly '96 is one of the owners of the Los Angeles Dodgers. Thank you for coming out to celebrate William & Mary tonight!"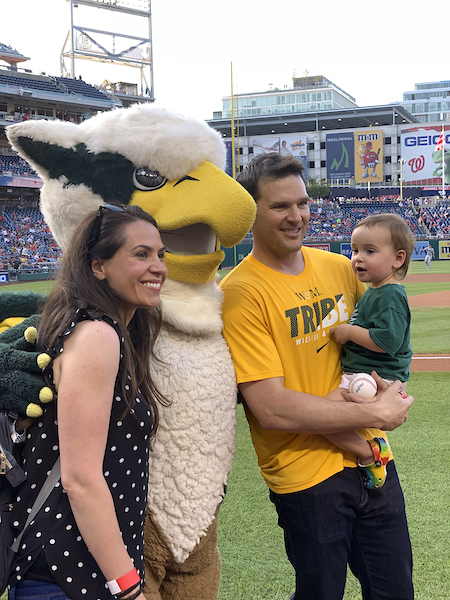 Before the game began, J.J. Kuchan '13 played the National Anthem. The players came out to the field escorted by their "anthem buddies," the children of W&M military and veteran alumni. The official William & Mary Queens' Guard presented the flag.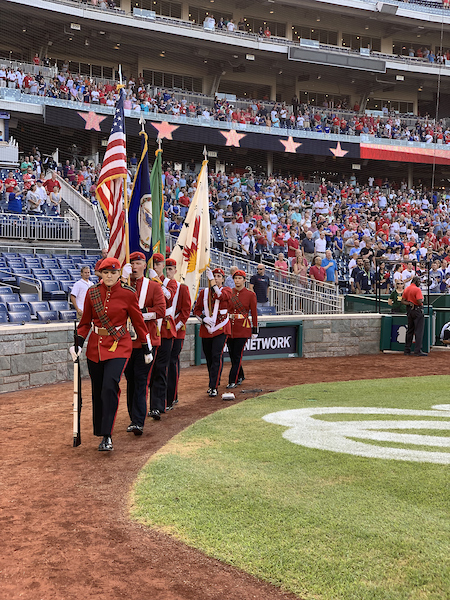 Mackenzie Corcoran '21, a member of the Queens' Guard, was out on the field.
"Being on the field knowing 37,000 people were watching, many of them being students that I knew, was a little nerve-wracking, but it was a once-in-a-lifetime experience," she said. "Many of the brothers of Queens' Guard came to the game as well to cheer us on, so we all ending up sitting together and enjoying the game while showing off our Tribe Pride!"
William & Mary received a variety of shout-outs throughout the game, including the Spirit Award, which went to D.C. Metro-area volunteers who serve as a part of the campaign steering committee, the alumni chapter board, the WAABA executive committee, the Washington Center Advisory Board and as volunteers for countless events and programs. They cheered on the players as they came through the lineup tunnel.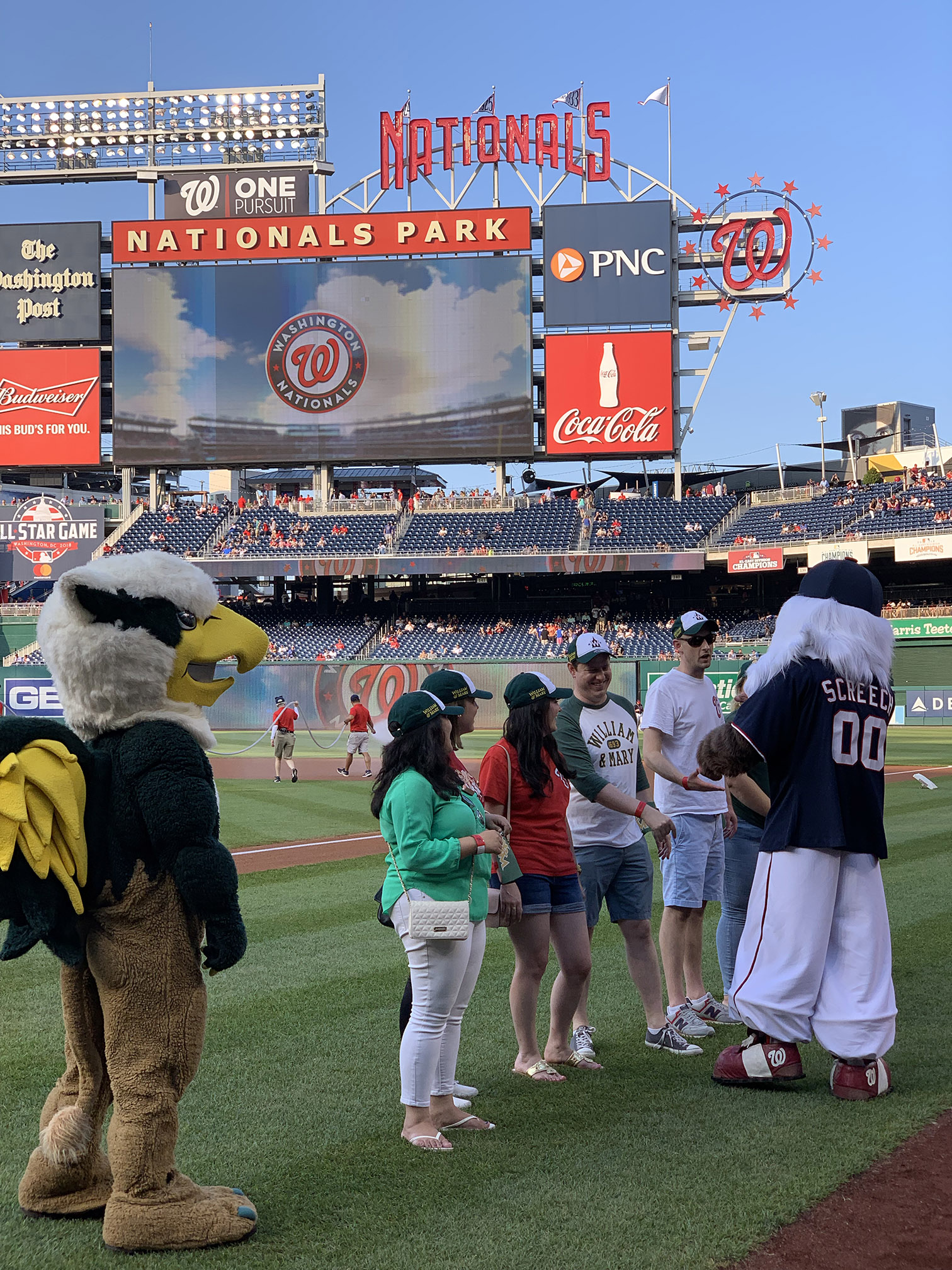 After the third inning, the Nationals presidents' race — a fan favorite in which giant-headed mascots Thomas Jefferson, George Washington Abraham Lincoln and Theodore Roosevelt compete in a foot race around the field — took a William & Mary turn. Thomas Jefferson in a William & Mary graduation robe was first to cross the finish line, which was held by Anna Mahalak '12 and Ben DeMaria '05.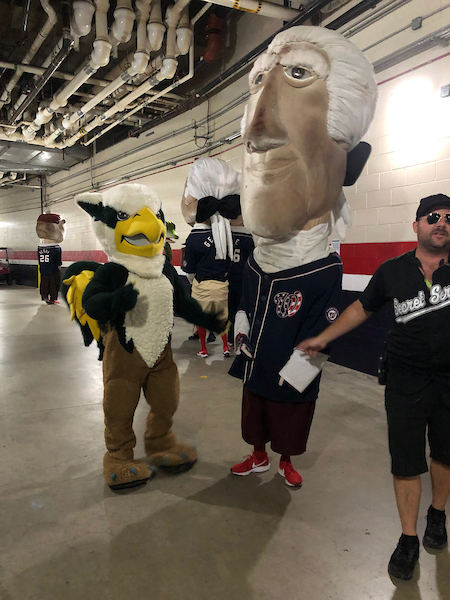 The Griffin also made appearances at the tailgate, on the field and in the stands, taking pictures with fans.
Sharon Boston '92, Michelle Roach Spratt '92 and Tracy Goldsmith Baetz '92 came to the tailgate and game together. They've remained friends since meeting in college. 
"I'm in Baltimore and they are in Northern Virginia. We stay in touch as much as we can, but we get so busy with our lives," said Boston. "But we all love baseball, and this being in D.C. made it the perfect opportunity to get together. I went to the Alumni Association event at Camden Yards in Baltimore to see the Orioles play and loved it, and so I knew this event at Nats Park was going to be a great time."
Leigh Anne Abiouness M.B.A. '20 was particularly excited about this game.
"I graduated from UCLA for undergrad and now I'm attending William & Mary for graduate school, so William & Mary at a Dodgers game is the perfect combination!" she said.
The Dodgers won the game 4-2 with a home run in the 8th inning. Tired, happy fans headed home with their William & Mary-Nationals hats and good memories from a great night at the ballpark.