"More people in more places can now compete, connect and collaborate in more ways, for less money, from more places, than ever before."
With this quote from Pulitzer Prize-winning journalist Thomas Friedman, Mark Linaugh '84 kicked off the theme for this year's W&M Professionals Week — how professionals can build skills and connections to successfully navigate this time of uncertainty. The changes over the past year, from the pandemic to calls for racial justice to political and economic unrest, can also be opportunities for growth.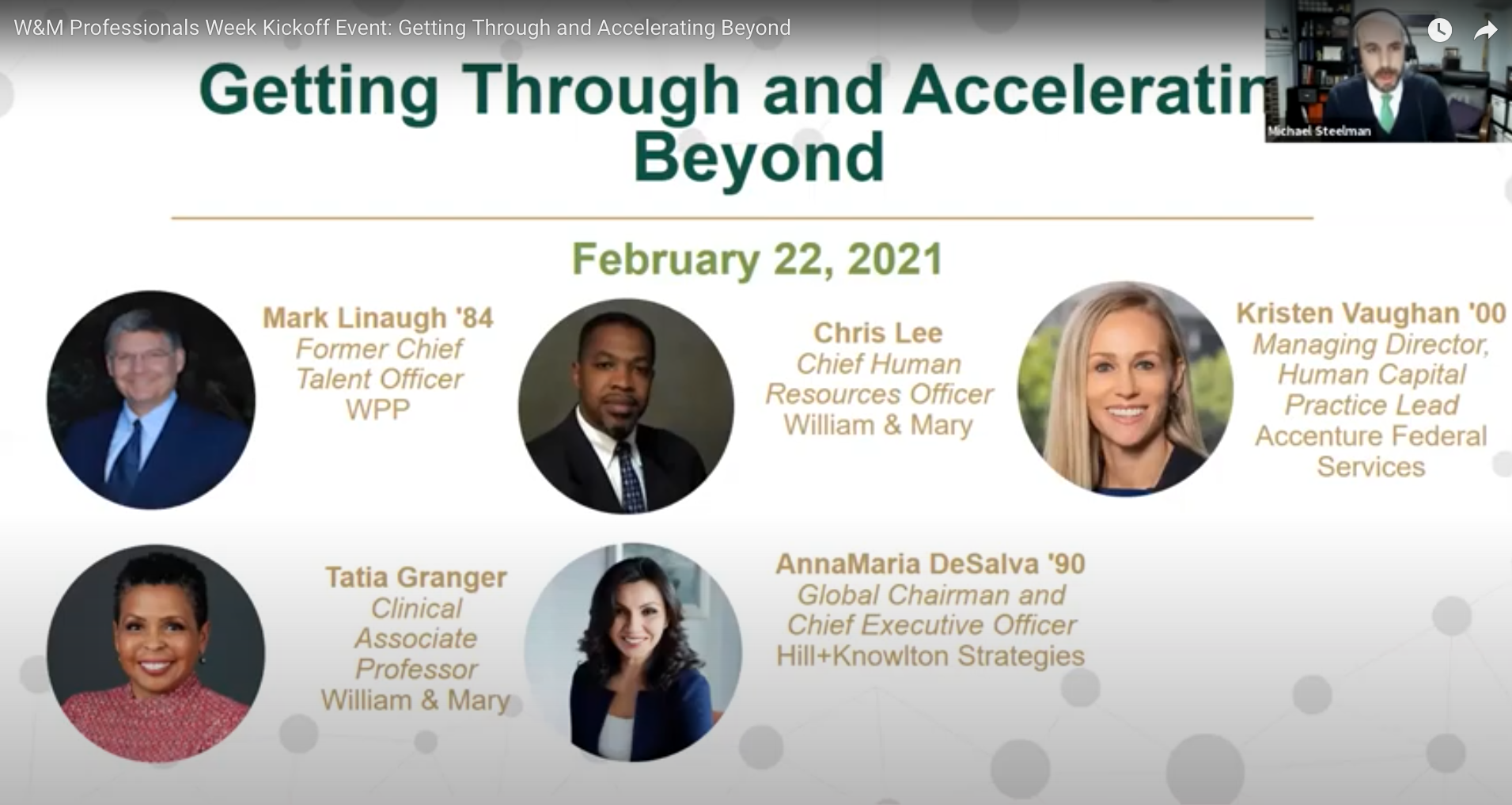 "The goal of coming through and accelerating out of the pandemic is not a return to any year in the past, but rather the creation of a new time, a better future, drawing on all our hard-earned experiences," Linaugh said. "Let's take the opportunity we have this week to learn from one another, to prepare ourselves intellectually and emotionally for the opportunities and challenges that lie ahead, and let's meet some people we can stay engaged with for the longer term in this community that we're building together."
In keeping with William & Mary's Healthy Together commitment, this year's Professionals Week was entirely virtual. The new format meant more than 1,100 registrants worldwide, including alumni and other members of the W&M community from Tokyo to Switzerland to Seattle to Williamsburg, could come together to connect, share their experiences and forge new paths forward.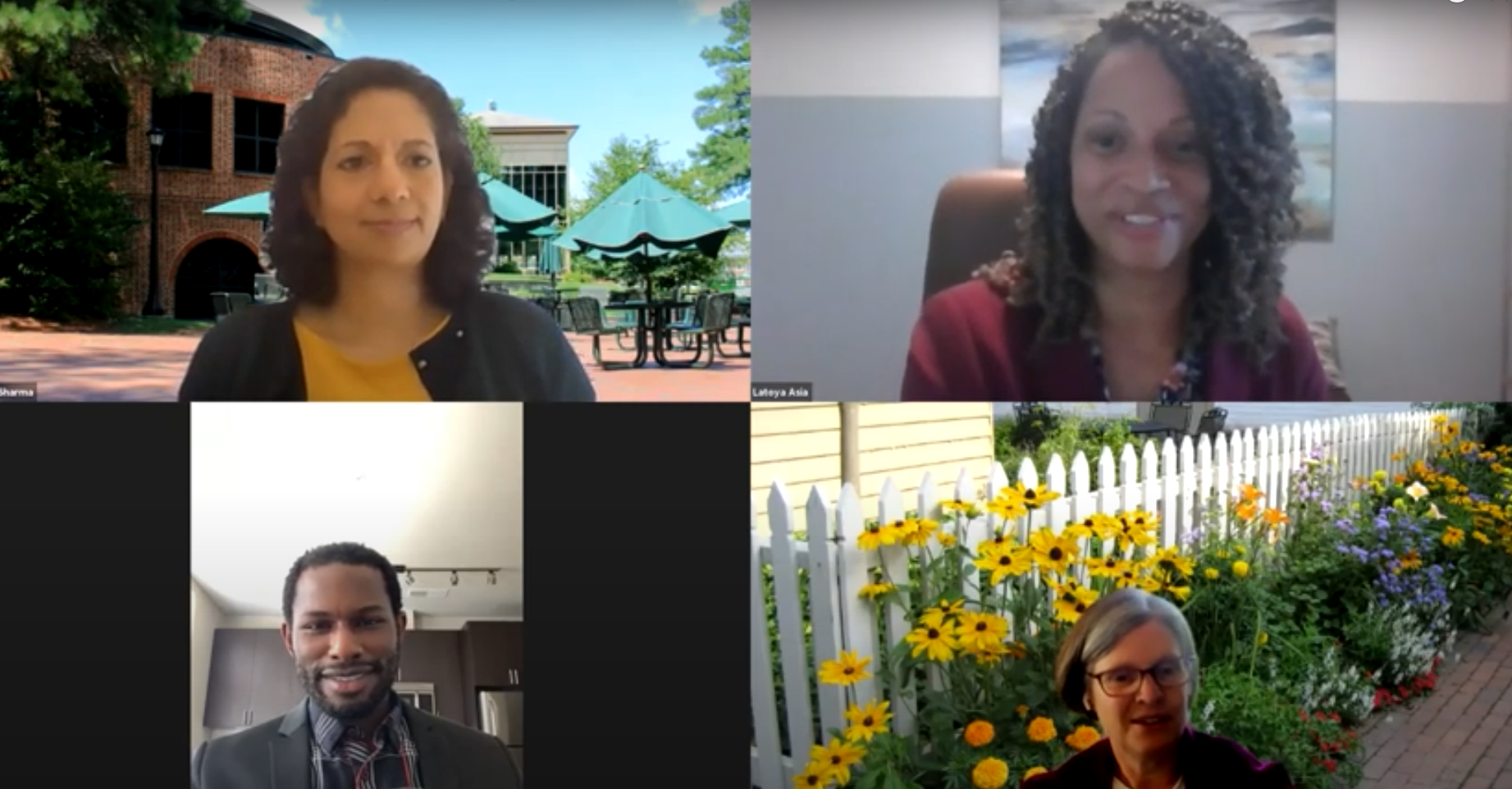 In a session on diversity, equity and inclusion in the workplace, Shuchi Sharma '92, M.A. '93, Latoya Asia J.D. '09 and Logan Scott '13 shared advice for hiring managers as well as people seeking employment on how to challenge organizations to be more inclusive. They walked through strategies for each stage of an employee's journey, from applying for a job to exiting the company.
"It starts with ourselves. We have to think about our own values, our own behaviors. As we change those, we can change the systems of our whole organization. We need to move from awareness of the problem to being a real agent of change," Shuchi said. 
Janet Atwater '84, P '17, P '18, P '20, Professor Karin Wulf and John Elder Robison built on this theme in a session about employing and supporting neurodiverse professionals. They discussed how simple accommodations for neurodiversity also help all employees and students — for example, providing a meeting agenda and a quiet environment to work, and laying out the steps for each task clearly and logically.
"A person who has a different way of seeing things may be able to solve a complex problem in an instant that 10 people who don't have that neurological difference have been stumped by for a long period of time. Therefore it is worth it, as a society, to accommodate the different thinkers," Robison said.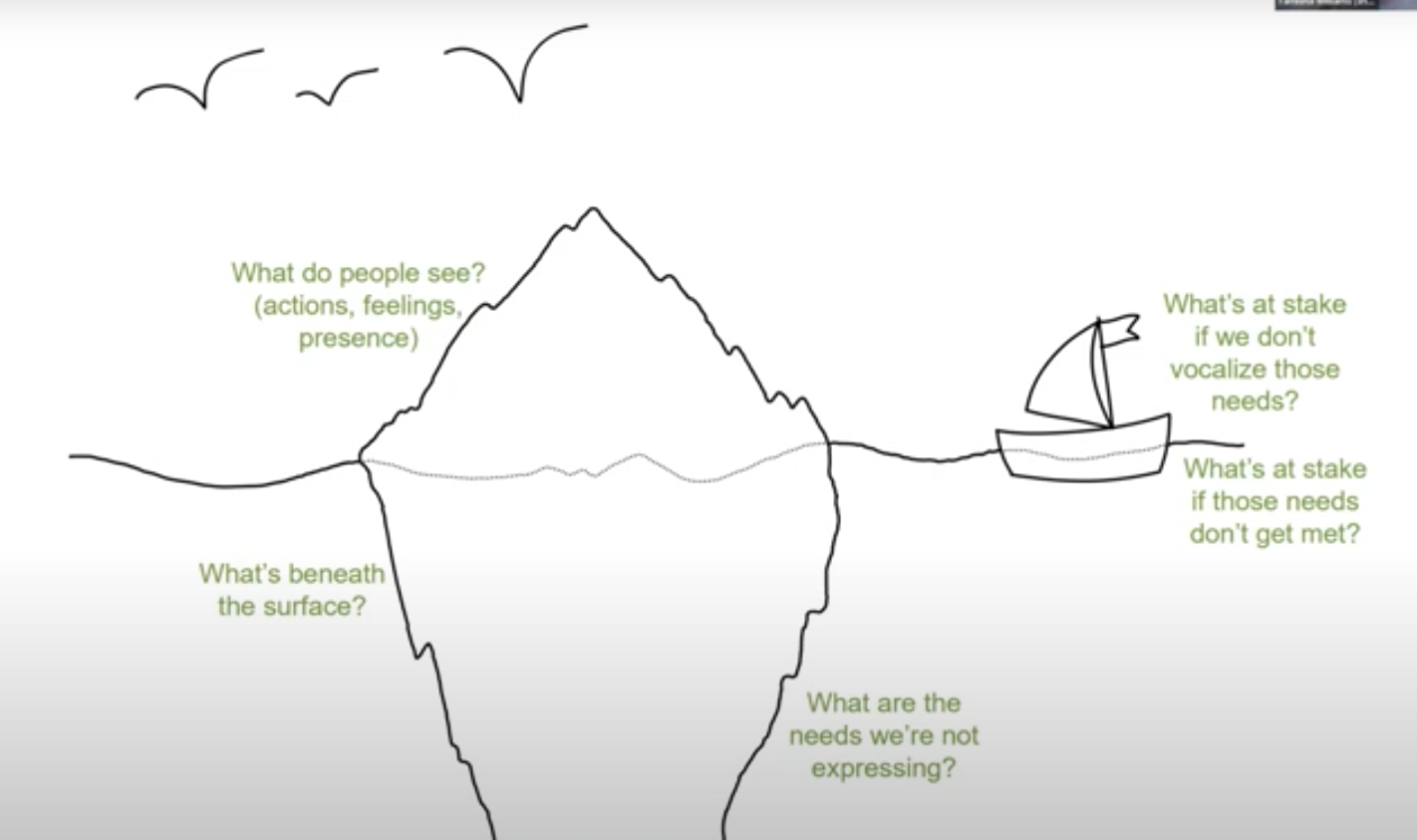 Other events took the form of workshops, like "Underrepresentation in the Workplace: Soul Capacity for Social Justice," in which Tamisha Williams M.Ed. '10 encouraged participants to think about their needs and the consequences of not expressing them by drawing out their mental "iceberg." In Finding (or Creating) the Right Job: Exploring Passion, Values and Skills, attendees used guidance from Pam Krulitz '86 to help provide career advice to one another in facilitated breakout sessions. And in Growing Grit in Challenging Times, Kirsten Jones '93 encouraged participants to share their "hard, high goals" with each other for encouragement.
The theme of gratitude appeared throughout the week, as presenters and participants alike gave shout outs in events and on social media using #wmprofessionalsweek #OneTribeOneNetwork to the mentors, professors and friends who helped get them to where they are in their career today.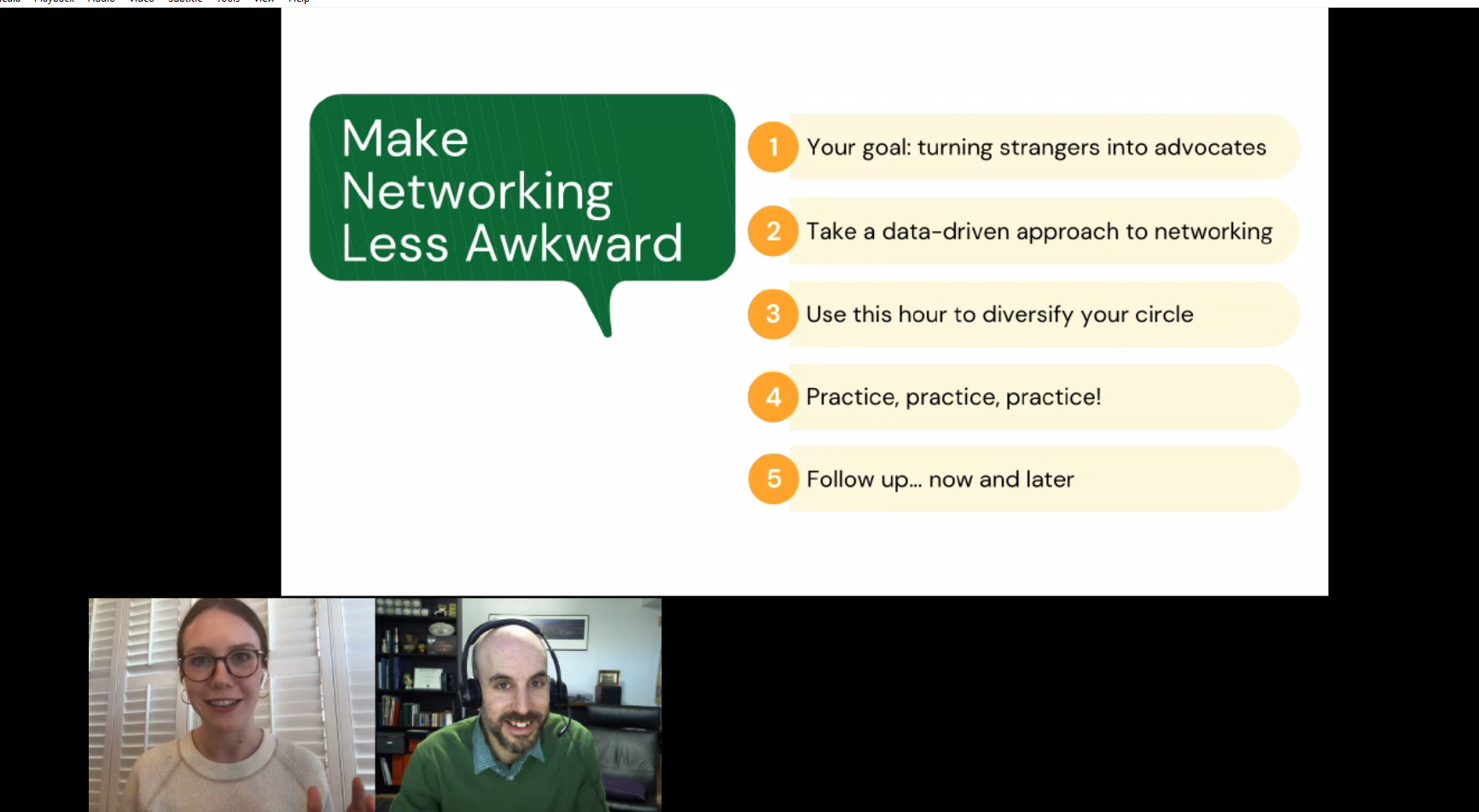 Attendees also had the opportunity to participate in two different kinds of networking: an Online Networking Hour with text-based one-on-one speed networking using Brazen and a concluding celebration with video-based networking in small groups using Gatherly. Alumna Sam Fansler Constance '13, assistant director of alumni career programming for the University of Chicago, joined Michael Steelman, director of alumni career management and professional networks for W&M, to kick off the Online Networking Hour with some quick networking tips.
Three companies — Deloitte, Capital One and Booz Allen — held special events during the week to bring together members of their global workforces who are also members of the W&M community. While these "Tribe @ Work" events take place throughout the year in specific workplaces, the virtual format enabled W&M alumni and friends from all over the world in each company to meet each other and reminisce about their time at William & Mary.
"I am thankful to everyone who participated in this exciting week of making connections learning from one another, and I am especially grateful to all the volunteers who helped make this event possible," said Steelman. "Let's keep this energy and momentum going throughout the year." 
Missed a session? Want to view an event again? The recordings are available on the W&M Alumni Association's webinars page. Find upcoming live events and other career and networking resources from the WMAA at wmalumni.com/onenetwork.
Stay updated on all the latest One Tribe One Network resources and programming! Sign up for our professional networks.
Here's what alumni and other members of the W&M community said about Professionals Week:
"Thought provoking session and useful/practical discussions with other alumni who have different perspectives." (Finding (or Creating) the Right Job: Exploring Passion, Values and Skills)
"The presenter was fantastic! Good energy and engaging content. Loved the interactive exercise and discussion." (Underrepresentation in the Workplace: Soul Capacity for Social Justice)
"Kirsten Jones was AWESOME! I did not know quite how much I needed this!" (Growing Grit in Challenging Times)
"It was fast, efficient, and allowed me to make solid connections to six new people in less than an hour. It was exactly what I was looking for — expansion of my network!" (Professionals Week Online Networking Hour)
"I really appreciated the text format of the networking. It was a nice casual environment to get to know people." (Professionals Week Online Networking Hour)
"Optimistic and uplifting, timely information from five influential and interesting people." (Getting Through and Accelerating Beyond)
"Excellent panel; helpful examples and clear information. Provided additional online resources too." (Employing and Supporting Neurodiverse Professionals)