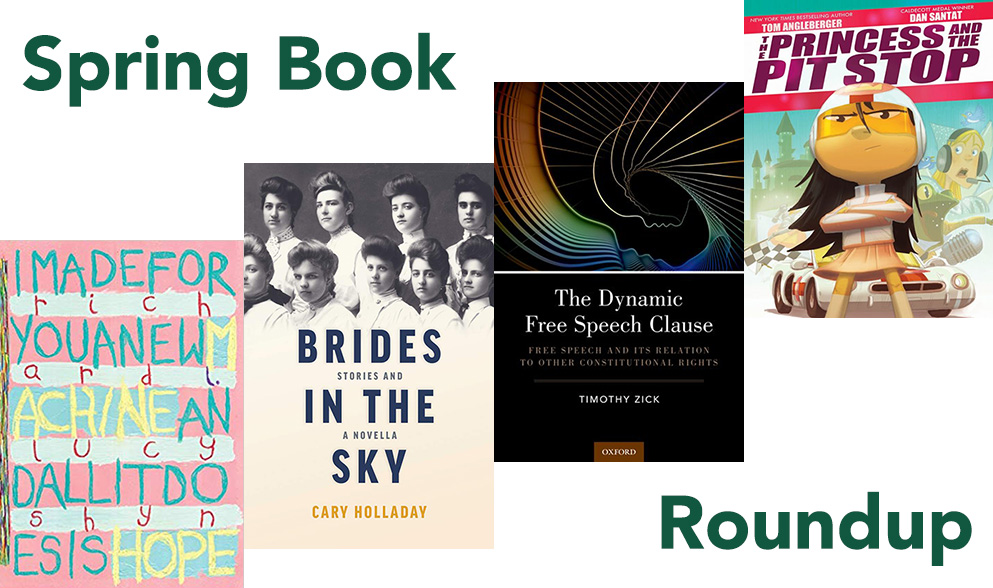 From an exercise program to gardening resources to fictional flights of fancies, William & Mary faculty and alumni will keep you busy this spring with a bevy of new books. This is the latest in our quarterly series of recently published titles by the William & Mary community.
Alumni
The Princess and the Pit Stop by Tom Angleberger '92
Celebrate girl power and car racing in this tale of the princess racing against fellow fairy characters. The princess is in last place behind the Frog Prince, Humpty Dumpty, the Wicked Stepsisters and others when she makes her big move. Will she be able to come from the back of the back to triumph?
The Compendium of Bedding Plant Diseases and Pests by Margery L. Daughtrey '75, A. R. Chase and Raymond A. Cloyd
Nearly 200 color photographs illustrate the most comprehensive book currently available about the diseases, disorders and arthropod pests of bedding plants. Whether readers are beginning gardeners with a few porch plants or are professional greenhouse and nursery producers, any gardener will find this book indispensable.
The Art of the Law: A Novel by Scott Douglas Gerber '83
In the latest thriller by Scott Gerber, young attorney Nevin Montgomery is sent by his firm to Cape Cod on a mission to update the will of famous artist Andrew Windsor. When a mysterious death occurs and the artist's will is contested, Nevin spirals through the backbiting world of art and intricate family dynamics.
The Peculiar Institution and the Making of Modern Psychiatry, 1840–1880 by Wendy Gonaver, M.A. '01
Wendy Gonaver draws upon untapped records from the first mental institution in the nation and the first one created specifically for African-Americans to explore how the development of mental institutions and the end of slavery are tied together. The author shows how slavery influenced ideas about patient freedom, the proper relationship between caregiver and patient, gender and more.
Mightier Than the Sword by Alana Harrison '01 and Drew Callander
The first in a series of books that allows readers to become active participants in the stories, "Mightier than the Sword" asks readers to rescue Astorya's Prince S. from the evil Queen Rulette. With some help from friends like a giant dung beetle and a Pegasus-centaur-cowgirl, readers must write, draw and puzzle their way through a fun adventure that proves the pencil is mightier than the sword.
The Handmaid's Secret: A Starstruck Novel (Volume 6) by Brenda Hiatt '78
Martian Molly O'Gara travels to Earth to attend high school and work as a handmaiden to the Martian sovereign Emileia. As her boss creates romantic drama, Molly must deal with being a teenager in this exciting young adult read.
Bikes for Sale by Carter Higgins '00
This well-illustrated children's book shows what happens when coincidence — in the form of a lemon peel and a branch — introduces two bicycle-riding strangers and turns them into friends.
Brides in the Sky: Stories and a Novella by Cary Holladay '80
Holladay's collection of short stories portrays the roles of women during periods of American history through fictional characters. One story does include an actual historical figure — Cynthia Ann Parker — but imagines what her life was like after returning to her birth community after living a full life with the Comanche people.
Women Scholars: Navigating the Doctoral Journey edited by Jelane A. Kennedy Ed.S. '93, Ed.D. '94 and Beverly A. Burnell
Through essays, 40 women provide practical guidance and perspective about managing challenging doctoral degree programs and share their experiences of surviving and thriving in the process. The book also analyzes the challenges of transitioning from doctoral study to post-degree employment.
Made to Move: Knowing and Loving God Through Our Bodies by Wendy R. LeBolt '83
Made to Move is a six-week program designed to help readers experience God through activities that engage the body and mind, including daily prayer, scripture reading and activities.
The Wild Impossibility by Cheryl A. Ossola '78
Cheryl Ossola's new novel follows an ICU nurse as she grieves the recent deaths of both her mother and child. When the nurse begins seeing visions of a romance between a teenaged girl and a young man held in one of the American internment camps for Japanese Americans in WWII, she learns about processing grief and resiliency of love during tragedy.
The Fate of the Frog by Melissa Bunin Rooney '93
As a drought dries up the water in a frog's puddle home and he tries to find a new puddle to live in, readers of Rooney's latest children's book will learn important environmental and water resource management lessons. The book won the 2018 Beverly Hills Children's Fiction Book Award.
The Flying Woman by Daniel Sherrier '05
Do you like comics and comic-book-inspired TV shows and movies? Then, you'll enjoy Daniel Sherrier's latest book, an origin story and the first title in a new series. In a world where a recently arrived superhero fights crime, failing actress Miranda Thomas discovers a dying woman wearing a superhero outfit on her walk through a park one evening. That meeting will change the rest of her life.
The Foreigners Are in 709 by Hope Solomon Young '84
In her memoir, Hope tells the story of moving to Beijing with her husband and daughters and traveling throughout Asia on their tourist visas. Plenty of humorous misadventures due to language and cultural differences ensue.
Faculty
Connect the Dots: How to Build, Nurture, and Leverage Your Network to Achieve Your Personal and Professional Goals by Inga Carboni, associate professor at the Raymond A. Mason School of Business
Take the next step in your career by effectively building, growing and nourishing your professional network. Carboni provides practical tips and advice on creating meaningful relationships to grow your professional life.
Reading Genesis: A Literary and Theological Commentary (Reading the Old Testament) by Julie Galambush, associate professor of religious studies
Galambush explains the history behind the writing of the book of Genesis, providing useful background into the customs and laws that "went without saying" at the time it was written. She helps current readers gain insight from and comfort in Genesis while understanding the difficult-to-accept components mentioned in the treatise.
I made for you a new machine and all it does is hope by Richard Lucyshyn, adjunct professor of English
Lucyshyn explores spirituality and liturgical language in his debut collection of poetry. His poems also take a critical look at the secular world.
The Dynamic Free Speech Clause: Free Speech and its Relation to Other Constitutional Rights by William & Mary Law School's John Marshall Professor of Government and Citizenship Timothy Zick
This in-depth profile of the first amendment looks at its history and relationships with other constitutional amendments. Zick argues the proper role of the Free Speech Clause in relation to other rights.