All

Online Exclusives
The Hollywood Connection
Phillip Sun '04 and Cord Jefferson '04 are promoting diversity through their platforms in the entertainment industry
June 1, 2021
By Tina Eshleman

Now is an excellent time for emerging writers, actors, directors and producers to break into show business, and for those with ties to William & Mary, a "small but mighty" alumni network in Hollywood is ready to help.
Those were among the takeaways from a talk this spring on "Diverse Voices in Hollywood" featuring talent agent Phillip Sun '04, president and managing partner of representation firm M88 and former partner at WME, and Emmy Award-winning television writer Cord Jefferson '04. The webinar, hosted by the W&M Alumni Association, the W&M Global Film Festival, University Advancement and the Office of Diversity & Inclusion, was moderated by Chon Glover M.Ed. '99, Ed.D. '06, W&M chief diversity officer.
"The last I heard, there were 650 scripted shows on television and more happening all the time," Jefferson says.
With so many new streaming services competing to offer original programming, "there's just a huge demand for anything you can make," says Jefferson, who won an Emmy in 2020 for his work on the HBO series "Watchmen."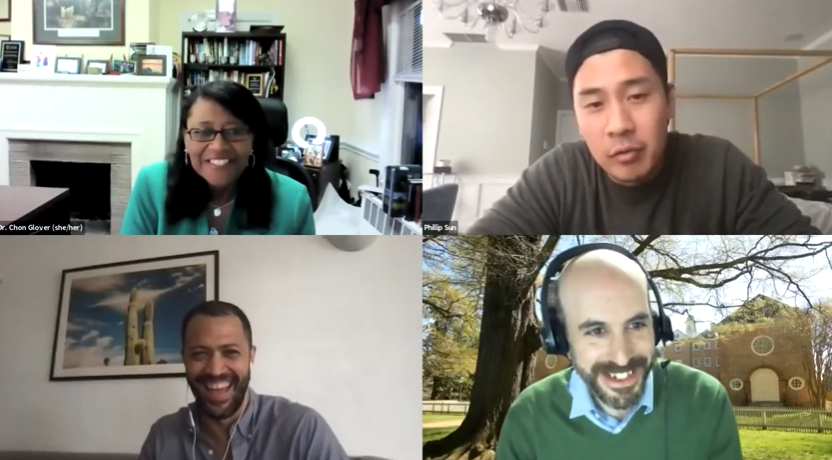 The increased demand comes at a time when Hollywood is recognizing that content produced for diverse audiences can be consistently profitable, as demonstrated by the success of films such as "Crazy Rich Asians," "Black Panther" and "Get Out," the panelists noted.
Jefferson and Sun knew each other casually as students in the same graduating class at William & Mary, and have reconnected recently over their shared commitment to expanding diversity.   
"If you're a person of color looking to get into this industry, I would say now is a perfect time to strike because there is just such a demand for new voices and new talent," Jefferson says. (Read about his path from being a journalist writing about race and culture to exploring similar themes as an entertainment writer in "Art Mirrors Life" from the spring 2021 issue of W&M Alumni Magazine.)
Sun, who began his career in the mailroom of William Morris Agency (now WME, since merging with Endeavor), is in a position to advocate for new voices and ensure that they are heard. He left WME last August after 15 years to partner with former colleague and mentor Charles D. King in launching M88, the independently operated representation firm which was started as a joint venture with Macro, a multicultural production company and studio dedicated to amplifying underrepresented voices. Since its founding in 2015, Macro has produced or co-financed such films as "Fences," "Sorry to Bother You" and "Judas and the Black Messiah." (Learn more about Sun's career journey in "Mr. Hollywood" from the winter 2014 issue of the W&M Alumni Magazine.)
"I love WME. It's just that as I was getting older, I felt like everything I was doing was a program, whether it was the diversity program or the pipeline program, etc.," Sun says. "I didn't feel like the very talented clients that I was blessed to represent were a program — they were the norm. They were where the culture was headed and where the industry was headed."
The birth of his son and the pandemic-induced slowdown of work prompted Sun to reevaluate the direction of his career. As a result, he joined King and formed M88 — "M" for Macro and 88 symbolizing good luck in Chinese culture, a nod to Sun's heritage. So far, it appears that fortune has smiled on the venture.
"I think it's time that a Black-owned, minority-run representation firm gets a chance to swing with the big boys," Sun says. "It was a blessing that all the clients came and believed in the mission."
Throughout his career, Sun's clients have included Michael B. Jordan, Idris Elba, Donald Glover, Gemma Chan, Taraji P. Henson, Yahya Abdul-Mateen II and Naomi Scott, among others.
Asked what advice they would offer to the next generation hoping to gain a foothold in Hollywood, Sun and Jefferson emphasized the importance of staying true to their identity.
"This town, specifically, has a knack for trying to mold you into what they want you to be," Sun says. "Just remember that even if you find success in the industry here, the reason you're finding success is because they liked who you were, not who you're becoming. If you can hold true to who you were when you started, that's really the biggest piece of advice I could give anyone."
Jefferson, who recently signed a four-year deal with Warner Brothers to create and produce television programs, described hearing from a friend at another company whose manager was saying, "We have to find our Bridgerton," referring to the popular Netflix period drama series.      
"From time to time, people do take chances on things like 'Bridgerton' or 'Crazy Rich Asians,'" Jefferson says. "And when those things hit, then everybody else is stuck trying to chase that originality. So trusting in your vision and trusting your taste and trusting that you have something to say is just an incredibly important thing."
Reflecting on William & Mary connections in Los Angeles, Jefferson mentions a couple of well-known names: Tony- and Emmy-winning actress Glenn Close '74, D.A. '89 and producer, writer and director Bill Lawrence '90, creator of the series "Scrubs" and co-creator of "Ted Lasso."
Three other W&M Hollywood insiders will take part in a discussion on "Diverse Voices in Hollywood" on June 24 — Lauren Shippen '13, a writer with Atypical Artists; Omar Kamara '15, a directing fellow at the AFI Conservatory; and Evan Cunningham '16, a producer and songwriter. This discussion will be moderated by Liz Sykes '06, owner and producer of AVAdventure Productions.
"We're small, but mighty," Jefferson says of William & Mary's Los Angeles contingent.
W&M alumni who want to pursue a career in entertainment can benefit from that network, Sun says.
"You have to do your homework and then rely on us to put you in the rooms that will give you the opportunity to swing," he says. "We can connect you with the entry point. You have to have done the homework and then you have to run."