As a teacher and mentor to Emily Matson '12 and Austin Strange '12 at William & Mary, Emily Wilcox was influential in guiding them down their paths of Chinese studies scholarship. 
Nearly a decade later, the three are reunited as recipients of a prestigious 2021 Wilson China Fellowship. 
"It's exciting," said Wilcox, an associate professor of Chinese studies at W&M. "The next generation of students are now my colleagues, so that's always a great feeling." 
The Wilson China Fellowship is a China-focused non-residential fellowship supporting the next generation of American scholarship on China. It is made possible by the support of the Carnegie Corporation of New York.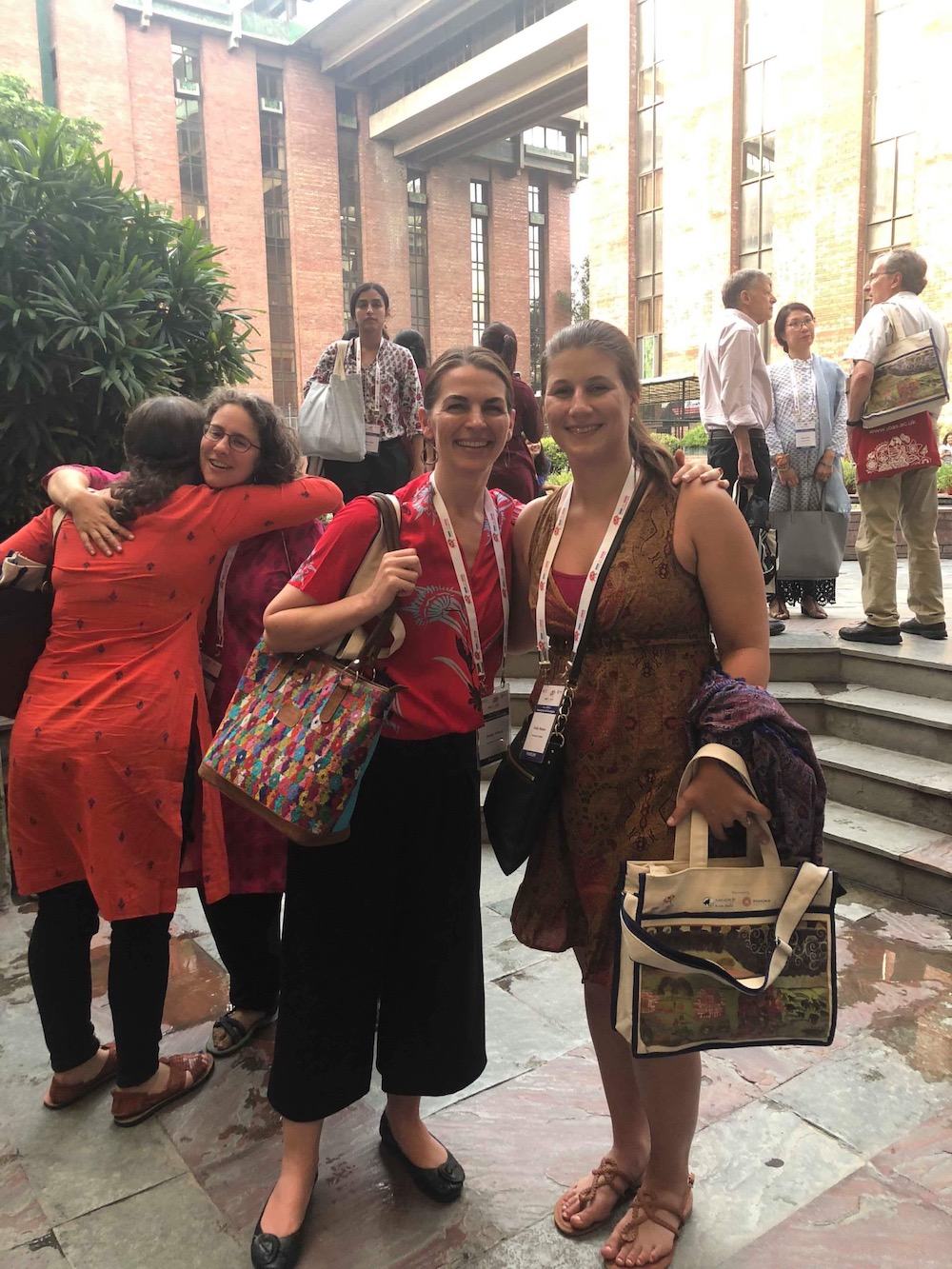 "It is particularly special to join two other members of the W&M community as Wilson China Fellows," said Strange, who earned his Ph.D. in government at Harvard University and is an assistant professor at the University of Hong Kong and a fellow in the Columbia-Harvard China and the World Program. 
"Emily Matson and I spent hours in Swem Library writing our honors theses together, and I am grateful for the chance to reconnect with her through the Wilson China Fellowship." 
Wilcox served as honors thesis advisor to both Strange and Matson. 
"It is incredibly special for me to be a part of the same cohort as Emily Wilcox and Austin Strange," said Matson, who earned her Ph.D., in Chinese history at the University of Virginia in fall 2020. 
"Emily Wilcox had a tremendous influence on me when I was at William & Mary. She was my senior thesis advisor and was and continues to be a role model for me. Her passion for studying 20th century China inspired me in large part to continue my studies into graduate school." 
A remarkable feat
The 25-member class of 2021 Wilson China Fellows includes scholars and practitioners working in a diverse range of policy-relevant issue areas vital to understanding the rise of China and its implications for the United States and the world. 
"This year, we will have three people who have studied or worked in the W&M Chinese Studies program represented in this very competitive and prestigious research program—it's a remarkable feat," said Michael Hill, director of Chinese studies at W&M. 
Wilcox, who recently returned to W&M after eight years teaching at the University of Michigan, is a leading scholar of Chinese dance, particularly in the 20th and 21st centuries. She applied for the Wilson China Fellowship to become more connected with the D.C.-area academic community. 
She wants to become more engaged in public discourse and public-facing scholarship about China. 
The Wilson China Fellowship will allow Wilcox to continue work on a book that explores Inter-Asia solidarity and how that is represented through performance, specifically dance. 
"I want to explore how we can understand China's interest in Inter-Asian and Afro-Asian solidarity through the lens of cultural practices like performing arts," Wilcox said. 
Matson and Strange reached near native level of fluency in the Chinese language during their time as W&M undergraduates. 
They both studied abroad in Beijing for the 2010-11 academic year, and both were International Peer Leaders for international orientation after returning from China. 
"They stood out because their Chinese language skills were stellar and they went out and completed their Ph.D.s and are embarking on careers as scholars in the field of Chinese studies," Wilcox said. 
"It shows that William & Mary's program is training academics and specialists in Chinese studies. Even though we don't have our own Ph.D. program, our undergraduate program in Chinese studies is giving students the skills they need to go to top level academic programs and receive their Ph.D.s and go into the field." 
Matson's Wilson China Fellowship project is called, "From Regional to National: Northeastern Scholars and the National Discourse on the War of Resistance Against Japan."
"My project deals with the memorialization of the War of Resistance against Japan by the Chinese Communist Party," Matson said. "In particular, I look at how Northeastern voices in China have contributed to a shifting timeline of the war."
Strange's Wilson China Fellowship project is called, "Game Changers? China's High-Profile International Development Projects."
"My project builds on several years of earlier, collaborative work with colleagues at W&M's Global Research Institute and AidData, and deploys a mix of original, project-level data collection and cross-national surveys in Asia and Africa to study the allocation and reception of China's high-profile development projects abroad," Strange said.
This story was originally published on W&M News.