This story originally appeared on the W&M Athletics website.
When Deborah Fabian '71 decided last fall to retire in Williamsburg, it was for a simple yet significant reason. "It felt like home," she said.
 
Since transitioning from male to female in 2011, Deborah has found only comfort and acceptance by her community and alma mater. She's given several talks about her experiences and how W&M has evolved since her years on campus. And on Sept. 17, she spoke at the William & Mary Women's Weekend.
 
As part of the "Women, Sports and Social Change" session at the Sadler Center, Fabian shared her thoughts on transgender athletes and the importance of keeping girls involved in sports. Joining her on the panel were former Tribe athletes Megan Moulton-Levy '07 (tennis), Felecia Hayes '21 (track), Raissa Magnin '96 (tennis) and Tiara Cruse '06 (basketball). Peel Hawthorne '80, senior associate athletics director and senior woman administrator, moderated. 
Fabian, a retired orthopedic surgeon, played goalie on the men's soccer team as David Fabian from 1967-70. After years of conflicted feelings, including depression and suicidal thoughts, David transitioned to Deborah at the age of 62 in 2011.
 
Two years later, she returned to William & Mary for the first time as Deborah for a speaking engagement. She recalls only positive feedback. In 2019, she spoke at the Lavender Graduation.
 
In 2021, delayed a year by the pandemic, the 1970 men's soccer team held a 50th reunion in Williamsburg. It was the first time most of Fabian's former teammates had seen her as Deborah. All were accepting.
 
"It was just like old times," she said. "I was a pretty important member of the team, and they still tell me that. And that's nice. Pretty much everyone just said, 'it's not a big deal.'"
 
Al Albert '69, M.Ed. '71, a teammate of Fabian's for two seasons, was one of them.
 
"David was my fraternity brother and teammate," said Albert, W&M's associate director of athletics advancement and men's soccer coach from 1971-2003. "Now, Deb is my female friend."
 
As David, Fabian came to William & Mary in 1967, the same year the college began fielding a club soccer program. Fabian was an outstanding goalie who was named to the All-South Region team. In his senior year, the team went undefeated in the regular season.
 
Fabian graduated W&M with a degree in chemistry. Then came Hahnemann Medical College, which is now part of Drexel University in Philadelphia. Having been drafted earlier, Fabian served from 1977-80 in the Navy as a battalion surgeon for the Marine Corps.
 
Fabian was married and had four children but had long identified with being a woman. He enjoyed "cross dressing," as it was called then, and often felt depressed when it came time to put on men's clothing and be David again.
 
Once, in 1976 he's pretty sure, Fabian was arrested for wearing women's clothing. He was strip-searched and so ashamed that he washed off his makeup in a toilet. Since there was no law against men wearing women's clothing, he was eventually released.
 
On the way home, Fabian bought a large quantity of sleeping pills.
 
"I almost took them," Fabian said, "but I didn't because I thought of my 1-year-old daughter."
 
Society at the time was no help. In medical school, Fabian remembers hearing hospital staff members ridiculing transgender patients behind their backs. Supposed experts in the field would refer to what the patients were feeling — what Fabian was feeling — as "a serious psychiatric condition."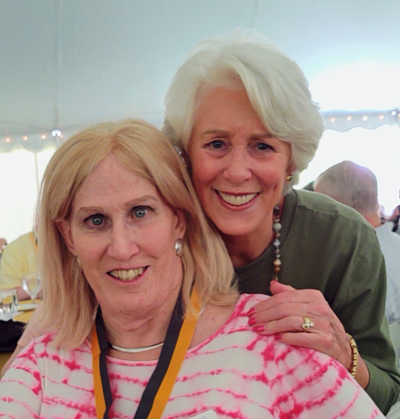 In the mid-1980s, Fabian began seeing a therapist. One night, she invited David and three other clients to her house to meet with a women's group from the Boston area. One of the members was a clinical social worker named Leslie Hilburn.
 
"I was very attracted to this individual," Leslie said, "despite the trappings."
 
David felt natural around her.
 
"She met me when I was at my therapist's house wearing a dress," Fabian said, "so she knew my deepest secret."
 
Initially, both insist, there was no physical relationship between them. Fabian was married to his first wife at the time, but their relationship had gone sour. They divorced in 1988, and David and Leslie were married three years later.
 
Having lost two siblings to suicide, Leslie knew all too well what depression can lead to. And every time Deborah had to go back to being David, there was deep depression. So finally, Leslie laid it on the line: If you hate being a man so much, do something about it.
 
"David said 'If it means losing you, I'll stop,'" Leslie said. "He knew from the start, for the first year or so, I didn't know if I'd be able to stay. But I told him, I'll always love you and be your best friend."
 
In 2009, David began transitioning. Two years later, Deborah Rae Fabian began existing full-time.
 
Leslie went through her own transition, which she details in her book My Husband's a Woman Now: A Shared Journey of Transition and Love. Eleven years later, they remain happily married. She goes by Leslie Hilburn Fabian.
 
Deborah finally feels like the person she was meant to be.
 
"I'm not modeling anything," she said. "I'm just being."
Fabian will speak at a talk and Q&A hosted by Gender, Sexuality and Women's Studies on Oct. 11, 2022, from 6-7:30 p.m. in ISC 3020.