What's it like to work on Wall Street? 
Over fall break, 15 W&M students got an inside look during the 23rd annual Wall Street Trip, hosted by the Office of Career Development & Professional Engagement.
Students visited the financial firms Evercore, BlackRock, MUFG, Bank of America, J.P. Morgan, UBS Corp., Barclays, Morgan Stanley, EY, RBC, Goldman Sachs and Scotiabank, and met with 48 alumni and friends who work in these and similar companies to learn more about careers in this industry.
"We are grateful to our alumni and friends for their willingness to host our students at their places of work, tell them about their careers, answer their questions and introduce them to their networks," says Rachel Southern, assistant director of business careers, who also attended the trip.
The three-day trip, from Oct. 12-14, was designed to be immersive and experiential to help students determine if a career on Wall Street is something they might like to pursue. The Wall Street Trip is one of several career exploration trips offered by the Office of Career Development & Professional Engagement.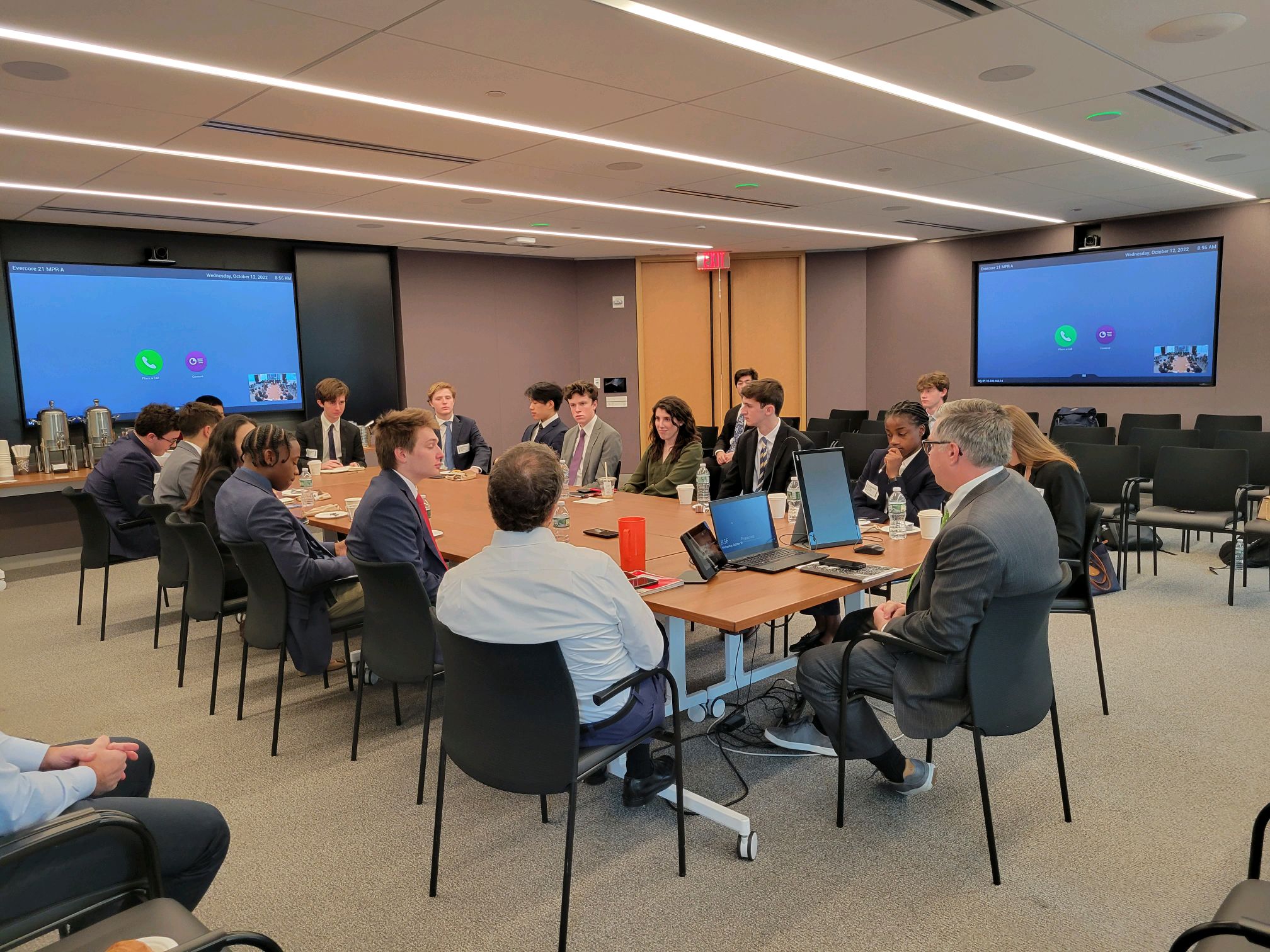 "In-person experiences like these help our students make informed decisions about their career paths," says Renard Miles, director of employer engagement and programming, who accompanied the students on the trip. "You get a much better sense of the ethos of each business when you set foot inside — what does a typical day look like? Students go through their security, see the busyness of the trading floor, experience their offices and observe their culture."
Jessica McAnneny Burt '02, head of global platform and business strategy for BlackRock Investment Stewardship, was one of the alumni who hosted a site visit in New York City. She has participated in the program since 2014. 
"I want to make sure W&M students have every opportunity to succeed and understand the many career options available to them across the whole of the financial industry," Burt says. "It is important for students to apply what they're learning in the classroom to the real world by seeing innovative concepts come to life."
During the trip, the Boehly Center for Excellence in Finance sponsored a reception for students to meet with alumni in a less formal setting. Students made new connections and talked with professionals about what it is like to live in New York City and work in finance.
Career readiness is a key component of William & Mary's Vision 2026 strategic plan. Career exploration trips like this one help the university meet its goal to "be known as the university that brings together an exceptional education with extraordinary experiential learning and provides connections that will support alumni throughout their professional lives."
Students were selected for the trip in a competitive application process. They need to express an interest in finance, but do not need to be pursuing a major or minor in business — Miles and Southern both emphasize that "your major does not define your career." Most students are freshmen and sophomores, because students interested in finance careers generally need to apply to internships in finance by the spring of their sophomore year.
Before the trip, students attend a session on the history of Wall Street, as well as key financial regulations and terminology, to provide context for their experience and inform the questions they will ask of alumni and professional partners. They are also encouraged to participate in programs such as From DoG Street to Wall Street, an annual program cohosted by the Boehly Center, the Howard J. Busbee Finance Academy and the Office of Career Development & Professional Engagement. The two-day forum in the fall includes a keynote address by a prominent professional in finance, networking sessions and panel discussions with alumni on topics including early career success, asset and wealth management, private equity, venture capital, consulting and more. 
For Emma Weinfurt '25, the trip helped her solidify her interest in pursuing a career in private banking and wealth management.
"Hearing from alumni and observing the type of person who thrives in each role provided valuable exposure to the wide range of careers finance offers, and ultimately helped to cancel out some options while realizing others were a great fit," she says. "Also, spending time with these professionals in their respective offices provided insight to bank culture, which is not something you can feel by just looking at their websites."
Along with new confidence in her career path, Weinfurt gained a supportive community of professionals to help her along the way. 
"Entering the finance world straight out of college is a somewhat intense process, but we could all tell that the alumni truly wanted to help us through the process in whatever ways they could, and there was a real sense of community among the group even though we hadn't met them before," she says. "I connected with so many alumni that had genuine interest in helping. Since the trip, I have stayed in touch with quite a few of them who have encouraged me through applications, provided me with more insight about their careers and the culture of their workplaces, and connected me with additional professionals outside of William & Mary." 
Charles Tang '26, a finance major, aspires to become an investment banking analyst. He appreciated getting an inside look at a wide range of financial firms and meeting with alumni at all levels of their careers.
"I was introduced to the intricacies of each field, which helped me develop a more solidified ideal career path," he said in a post on his LinkedIn. "Whether it was with a managing director or a first-year analyst, meeting and networking with the Wall Street W&M alumni I met on this trip was a truly rewarding experience. I enjoyed hearing each alum's stories and the advice they had to offer, and look forward to leveraging their resources in the future."