The W&M community gathered on the West Coast June 1-4 for W&M Weekend in San Francisco. This signature event has become a highly anticipated tradition that brings together alumni, parents, family and friends for intellectual, professional, cultural and social events that highlight the host city. From the kickoff at Oracle Park to a presidential conversation on the data revolution amid global change to insightful tours of iconic locations, our green and gold was on full display throughout the City by the Bay. This year, more than 260 alumni and friends from the local area and around the country attended at least one event during the Weekend. Volunteers and generous sponsors helped make the weekend's events possible.
W&M Weekend in San Francisco was the fourth in our series of events that gather the W&M community to connect, discover and celebrate in cities across the country. Each William & Mary Weekend is a unique opportunity to showcase our remarkable alumni where they live and highlight the university in new places. Previous W&M Weekends were held in Washington, D.C., New York City and Chicago.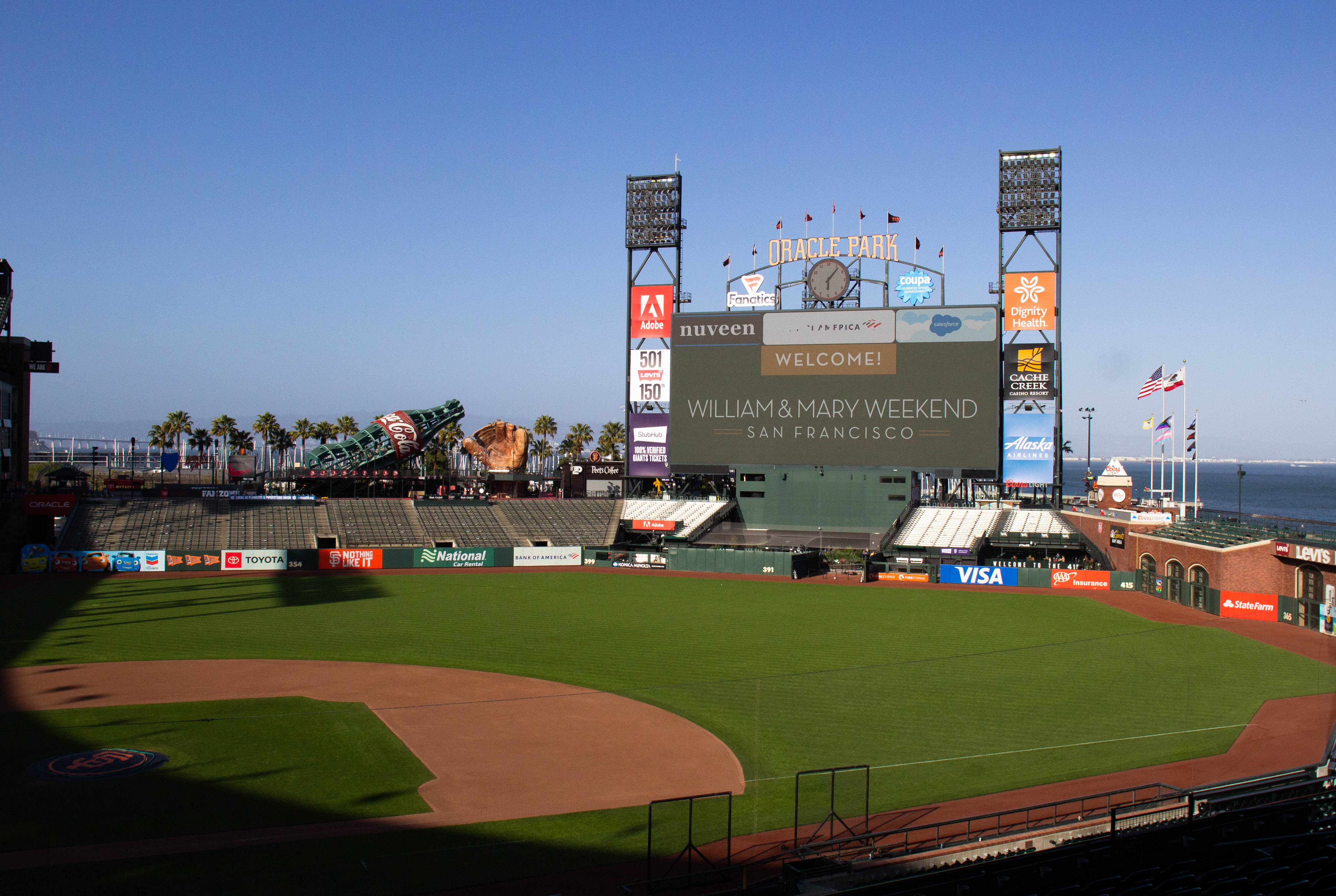 W&M went All In to kick off W&M Weekend in San Francisco at Oracle Park! Athletics Director Brian Mann moderated a conversation between Kathy Carter '91, chief executive officer of LA28, the summer 2028 Olympic and Paralympic games in Los Angeles, and Jill Ellis '88, L.H.D. '16, president of San Diego Wave FC and former two-time championship winning coach of the U.S. Women's National Team, who was just inducted into the National Soccer Hall of Fame. Ellis and Carter discussed their many years of friendship, how being student-athletes at William & Mary set them up for success and the importance of supporting the next generation of women athletes and leaders.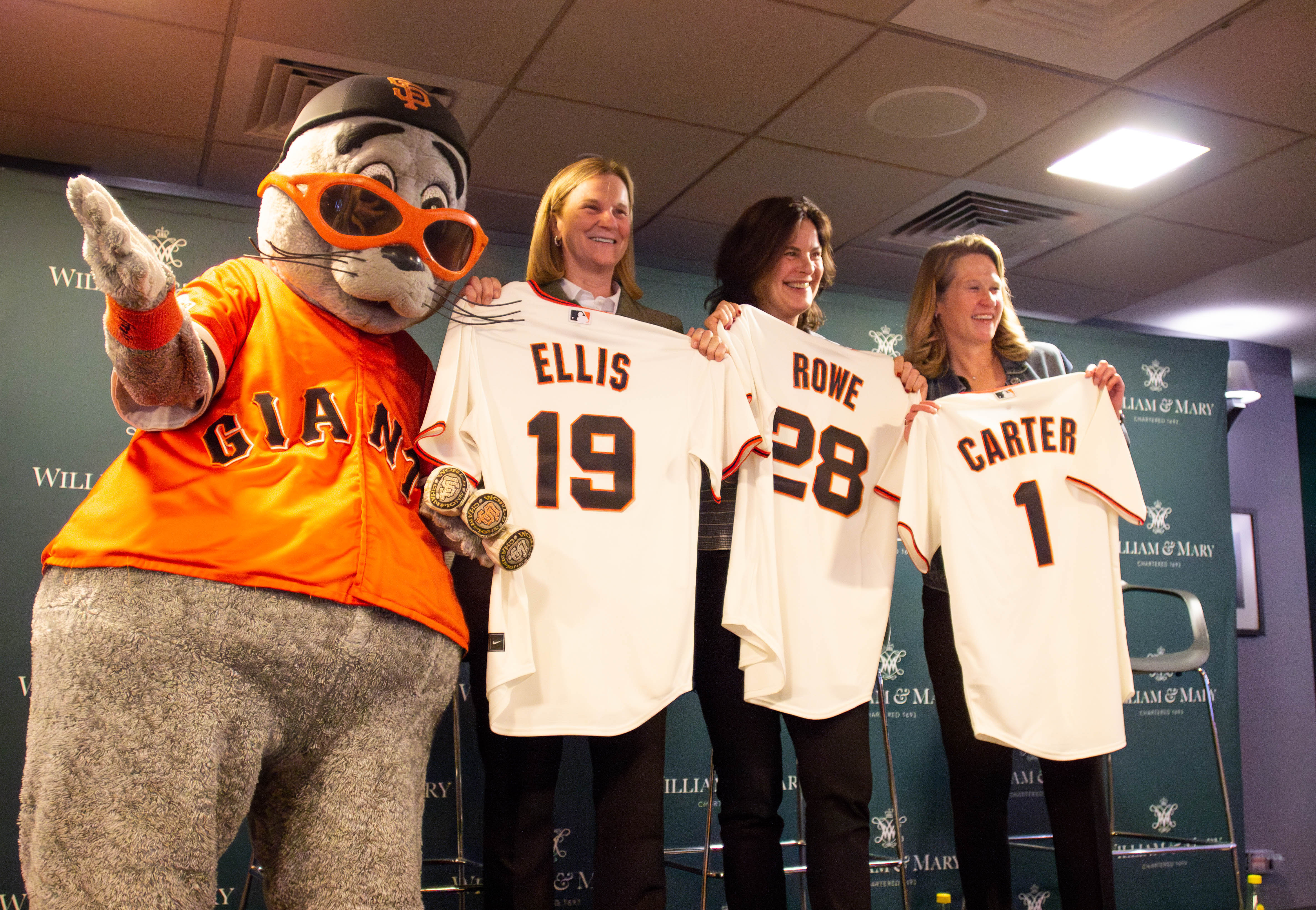 During the event, Lou Seal, the mascot for the San Francisco Giants, presented Ellis, W&M President Katherine Rowe and Carter with their own Giants jerseys.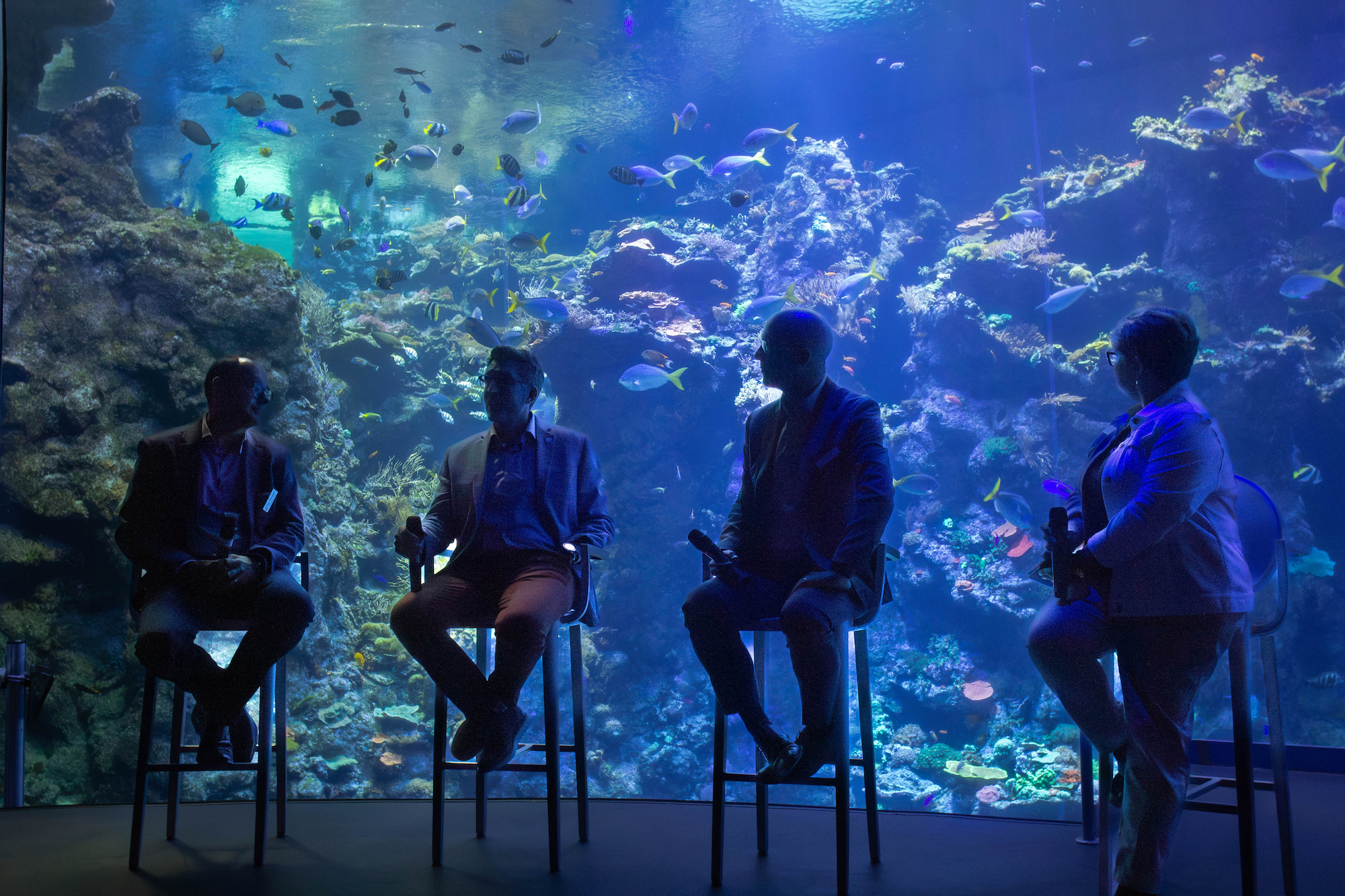 Attendees took a deep dive into global issues of biodiversity and conservation at the Steinhart Aquarium. Derek Aday, dean and director of William & Mary's Virginia Institute of Marine Science; Robert Rose, executive director of William & Mary's Institute for Integrative Conservation and Bart Shepherd '92, senior director of the Steinhart Aquarium shared their insights into W&M's Vision 2026 Water initiative in front of one of the deepest and largest displays of living coral in the world, the 212,000-gallon, 25-feet-deep Philippine Coral Reef tank.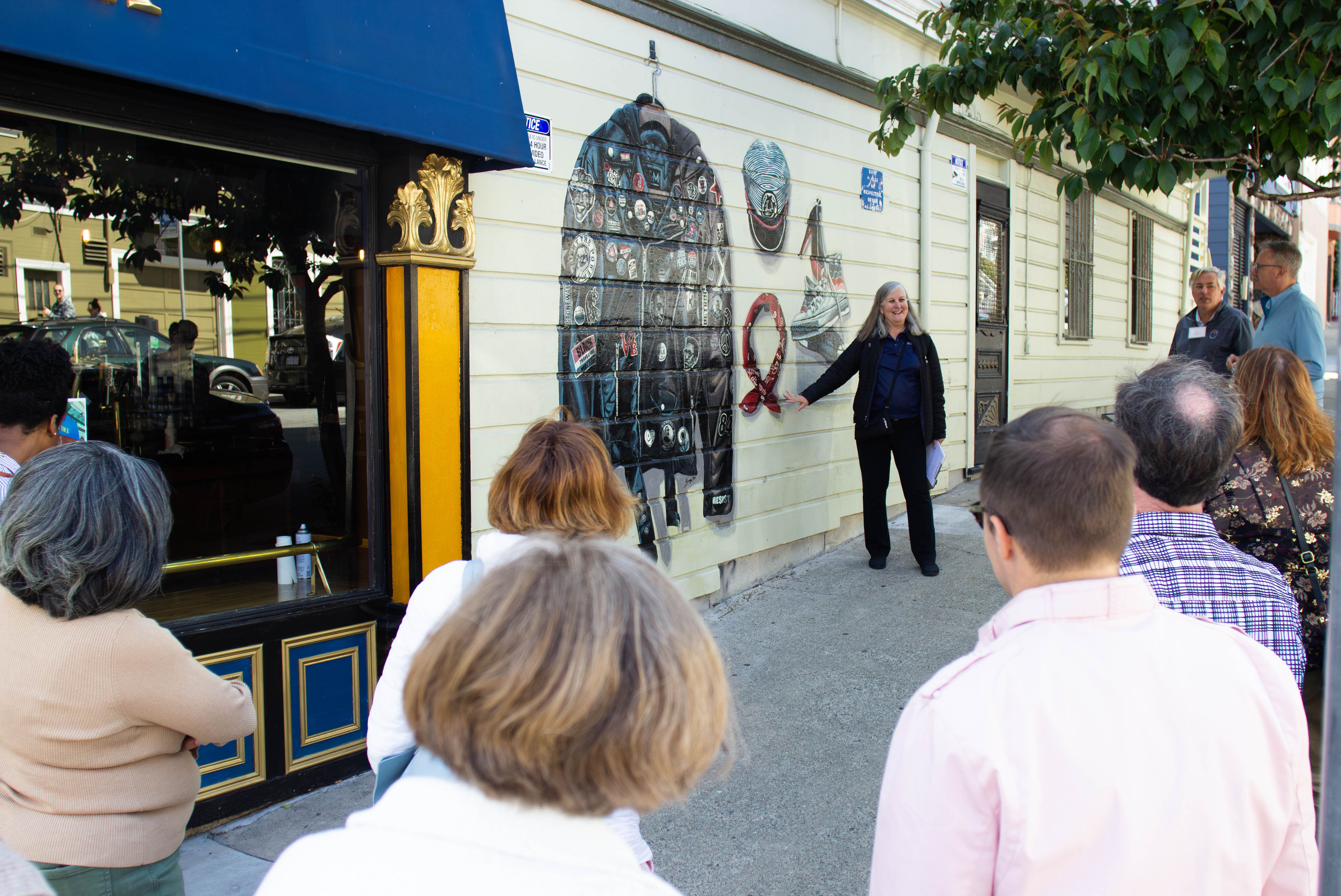 A walking tour of the Castro District, sponsored by Crim Dell Association: William & Mary LGBTQ+ Alumni, was one of many tours offered throughout the weekend. Before exploring this epicenter of the LGBTQIA+ rights movement, attendees enjoyed breakfast from San Francisco-favorite Tartine's Bakery at the home of Jeff Parker '80.
Other tours included the California African American Freedom Trail, sponsored by the Hulon Willis Association (alumni of Black and African descent); the Presidio, sponsored by Asian-Pacific Islander-Middle Eastern Alumni Association and the Association of 1775 (veteran, military and government service); Muir Woods, sponsored by Young Guarde and featuring humorist and award-winning writer Michael P. Branch '85; and the Minnesota Street Project Art Galleries with Stephanie Tuttle '92, sponsored by William & Mary's Muscarelle Museum of Art.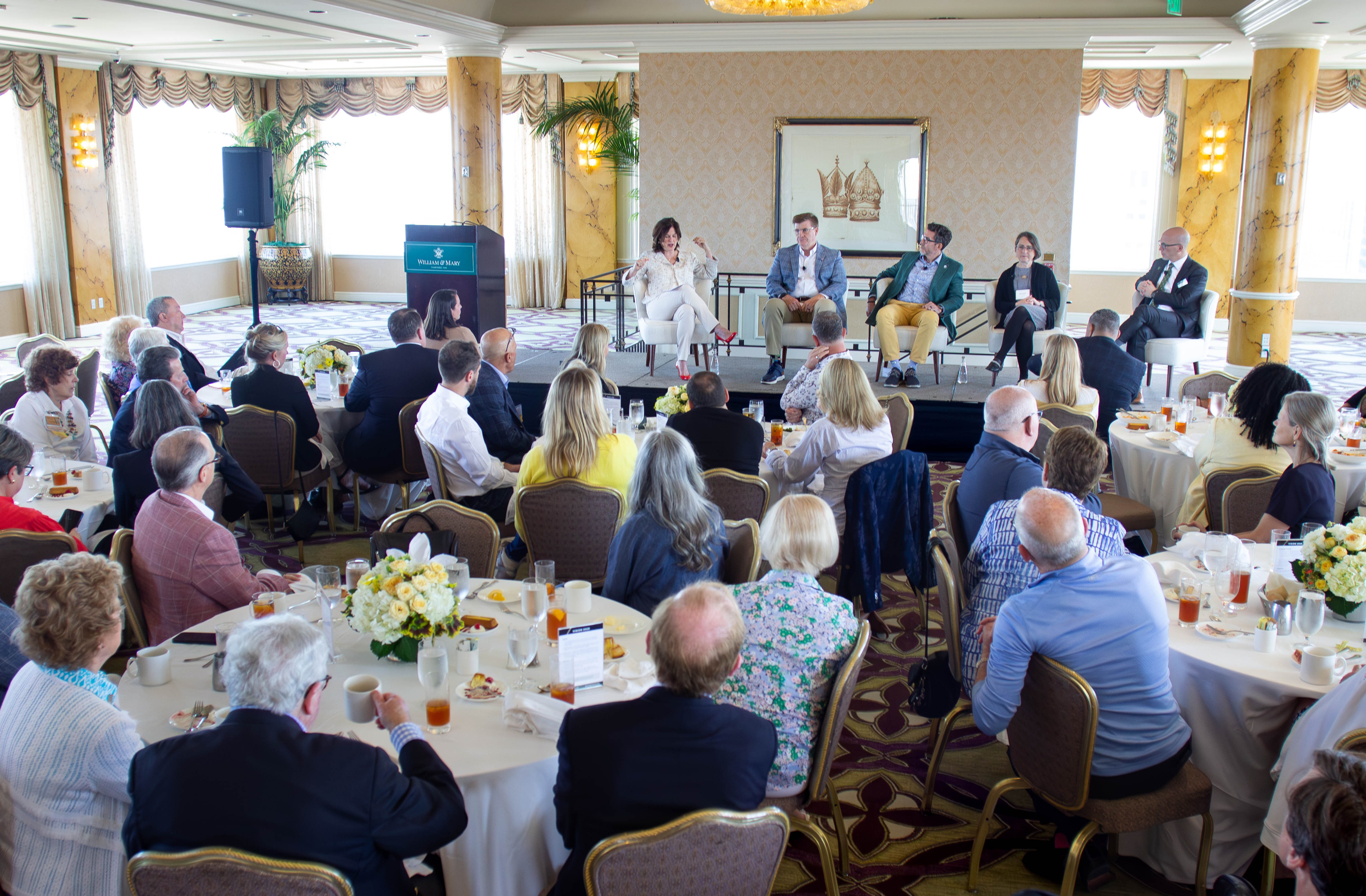 How is the data revolution providing new tools for tackling global environmental change, and how is William & Mary leading the way? In this in-depth conversation around W&M's Vision 2026 Data initiative, President Katherine A. Rowe discussed these questions and more with special guests Tim Carroll '87, head of Microsoft's Climate Portfolio; Derek Aday, dean and director of William & Mary's Virginia Institute of Marine Science; Suzanne Raitt, W&M dean of the faculty of Arts & Sciences; and Robert Rose, executive director of William & Mary's Institute for Integrative Conservation. The event was held in the Crown Room at the top of the Fairmont Tower, which features wraparound windows with a sweeping 270-degree panorama of the Golden Gate and Bay bridges, Coit Tower, Alcatraz, downtown and the Twin Peaks.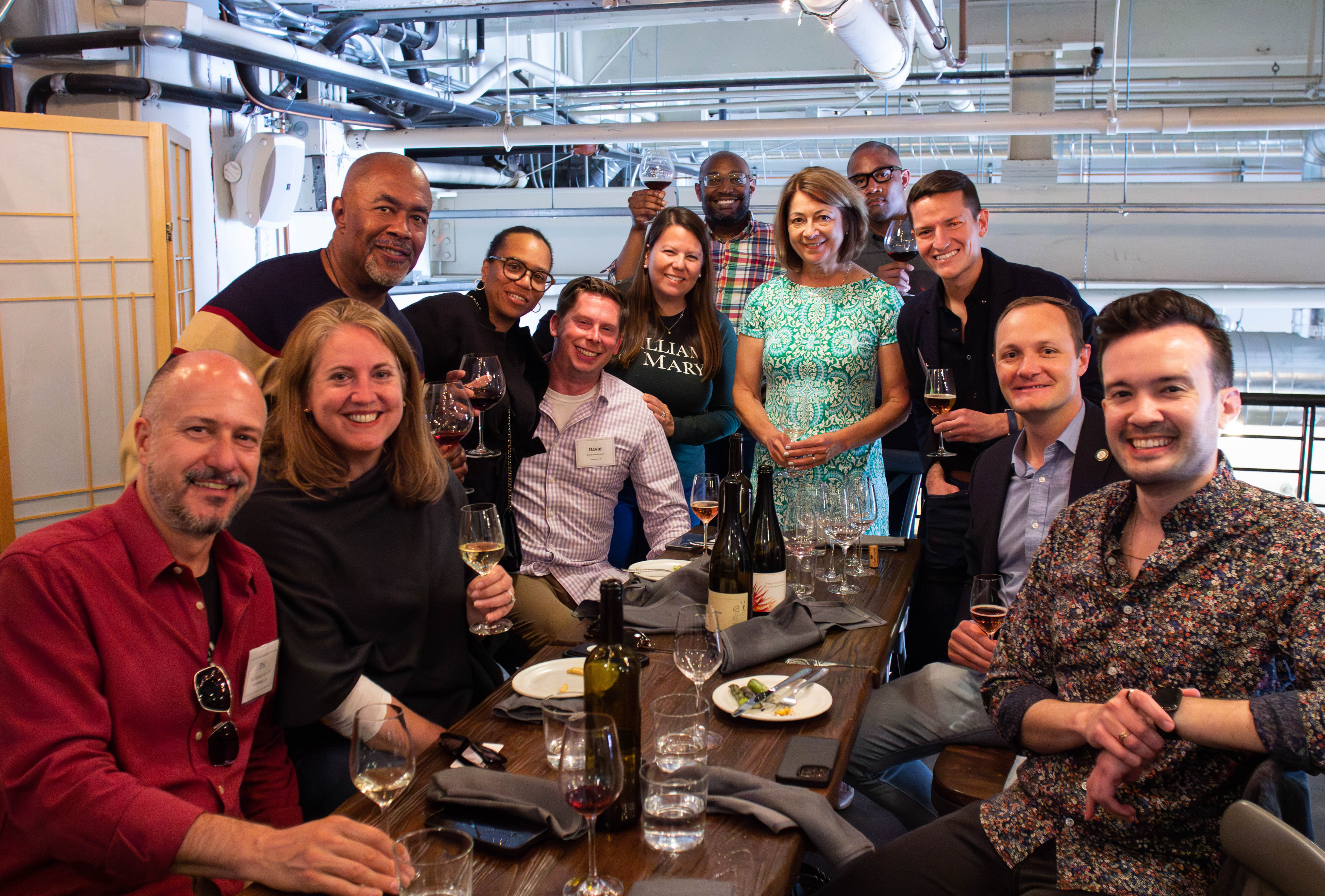 Alumni and friends enjoyed an exclusive wine tasting event at Ungrafted, sponsored by the Asian-Pacific Islander-Middle Eastern Alumni Association and the Hulon Willis Association. Chris Gaither (the fourth Black master sommelier in the world) presented a lineup featuring his favorite BIPOC-owned wineries and shared rich stories of how these producers got their start in the wine world.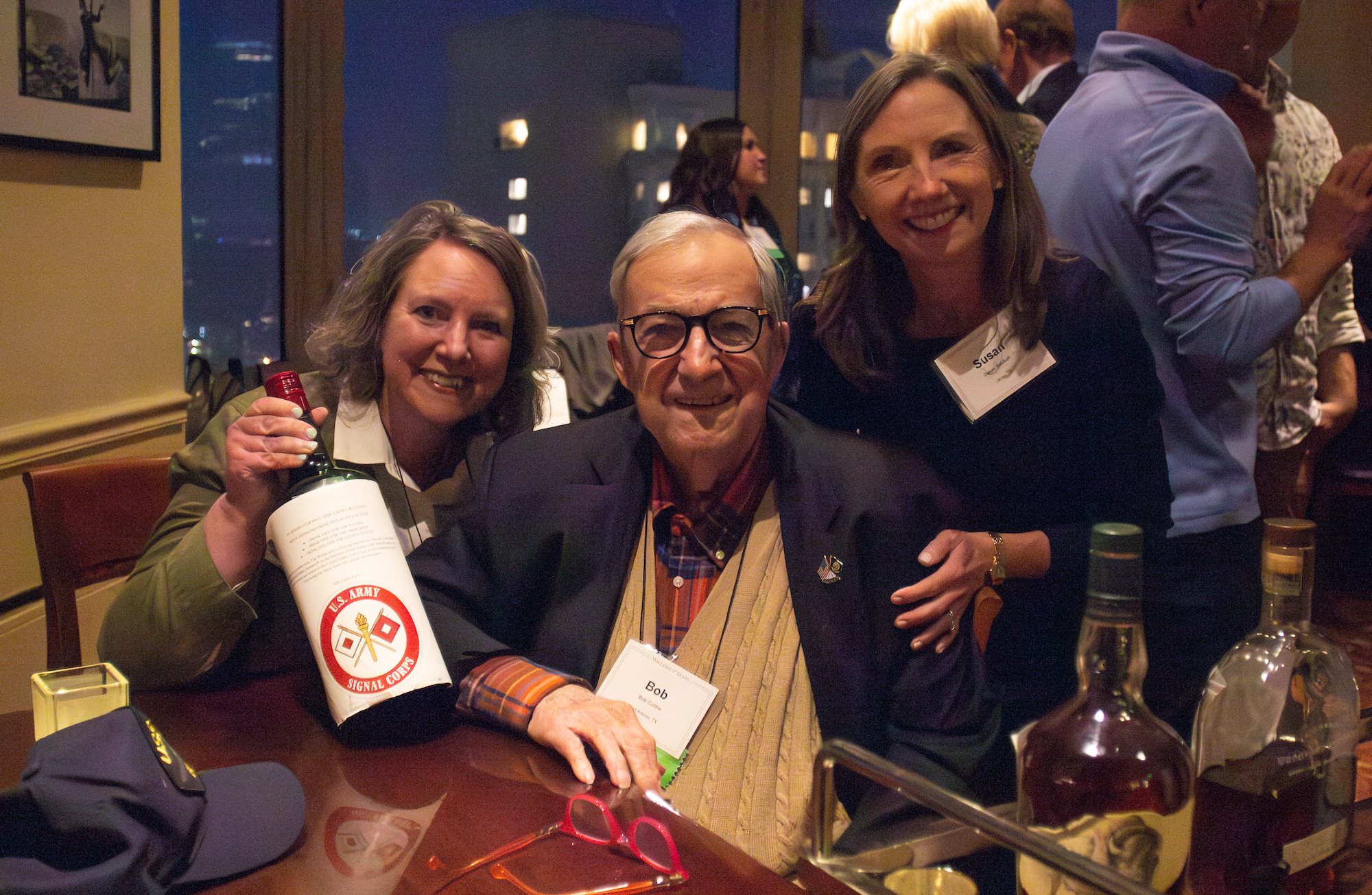 Members of the Association of 1775, W&M's alumni organization for those in military, veteran and government service, partook in  the historical Squadron Bottle routine dating back to World War II at the Top of the Mark at the Mark Hopkins Hotel. During the war, before soldiers and sailors departed, they had a final drink on American soil at the Top of the Mark and toasted the Golden Gate Bridge for a safe return or in honor of a fallen soldier. Bob Collins P '93 from San Antonio participated with his daughters Martha Smith M.A. '93 and Susan Baldwin.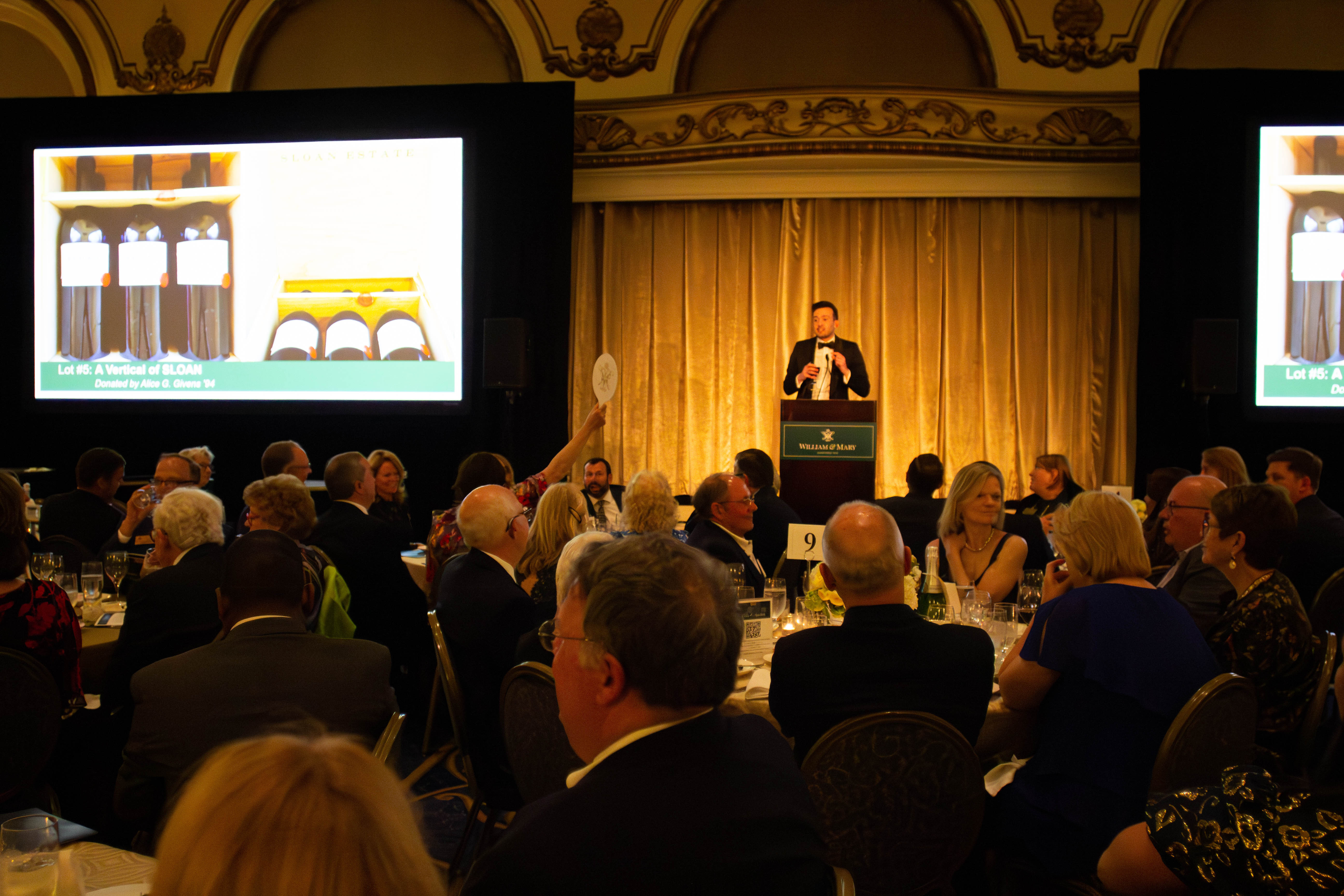 At the fun and fast-paced auction on Saturday night, guests bid on exclusive items (including a jar of Cheese Shop House Dressing signed by 2023 Commencement speaker Patton Oswalt '92, D.A. '23!), vacation packages, naming a booth at Paul's Deli and more. Jack Edgar '15 served as auctioneer for the glamorous event, which raised over $120,000 for the W&M Alumni Association Fund to support programming and engagement opportunities for W&M alumni worldwide.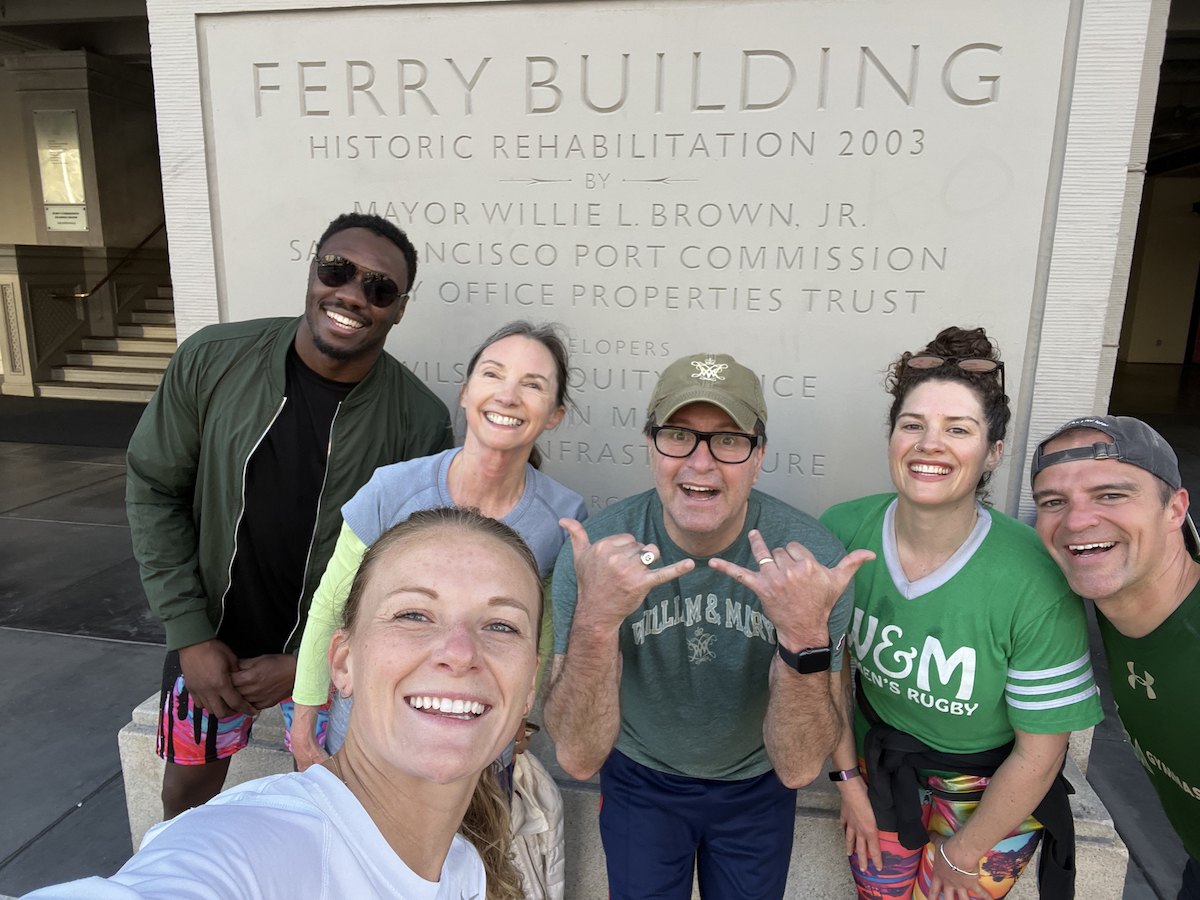 On Sunday morning, some energetic members of the W&M community joined certified run and nutrition coach and former W&M record-holding track & field athlete Elizabeth Crafford '15 for a fun 5K run down the Embarcadero. Others spent the day touring wineries in Napa Valley and enjoying tastings.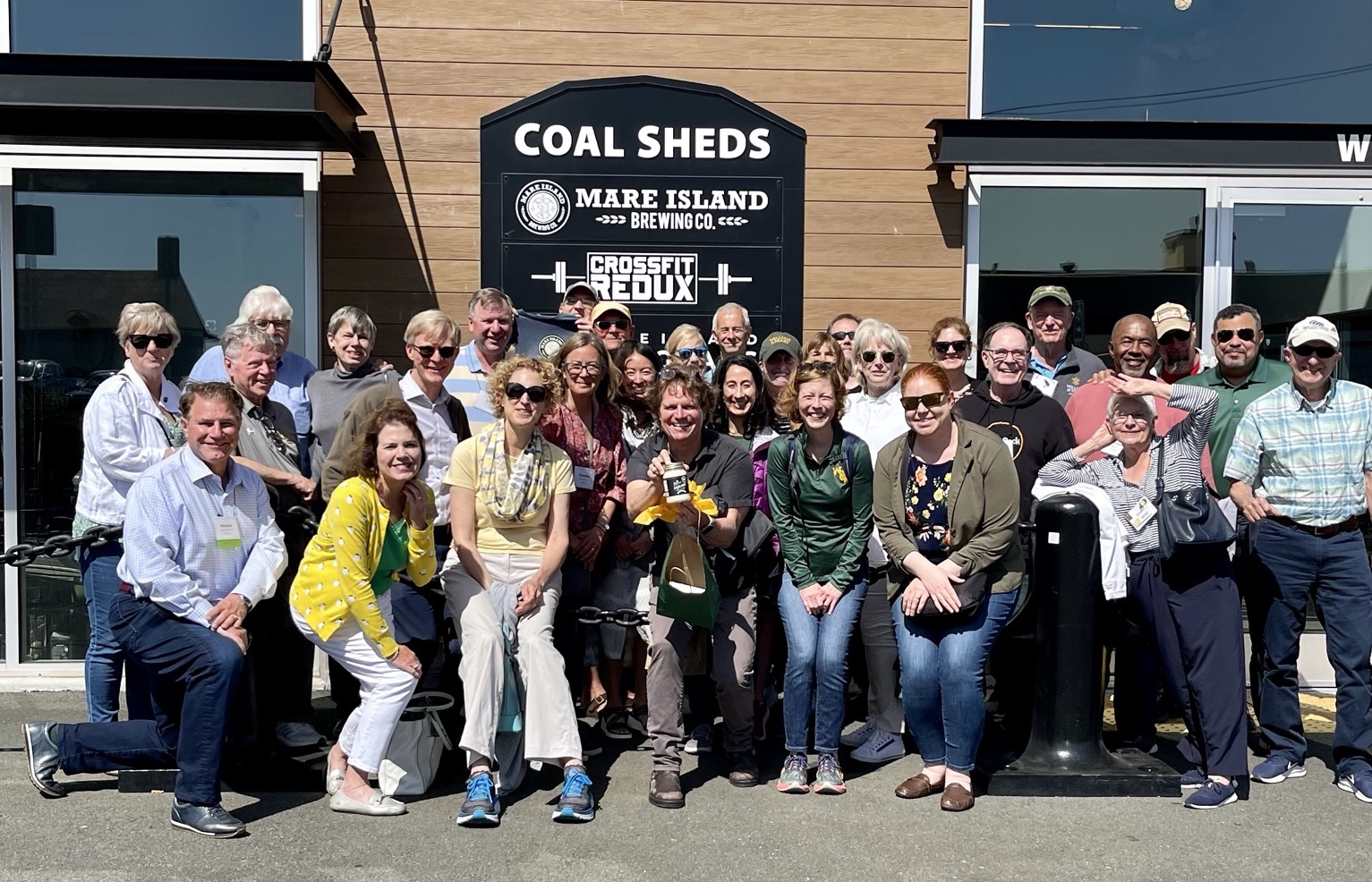 On Sunday, Kent Fortner '92, P '27 (center, holding a jar of Cheese Shop dressing), founder of Mare Island Brewing Co. and Road 31 Wine Co. and president of Mare Island Historic Park Foundation, led a tour of Mare Island — the site of the first naval shipyard on the West Coast. After the tour, he led beer tastings in his Coal Shed Brewery on the waterfront. The event was sponsored by the Association of 1775 and Young Guarde. Fortner also provided bottles of his Road 31 sparkling wine to W&M Weekend attendees.
Special thanks to Mary Lee Clark, Faith Odom '22 and Elizabeth Crafford '15 for the photography.